A pox on this cold and rainy weather! February was like May. May is like March. My frustration grew yesterday, so I put all the cushions back on the porch furniture…if it rains, it rains, they're indoor/outdoor anyway!
Then I got in my car while light rain was spritzing my windshield and I drove to our local nursery. I was craving flowers. Surprisingly, there were quite a few people there, despite the weather. I find that everyone is as antsy as I am. We want to plant. We want warmer weather (coming next week, apparently.)
If it was going to stay unseasonably cold, I had just the solution: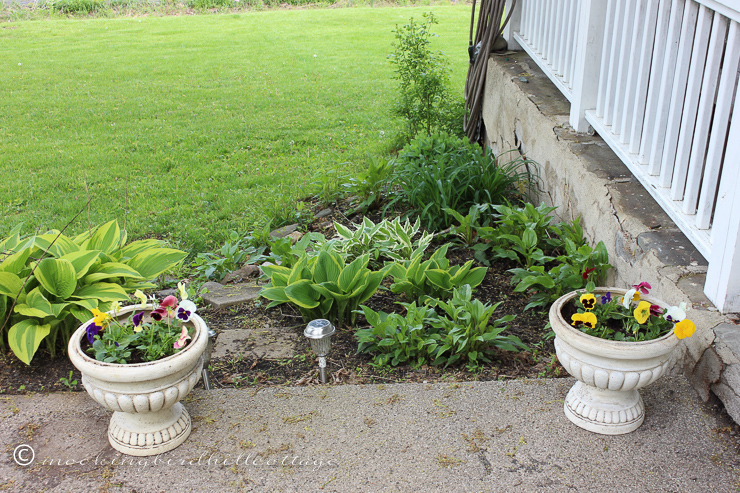 Pansies! Confession: I've never planted pansies before, though I love them. Due to my frugal gardening nature, I usually plant all my pots once a season and that's it. So I would normally plant these urns with something that would last through the summer.
But I threw caution to the winds yesterday and went with the pansies. And they cheered me up!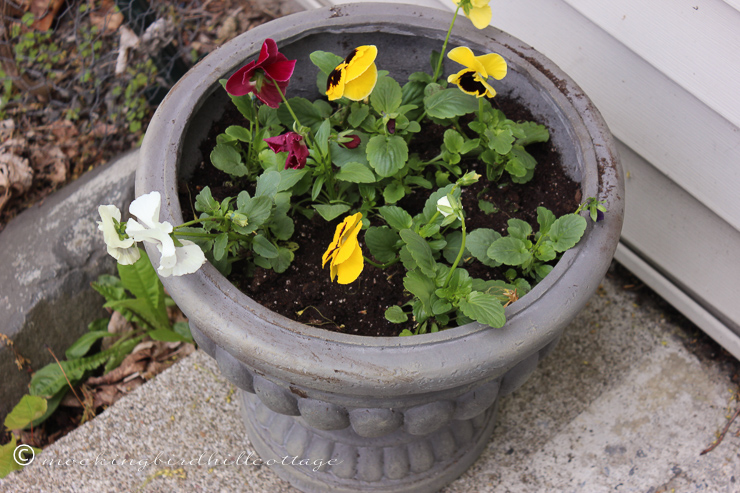 I have other plants-in-waiting. They're currently waiting on the kitchen table.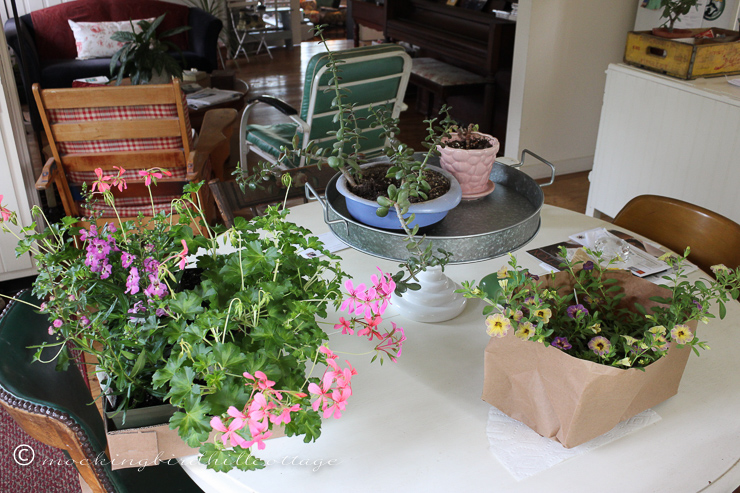 And that doesn't include impatiens, hanging plants, plants for the galvanized bucket, etc.
And mulch, which I will buy today or tomorrow.
In the meantime, it's cold.
As happens at least once every spring, I looked outside to see a bunny inside the corral, running around in a panic because he/she couldn't get out. After going outside and to open the gate, I went back inside and watched for a while, hoping he'd figure it out.
Nope. There was another bunny on the other side of the fence waiting for him. So I finally went outside, walking around the outside of the corral, hoping to nudge him toward the open gate. Didn't work. Knowing he would be even more scared, but also knowing it was the only way to 'rescue' him from the corral, I stepped over the fence into the corral – staying far away – whereupon he panicked, running up against the fence a couple of times before he saw the gate and ran out.
Poor baby. But better that than an entire day stuck in the corral, getting more and more upset. I'm not sure why these guys can't see the opening in the big corral that leads down to the house and the open gate. Let's hope that's the last time that happens. I saw him run around the house to the area just outside the kitchen window, where he stopped, collected himself, and proceeded to clean his paws. He's okay.
Mowing? Mulching? I'm not sure.
Try not to get too excited.
Happy Monday.