Weather, weather! Cold, windy (very windy), more wind today, heavy rain due on Friday and Saturday. And, a frost advisory for tonight!
So, I'm holding off on buying plants for pots and urns and hanging pots until this passes.
I planted the morning glory and zinnia seeds yesterday, but forgot that moonflower seeds need to soak for 24 hours, so I'll be planting those today.
And I put together the other Adirondack chair – this time, it only took about forty-five minutes. Since the bench cushion arrived yesterday via UPS, everything in that little sitting area is now ready for some photos.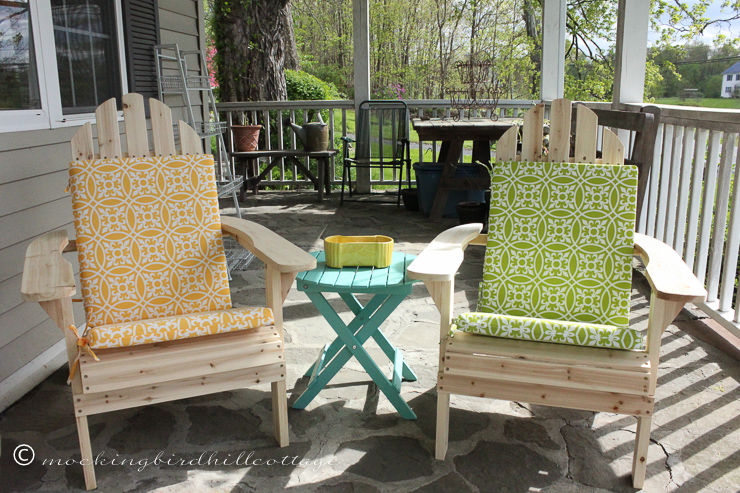 Hello, pretty Adirondack chairs! Since our porch is covered in bluestone and also slopes downward a bit, finding a place to set up the other chair was a bit tricky. Then, later in the day, the wind was so strong that it actually collapsed (but not in a bad way) with a loud bang – now I know that they really do fold up for storage!
The chairs are from The Christmas Tree Shops. The cushions are from Home Goods. The little table was a  last minute find from Marshall's.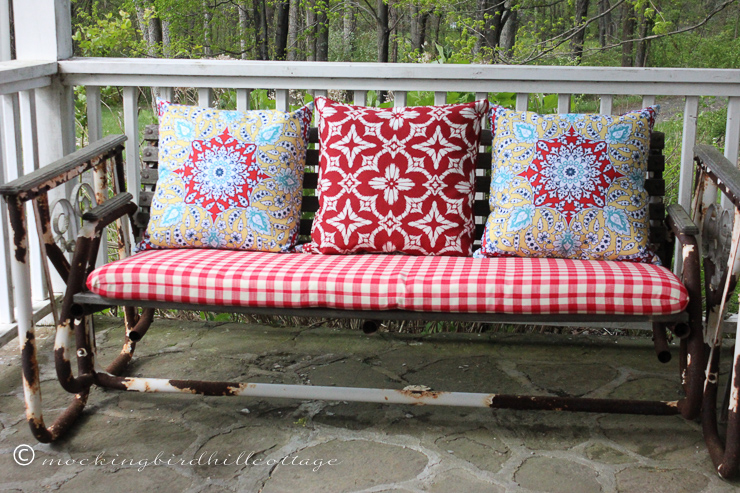 The funky, rusty glider with its new clothes…I really love this look.
The bench cushion was ordered from Plow & Hearth. Finally, a bench cushion that actually fills the entire seat! The cushions on either end are from Home Goods and the one in the middle is from Marshall's.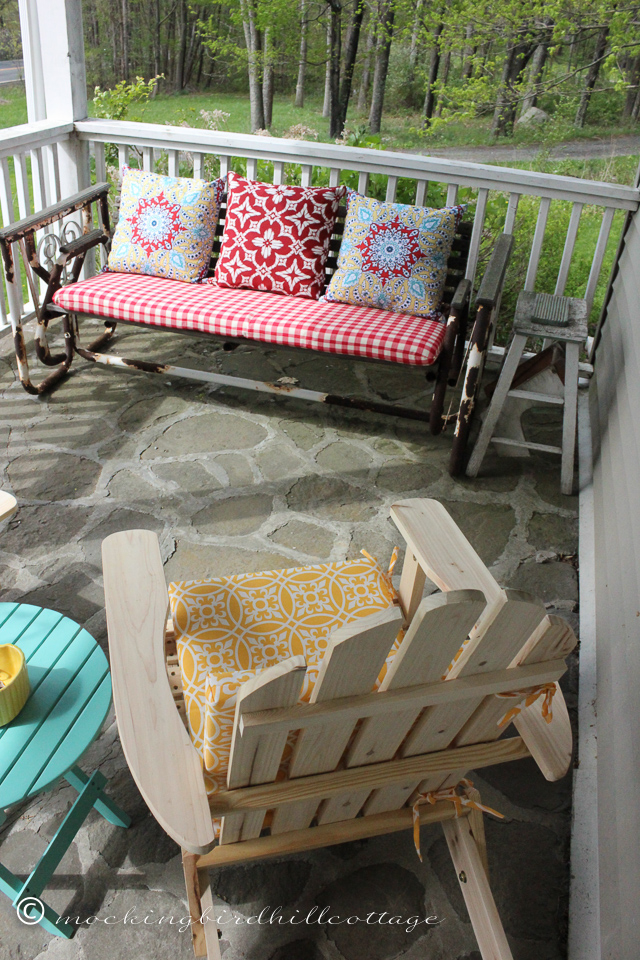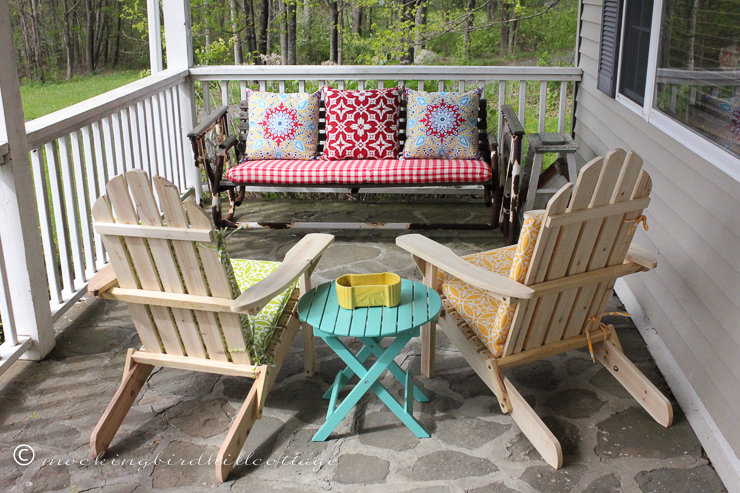 Everything was inexpensive – including the chairs. It was time for some sprucing up. I started with  a plan to find a bench cushion for the glider and some pillows to match. Then I saw the ad for the chairs, and so I had to buy more cushions and the little table.
It's bright and colorful and I love that. The house color is muted, the bluestone is grayish. A lot of the other furniture is very weathered teak. We need some pops of color!
An impulse buy from Home Goods, but one I'm happy about: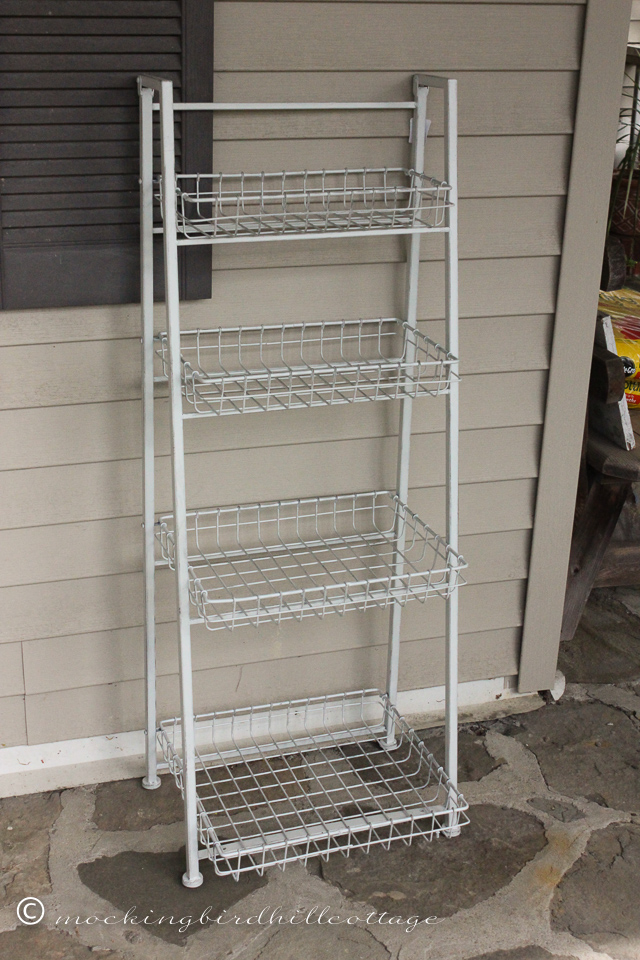 This plant stand, which also folds up for storage. I'm looking forward to filling this up with some lovely plants.
I want to share another great find from The Christmas Tree Shops: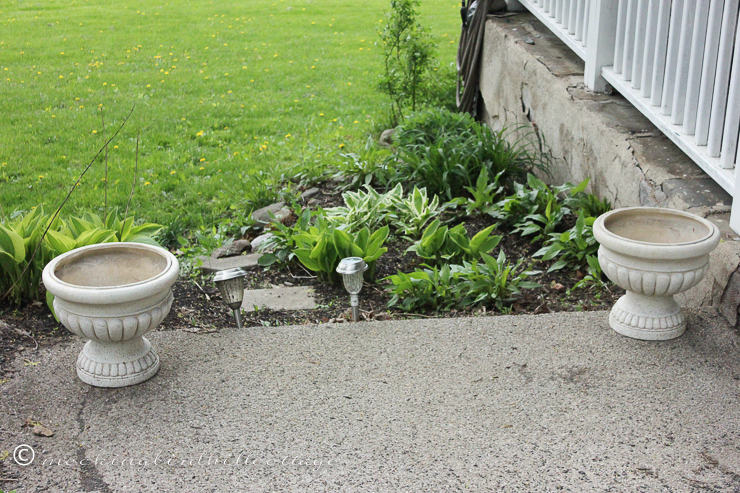 These great urns, made of fireclay. I had an itch to find some antique urns, but who knows how long that would take and/or how expensive they would be! Then, I saw these outside near the entrance to the store and I bought one and stuck it in the cart with the chairs.
Then I couldn't stop thinking about them and I bought three more. They are only $16.99 and have a nice, hefty weight. I haven't planted them yet because of the weather but soon.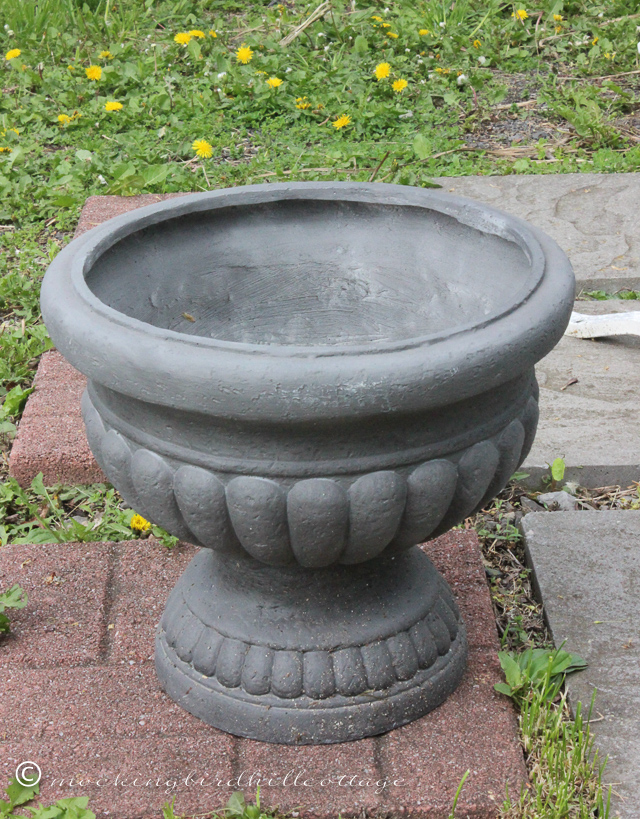 The gray version, which picks up the gray in our shutters. One on the funky patio, one next to the kitchen door. Aren't they great?
Once I plant some impatiens in the hanging pots and fill some other pots with flowers and plants, the porch will be ready to go!
Don has been following along via texts and he loves it, which makes me happy.
Happy Wednesday.