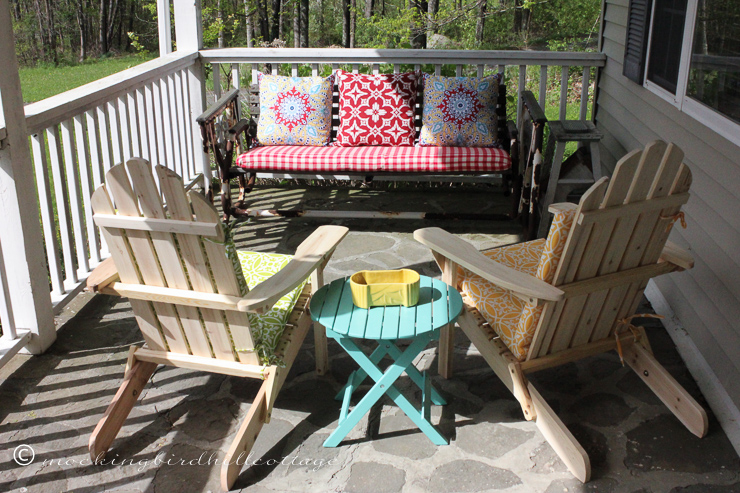 I'm just throwing this in the post to have a photo and not just text.
I'm sad today. And frightened. And angry. These emotions are a response to two entirely different occurrences.
First, I was outside yesterday, mowing and doing yard work (too much of course) and I decided to check on the nest. What I saw was heartbreaking. One unhatched egg remained. Along with what were clearly some baby birds, but to be frank, all I could make out was a mass of fluff and part of a beak. It was as if they had been smashed.
Hoping against hope, I watched to see if they were breathing. But they weren't. And I waited on the porch to see if mama or papa would visit the nest. No visit. The last time I saw the five eggs was last Wednesday or Thursday when I was mowing before it rained. Mama flew out of the nest when I passed by and I saw the eggs.
I have no idea what happened in the meantime. Was it a predator? Another bird? Was it the deluge that fell over the weekend – was it too much for them? Was it the cold? Was there something wrong with them causing the parents to abandon them?
So sad and so heartbreaking. I've left the nest alone. But it drew me back at least three times yesterday as I tried to figure it out and as I said a prayer for the babies.
Second – the firing of the Director of the FBI, James Comey. Despite the spin put on it, it's abundantly clear that he was fired because he is investigating Trump/Russia. Trump is obstructing a Federal Investigation, enabled by Jeff Sessions who is recused from anything to do with Russia and Rod Rosenstein, whose claim of impartiality in his hearing is now laughable.
Our democracy, our republic, is in danger. Grave danger. This was the act of a dictator, a Fascist, a banana republic. In less than four months, he has taken everything we hold dear and desecrated it.
I woke up before 5 am this morning and couldn't get back to sleep. I'm feeling about as frightened as I can be about the state of our country.
I'll be back with something cheerier tomorrow. I debated whether I should tell you about the baby birds, but you were a part of the discovery of the nest and the eggs and I thought you'd want to know.
Say some prayers for our country. Take action.
Happy Wednesday.