For your viewing pleasure: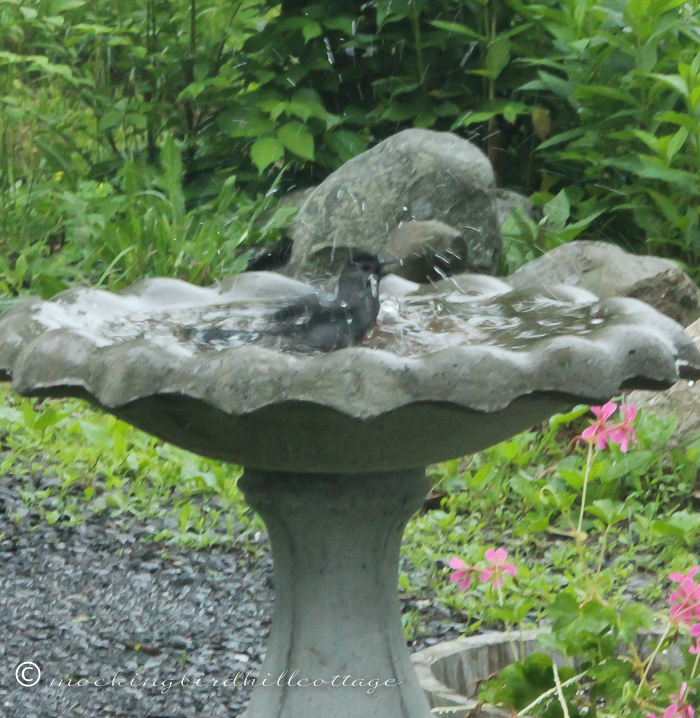 A catbird taking a bath. A little blurry – he was shaking off the water and my camera wasn't the steadiest, but I like the water going every which way.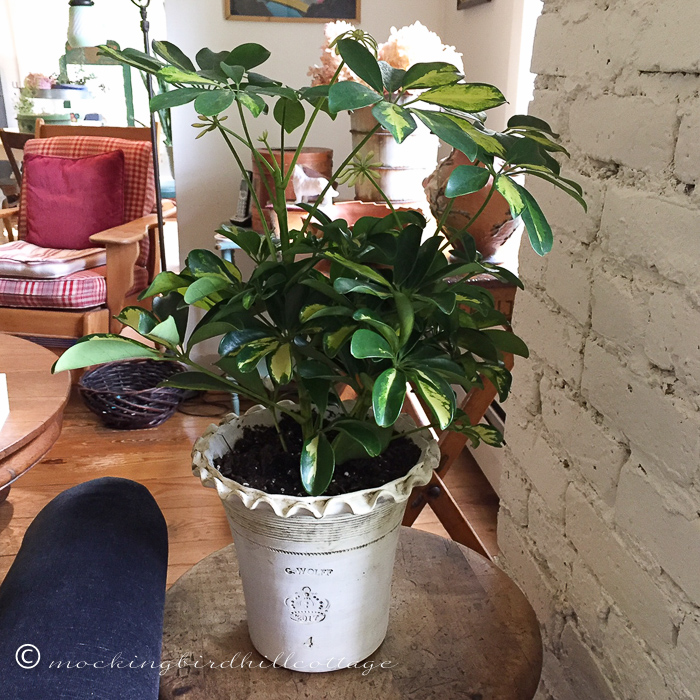 I found this schefflera for one of my Guy Wolff pots.
I'm in love with these pots. I have to find two more plants for the other pots, but it's surprisingly hard to find interesting houseplants around here. There are the usual contenders, most of which I already have. I miss the days when there were lots of little shops that carried interesting and exotic houseplants (I'm dating myself; this was in the seventies.) I suppose they're still out there, but not in my neck of the woods. There is a little shop south of me which I will check out sometime this week.
I'm off to NYC later today. Back story: When I was teaching at Boston University, one of my colleagues was a gentleman named Rick Seer. Rick and I became great friends (he was an actor turned director and taught both acting and directing at BU.) When, in 1993, I realized I needed to move on to a better paying job, preferably at the graduate school level, Rick confided in me that he was applying for a job to head the Old Globe/University of San Diego Professional Actor Training Program. He then told me there was an opening for the Voice/Speech teacher, as well, and urged me to apply. I did, all the while thinking that though this seemed to be the perfect job for me, no department was going to hire both Rick and I at the same time. Rick had the inside track as he had guest directed out there and they knew him.
Nevertheless, I applied and much to my surprise, I got an interview. So did Rick. I think our interviews were a week apart. I flew out there, met everyone, taught a class, talked to a lot of powers-that-be and flew back home. Rick interviewed as well. I never thought I would get the job but, interestingly, I got the news that I had been hired before Rick found out if he had been hired. I didn't want to entertain the thought of going out there without him – I'd never been to California before my interview – so I was on pins and needles waiting to hear about Rick's situation.
He finally heard from them. He got the job. We said goodbye to Boston (very bittersweet) flew out there to find places to live, and then started a whole new life in San Diego. Rick turned out to be the best Chair there could possibly be. He built that program into one of the most respected training programs in the country. He spearheaded the building of a new theater on the campus of USD. He raised the standards for training and, together, we auditioned actors for the program in major cities throughout the country, accepting only seven each year (one of them was Jim Parsons.)
After eight years, I left the program to move east with Don.
Rick is retiring after having run the program for 24 years. There was a goodbye party and celebration on the west coast and tonight is the celebration on the east coast.
Besides being my dear friend, Rick was the catalyst for my move to San Diego, where I worked at the Old Globe theater coaching over 80 productions, taught in a program that is greatly respected, and when I went back there to coach Shakespeare in the summers of 2008-2010 because Rick recommended me to Darko, established a connection that continues to this day. Much of my professional coaching since then has been the result of contacts made while I was at the Old Globe.
And, of course, that is where I met Don.
So I have much to thank Rick for. Can't wait to see him this evening and raise a glass for a great colleague, boss, and friend.
Happy Monday.