Yesterday's visit to the Country Living Fair was efficient, to say the least. I know from past experience that it's best to get there before the 10 am opening. I arrived about 45 minutes or so before the gates opened, bought my ticket, and then I scrolled through Instagram on my phone while waiting.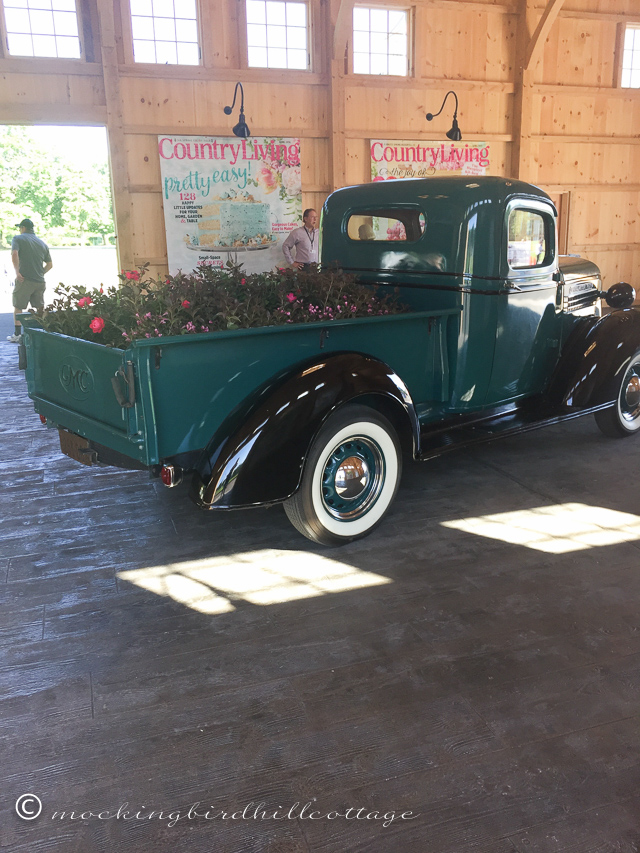 (Why didn't I get the entire truck in this photo??)
I am also pretty familiar by now with who is there and where their booths are. Of course, there are changes every year, but the majority of the vendors come back every year. By this point, I know exactly where I want to start. There are a lot  of exhibitors, by the way.
I didn't take very many pictures. I was 'on the move' and wanted to get in and out within a couple of hours.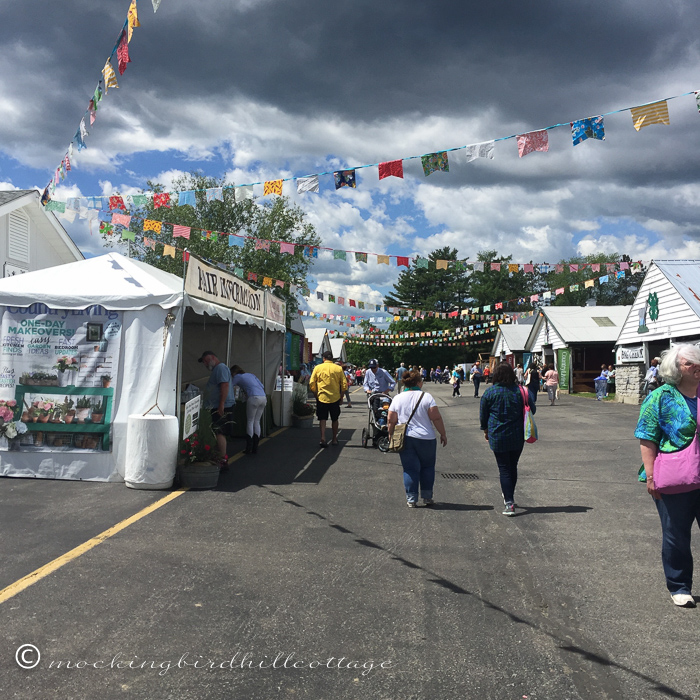 Anyway, once the gates were opened, I walked to my favorite starting point and took it from there. I ran into the Editor, Rachel Hardage Barrett, who I met a few years back. She was buying a vintage oil painting of a ship. Beautiful.
I was scouting vintage garden items. There were a lot of them but, as I find true with most items at the Fair, the prices were just too high. This is a big event, the vendors have a ready-made audience, and they price accordingly. That isn't a criticism, as much as it's a fact. I know there is a lot involved with selling anywhere; travel, setup, all the expenses that go into buying and selling, and prices are marked up accordingly.
So, nothing on the garden front. However, I did buy a gardening hat and it's the best one I've ever seen – fits beautifully, and it's a pale aqua to boot.
The Fair gets really crowded, especially on the weekend. That's why I go early. But it got crowded very quickly yesterday, which makes visiting vendors more difficult. It's increasingly hard to walk down the aisles or maneuver into a specific booth. That's why I was out of there in two hours. It just isn't my thing to be in a crowd for any length of time in which I can hardly move and have to maneuver around people who are blocking aisles. I get impatient and it tires me out.
I visited one booth where two ladies sell vintage items. They have an Airstream that they use for travel and they set it up right beside their booth. They also had a mini-Airstream that was a cooler!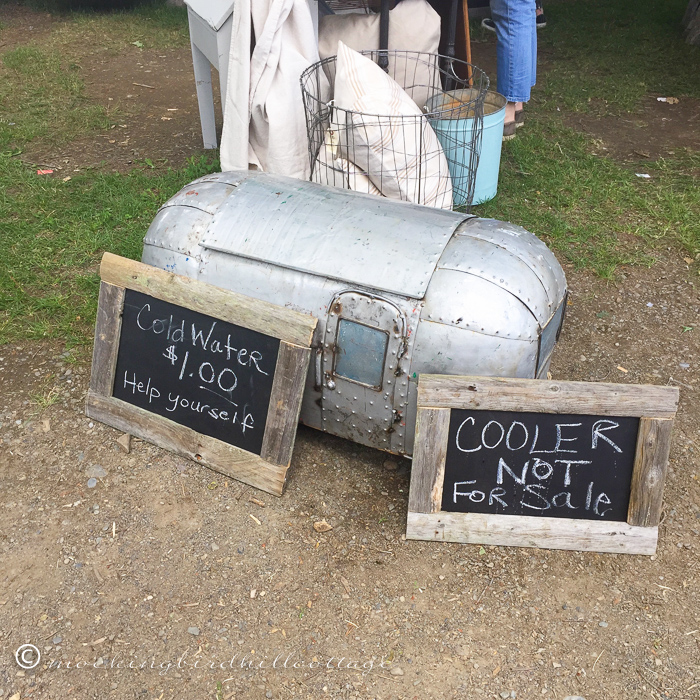 It was here that I discovered my big find of the day. I wasn't even looking for it, which makes it all the more delightful.
Back story: I've been pricing a made-to-order butcher block top for the kitchen island. Ever since Don put a hot pot on the top, promptly removing the paint, we've been thinking about what to do about the surface. Yes, I could have repainted it, but the cream colored paint always chips and it's hard to keep clean. Don thought tile would be a good idea, which I immediately nixed as we have tile countertops in the kitchen and my dream is to get rid of them someday. A butcher block top that fits the dimensions of the island would run from about $390 to well over $400, unless I got one from IKEA, but then I'd have to find someone who could cut it to fit and the whole thing made my head spin. I almost ordered the least expensive top several times, but something made me hold off.
Then I saw this vintage bread board. It's old and weathered and quite large. Eyeballing it, I was pretty sure it would work. I knew it wouldn't cover the entire island but that, to me, would make it all the more striking. After hemming and hawing, I bit the bullet and bought it. It was $85.00. One of the ladies told me that she has some vintage boards at home and she uses olive oil on them.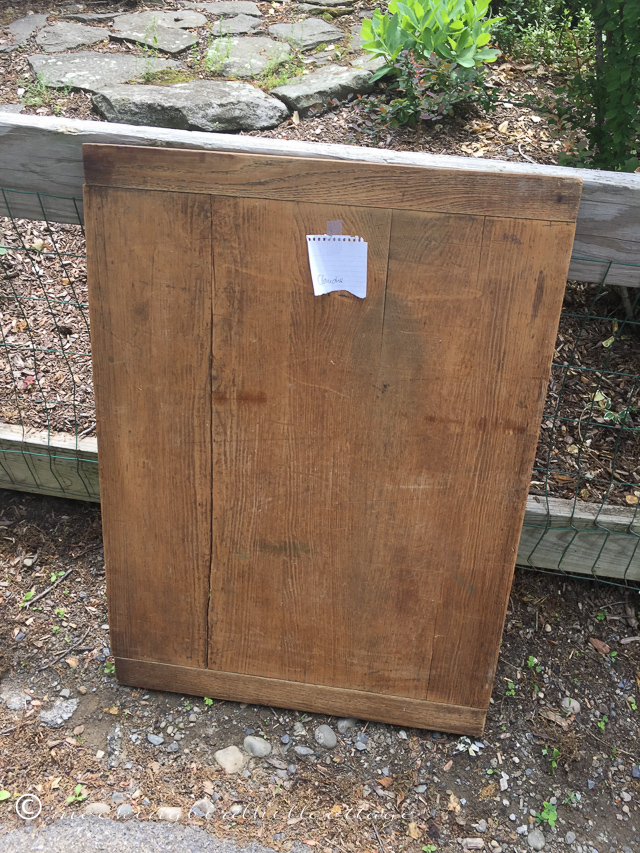 This is the way it looked when I bought it – I took this picture as I was on my way to the car and texted it to Don. Already gorgeous at this point.
When I got home, I cleaned and disinfected it. Then I grabbed the olive oil. Two coats later, this is what we have: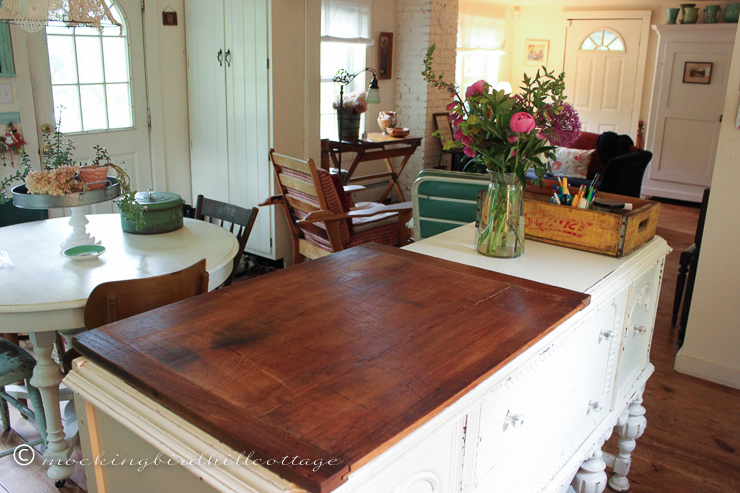 The color of the board changes with the light, so I'll probably post another photo soon.
Sigh. I really love it. Don does, too. (And it nicely covers up the evidence of Don's 'hot pot episode.')
And $85 instead of $400? Much better!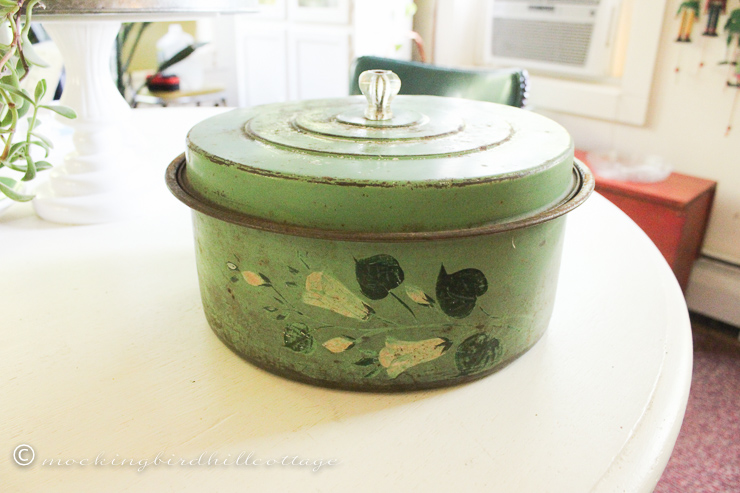 The only other thing I purchased was this tin; cake tin? bread tin? It's incredibly rusty, inside and out, and I have no idea what I'm going to do with it, but I'm drawn to that shade of green and to the hand painted and chippy flowers. Oh, and that glass knob, as well.
If you haven't been to the Fair and you get the opportunity, you should go. It's an experience: lots of interesting vendors, workshops, speakers and it's on a gorgeous site at the Dutchess County Fairgrounds in Rhinebeck, NY. Country Living does a bang-up job – it's lovely.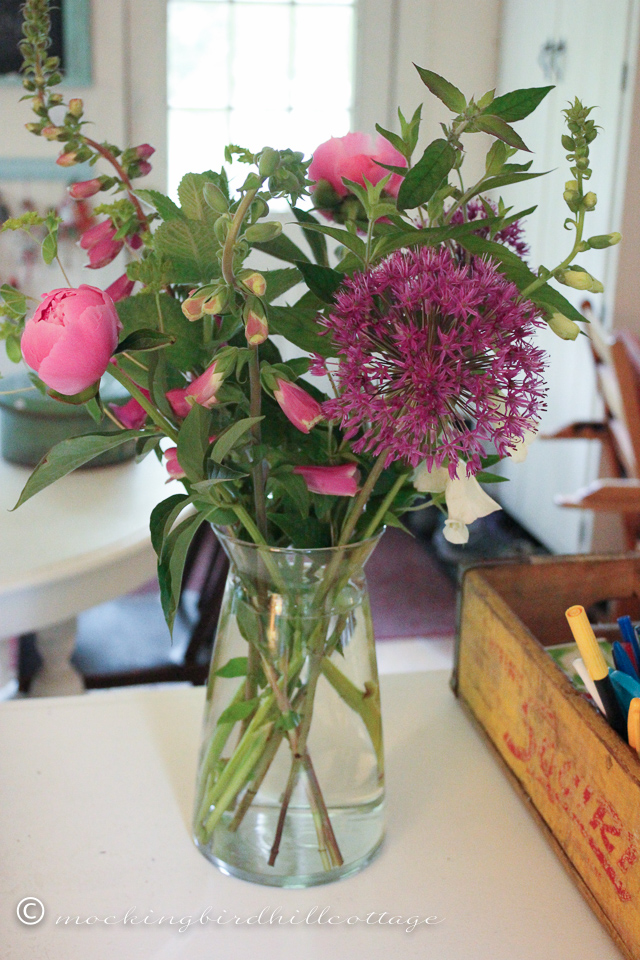 I bought this bouquet from a local farmer via my favorite natural food store. Peonies, allium, foxglove – how could it get any better?
Ah, the sun just came out. Since Sunday, Monday and Tuesday will be filled with rain, I'm going to enjoy my gardens and the birds and the porch today.
Edited to add: What the heck? Now it's going to rain a bit this morning. That wasn't on the weather forecast when I got up this morning!
Happy Saturday.