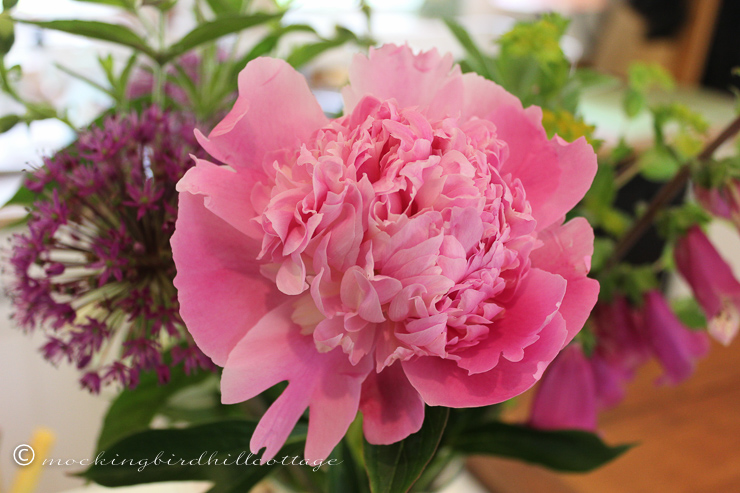 This is all I've got for you today – a picture of one of the beautiful peonies that are in the bouquet I purchased the other day.
Pretty darned gorgeous.
Oh my. Yesterday's party for my friend Rick was wonderful. I had no idea how moving it would be to see so many of my former students. And Rick. And students that went through the program after I left, some of whom worked with Don in Pygmalion  a few years ago.
Such a moving and powerful evening, this celebration of Rick's work. I cannot put into words how he has shaped the lives and careers of the students who have gone through the MFA Acting program for the past 24 years. That he is adored is clear. That he is loved and respected for his mentoring of the program and of the students, that he shaped that program into what it is today is also abundantly clear.
I said a few words during the program. I realized that I had known Rick longer than anyone else in that room and I wanted to share some thoughts about the journey we made – giving up jobs in a prestigious acting program at Boston University and moving all the way across the country to work in a smallish program that had real possibilities.
It is now ranked number 7 in the world.
Rick and I confided to each other that if only one of us had been chosen, the whole thing wouldn't have happened. It meant everything that we did it together.
So many impressions of the evening: former students who have just had babies, who are older, yet it seems like yesterday we were all working together, who pulled me aside to say how much my training has meant to them in their careers, who traveled great distances to be there for Rick. The MFA program at USD/Old Globe is an intimate one in the best possible way. We really got to know each other and that shared experience is priceless.
There's a search going on for his replacement, but the truth is he's irreplaceable. There is no one like him: kind, compassionate, funny, wise, completely committed to the growth of the program and to the quality of training – a mentor who has made his mark on so, so many.
Rick and I have been through so much together. Seeing him honored last night was a profound experience.
On a personal level, there is no one else, save my husband, who can make me laugh as much as Rick. When I think of our years together, I think of laughter, crazy over-the-top laughter. And joy.
I didn't get home until just after midnight, staying much longer than I'd planned. It was lovely, a reminder that the work we did was valuable and that my former students are out there making their mark. I don't teach any longer and it's easy to forget that what I did was important, that I did  make a difference. And Rick? What a profound difference he has made. Words seem inadequate.
Thank you, Rick – for everything.
Happy Tuesday.