The payoff for a very, very rainy and wet spring seems to be lush flowers in the garden. My coneflowers, which have spread throughout all the garden beds are the largest and lushest (is that a word?) I've ever seen them.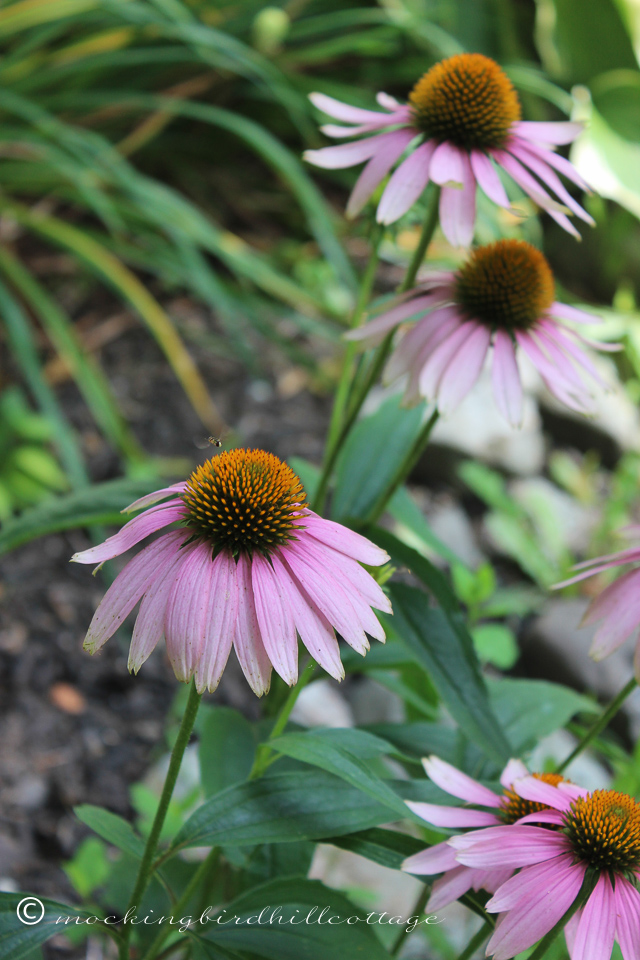 For goodness sake, these coneflowers are volunteers that sprang up out of somewhat rocky ground!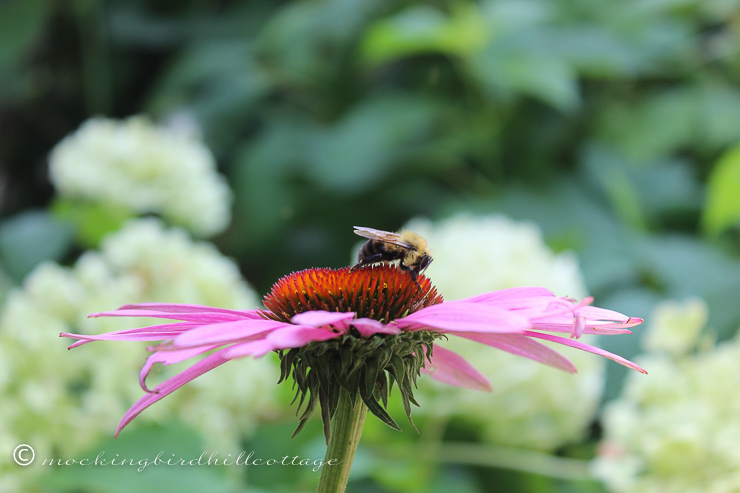 I'm really enjoying the garden, which has gone crazy in my absence – but in a good way.
Yesterday, we went swimming in Lake Minnewaska, which is part of a preserve that is nearby. We've been here almost 12 years and it's the first time we've visited the lake. Go figure. It was so lovely! Since the temperatures have been in the nineties with high humidity, we needed a refreshing break. I grew up with lakes; my dad's family had a cottage on a lake and, of course, being a Michigander, I was surrounded by the Great Lakes. Don is a salt water guy having grown up in San Diego.
I do believe he's becoming a "laker." The ocean is wonderful, but a lake is smooth as silk.
Back to our trip – after we left Iowa, we drove through the mess that is the greater Chicago area on I-80 and once we emerged we headed into Indiana. I've spent a fair amount of time over the years in Indiana and it's a lovely state, but all I could think about was Mike Pence. If you're a proud resident of Indiana, forgive me. I know how truly lovely your state is – I do.
It's all a blur now, but somewhere around there we stopped for the night and on Tuesday, we drove through Ohio. I was tired and a bit cranky so when Don asked me how I was feeling later that morning and I said I was feeling better, he suggested we detour to Cleveland and the Rock and Roll Hall of Fame. Much to his surprise, because I was definitely in "I want to be home" mode, I said yes. I'm so, so glad I did.
Spontaneity, remember?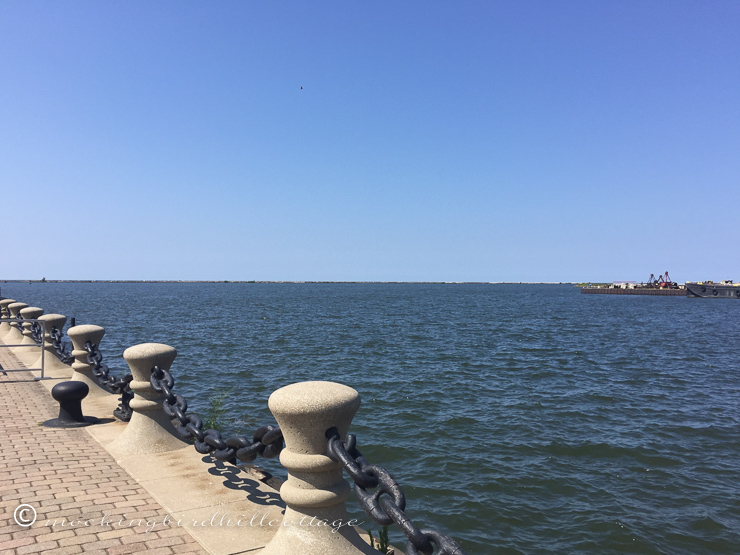 Right outside the entrance to the Rock and Roll Hall of Fame. It's situated on Lake Erie, where we used to sail on my dad's sailboat.
This marker is outside.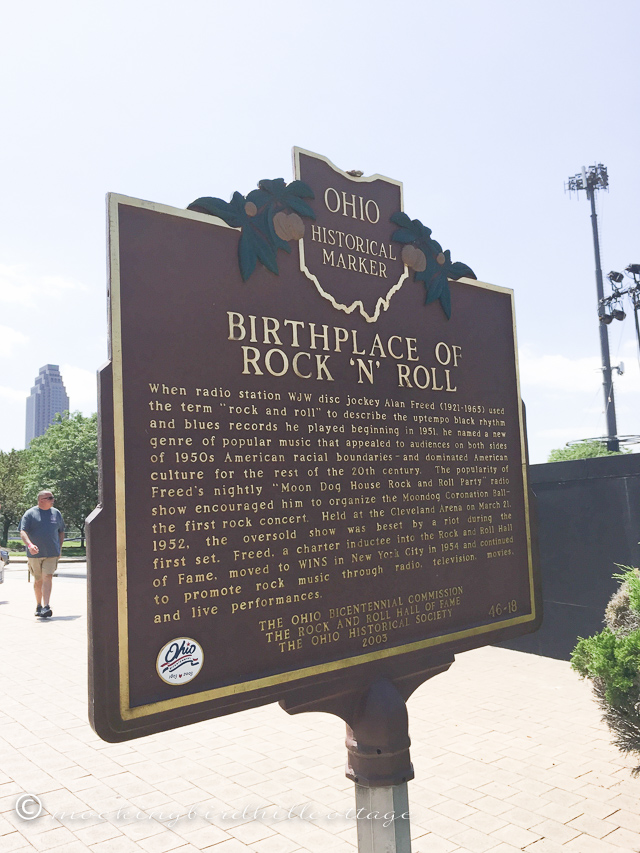 We sort of screeched when we saw the entrance.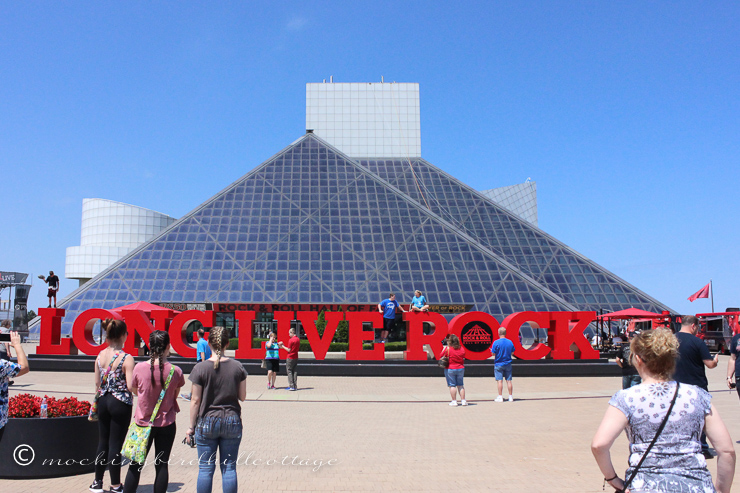 It's utterly fantastic. I mean…FANTASTIC!!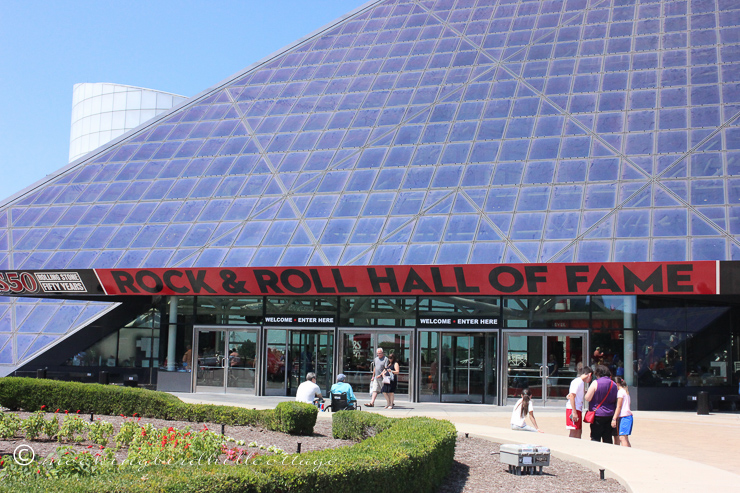 So beautifully designed, it is an experience I won't soon forget. There's so much to see (we didn't have time to see everything, but we saw the major exhibits.)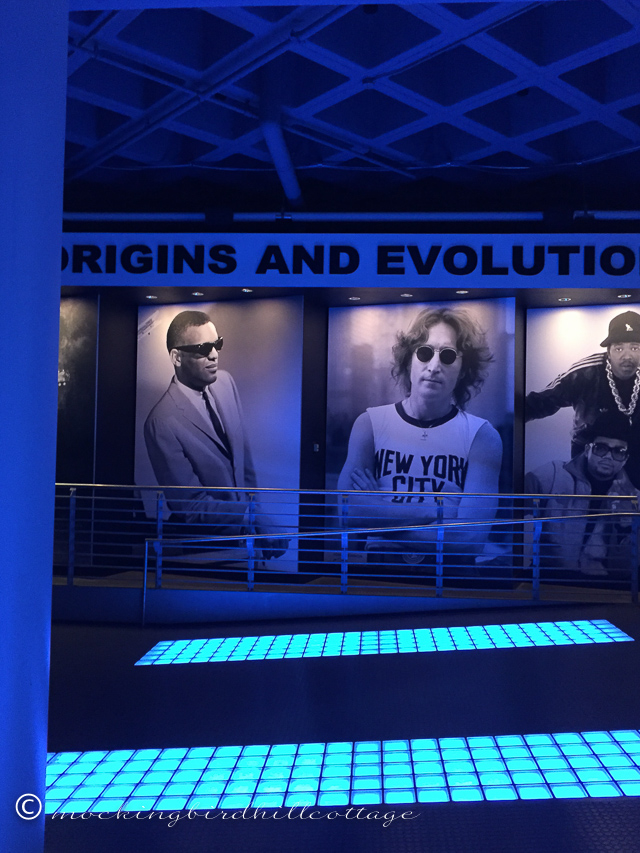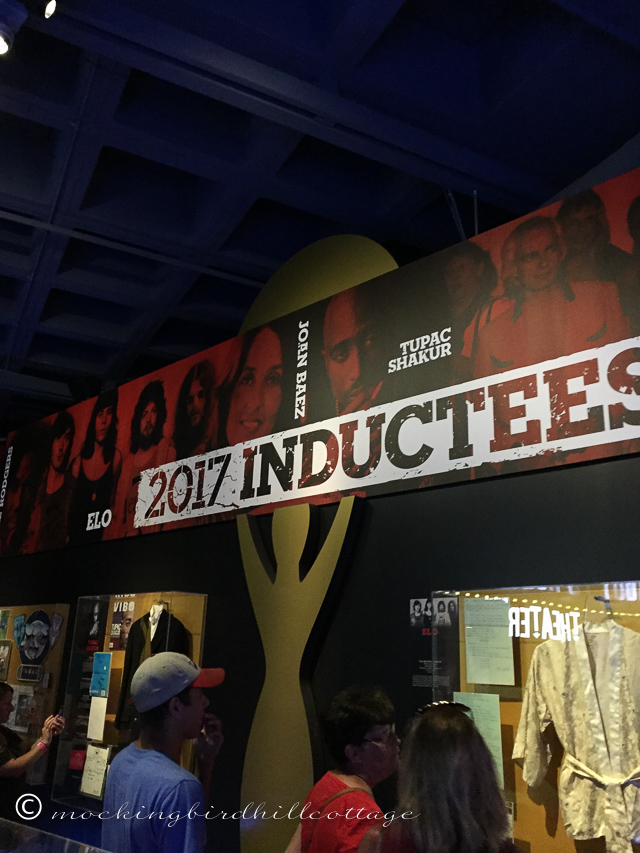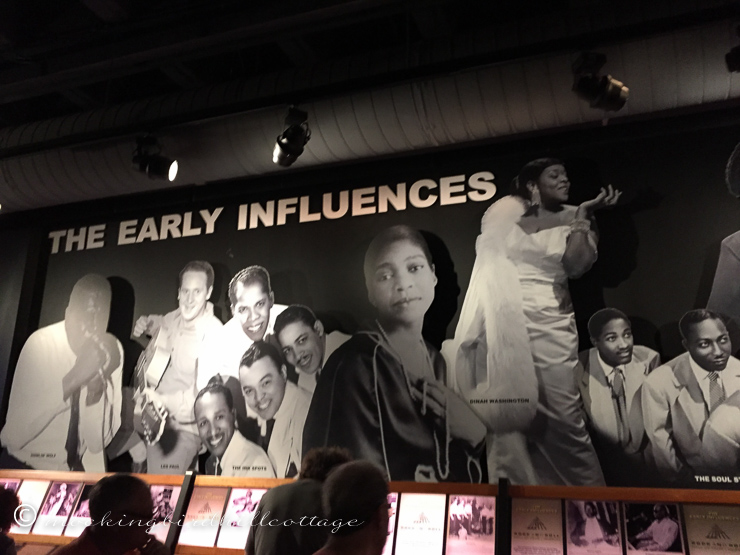 It's full of memorabilia and information on the history of rock and roll, from its early influences to the present. I learned a lot. It's really an all-day experience, but we didn't have all day. We're definitely going back someday. It was amazing.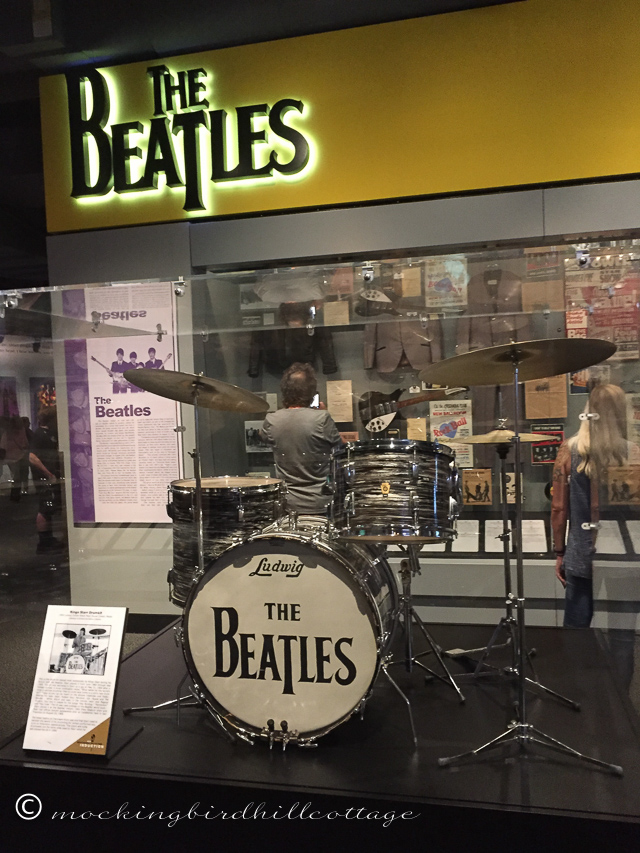 Ringo's drums – I have to say I was staring at them for a long time.
We also had the best veggie burgers we've ever had there. And we bought t-shirts, of course. Don has amassed quite a collection of shirts since he took off for California last March. I managed to almost catch up to him on this trip. As you know, I'm a t-shirt and jeans girl and I love a cool t-shirt commemorating some experience or place I've visited. T-shirt, jeans and Birkenstocks. That's me.
Finally, a big round of applause for our 2001 Honda CR-V. It made its first trip across the country in 2001 (we were moving east) with me driving and our dogs Winston and Scout in the passenger seats. In 2017, at 250,000 miles+, it made two  trips across the country!! It is the hero of this journey. We kept patting the dashboard and saying how proud of it we were. And we are.
It's old, it's rusty, it doesn't like steep inclines, but it comes through every time. Now, that's a car!!
Happy Saturday.