A welcome home from my garden. Most of the morning glory vines aren't ready to bloom yet, but this one was. You know I love my morning glories!
More from our adventure.
Often, as we drove across the country, something would spark our interest and whoever wasn't driving would google the subject, like the Donner Party, the Donner Pass, the Pony Express, etc. Both the Donner Party and the Pony Express took much the same route we were driving on the I-80.
As we drove through Nebraska, we saw a sign for a Pony Express Museum in Gothenburg. Since we'd just been talking about the Pony Express in great detail the day before, we wanted to see it.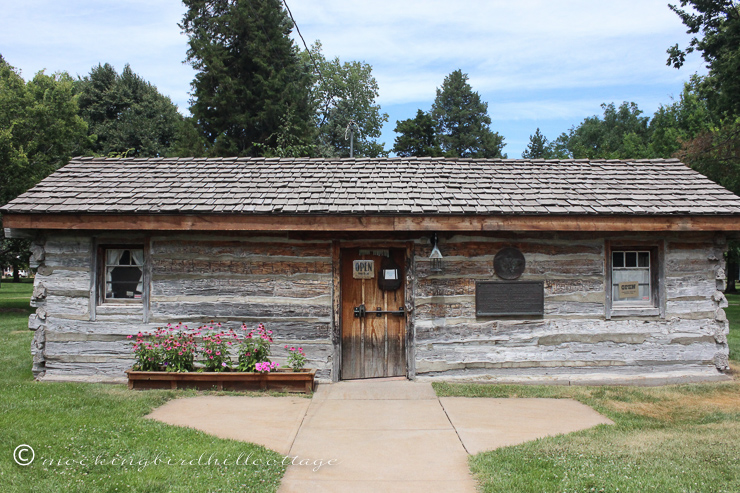 Here it is. The building was originally sited a few miles away near the river and was moved to a park in Gothenburg. This was a station where the riders changed horses – very quickly!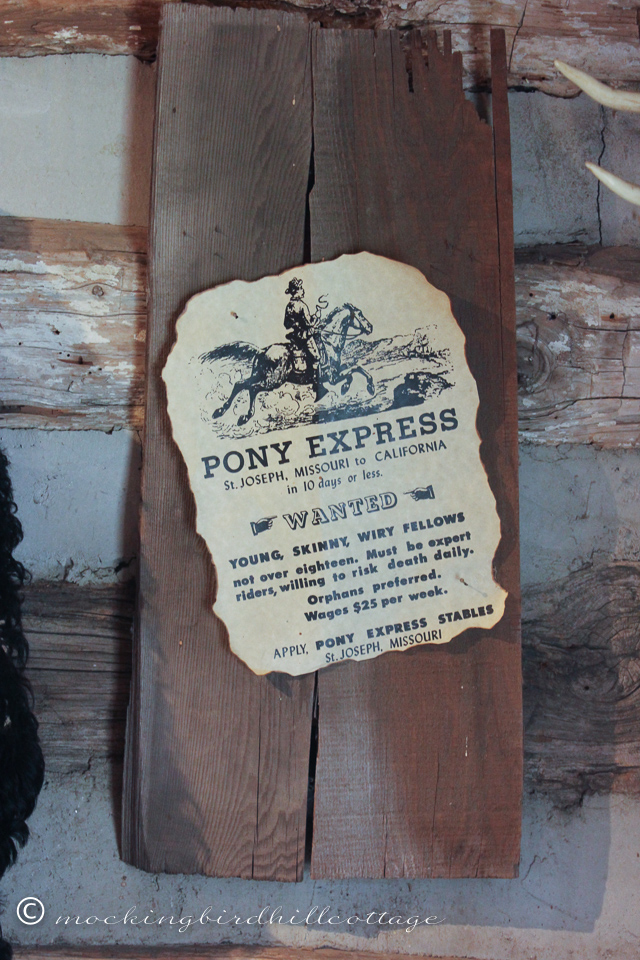 This was the original ad for Pony Express riders. They wanted them young, wiry, lightweight. Orphans preferred. The youngest rider was 11. He lived to be over 100 years old and died in the fifties. Buffalo Bill Cody was a Pony Express rider and several of the more well-known riders joined his show in later years.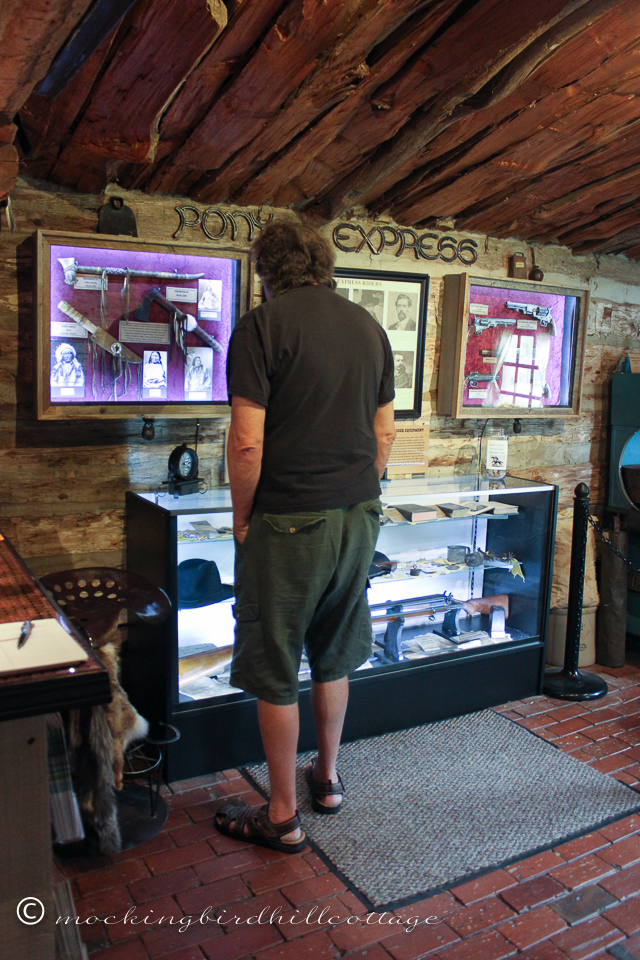 It was only in existence for a couple of years until the telegraph came along. This was a lovely museum. While we were there, I met this sweet boy: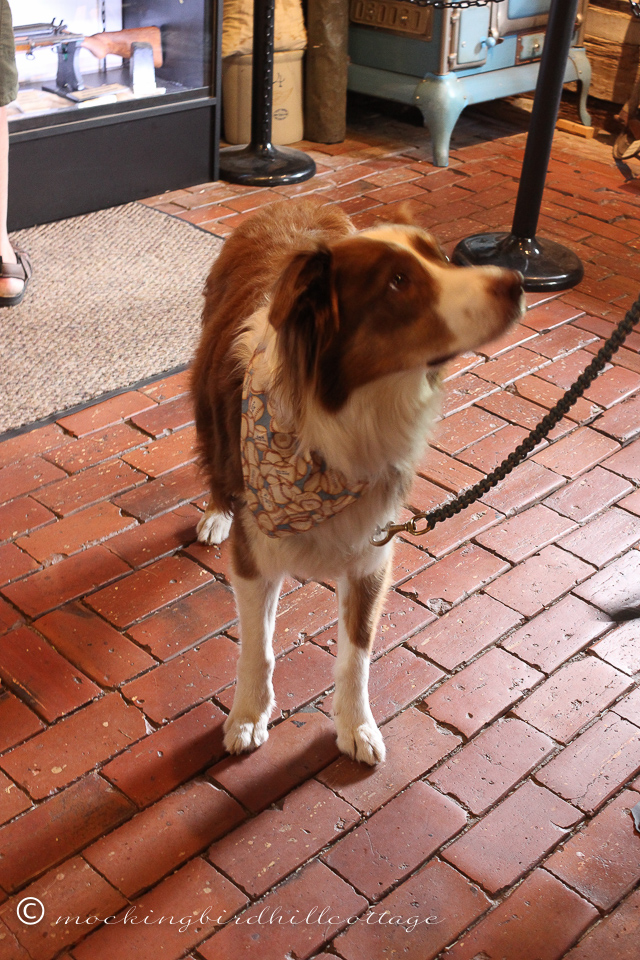 An Aussie Shepherd mix who reminded me a bit of my Scoutie. He was such a sweet boy and he was a rescue. His mom told me they only do rescues and since that's what we do, we were simpatico.
It's funny, but along the way on our journey, I would find myself thinking – just for a moment – that Scout would be waiting for us when we got home.
Back to Iowa (which turned out to be one of our favorite states). When I googled about Walnut, IA, I also learned that the guys from American Pickers had their original shop in Iowa in a town called Le Claire. When I mentioned that tidbit to Don, he immediately said "I want to go there!" Happily, I discovered that Le Claire is just off the I-80 – the last exit in Iowa – and it's right on the Mississippi. We didn't arrive until about 6:00 on Sunday evening, and the shops were closed. But we took pictures.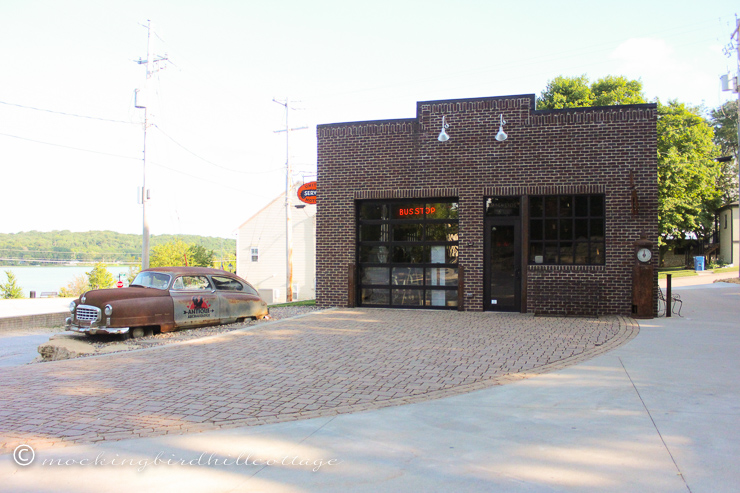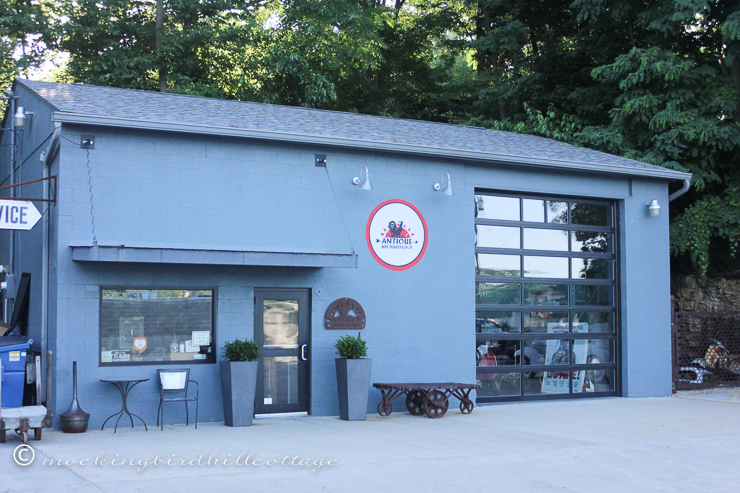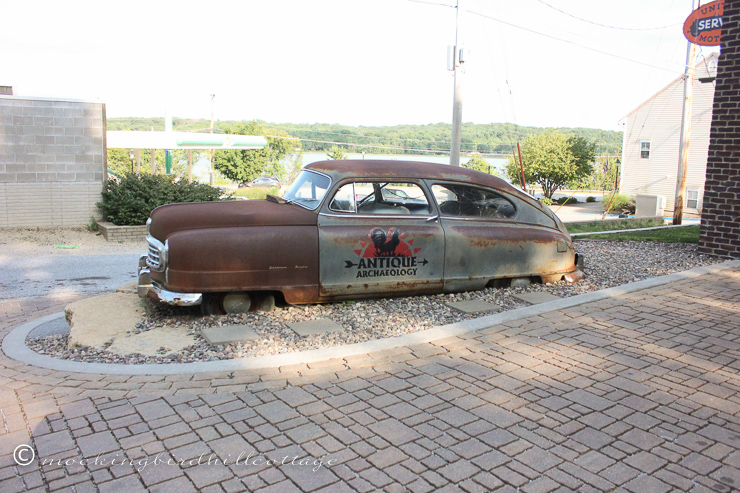 We quickly decided that we would spend the night across the river in Illinois and come back to Le Claire on Monday. We had to get inside the shops! Plus, we learned that Le Claire is a charming town and….the Mississippi River. Come on!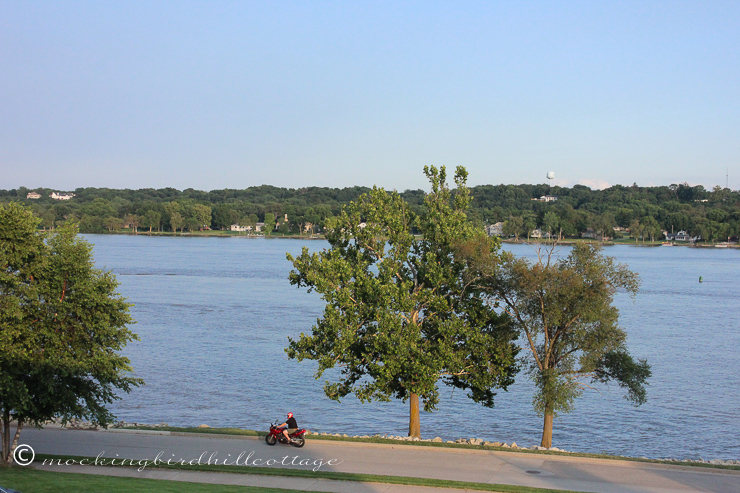 We crossed the river but quickly realized there was nothing nearby. We had seen a Holiday Inn Express on the river as we were leaving town, so while I turned the car around and headed back to Le Claire, Don called the Holiday Inn and found out they had a room available on the third floor, with a balcony. Oh, heaven!
We checked into the best room on our journey, walked out on the balcony and sighed with happiness. This is the sort of spontaneous thing we did on this trip and I wouldn't have it any other way. By this time, it was about 8 pm, so we went to a restaurant called Sneaky Pete's, which had been recommended to us by the desk clerk. Great food, a table at a window overlooking the Mississippi and these: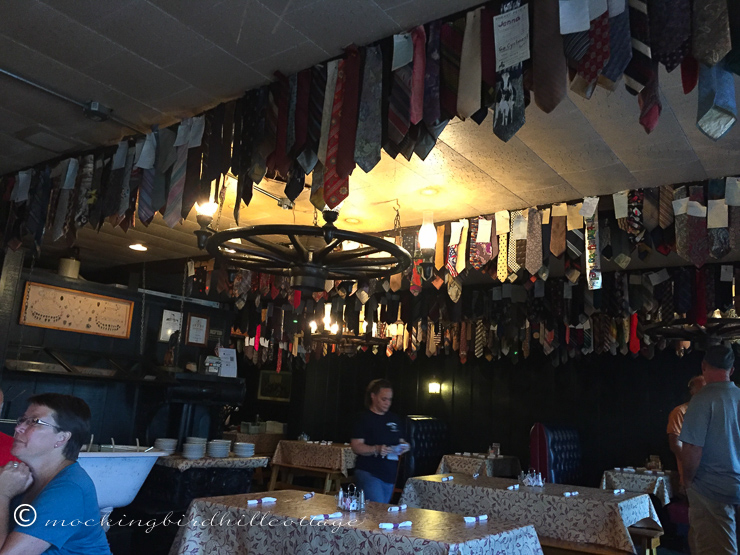 Ties. Everywhere. When we asked the waitress about them, she said "Cowboys don't wear ties" was a theme of the restaurant, so visitors voluntarily doffed their ties and donated them. Many of them had notes attached.
We went back to the motel and sat out on the balcony, watching the river, listening to the sounds of the Mississippi.
The next morning, we had coffee on the balcony and I took these photos of early morning life on the river.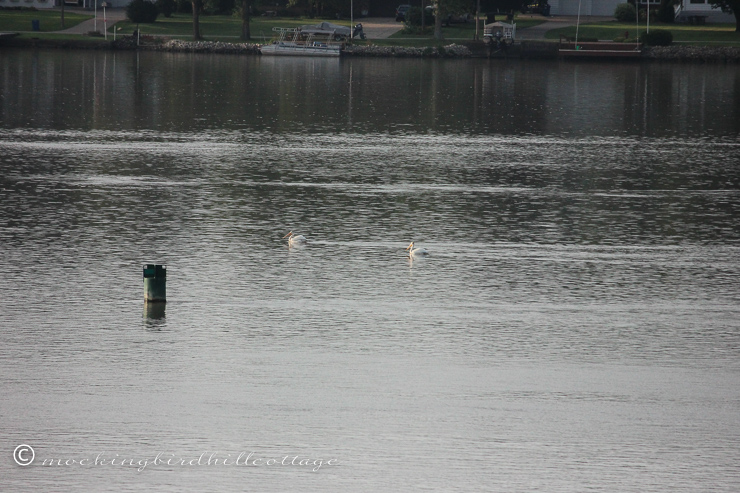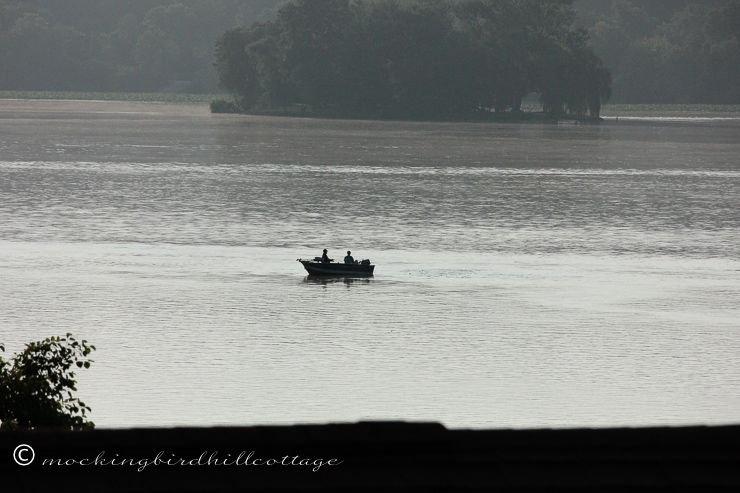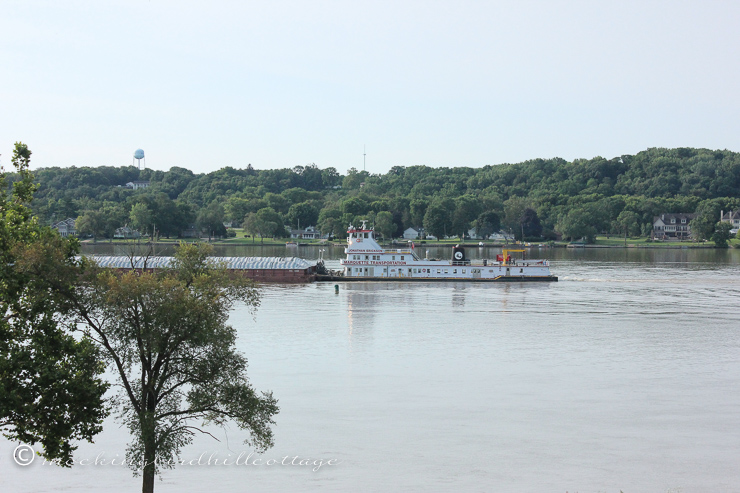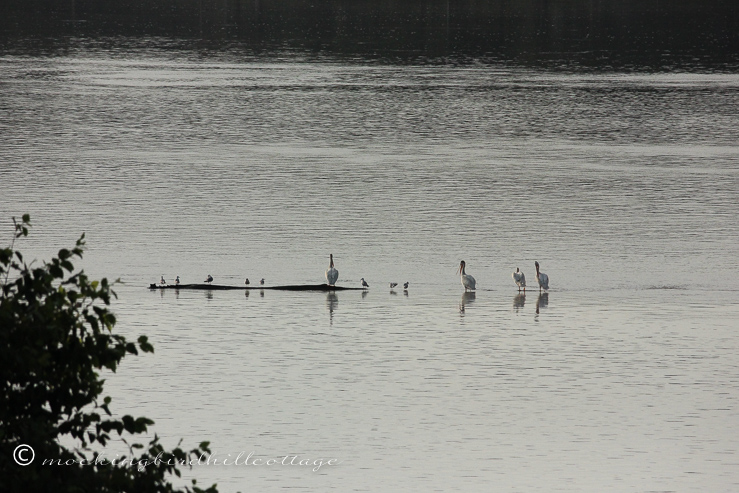 We checked out and headed over to Antique Archaeology – the headquarters of the Pickers. It was well before 10 am, but there were crowds of people already gathered, waiting to get in.
This is where it started, though there is now a branch in Nashville, as well.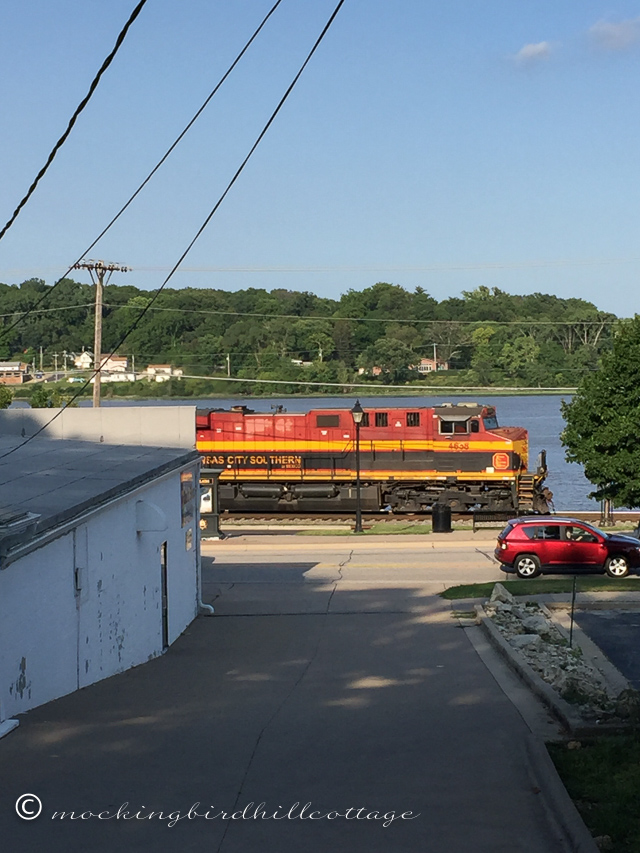 By the way, a train runs right through town. (We love trains.) I took this shot from the parking lot of Antique Archaeology.
I'll just leave the photos here. They tell the story.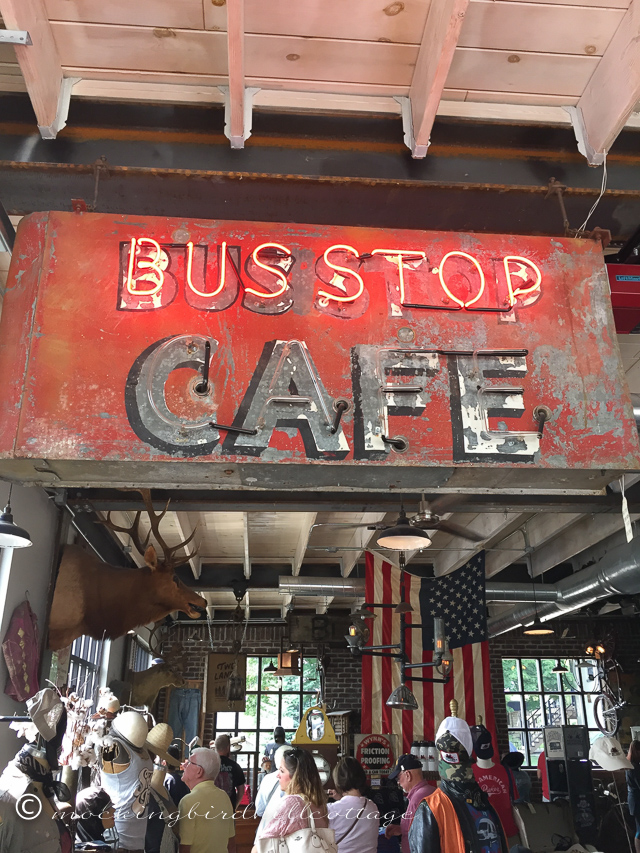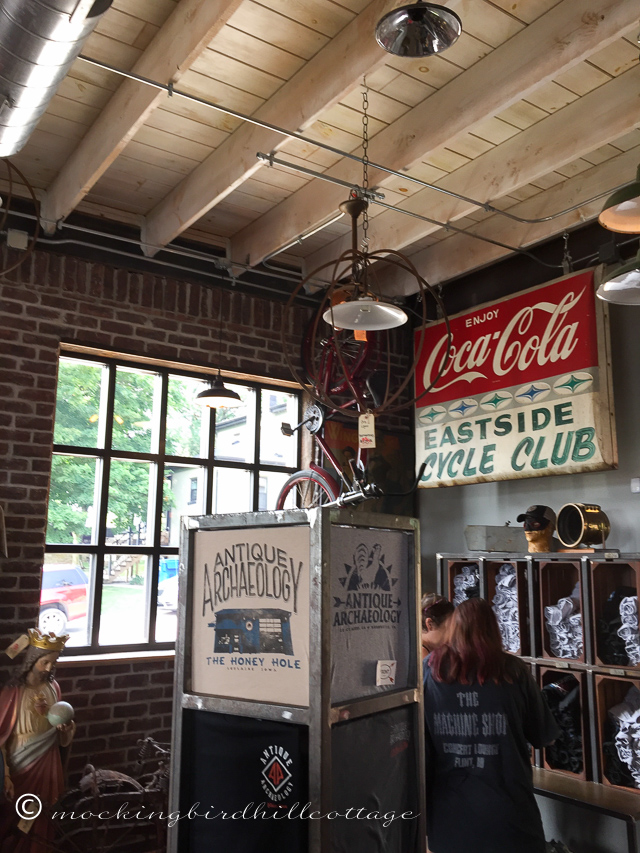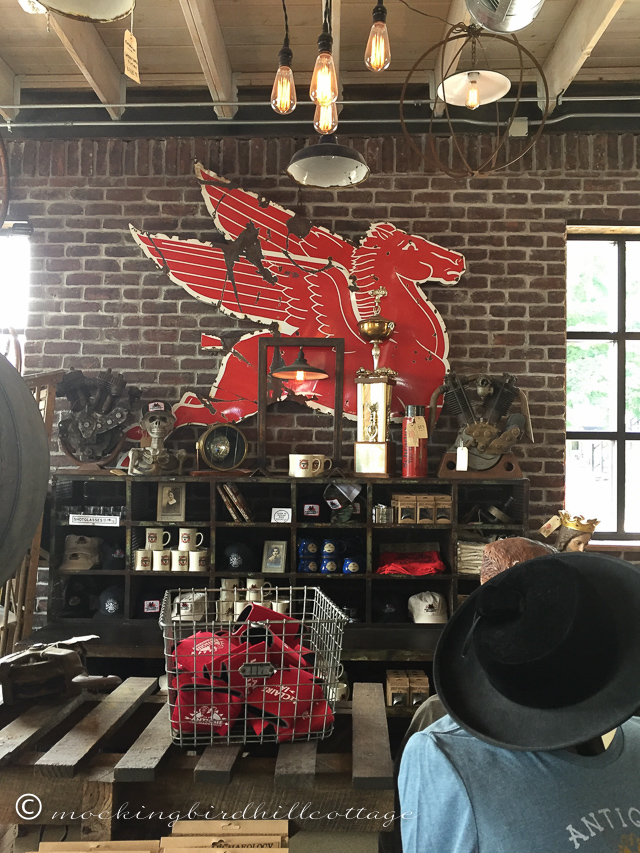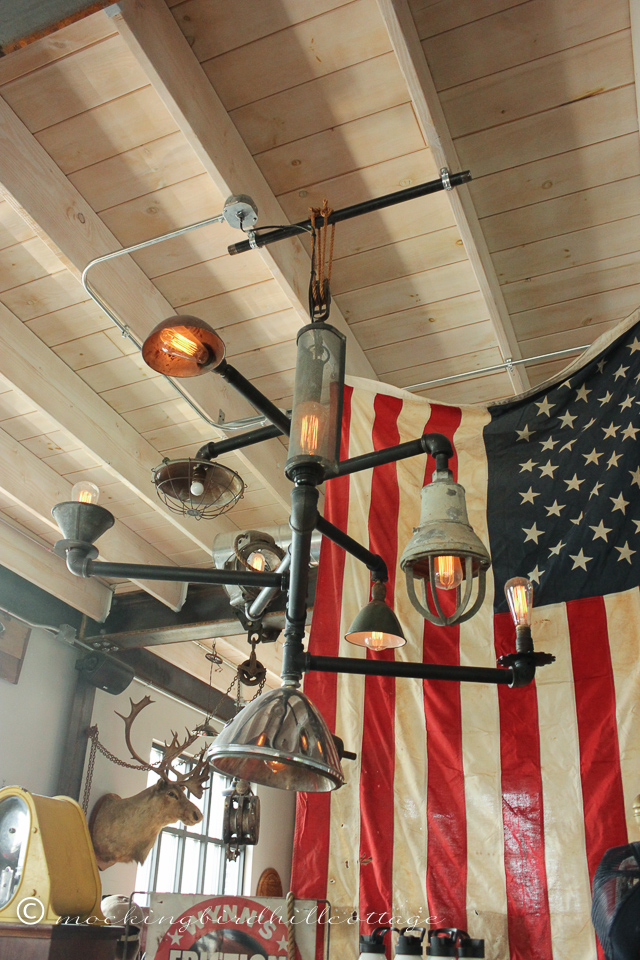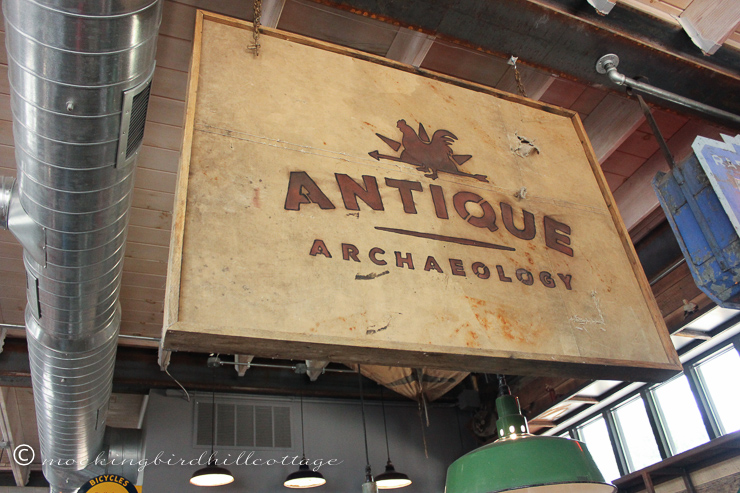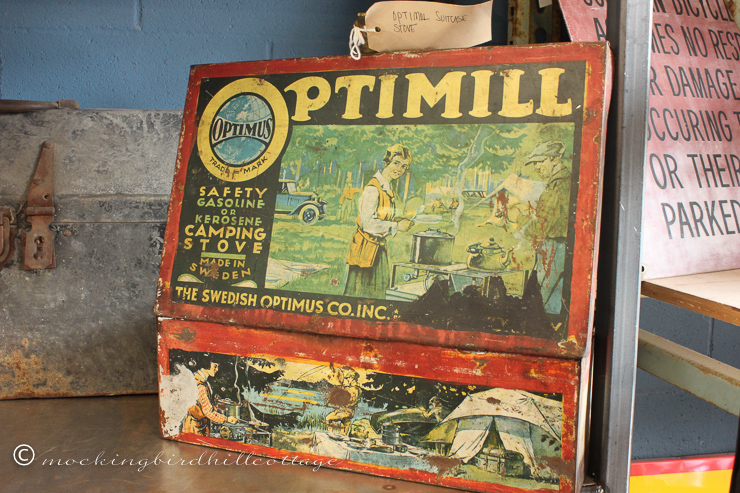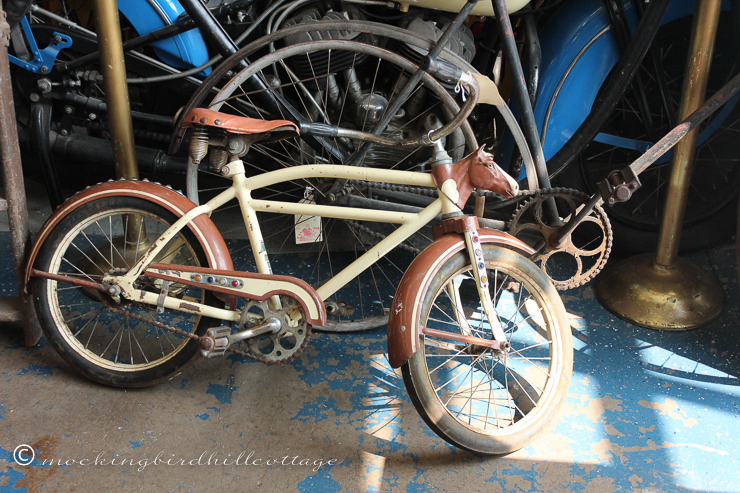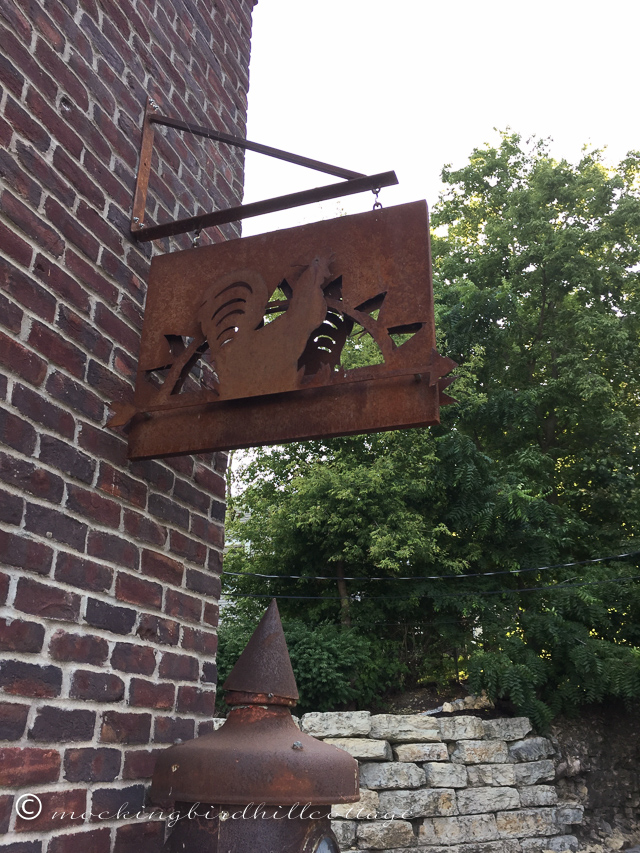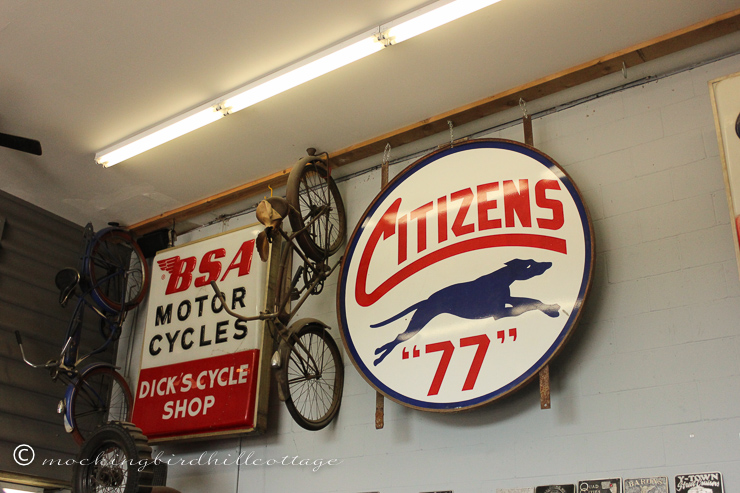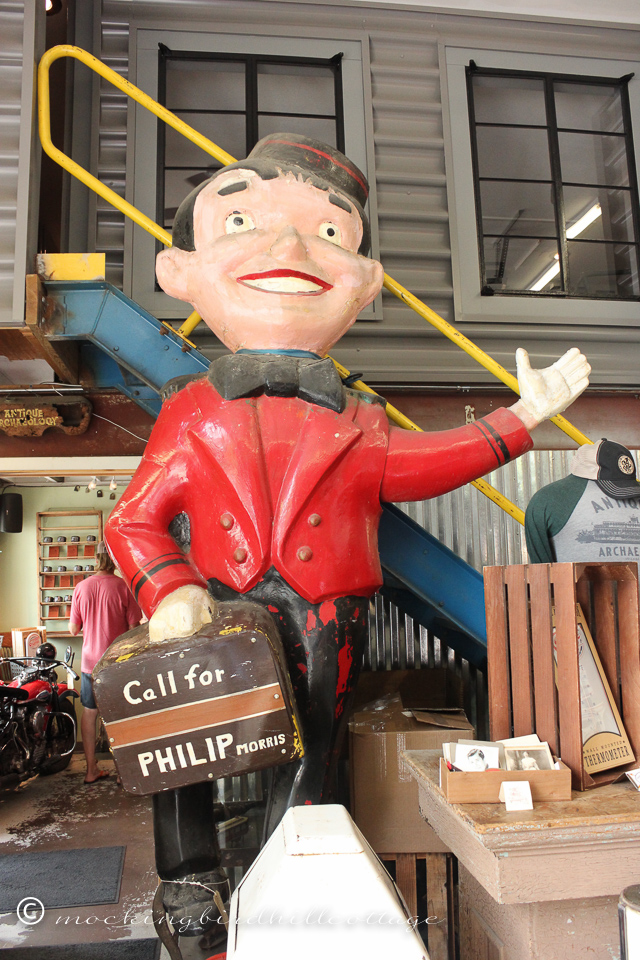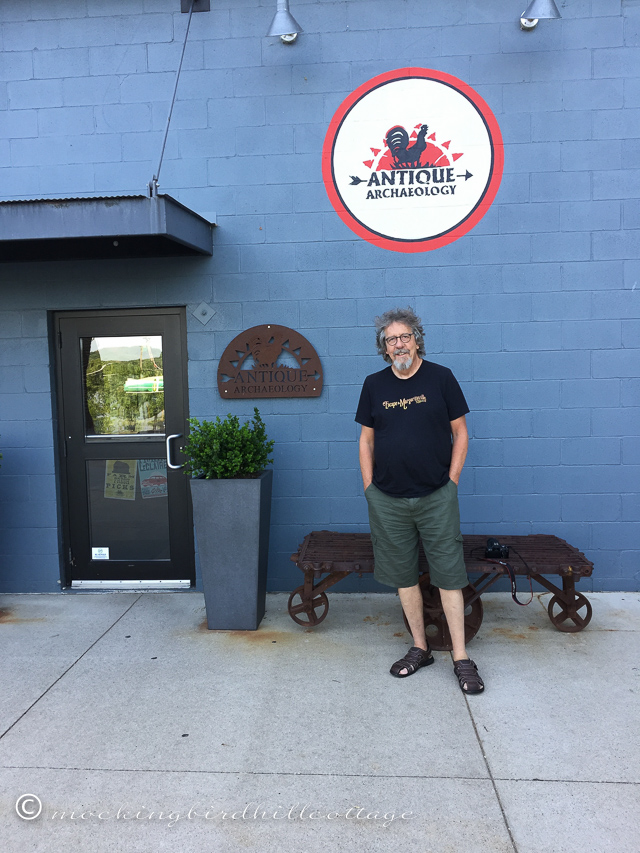 It is the coolest place. There are antiques for sale and there are a lot of finds on display that have been chronicled on the series. Mostly, there are lots of cool souvenirs with their logo or variations on their logo (which is a wonderful design.) We bought t-shirts and mugs (my new favorite chunky diner-style mug). We talked to a lot of people – it was packed. I'm told that this is the way it always is since it's the number one tourist attraction in Iowa.
The popularity of the show and the shops/headquarters have contributed to the growth of Le Claire, which now has more and more shops, including a West End Salvage shop (the original is in Des Moines). Since it was a Monday, several of those shops, including West End Salvage, weren't open. Though, as Don said, "If I had a shop in Le Claire and I knew that Antique Archaeology was open every day, I'd be open every day." Ah well. We want to go back there someday.
As to the cast of characters, Danielle lives in Chicago but is in and out of the Le Claire location for filming and office work. Mike lives in Nashville. Not sure where Frank lives, but everyone involved films and picks for two weeks of the month, the other two weeks are for time with their families.
We loved it there.
More tomorrow.
Happy Friday.