If it's Friday (I'm writing this on Friday) it must be…what? Oh yes, Wyoming, nearly Nebraska. I last wrote you in Nevada, I think, and since then we've moved on to Utah and Wyoming.
I'd never been to Utah before and let me tell you, I was stunned by its beauty. First up was the Great Salt Lake Desert, which is what remains of the Bonneville Salt Lake of thousand of years ago. I'd heard of the famous Bonneville Salt Flats of land/speed record fame, but I had no idea that the white salt becomes the landscape as far as the eye can see.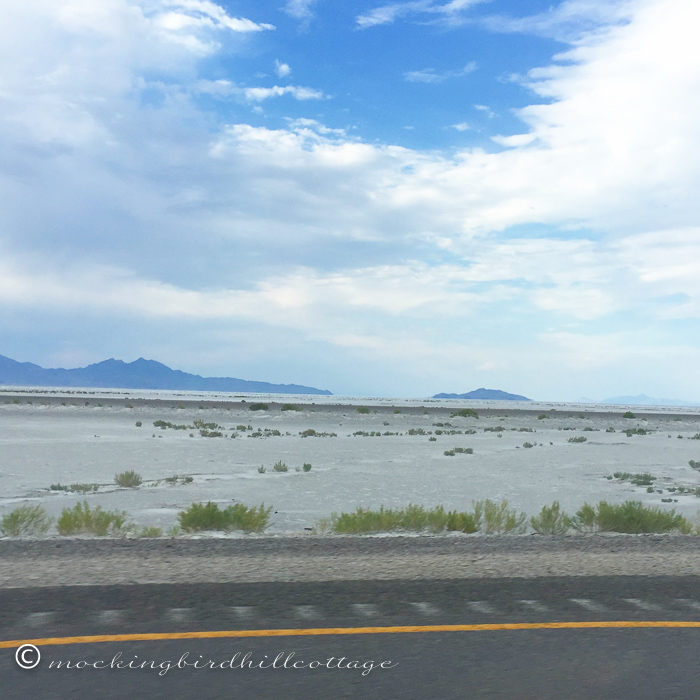 It's other-worldly in its beauty. Almost as if it's another planet – this combination of salt and mountains. Truly amazing.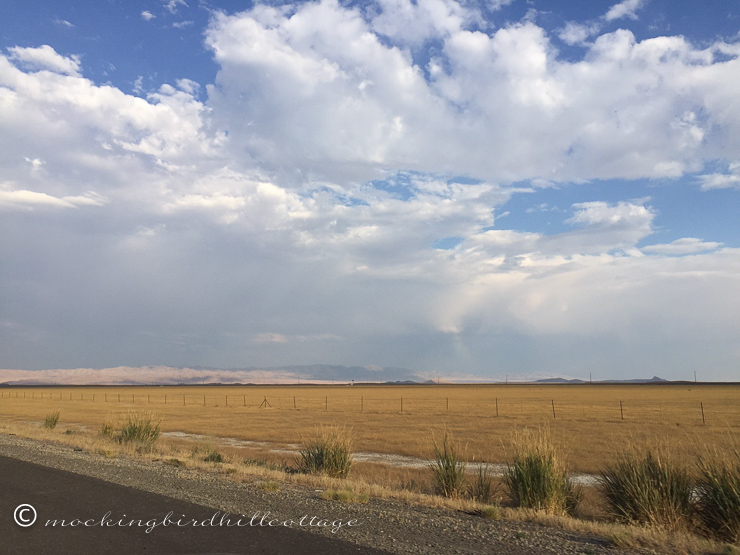 And then on to the Great Salt Lake and Salt Lake City – both of which are stunning.
As we drove on, drinking in the beauty of the Wasatch mountains, we started to look for a place to stay and ended up in Coalville, not far from the border with Wyoming.
This morning, as we drove onward, we were staggered by these red rocks.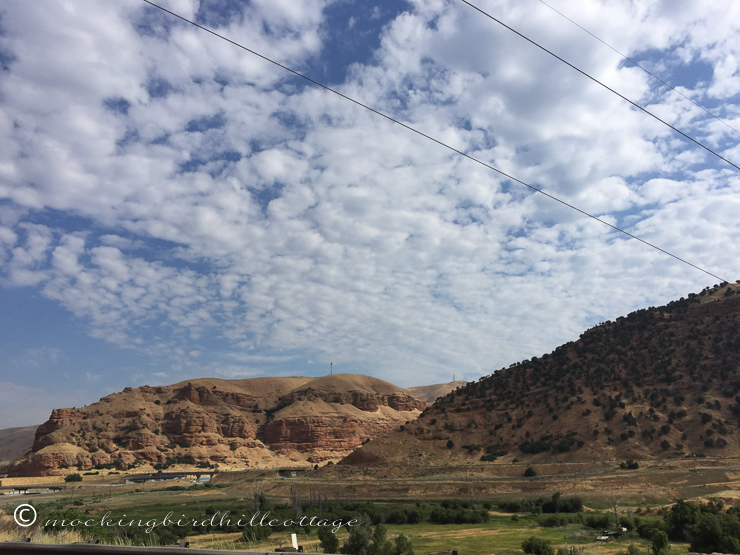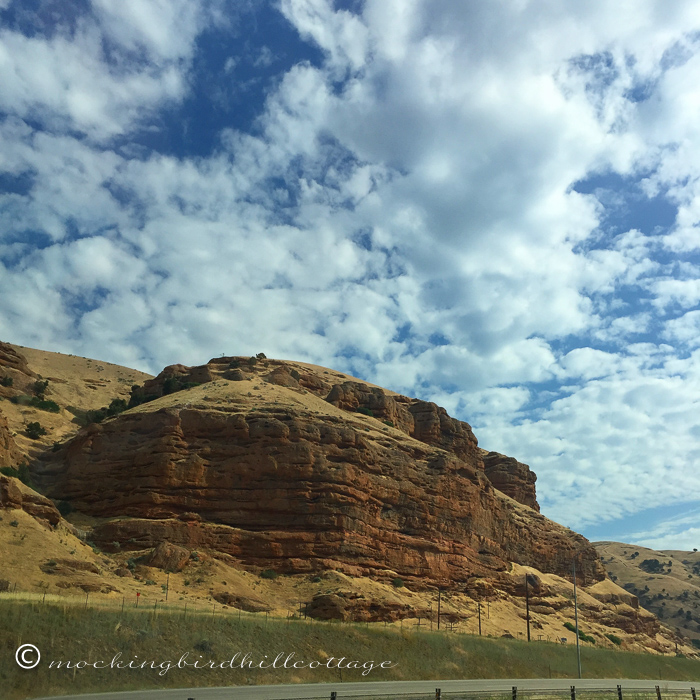 Simply beautiful. Utah is gorgeous and I've only seen Northern Utah. I can only imagine what the rest of the state is like.
On to Wyoming.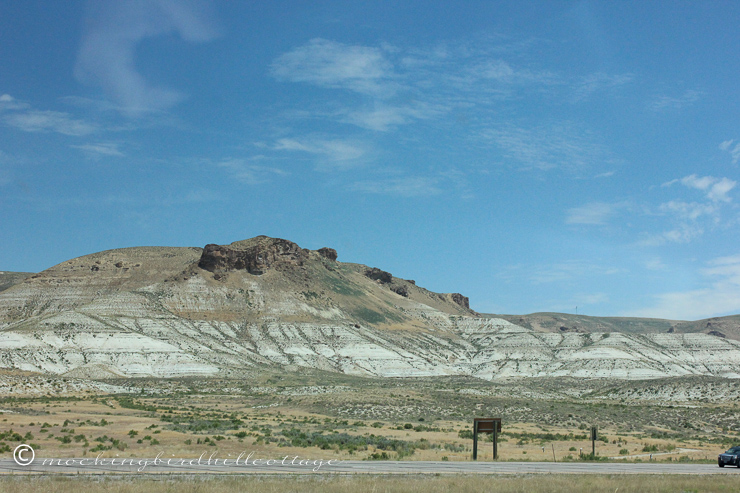 Mountains, hills, cattle, a huge, open expanse as far as the eye can see. And lots of wind turbines. They were so striking on the horizon. Big, white turbines, like sculptures off in the distance.
We stopped at a little town called Green River to grab a quick bite to eat. Green River is known for mining and is also 'the train town' because of the many freight trains that pass through. We had  quick bite to eat and then walked over toward the river.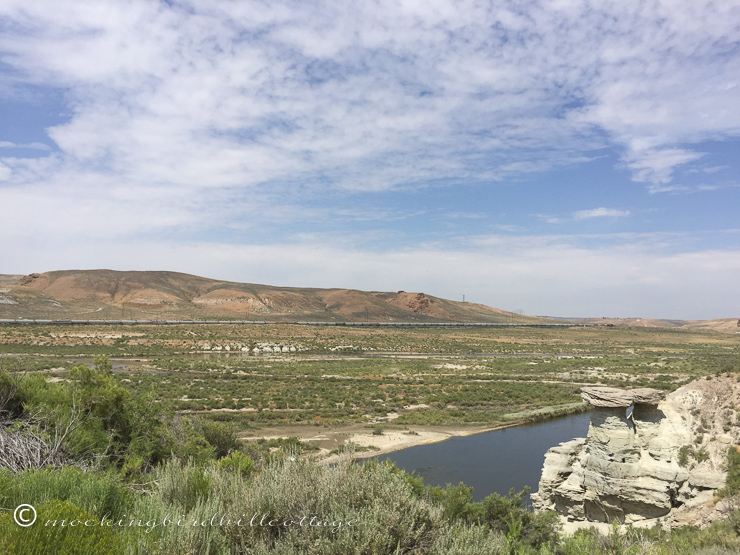 You can see a train off in the distance.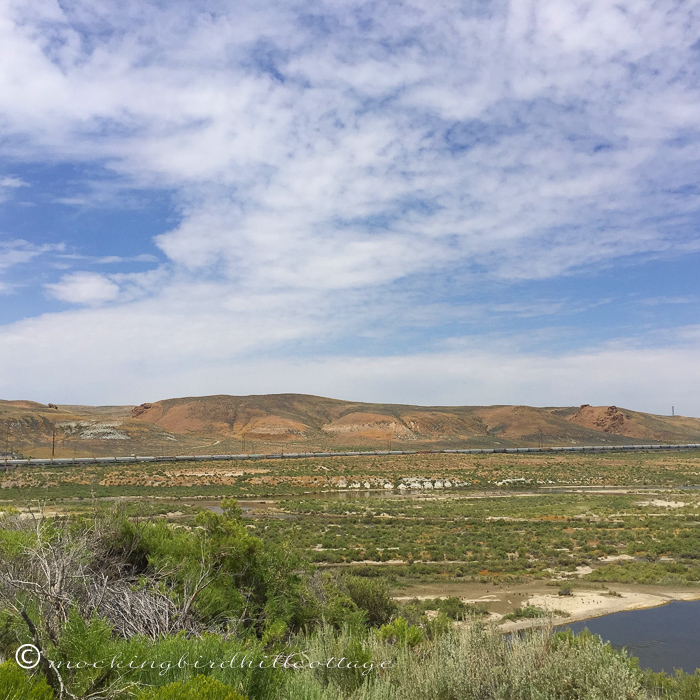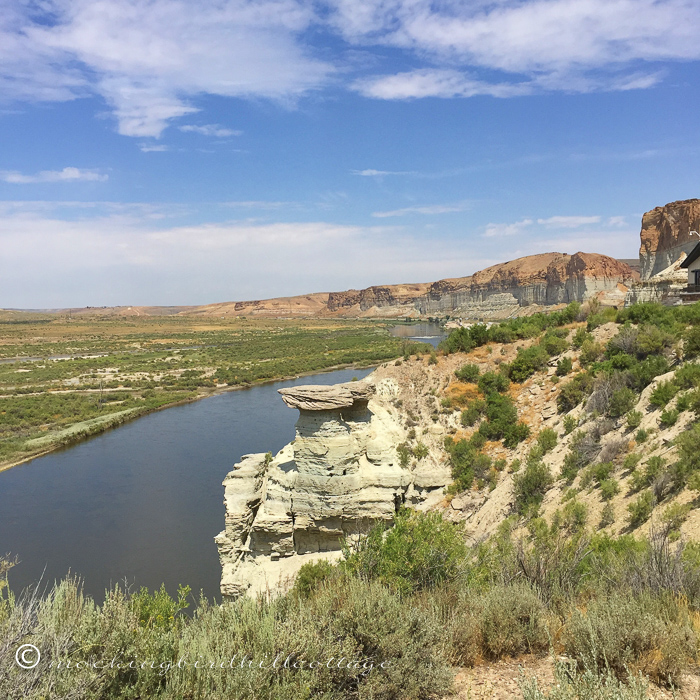 Truly stunning. We loved Green River.
Later in the day, we needed some lunch and Don stopped at a tiny, tiny little town called Wamsutter. We figured we'd have to grab something at the gas station but there was a sign for a Mexican restaurant, so we went in. Best mexican food I've ever had. Don feels the same. It was so good! Thank you to Lulu, the owner, who cooked our food and made the best guacamole ever!
Then endless driving until we reached Laramie and Cheyenne. Both towns have such a rich history in terms of the West, but as we drove through them, we realized they are now cities, sort of indistinguishable from other cities and they could never match our Wild West fantasies.
We're now staying outside of Cheyenne and we'll cross into Nebraska early tomorrow morning. Once we hit Iowa, I know I'll be eager to get home. I've been through Iowa and every other state that we have to drive through after Iowa countless times. Nevada, Utah, Wyoming and Nebraska are new-to-me states.
Quick story. The other morning, as we were having breakfast before heading to Sacramento, a man approached our table. The slogan on Don's t-shirt reminded the man of a documentary he had just seen on his local PBS station (about Route 66). We asked him to sit down with us and his wife joined us, as well. They had already eaten and were on their way to a family reunion in Oregon. Such a lovely couple. Ray told me he was born on October 30, 1938. That was the night that the radio version of War of the Worlds aired. He wasn't due until November, but his mom was so scared by Orson Welles' radio play that she went into labor!
We've met some lovely people on the road.
Happy Saturday.