I rose early, drank my coffee, took a shower and then started packing up anything I hadn't already packed. Then the loading of the car. Believe me when I say that every available space is taken by the time I head out the driveway!
The usual construction delays on I-84, with a stop at Trader Joe's for fresh flowers – a must when I'm headed to Hartford.
I arrived around 12:40 and it took precisely one hour to unload the car. This involves me grabbing what I can carry, walking across the parking lot, entering the code for the building, going up the elevator, walking to the apartment, dumping the boxes/bags and then doing it all over again. About 15 times. That's part of the reason I leave as early as I can. I just know that it will take time.
And, being who I am, I have to arrange everything and get settled before I can relax.
I took photos of the empty apartment but for some reason, they never registered on my iPhone. Hmmm. Anyway, here are photos of the apartment with everything I added to make it like a home.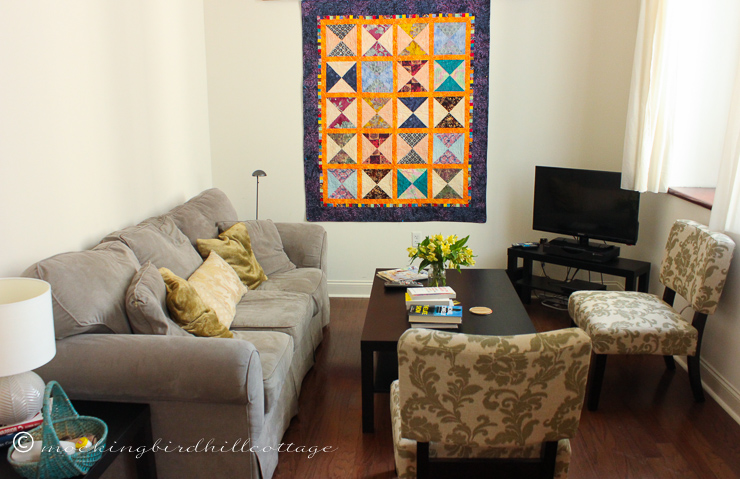 As always, I bring two quilts that I made and hang them on opposite walls. You might remember there are two bizarre small, square canvases hanging on the wall just above the quilt. Rather than stare at them and contemplate ripping them from the wall (can't do that) I hang the quilt as a distraction. It works.
I also bring lamps from home because the lighting is never enough for me and lighting is everything. The gray lamp on the table is from our office at home. The lamp at the far end of the sofa is one I've had for ages (originally from IKEA).
Fresh flowers in a mason jar on the coffee table, along with some books and magazines.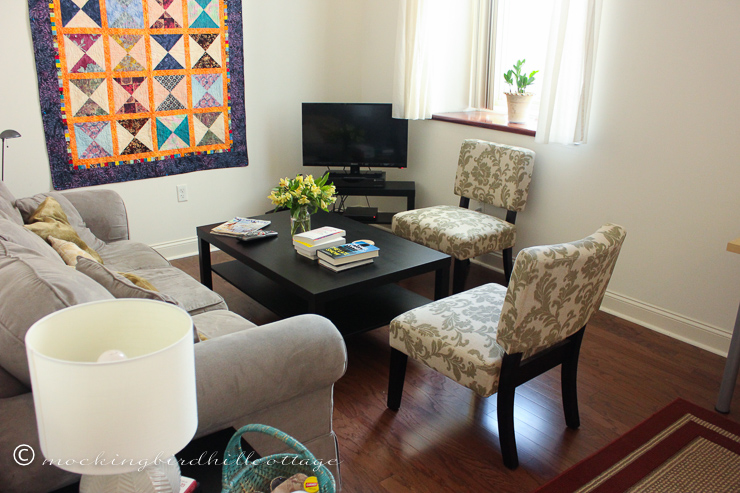 The basket is also from home. It's holding my glasses, Carmex, and some chargers.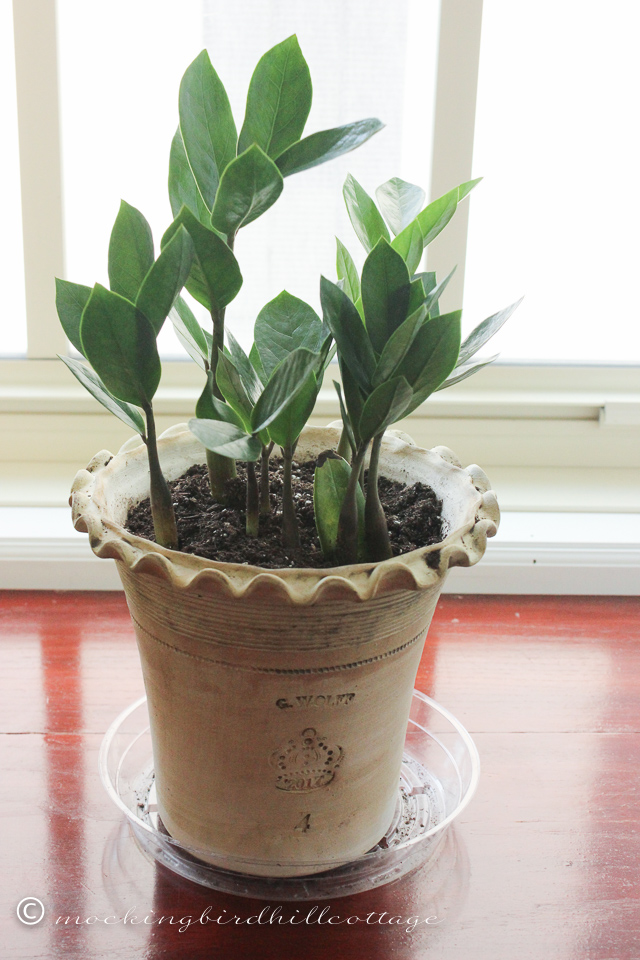 This time, I brought along a houseplant from home. I have these great window sills that are very deep, so why not put a plant there?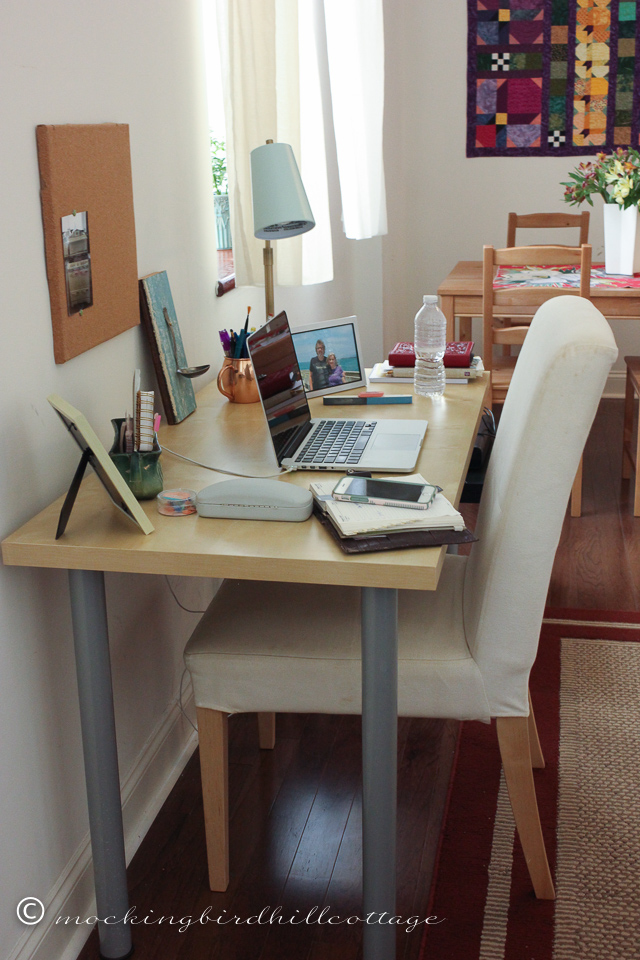 The desk. I brought that lamp along with me as well. Also added from MHC, framed photos, a piece of Roseville pottery, various notebooks and agendas.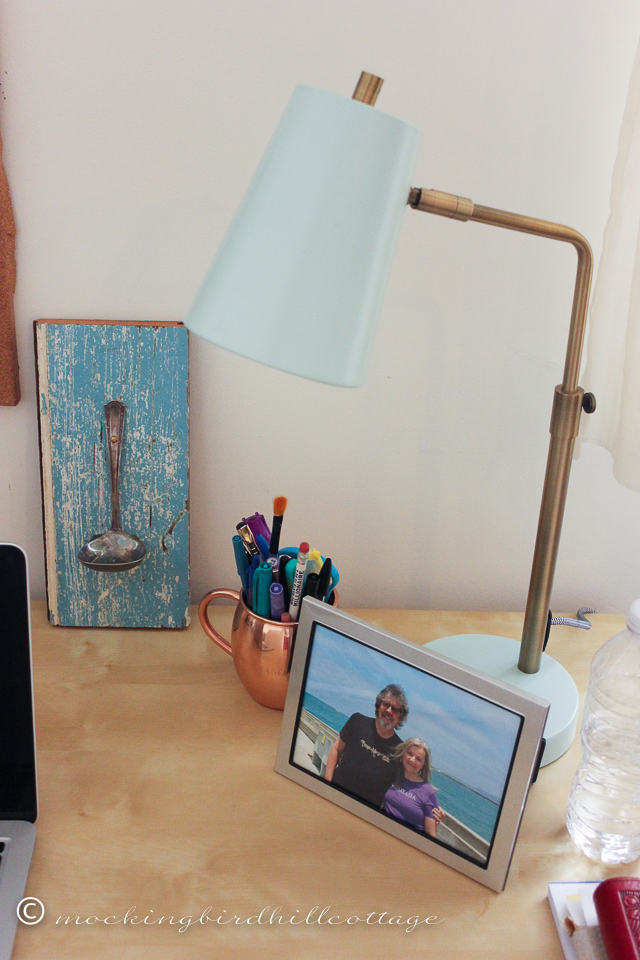 The piece of painted wood is something I bought when we were in Cambria, CA. It's from the oldest house in Cambria and the lovely junkers that owned a shop there added the vintage ladle. I think we'll eventually hang it in our kitchen but it provides a nice splash of weathered color here. The copper mug is engraved with 'Anastasia' and was a gift from Christy (our very own Anastasia.)
The photo is of Don and me on the beach in CA celebrating our anniversary.
What's the only item currently on the bulletin board?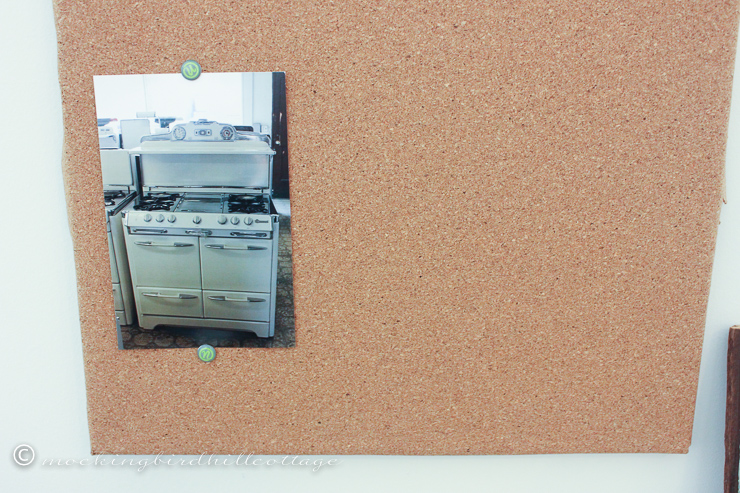 A photo of our stove! I like to remind myself of its beauty.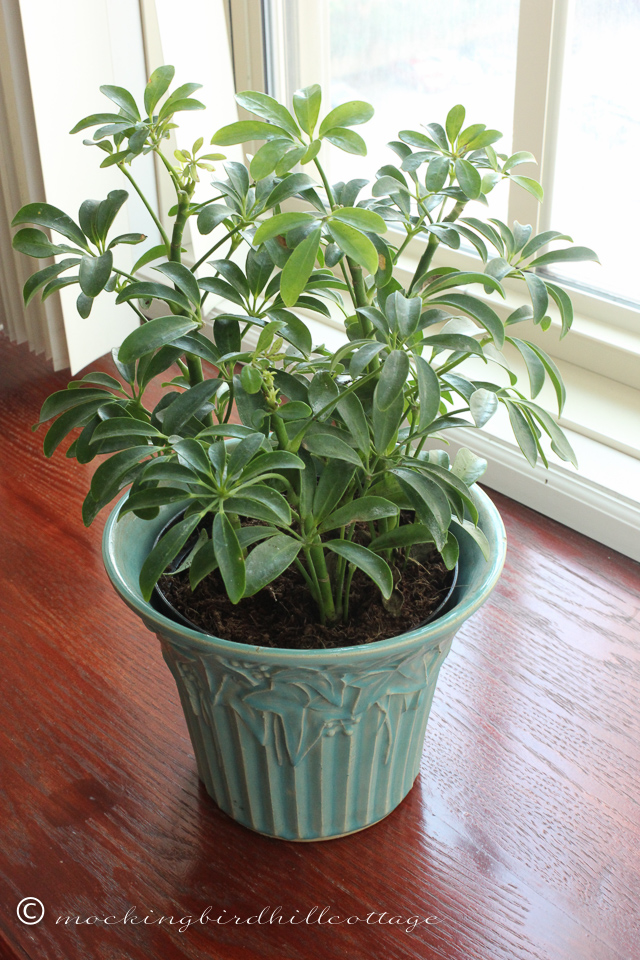 I brought along the McCoy pot that was a gift from Tina and Noble. While at Trader Joe's buying flowers, I noticed this plant. Hmmm. As I thought it might, the plant pot fit perfectly inside the McCoy. And now it's in the other window.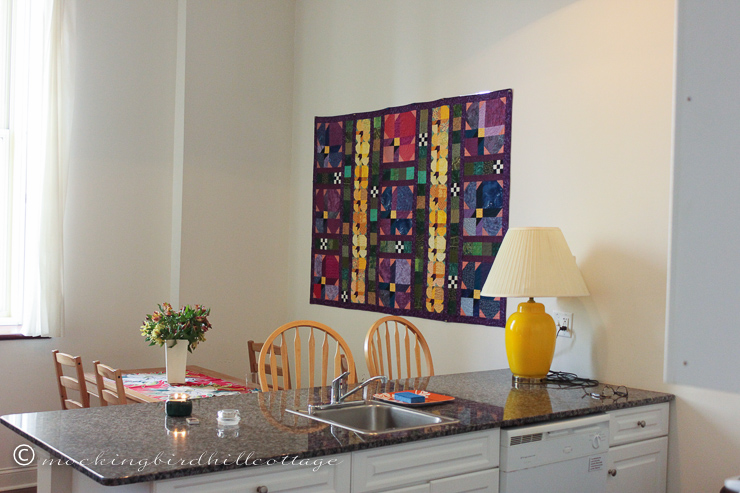 This yellow lamp has been here as long I've been using this particular apartment, which is the one I always request. When I arrive, I find it in various places. This time it was on the desk. I promptly move it to the kitchen counter.
There's the other quilt, currently covering up some mirrored squares that are inexplicably about 4 feet apart. This looks much better!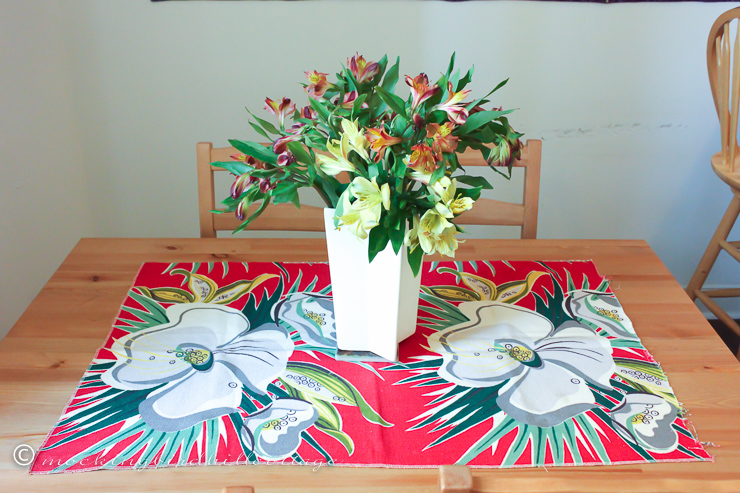 More flowers from Trader Joe's in a vase I brought from home. And I always throw some fabric scraps in my suitcase – usually vintage barkcloth. I like this particular pattern here on the table.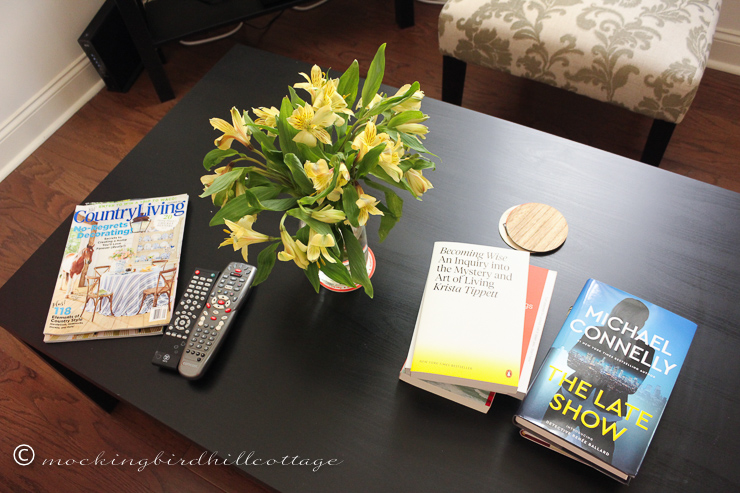 In the morning and evening, I plop myself on the sofa and man the remote and/or read.
There you have it! I have a full day of rehearsal today and I've got to start getting ready.
I really like these apartments which are, to me, really high up there on the company housing scale. Tall, tall ceilings, a loft-like feel and shiny laminate floors, plus a very nice kitchen. It feels like home away from home. By the way, I also did an Instagram Stories last night which shows much the same thing you're seeing here, only with my voice added.
(Don and I have already face-timed twice and I've been gone less than 24 hours.)
Happy Friday.