Weeding turned into a big job yesterday, as they had taken over big swaths of the garden beds, so that took up a great deal of my time. And then I weed whacked. So I didn't get around to the de-greasing, which I'll tackle today.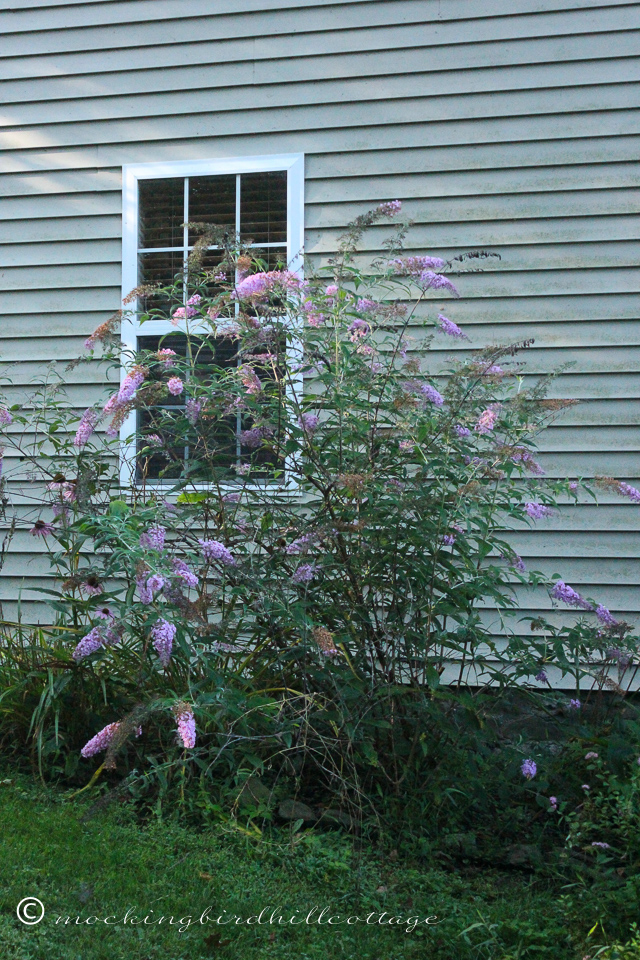 Look how tall our butterfly bush is!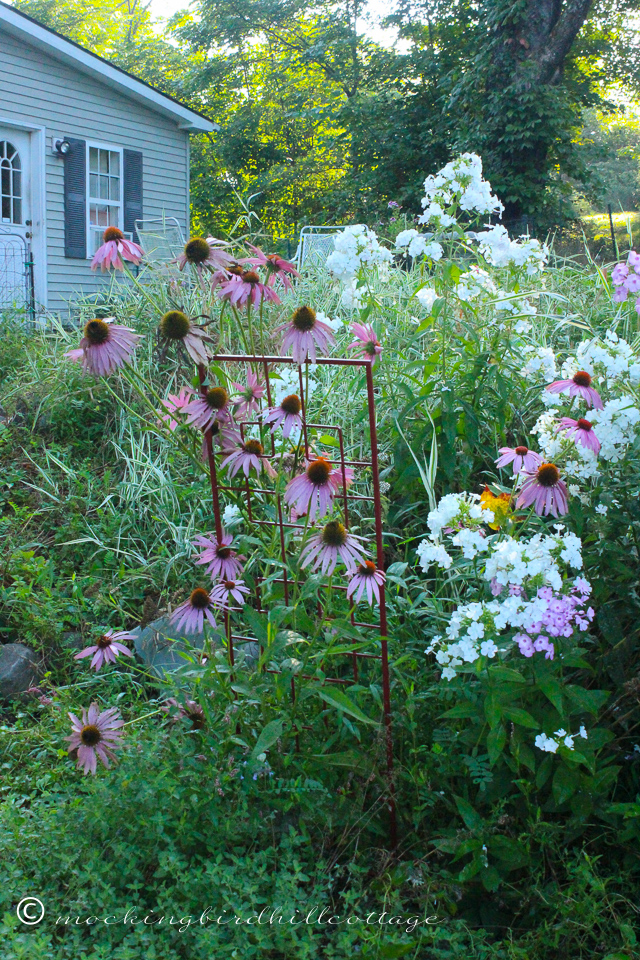 And these coneflowers are so tall and top-heavy that I have to keep propping them up against the trellis. The gardens are still thriving but I can see subtle signs of autumn's pending arrival. There are leaves on the porch and in the gardens – there was one in the birdbath yesterday that had turned orange. Yikes. I'm not ready for that yet. Summer is my favorite season now that I've been living and gardening here for almost 12 years. August 30th is the twelfth anniversary of our move to the cottage.
Our girl starts her journey today. The shipper is picking her up at Antique Stove Heaven. We're very excited!
I'm debating whether to drive back tonight or tomorrow morning. I don't technically have to be at rehearsal tomorrow, but I'll certainly stop by for a while and watch as Darko stages the second part of the play. We have limited rehearsal time and I need to be there as much as possible. As I have to buy groceries, I'm thinking that driving back tonight is the better option. After all, I'll be back home on Monday to (hopefully) see our girl in her new home.
We watched Holiday last night on TCM. I'd seen it before but Don hadn't. Katherine Hepburn and Cary Grant – it doesn't get much better than that!
Our new stove will be named Stella, by the way, in honor of her journey to us commencing on the same day as the eclipse. Stella means star and the sun is a star. And she will be the star of our home. We're waiting for you, Stella!
All right, my friends, I have to go. I have much to do today. If you're watching the Eclipse, have fun!
Happy Monday.