Yesterday was a long day; full of painting, and incredibly humid at the same time. I didn't take a shower until 7 pm! Everything is done on that wall except for the trim around the window, which I'll do this weekend.
We really like the yellow, which changes as the day goes on. On this dark and rainy morning, it looks like this: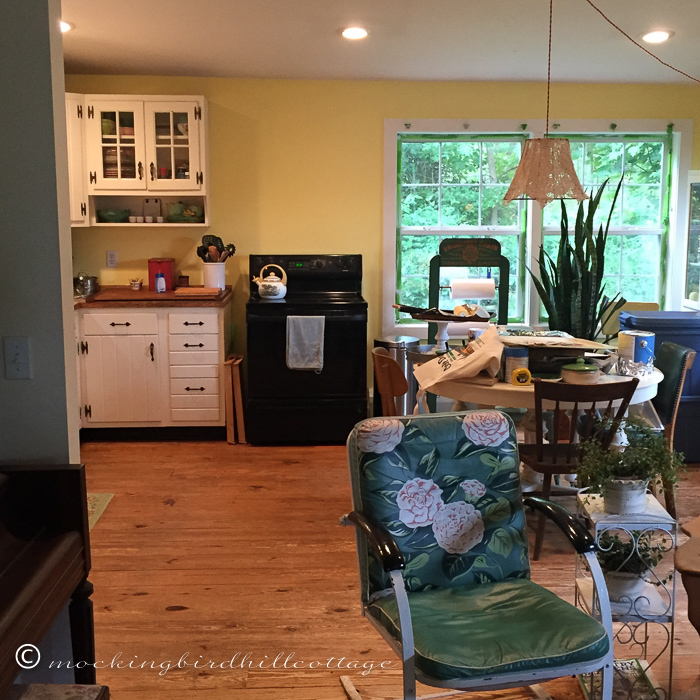 But it's actually lighter than this – a buttercream yellow. It makes us happy. Now the big question is whether we do it on all the walls or just this one? We're going to wait on that decision. Actually, we have no choice. I have much to do, we have much to do, including looking for a smaller kitchen island. I'll have more photos soon.
Yes, I know. Everyone loves that island, including me. It has been an incredible boon to us with storage and an additional counter surface. But it's huge. Mammoth. 68 inches long, 38 inches high. It will block part of the view of the stove. The stove is deeper than the one we have, which means we'd have to move the island closer to where the refrigerator is, and that would make getting around the kitchen even more difficult.
This one isn't easy for me. I'm already in mourning. But we want to see  our vintage stove, which will be and should be the star of the kitchen. With the old island in here, I'd never be able to get a full-on photo of it. We're rethinking the storage of kitchen items. What to pitch and what to keep. And I am leaving in 5 days! A bit overwhelming, but this darn gorgeous and large vintage stove has made us rethink everything!
The island, pretty as it is, has chipped paint most of the time. It's so big that it makes it difficult to clean around it. Time to move on. Sigh. Don came up with the idea of using it on the porch as a potting bench/storage unit and it looks pretty good there. We're trying that out.
A photo of us from the other night. We were out to dinner, trying to take a selfie (we're woefully inept at that) and collapsed into giggles. It was a celebratory dinner, but that's all I can say at this moment. More soon.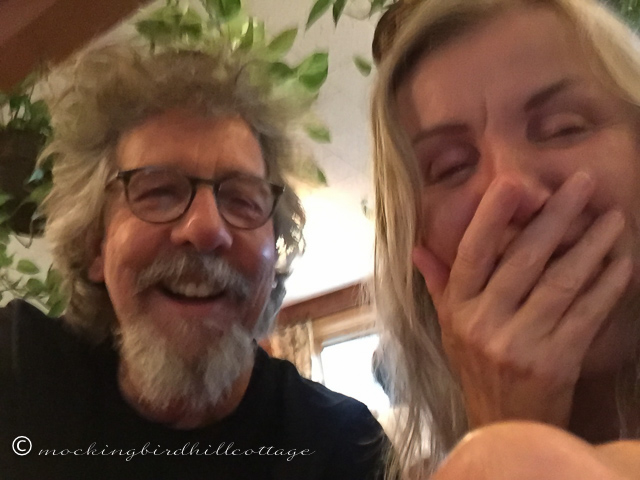 It's blurry, but it makes me smile a lot.
We're off to do some antiquing/treasure hunting in the Berkshires.
Happy Saturday.