This is the view I woke up to – one of my favorites: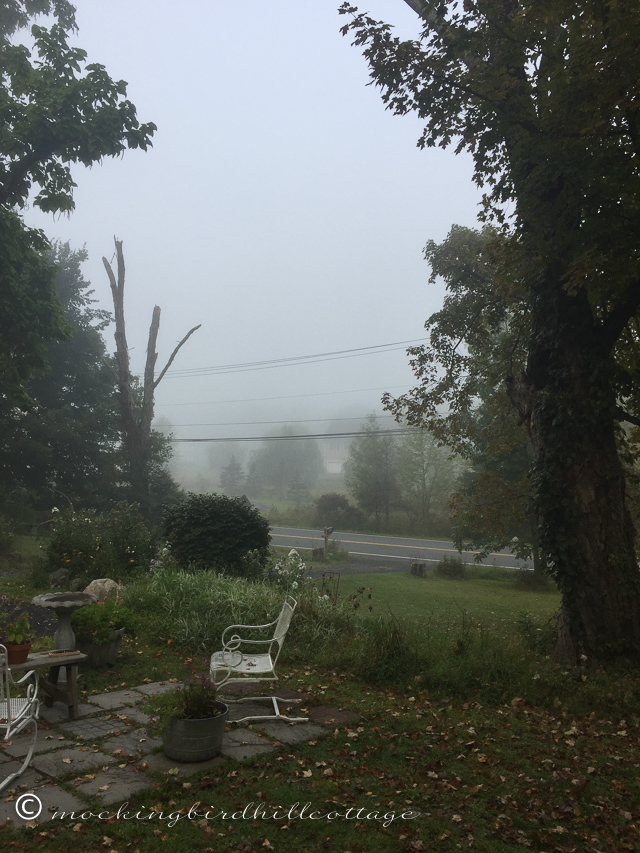 Fall and fog.
Sigh. I have to drive back to Hartford today. I've been nestling in here at the cottage and it's been a joy. I don't want to exaggerate, however. I'm only going back for 2 days – maybe 3 – and then I'm home for good. I packed up quite a few things last Sunday and hauled them home. Hopefully, this will make the rest of the packing easier. Fingers crossed.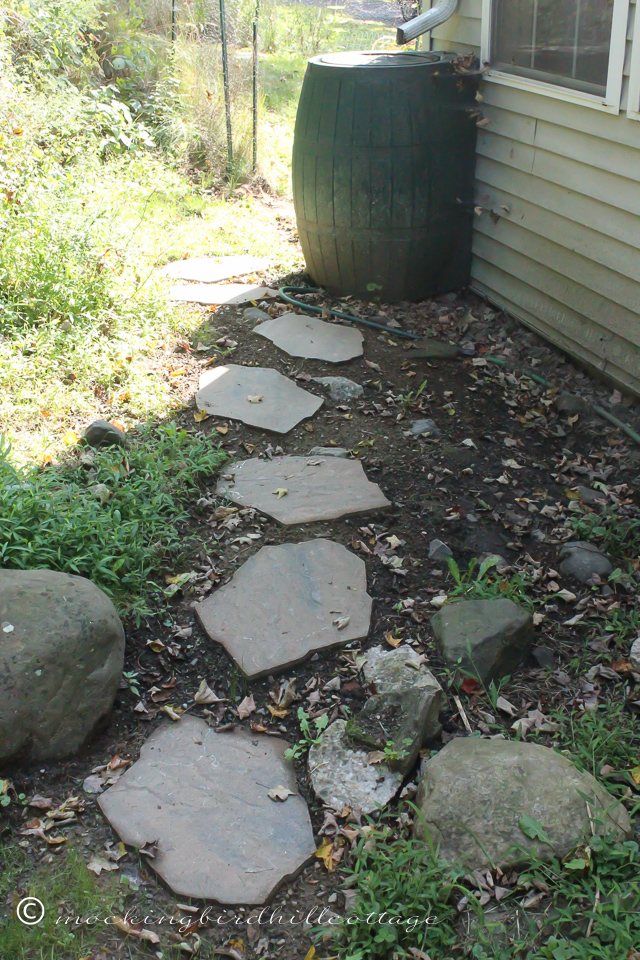 Don made this path with some pavers he found at Lowes – it's behind the kitchen. You can see our rain barrel, which handles overflow from our wonky gutters. There is a flat grassy area behind the kitchen that gets very wet as it's at the bottom of a small hill. We'd like to do more with it next year. Anyway, this little path is the start. (Don was very busy while I was away!)
I made biscuits last night. Yes, I'm the only one here, but…Stella. And biscuits.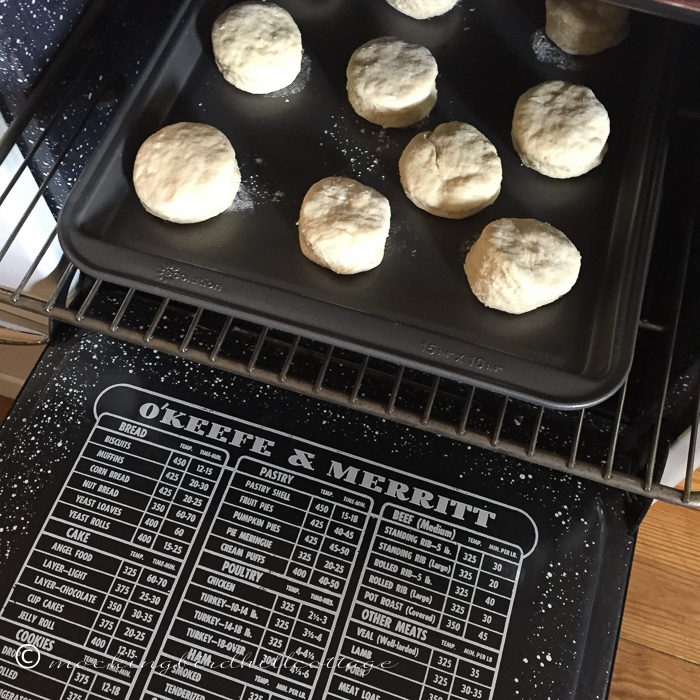 Note baking chart inside oven door: Biscuits – 450. Check. 12 -15 minutes. Check, although I tend to go for 11 or 12 minutes at max.
Made a jelly roll lately? 400 degrees, 12 -15 minutes.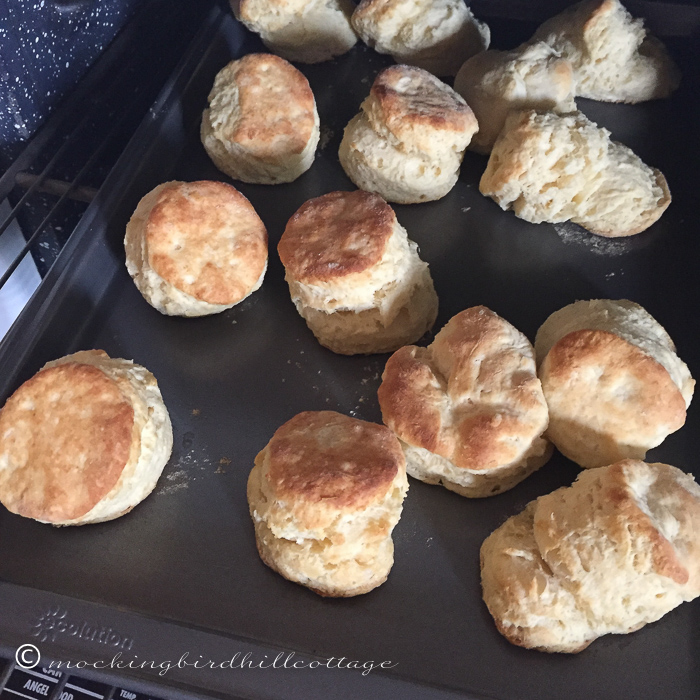 They get so poufy that they sometimes fall over. That's because they're Cloud Biscuits. I'm taking some back with me. Comfort food.
I've been noticing a line of pottery on Instagram, greatly favored by much younger bloggers, some of them fanatic collectors. It's made by potter Rae Dunn and it's sold at Home Goods, T J Maxx and Marshalls. She has other lines, as well, that are sold elsewhere. The appeal of this particular line centers on the use of words in a engaging font, along with the slightly irregular shape of the mugs. I'm not about to be a big collector, but I did buy a few pieces, drawn, in part, by this one: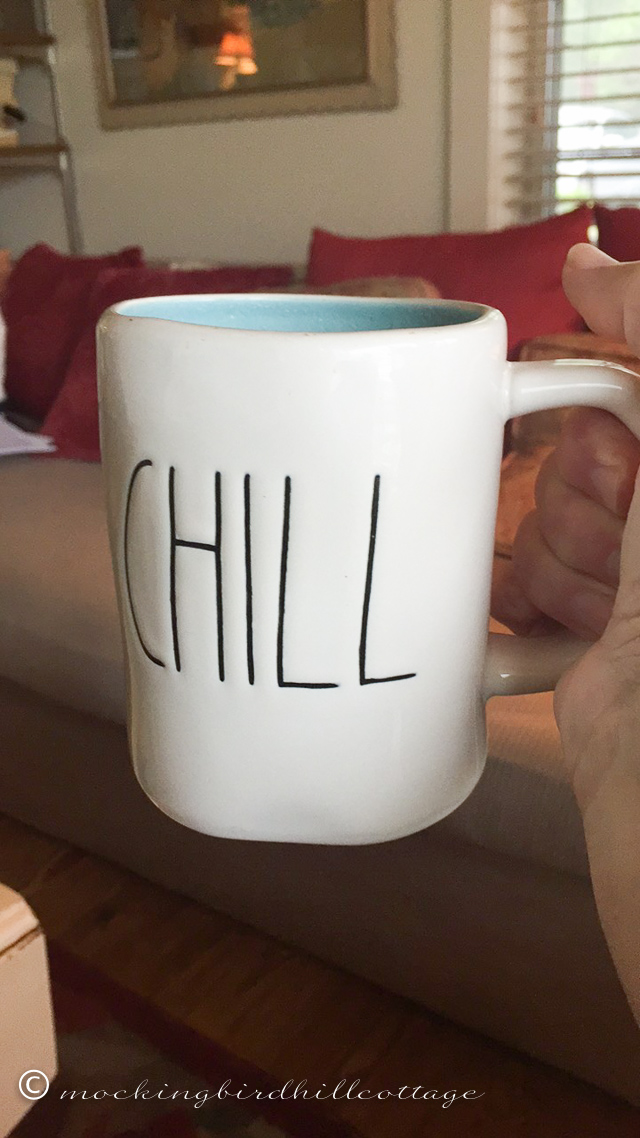 Why Chill? Well, besides the obvious good advice, Chill is me. C. Hill. As I said on Instagram, this was embroidered on every item of clothing I wore in gym class or took to camp. It was written inside all my book covers.
I'm C. Hill. And I remain a Hill legally. Even though I go by Hill-Sparks professionally, I never changed my name when I married Don. I had no desire to shed what had been my legal surname for over 40 years. Don was completely fine with that.
So. Long story, but that's why I love this mug!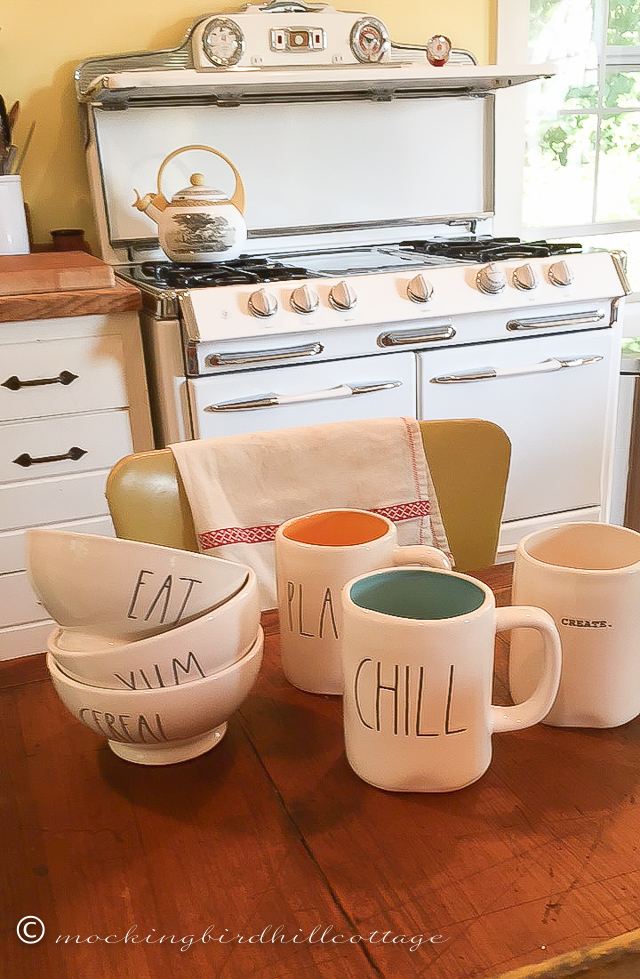 Some more pieces. I love the bowls. We always need bowls around here. I've always been drawn to words on things – I've had some of the Emma Bridgewater Toast and Marmalade pieces for years. The lettering on the Rae Dunn pieces is very like the font I chose for my blog; another reason I'm enamored.
The mug behind Chill says Play.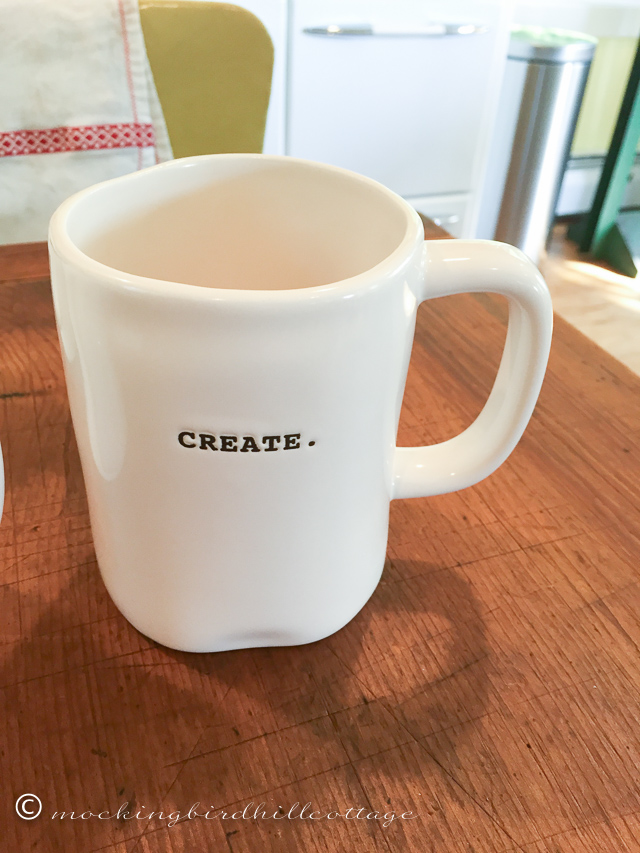 And then there's this one, which was in yesterday's post. I found it at Home Goods. Also Rae Dunn.
Luckily, I don't have a lot of extra room around here. Maybe a few pieces, but that's it.
Some of you wrote to me when Irma was on the way to the Tampa area and I'd love to hear how you're doing. When you have a moment, please leave a comment. Mere and her family are okay. Exhausted, but okay. Little Z declared on his own last night that it was time to go to bed. He was tuckered out.
Happy Tuesday.