A lovely day yesterday, starting with brunch at Doug and Rick's place. Rick made french toast and I got to see what has happened with house decorating – it's looking lovely inside. They've accomplished a lot outside, as well, a new driveway, new exterior paint, some trees taken down. A fire was lit in the fireplace – the perfect setting for food and lots of laughter. Doug's daughter is simply lovely and I'm so glad I had the chance to talk with her.
Then – and don't get too excited by my whirlwind of activity – I went to the grocery store.
Yep. That's it.
And then I watched Gigi  on TCM. I love that movie.
Don contemplating Nighthawks.
Don said that he tested his voice in the shower yesterday and it was a bit better. The meds are kicking in and he's feeling better. Today, he and his doctor will decide whether he needs a shot of steroids. Hopefully, not, but he's got to be able to sing. At 1:00 central time, send positive energy his way.
In the meantime, we texted a lot and had one FaceTime where I asked 'Yes and No' questions.
I'm pondering whether to begin painting that last wall in the kitchen.
Pondering. Not doing anything. Just pondering.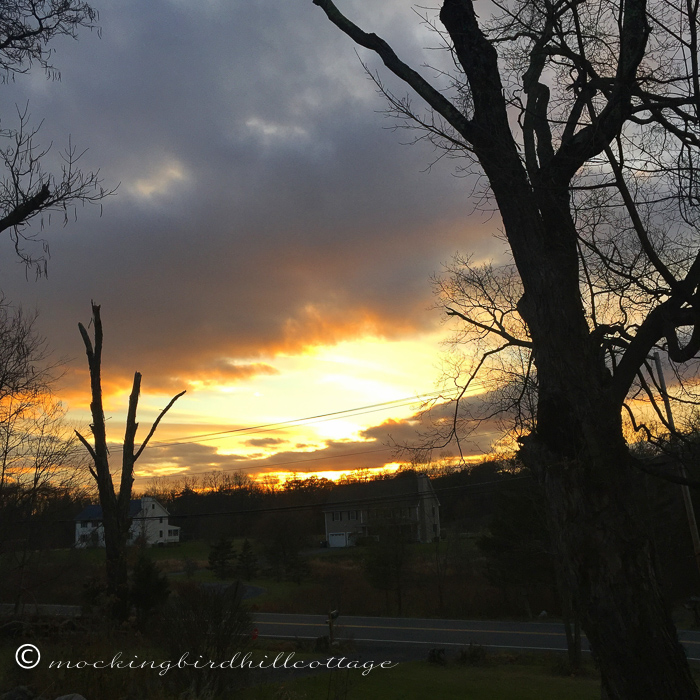 Last night's sunset was beautiful, but the sun went down at 4:15. Too early!
I just finished Michael Connelly's newest (great, as always) and have now tucked into the new John Le Carré – A Legacy of Spies.
Today is about getting the mail from the post office, paying bills, and making calls about the Tax Scam. The latest realization: I would lose the tax deductions that are absolutely necessary for me to sustain my freelance work. There's a long list of horrors in this bill – this is just one of them.
Resist.
Happy Monday.