Let me start off by saying that last night's performance at Preservation Hall was something I will hold close to my heart for the rest of my life. I've always wanted to go there and the chance to listen to these seasoned (and often hilarious) musicians play the jazz that originated in New Orleans was a dream come true. I got in line early for the 10:00 show and then Don met me there as soon as his show finished. It's a small room, an intimate space in which to hear music.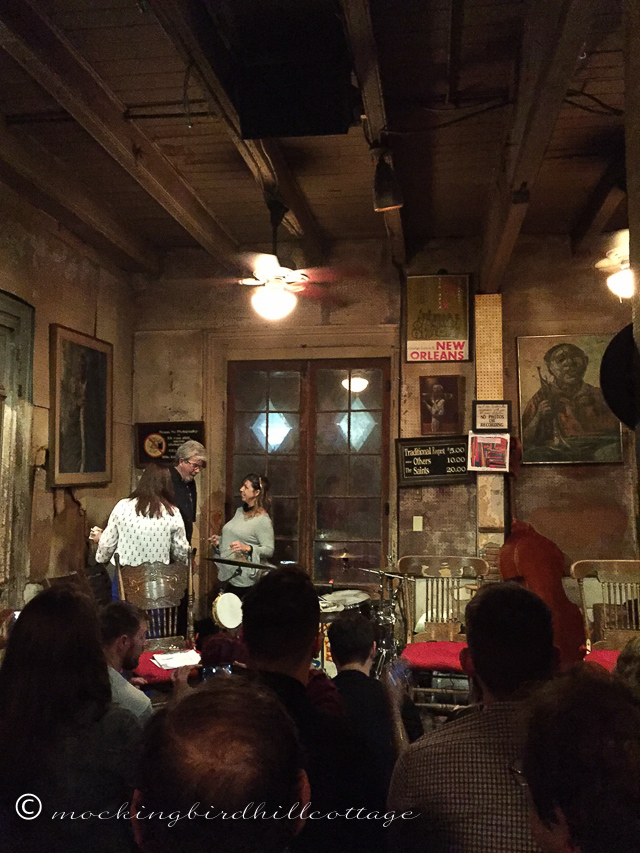 It was a shared experience: the audience, the musicians, and the energy of the room with all its history. I've had a couple of musical experiences here in New Orleans that brought me to tears. This was one of them. If I did nothing else for the rest of the week, I would be just fine. This was everything to me.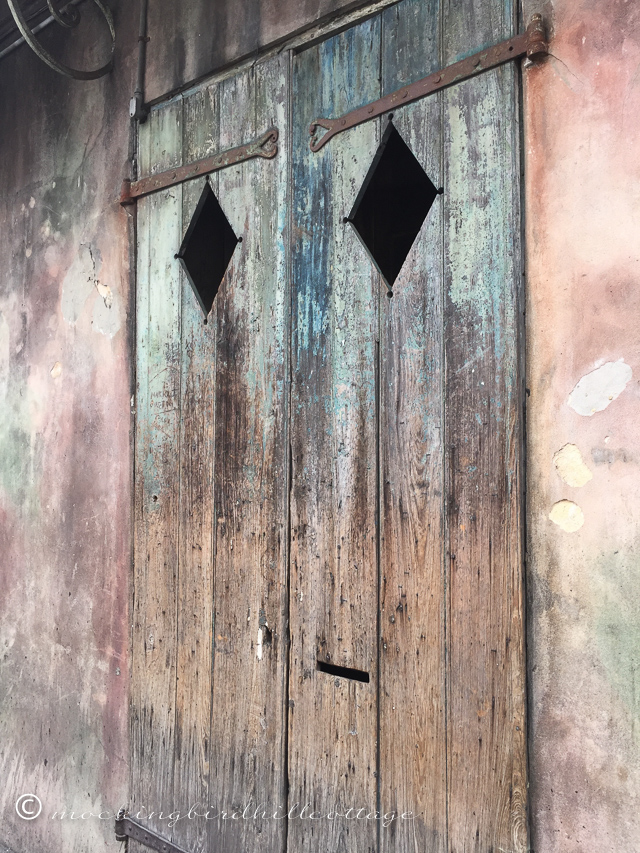 The doors/shutters on the outside of Preservation Hall. Gorgeous. The Preservation Hall All Stars were simply brilliant. I got to shake their hands afterward.
Blessed, I am. Blessed.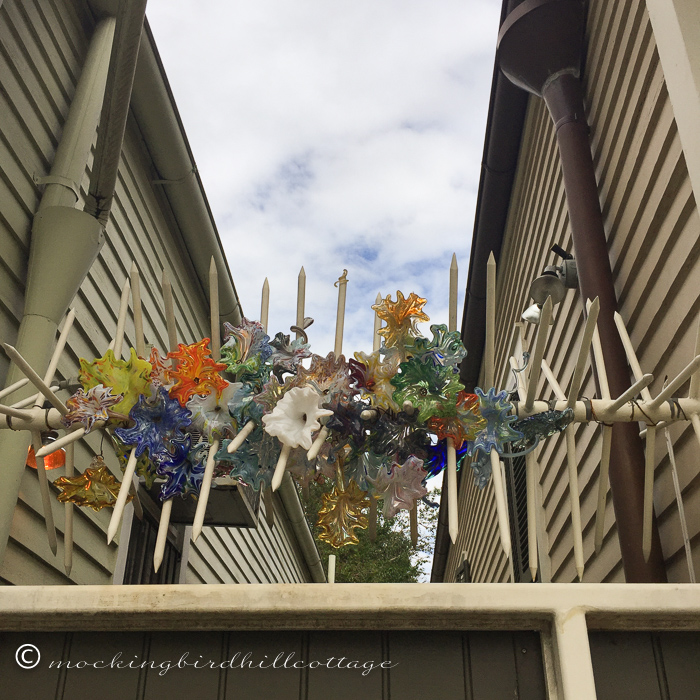 More glass flowers sighted as I walked around the French Quarter. I went back to that little green cottage and an artist who happens to use the front room for his studio happened to be there and we had a nice chat. He rents that space. The longtime owners of the house had to relocate to Houston after Katrina and now are thinking of selling the cottage. He also gave me the card for the artists that created the glass flowers. I may have to contact them.
I love, almost more than anything, the conversations I have with people I run into. The young woman standing next to me in line last night was here with two of her friends – they're from Canada – and she said that she was the one who insisted on coming to Preservation Hall. They also took part in the Halloween Parade the night before. Lovely woman.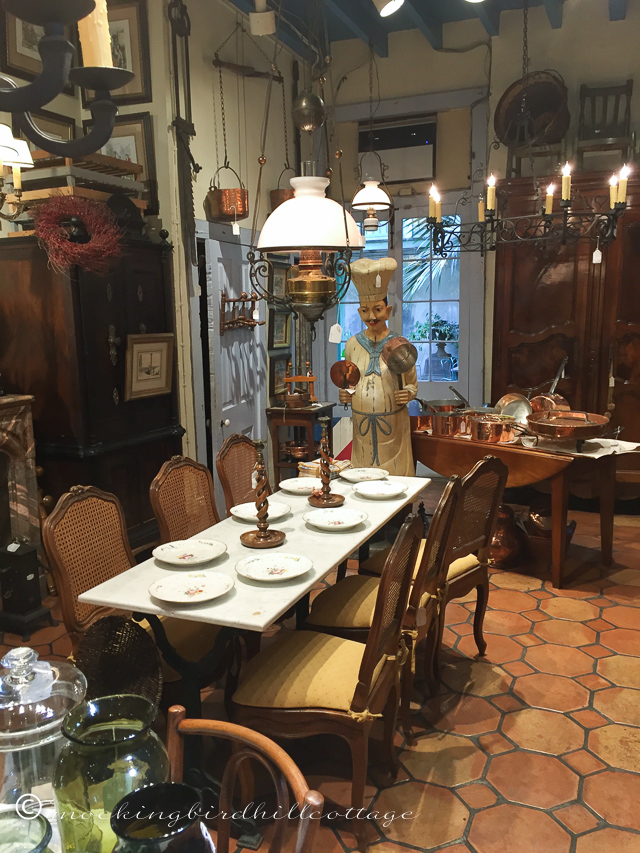 I also stopped by Lucullus, a shop I have known about for years. They carry china and old copper pans and all sorts of  vintage French cooking/kitchen items. It's far too expensive for me, but I wanted to drink it in. I ended up having a wonderful chat with the proprietor.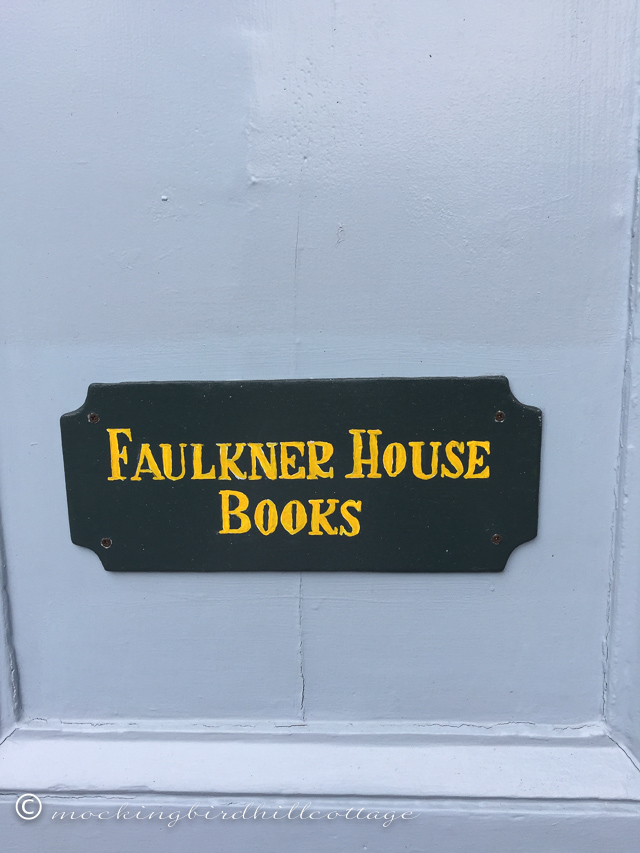 And I made a second stop at Faulkner House Books, which is now my favorite – ever – bookshop. It's small. It's impeccably curated (and you know I don't use that overused word very often.) It's gorgeous inside. This shop is in a building that William Faulkner lived in at one time. In fact, he wrote his first novel there. I bought a few books the first time I discovered the shop and I couldn't wait to go back there. I could go there every day this week and I just may do that.
This time the owner was there – a courtly gentleman who bought the building with his wife 28 years ago. As he said, they don't have a lot of space, so they pick and choose wisely. It's filled with fiction and non-fiction and New Orleans history and poetry and current events and biography. Let's put it this way: if I lived nearby, I would be doing some damage to my bank account daily. Because what they do, in addition to choosing interesting books, is carry special editions of books that you can't find in a big box store. You might be able to find them on Amazon but you'd have to know about them. I found myself wanting to buy books that I already had simply because the editions were so beautiful. You want to hold them in your hand. You want to savor every detail.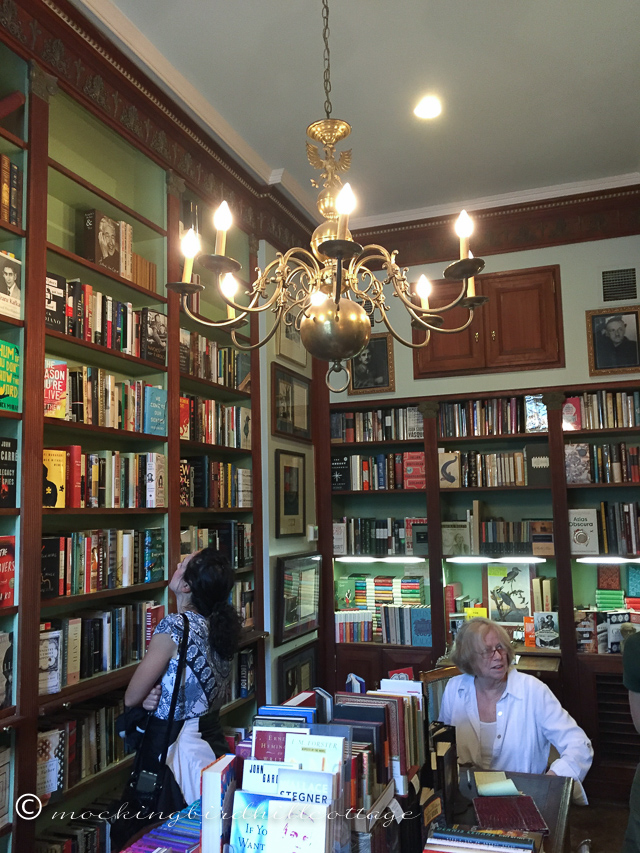 The shelves were made by a cabinet maker from cypress, I think it was, that is incredibly strong and impervious to moisture. They are stunning and they have little reading/writing surfaces that pull out – sort of like a breadboard in an old-fashioned kitchen.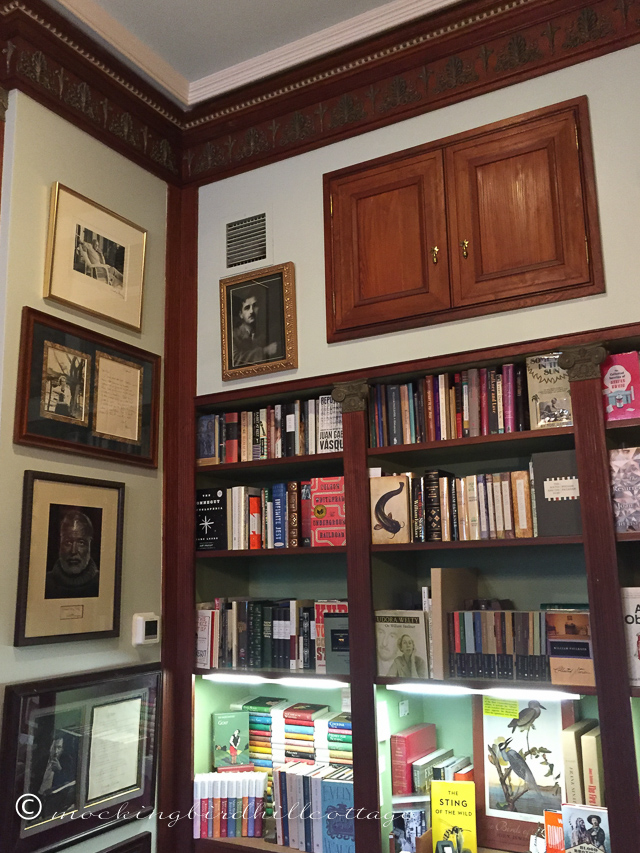 There are autographed photos and bits of writing by some famous authors on the walls.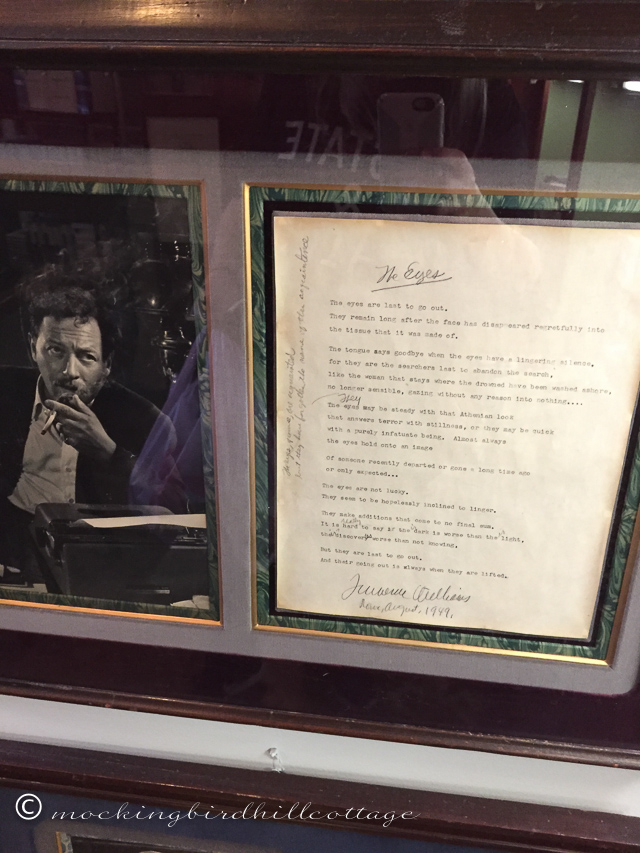 Tennessee Williams.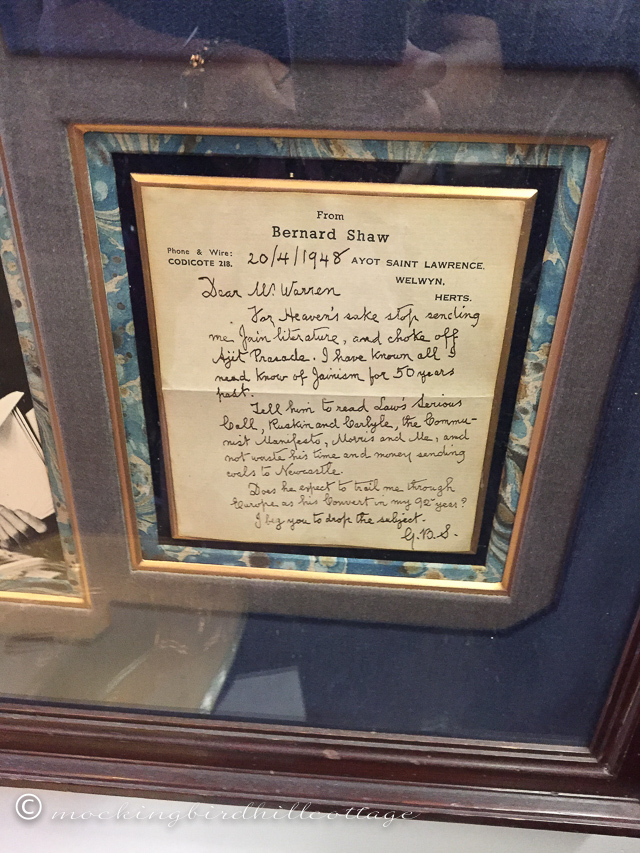 A testy George Bernard Shaw. (I love everything about that man.)
There's also a signed photo of Hemingway and of Harper Lee. And more.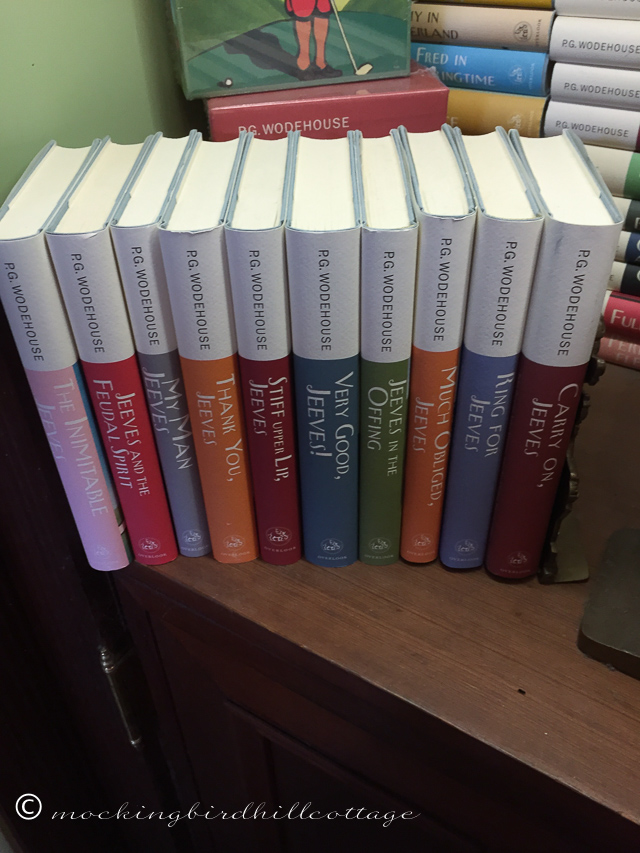 The Wodehouse editions were gorgeous and I bought one for Don. He is a huge Wodehouse fan.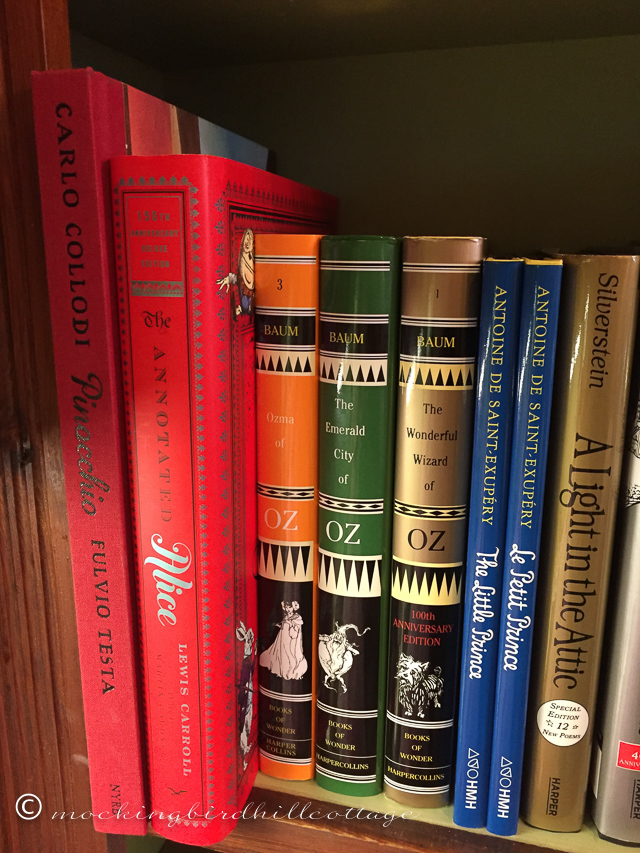 I went back to buy this 100th anniversary edition of  The Wonderful Wizard of Oz. It is so beautifully done, with gold end papers and beautiful illustrations.
I could go on and on about this shop. Let's face it – I could live there. Discovering this shop and hearing the Preservation Hall All Stars is all I need. Not surprising is it? Music and books. That's the way it's always been for me.
More tomorrow. Today is Don's day off and we don't know what we're doing yet but we'll have fun.
Happy Monday.