When I came in the house yesterday after working outside because it was so darn hot, I checked the weather app on my phone.
86 degrees.
What the heck? It's too darned early for that nonsense. Since the window air conditioners have yet to be installed, last night's sleep was a wee bit erratic. It was so darned hot! Thankfully, today's temperatures have dropped back to the norm for this time of year. It's a little rainy this morning and the high will be 70.
That's better.
The unseasonably warm temps moved some of the plants along. This is what I observed yesterday.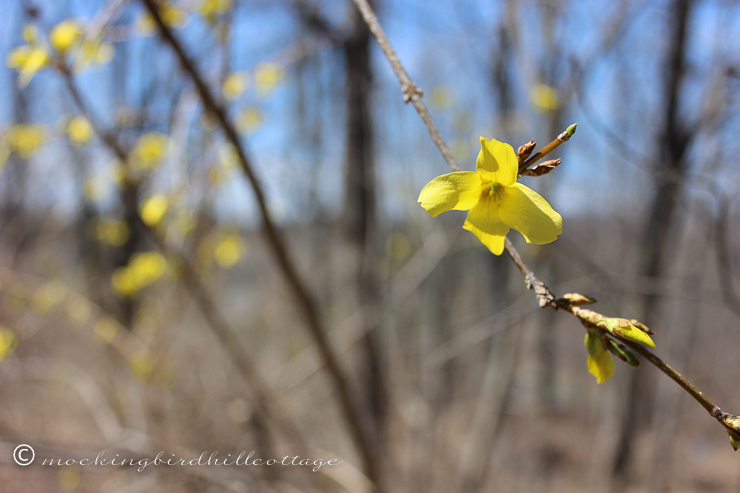 The forsythia is starting to bloom. I see yellow splashes of forsythia all over town, but ours blooms a bit later since it's on a higher elevation in the woods.
Hello, lilac leaves! They opened overnight.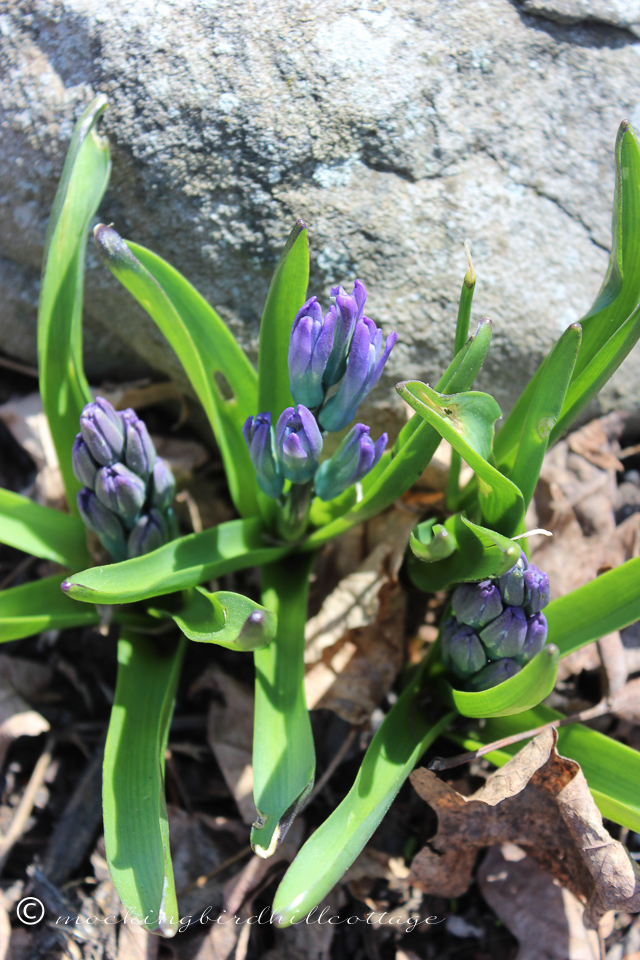 The hyacinths started to open. We are now in the early stages of spring in the garden.
I cleaned out the memorial garden bed, which was full of leaves, as is/was every bed on the property. Then I went around to the side of the house and raked out that bed. I found a tuberous root that had come out of the ground, most likely due to the ground seizing during the thaws and refreezes that happened in March. I think it might be a day lily. After googling for more info, I replanted it, but whether it takes or not is open to question.
I think I'm going to add some day lilies to the memorial garden. Yep. I going to do that very thing. Scout, in particular, joyously greeted each new day as if it was a miracle. A day lily seems appropriate.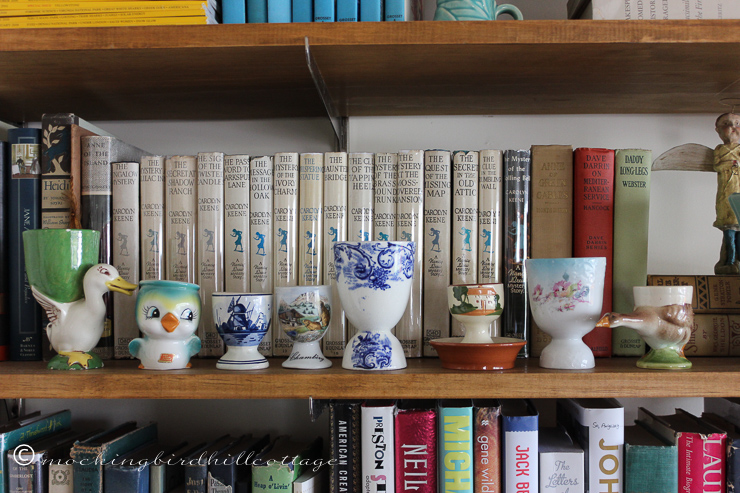 Rounding up the remainder of the egg cups. Many of these are on shelves in the china cabinets or on the bookshelves. On the left, a gift from a reader. This one was hand painted. It is one of the largest egg cups I own. Next to that, an adorable egg cup from Linda. The tail is a salter. Next to that, a Delft egg cup from Holland. Then my newest egg cup, from France. The design includes two groundhogs! Then a blue transferware egg cup. An egg cup from Devon, England – a gift from Mary. An egg cup from France that I found in San Diego. And finally, a goose egg cup – also from France – that I found in an antique shop.
Ta da! We're done. I seldom buy them nowadays because vintage figural egg cups are few and far between and the ones I really love, I already have. The Disney egg cups are still on my radar – my dream would be to own the entire set from 1937. But they are very, very pricey.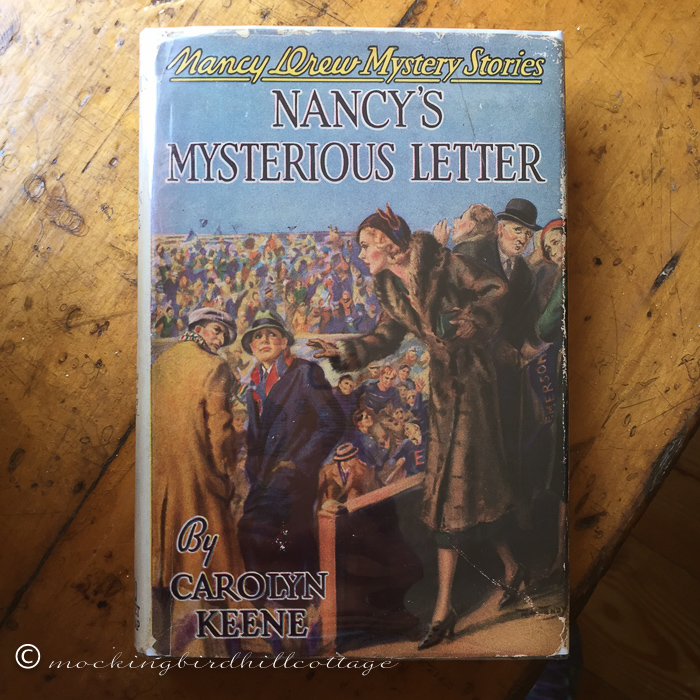 A big old welcome to this edition of Nancy Drew – Nancy's Mysterious Letter.  My favorite illustrations by Russell H. Tandy are the first eight or nine, which were done in the thirties. This is one of them – number 8 in the series. I want those shoes. But not the fur coat. One hopes that the Nancy of 2017 would eschew fur.
One more is on the way, and then seven to go and I will have all the Russell H. Tandy cover illustrations.
Someone asked what I would collect when I had accumulated all the Nancy Drews. I am an inveterate collector, as you know. Don't forget I still collect McCoy Pottery, Roseville Pottery, vintage books, little sheep and lambs (figurines and otherwise,) egg cups, bakelite, Maxfield Parrish and Wallace Nutting prints. Oh, and wedding cake toppers.
See? There's plenty to search for.
Yesterday's email version of the blog post went out in the evening for some reason, rather than earlier in the day. Since I use Google Feedburner (which is free, thank goodness) I have no real control over it. Every once in while, Feedburner has a glitch or two. I'll keep an eye on it. And I'll say what I always say, just come to the blog directly. 99.9% of the time, I will have written a post for that day.
Okay. Time to get my butt in gear.
Happy Wednesday.