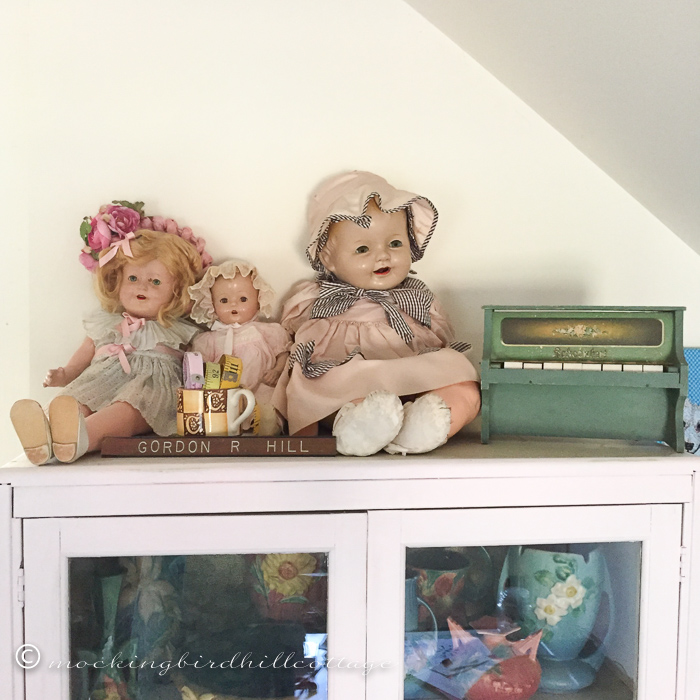 I love my girls, who live on top of the cabinet in the office and watch over all activities. They have a good view of the mountains, as well.
I've haven't written about them in a while. Since some of you are newer readers, I thought I'd tell you a little bit about them.
On the left: my Mom's Shirley Temple doll. The back story to Shirley (and you might remember my mom's name was Shirley, too) is that like every little girl in the thirties, Mom wanted a Shirley Temple Doll. After all, they shared the same name and were about the same age. She wanted the Ideal Toy Company version of Shirley. Unfortunately, my grandmother bought her a Canadian version of the doll and my mom was disappointed, so disappointed that she still had a lot of anger in her voice when she spoke of it years and years later! Nonetheless, she was my mom's doll and I put in my bid for her when I was young. In the meantime, she sat in a child's oak rocker in our bedroom. I believe Meredith has that rocker now. When I finally got her – and I can't remember when that was – I was thrilled. Her hair was a mess. Believe me, I spent an awful lot of time researching doll hair and banana curls. I used sponge rollers and tried to get the curls back. There are a few, but that's it. I bought the outfit from someone online who made new dresses in the style of the original clothing that came with the Ideal Shirley Temple doll.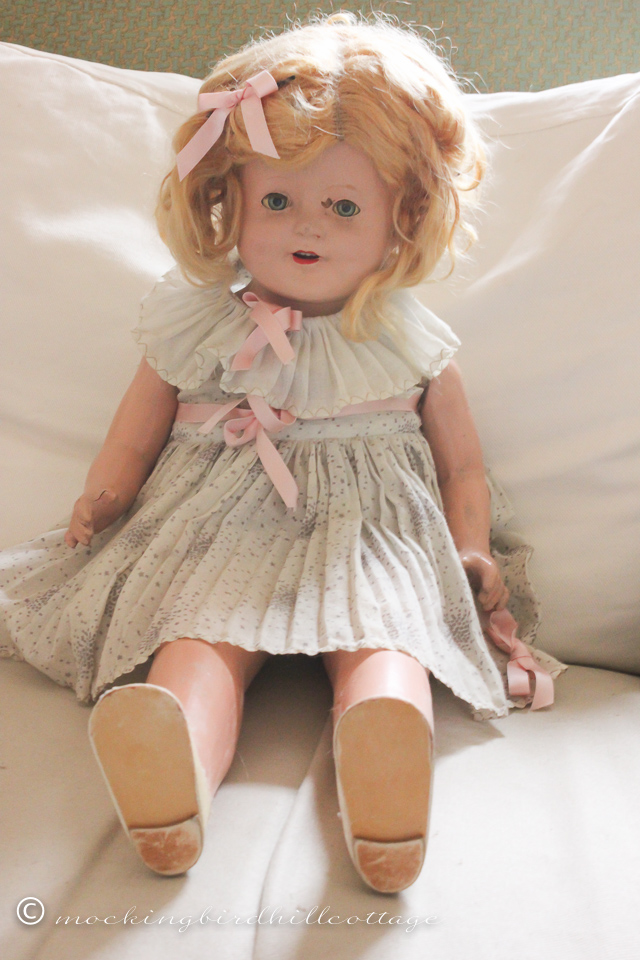 Her composition face has a little hole by the eye. Other than that, she's as beautiful as ever. The flowered head band is a piece I found in an antique shop and I decided Shirley needed it (perhaps to counteract the hair?) I bought vintage Shirley Temple doll shoes on eBay.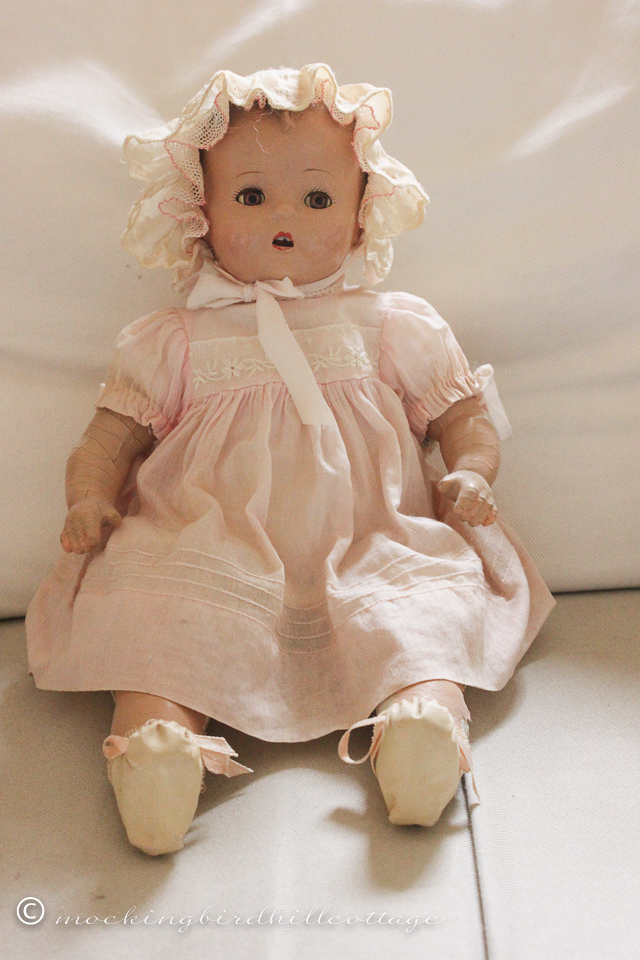 In the middle: Emma. I first saw her many years ago in a local antique shop. She reminded me of my long lost Tiny Tears doll (another "Mom gives away without my knowledge" story – I can't go there.) In fact, she may be  a Tiny Tears doll.  She was sitting in a chair in a booth just inside the entrance of the store. I was entranced.
She has a composition body that is cracked in some places and missing bits of the composition in others. She's tiny. And she is dressed in clothing with the most exquisite details.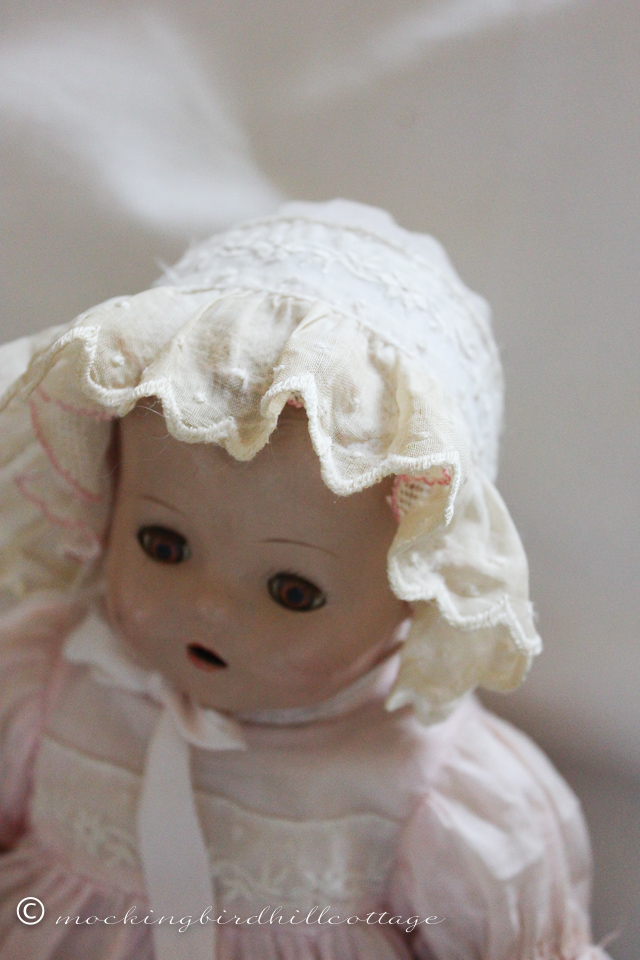 Her bonnet.
Her bloomers. Check out those rosy knees!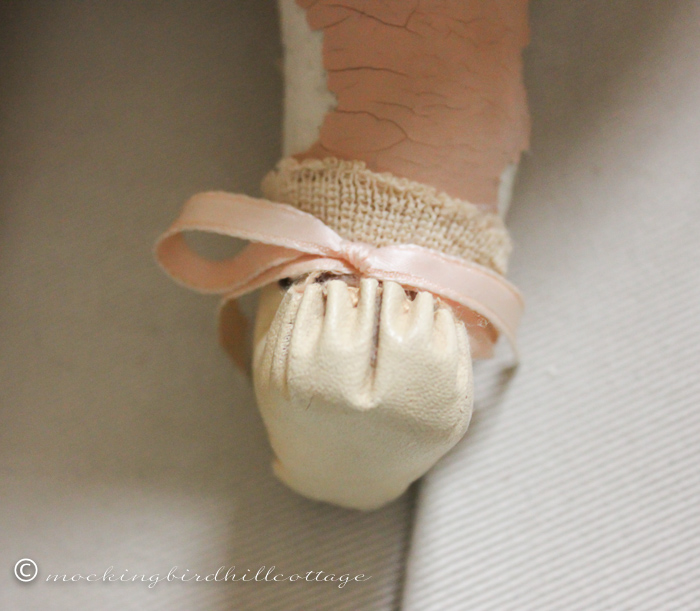 Her shoes and socks. All beautifully preserved. You can see some of the missing composition on her leg.
I was taken not only by her beauty but by the fact that she was all alone in that booth. Some little girl had loved her long ago – and because of the damage to the composition, she was less than 'perfect,' although she was entirely perfect to me.
In the end, I didn't get her because we were just scraping by at the time and I couldn't justify the price. I think she was around $60, but I can't be sure. She was worth every penny…but no.
I went back to the shop a couple of months later. She was still there. No one had taken her home. My heart was breaking for her.
But I still couldn't afford her.
Not long after that, I went out to San Diego to coach for several weeks. This must have been in 2009 or 2010. To say I couldn't get her out of my mind is entirely accurate. She haunted me.
Finally, one day, after I had a paycheck in the bank, I looked up the antique shop's phone number and I called. When I haltingly brought up the doll I had seen and her location in the store and then hesitantly asked if she was still there, the gentleman I was speaking to immediately said yes. He knew exactly what doll I was referring to. I explained my situation – that I would be away for a number of weeks and if I paid for her now, would the shop be willing to hold her until I got back?
Yes, he said. So I paid for little Emma. And within a few days of my return home, we drove over to Rhinebeck to bring her home.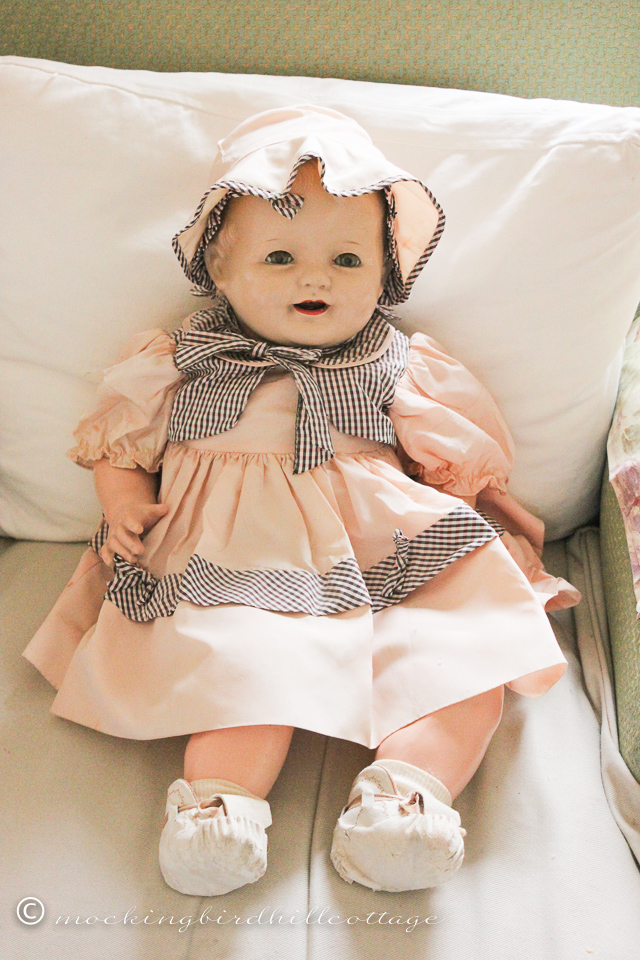 And finally, beautiful, happy little Tressa. Tressa is real life sized and when I hold her, it's just as if I'm holding a baby. My friend Heidi and I discovered Tressa one day while antiquing. Heidi, for those of you who might not know of her, owned a local shop (now closed) and I worked there part-time. The shop was a mixture of antiques and new items. Heidi saw her first and fell in love with her. As we were pondering whether she would be perfect for the 'baby room' portion of the shop, the woman behind the counter pointed out that she had two left feet.
Often, when dolls were repaired and body parts replaced, another limb was attached and in this case – it was another left foot. Well, that only made us want her even more. She came to the shop and lived on a shelf in a cabinet. Every time I went to work, I would pick her up and hold her. And, as with Emma, I went away to California to coach (2009?), and left her behind. When I came home for a week to visit, I visited Heidi at the shop and held her again.
It was no use. I had to have her. So I brought her home. I named her Tressa, after my great aunt. I have a photo somewhere of both Riley and Scout inspecting her (as if she was a real baby) the day I brought her home. She's beautifully dressed in satin . She has the sweetest face.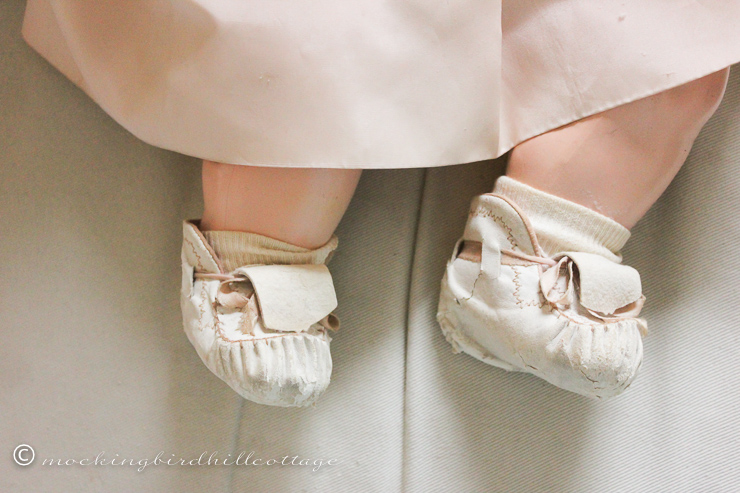 And she has two left feet.
I love my girls.
In the first photo: the cup with the C design is a baby cup from Emma Bridgewater, which I found years ago in London, the name plate was on my father's desk at Michigan Bell Telephone Company, and the piano is vintage Shoenhut, a gift from Heidi.
The little bunny egg cozy is Barnaby – the first name suggested. Don loved it. I loved it. But every suggestion was delightful and I now have a bunch of names at the ready for the next bunny egg cozy. Thank you!
Happy Thursday.