It's no secret that I'm a Mac/Apple girl. Every computer I've ever owned has been a Mac. (And by the way, because of that I've never had a virus…knock on wood.) I have an iPhone. My laptop is a MacBook Pro. Don's is a Macbook (which used to be mine.) I love everything about them.
The one thing, though, I've never been able to use for any length of time is the calendar, the appointments, the reminders, etc., that are part of the OS operating system. I've tried. It's not that I can't figure them out, I can. The truth is that I really like to write things down. If I have an appointment, I want to write it in a book. If I need to note a birthday or anything in my daily calendar, including reminders for book reviews, I have to write it down. Somehow it doesn't seem real if I record it in a virtual medium. I remain old-fashioned that way.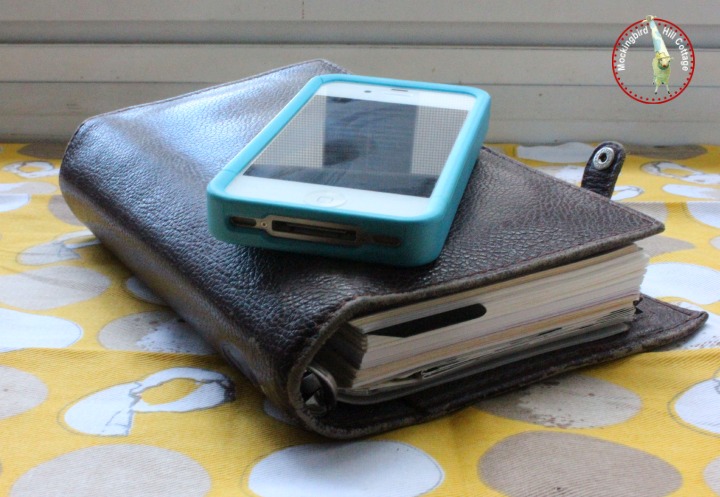 Enter my beloved Filofax. Now, you have to understand that I haven't always been true to my Filofax. I strayed a bit. I tried other agendas/calendars. I even tried a Palm Pilot (remember them?) Boy, with the advent of the smart phone, Palm Pilots disappeared pretty quickly!
Anyway, I had tried another agenda quite recently. I admit it, the aqua cover called to me. But when I was in Manhattan in June, working with the director of Much Ado About Nothing, I noticed her well-loved, slightly battered Filofax sitting on the table, stuffed with reminders and receipts and all the things one puts in an agenda. We spoke about how we love to write things down and how much we love Filofaxes. And I thought, "Claudia, what were you thinking?? Return to what you love. Return to the best!!"
And I did.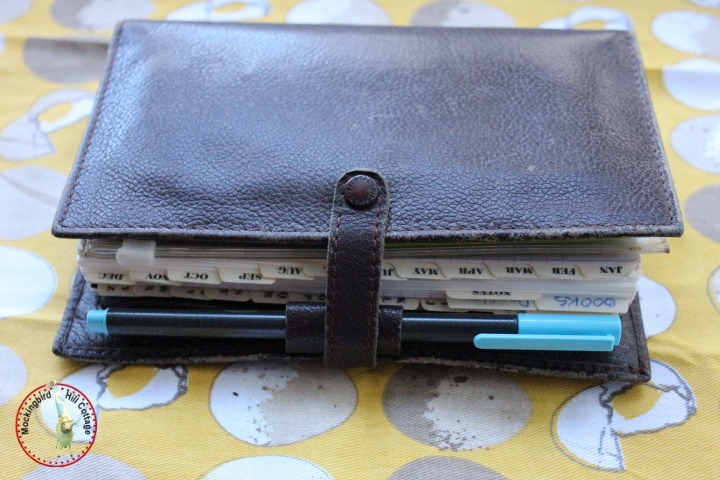 This particular Filofax is about 12 years old. It's the Kensington model, which is no longer being made.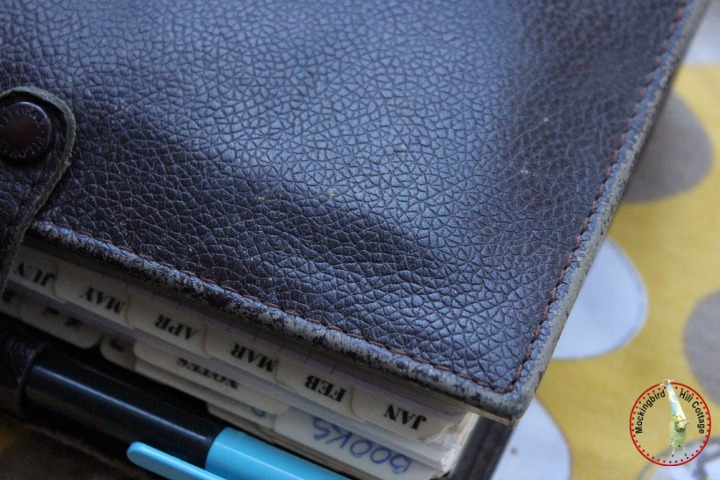 The leather is incredibly supple and the edges are worn. I like that. It's been broken in. Truth be told, if I had to buy a Filofax today, I would go with something that is non-leather. But I bought this 12 years ago, when my beliefs and convictions about animal rights were still evolving. So I experience a guilty pleasure with this cover. I've also heard the older models were the best quality and mine sure is.
I first got a Filofax in about 1989 or 1990. I was teaching at Boston University and a woman who worked with me had one. She carried it everywhere; it was stuffed with all sorts of interesting things, I couldn't take my eyes off it and I became obsessed. I wanted one. Since I was grossly underpaid at that institution, I had to go with a cheaper version of the cover. But I used the Filofax inserts. Eventually, I was able to upgrade to the one I have now.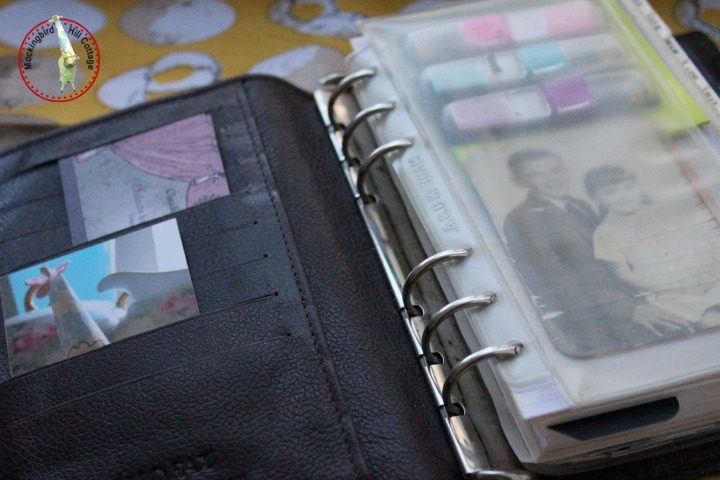 Let's open it up. The inside cover has slots for credit cards. I don't carry my credit cards in the Filofax, so I stick my business cards there. Easy to get to. There's a compartment underneath where I stash all sorts of notes, photos, you name it. On the right is the pencil-protector-type thing that comes with the Filofax. I store Post It notes and flags there, along with a photo of my late brother and me.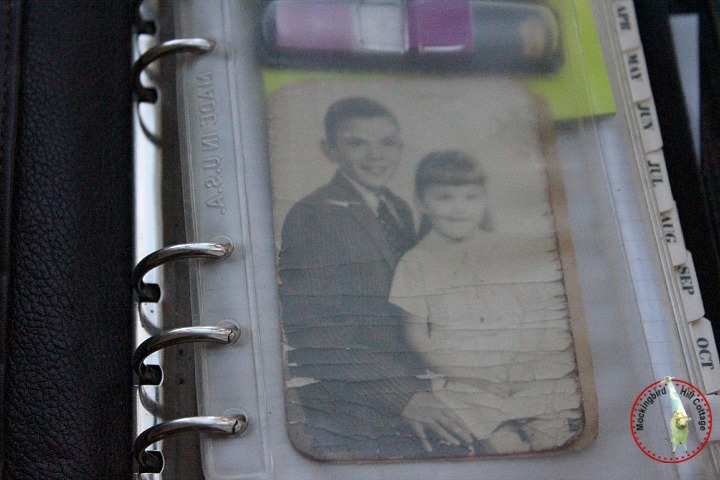 You know me, I always have a story. This particular photo is very precious to me. Years ago, again at Boston University, my wallet was stolen. I had mistakenly left my office door open for a moment as I ran down the hall to another office. When I returned, the wallet was missing. I panicked, not because of all my cards and ID, but because this photo was in the wallet and my brother had just died and I thought I would never see it again. Eventually, a guy working maintenance found the wallet with the cash missing but everything else intact. I keep it here now. It seems safer, somehow.
I jot down all sorts of stuff. In this case, coaching appointments and a reminder to post a book review on the blog. Excuse scrawly handwriting. Too many years of writing actor notes at a very fast pace, sometimes in the dark.
I also have a section where I jot down the titles of books that I want to read. If I rely on my already over-stuffed brain to remember a title, I inevitably forget it.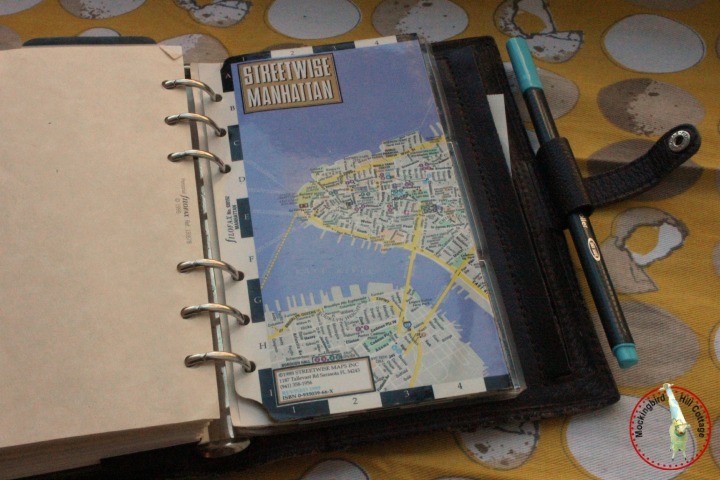 You can add all sorts of fun things to a Filofax. Here's a fold out map of Manhattan. I use it all the time.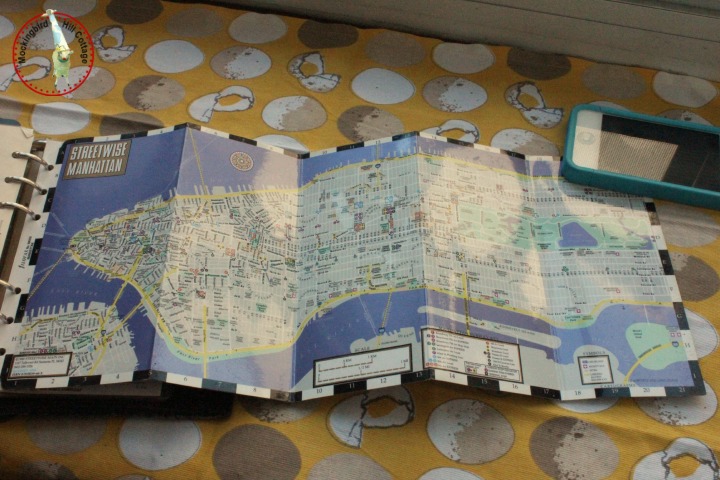 See?
Or how about a map of London?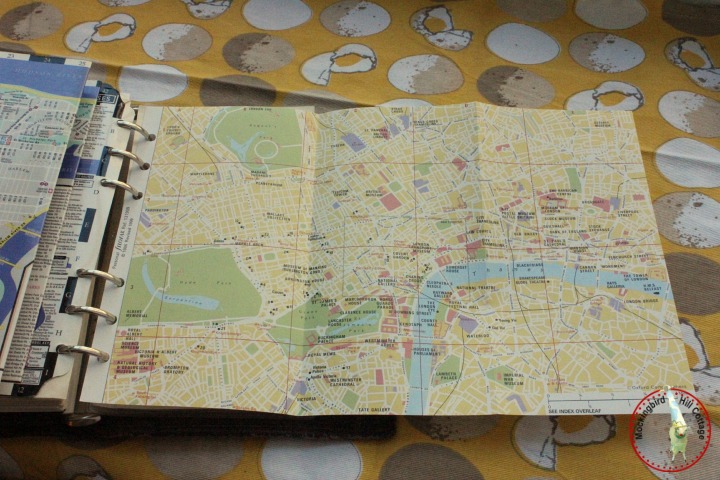 Yep. I used that constantly when I was there. I keep it in the Filofax because I want to take Don to London someday.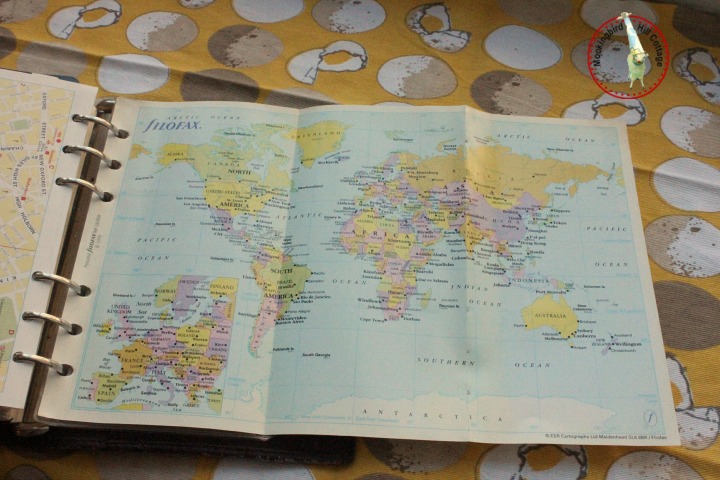 And a map of the world is always a good thing to have on hand.
In the back, there are see-through pockets for business cards, another flap to store things in and a gusseted zippered compartment. I often stash my receipts there, especially when I'm on the road.
And of course, there is the loop for a pen.
Interestingly, I was about to write this post when I encountered another post on the same subject, on Tales of Ted and Agnes.  She gave her Filofax a makeover using barkcloth! And if one googles Filofax, goodness! There are all sorts of sites devoted to a passion for Filofaxes. I don't mind saying that I lost a few hours reading them, especially this one: Philofaxy. Such fun!
What form of reminder/calendar/agenda do you use? Are you all-digital? Do you write on a wall calendar? (I do that, too.) Do you have a favorite form of desk planner? Do tell!
Happy Sunday.