Recently, I was approached by the generous folks at Firefly Books. They asked if they might send me three different books on the subject of gardening that I would review and share with you. Being an avid gardener, I immediately said yes! In the next couple of weeks, I am going to highlight and review each of the books and give you the chance to win a copy.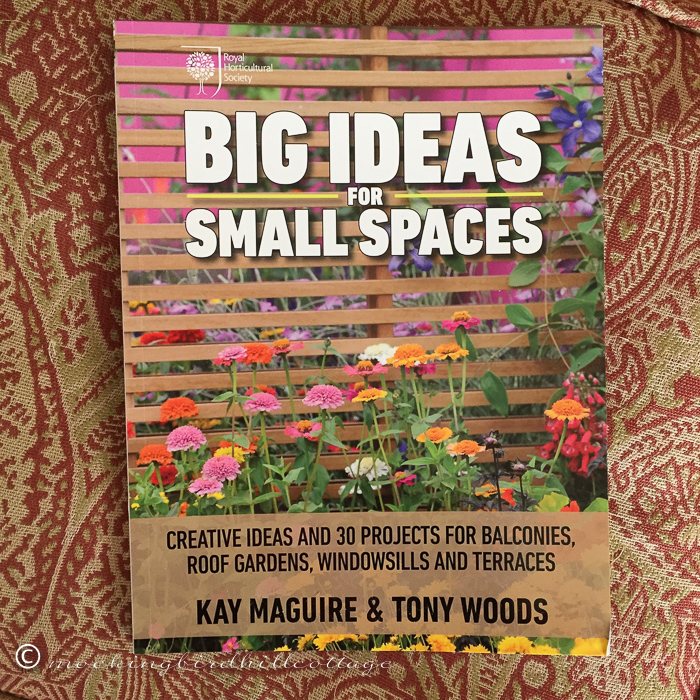 First up: Big Ideas for Small Spaces: Creative Ideas and 30 Projects for Balconies, Roof Gardens, Windowsills andTerraces – written by Kay Maguire and Tony Woods.
This book is so inventive and, at the same time, so practical. It's set up in five sections: Garden Anywhere which gives information about microclimates, wind, shade, community; Where Does Your Garden Grow? where raised beds, container gardening, windowsills, and more are explored; Think Outside the Box, covering color and lighting and focal points; The Projects – 30 projects you can make on your own; and Get Growing, all about supplies and plants and problems and solutions. There's also a Glossary and list of Resources at the end.
I so enjoy seeing all the creative ideas for gardening in a small space. I've lived in my share of small spaces over my lifetime – some minuscule, some on the larger end of small. When I was an apartment dweller, I had many houseplants and I loved them, but this book shows me I could have done even more to bring plants into my apartment-dwelling life.
What if you are limited to a small balcony or terrace? Maybe only a windowsill (been there)? You'll find lots of ideas here.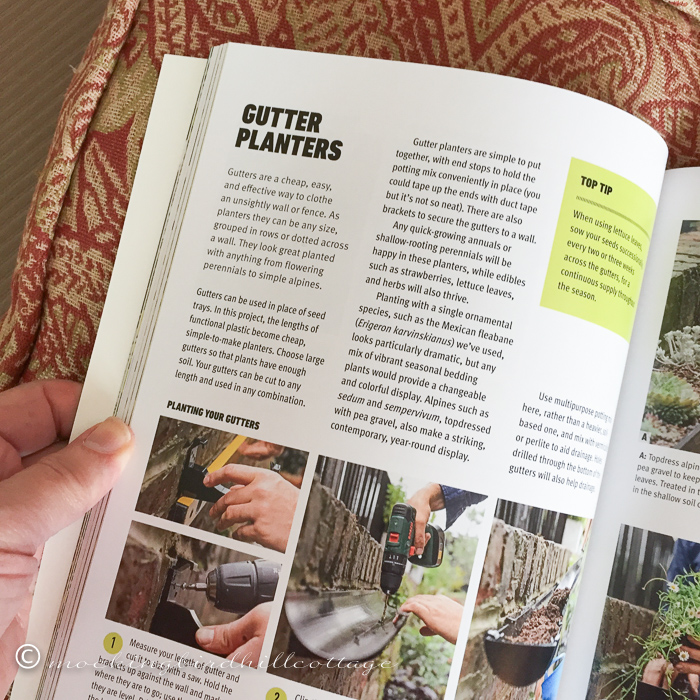 Gutter planters – such a great idea! As with every project, there is a list of materials needed, the steps are clearly outlined, there's always a tip and the photography is beautiful and highlights the project steps perfectly.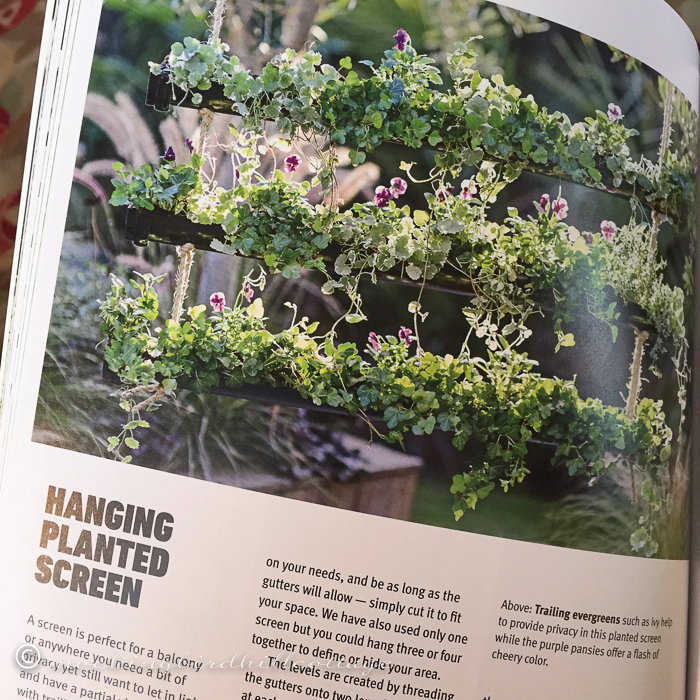 I love this idea – a hanging screen! If my porch wasn't subject to so much wind, I'd do this in a second! But think about defining a space, whether it's a balcony or a terrace, with this 'screen' of thriving plants. Isn't that a neat idea?
There's so much more: a succulent picture frame, pocket planters, balcony rail planters, pond in a pot, green roof, paving-slab garden and lots more – 30 in total.
I'm living vicariously through this book as there is 22 inches of snow on the ground outside my little cottage. It's inspiring. It will inspire you. It comes to you via the authors and The Royal Horticultural Society – and Firefly Books, of course.
I recommend it highly – anytime, of course – but especially as we wait for Spring to arrive!
One of you will win a copy of this book! Just leave a comment on this post and I will draw the winner's name on Saturday evening. Good luck!
Thank you to Firefly Books for generously donating these books!
Happy Thursday.