Here I am in Hartford. Same hotel as last year. Same room.
It's like I never left.
That's a bit unsettling.
As hotels go, this is a nice one. The staff is very friendly, this particular suite is nice and big, there's a free breakfast every morning. But the sky outside, both today and yesterday, is gray. It was gray and wintry when I was here for a few days in December and January. Of course, the sky back home is also gray today, but somehow it's easier to take in my cheery little cottage.
The bed has been transformed: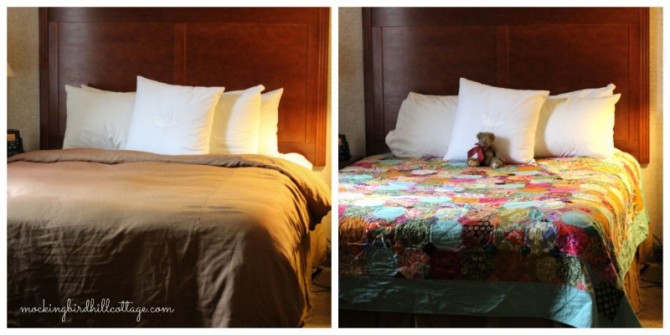 The duvet has been stashed in the closet.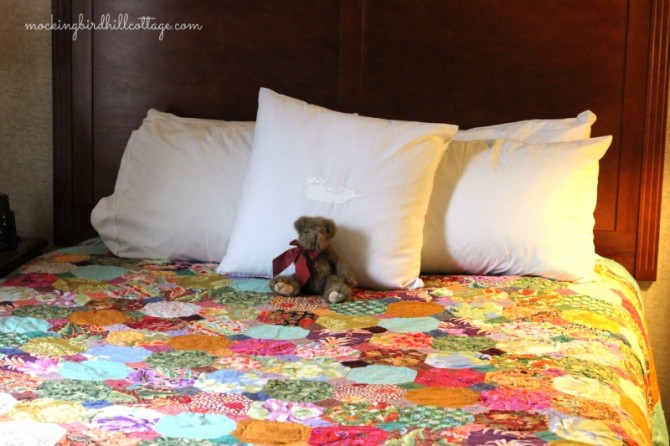 I brought my little traveling Teddy Bear with me. Don gave him to me in 2009 when I was going to be working away from home for 6 months. He's adorable and a good traveling companion. But it has just hit me: I've never given him a name.
Me, who names everything!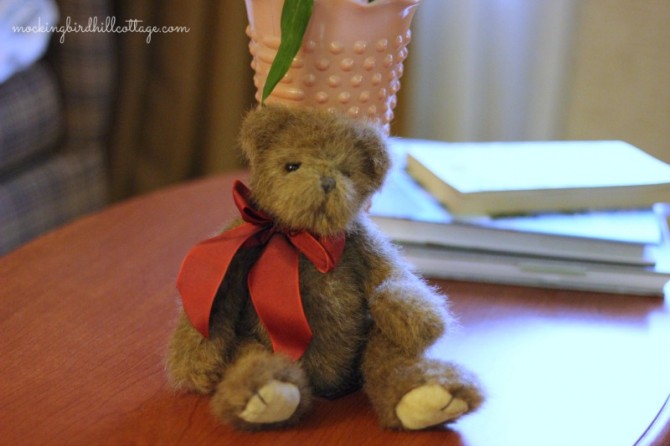 Look at that sweet face! Suggestions?
After doing this sort of thing many times, I've learned that living in a temporary space for an extended period of time is tolerable only if I bring along some things from home. When I stayed in San Diego for six months, I used a lot of inexpensive items from Ikea to brighten the space. I haunted my favorite antique shops for pottery and pictures that would personalized the space. If I'm working a long way from home, I pack boxes with pillows and throws and personal tchotchkes. I make sure I have some creative supplies, whether it's for a quilt or some yarn. I take my camera. And lots of books to read.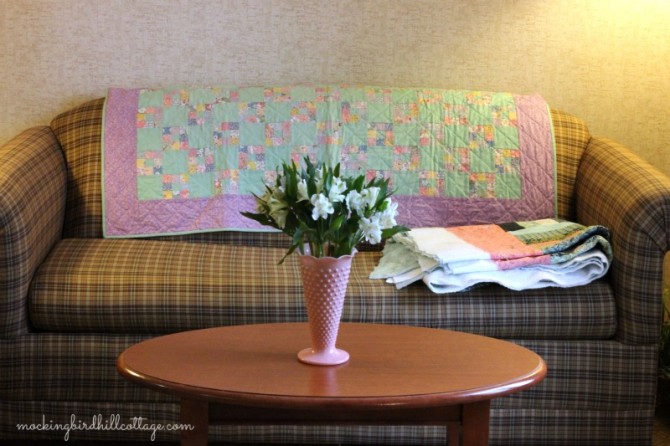 I remember this checked sofa from last year. Not my favorite style. So I covered the back with a quilt I made. It helps a bit. And I brought a favorite vase from home and added some flowers from Trader Joe's.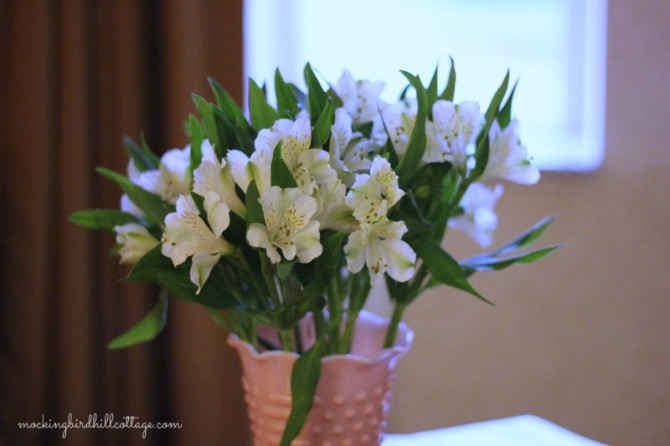 You learn to do what you can to make a temporary space your own. When I move to the apartments, this particular form of decorating will be easier. I won't be in a sea of brown and beige, the predominant color scheme in this hotel room.
The selection available on the hotel cable is sparse but NESN, the channel for my beloved Red Sox, is available, so I can watch the Sox every night – something I can't do back home.
And Mabel is sitting on the table, waiting for some action: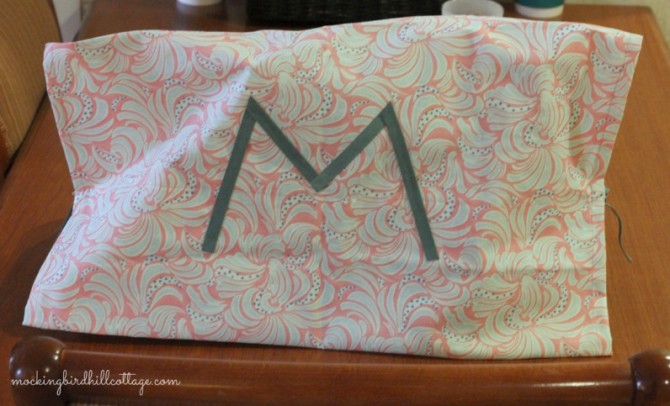 I have a long day ahead – we rehearse until 7 pm. So I'm writing 2 posts this morning, this one and A Favorite Thing.
It's been a terrible week. My thoughts and prayers are with the city and citizens of Boston and the citizens of West, TX, who have suffered terrible loss. I won't go into my feelings as to the shameful actions of our Senate this week, except to say that if you have to have a background check to work at Target – and you do – you should have to have an extensive background check to own a gun. Enough said.
Happy Friday.