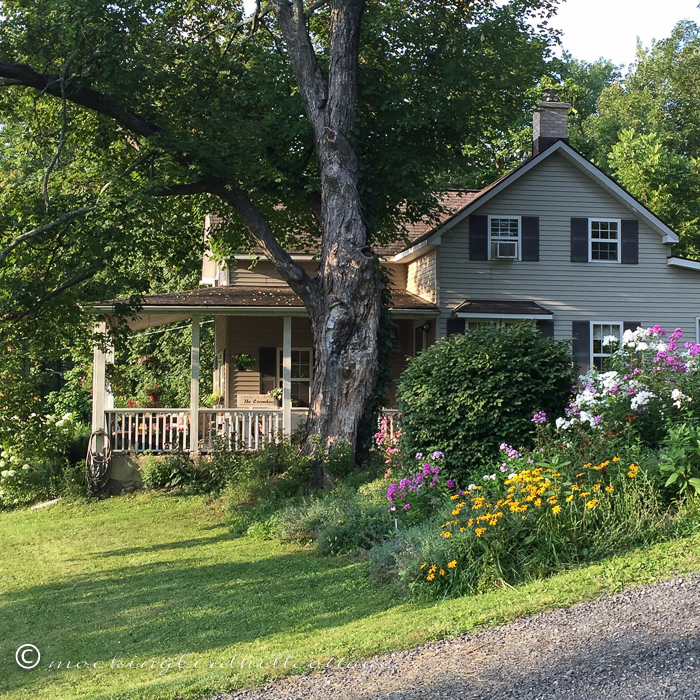 Our list of Must Haves: 3 bedrooms, attic, basement, garage
What we got: 2 bedrooms, no attic, no usable basement, no garage
After endless visits to houses all over the Hudson Valley, all of them 'not quite right' and in some cases, terribly wrong, we were steered toward a little town that we knew nothing about. It was a very hot and humid day and we were sweaty, but we'd seen this listing, you see, for a little house with a bluestone front porch that wrapped around two sides of the house, with pine floors, and lots of windows.
We got out of the car. A tree had fallen nearby and the grass was way overgrown. But we looked past that and headed to the house. Don went right in the front door. I lingered on the porch, which I had fallen in love with via the listing and now was seeing in person. I was a porch girl through and through and I hadn't had one in several years. Don, almost 6′5″, walked into the kitchen, which has a slanted ceiling that is very high at its highest point, and saw the sun flooding into the room.
I eventually went inside.
It was small.
Don was won over because of that kitchen. I started to thaw when I saw the kitchen and the den, which was two steps down from the living room – a cozy sunken room. A bath and a half, which was more than we had in our rental.
But no attic. The basement, carved out when this 1891 cottage was built, held the boiler, the hot water heater, the oil tank, the well pump, and cobwebs galore. Not usable for anything other than that. No garage. A shed, which was nice, but no garage.
We walked through again. Don was immediately won over. I took a bit longer.
But, here's the thing. It was so light! There were windows everywhere on the first floor. Don said it was the first house we'd seen that didn't hold any negative energy. Just light and positive energy.
I eventually caved because of those pine floors (now scratched from the dogs) and that porch and the light and the look of the cottage, of course, which was utterly charming. There was a large garden bed with about two plants in it. I immediately imagined filling it up with flowers and adding more beds along the front and sides of the cottage. There was room for the dogs to run if we fenced in what is now the corral.
We moved in 12 years ago today.
Two life-long renters, working in the arts, no money to speak of. Two people in their fifties, who dreamed of having a home of their own, finally.
Hurricane Katrina struck as we were moving, but we had no access to cable for two weeks and couldn't see the footage everyone else was seeing. I remember how shocked we were when we finally saw what had been happening. And now – 12 years later – Hurricane Harvey and unbelievable devastation.
Sweet and bittersweet.
In those days, it was just our house. Mockingbird Hill Cottage didn't really evolve until 3 years later when I started this blog.
Happy Anniversary Mockingbird Hill Cottage! We love you. Thank you for shelter, for being, as a cable guy once said to us, "…a happy house. I could tell this is a happy house the moment I walked in the door."
And welcome to Stella who is now cooking with gas! Here she is, courtesy of Don, nestled in her place in the kitchen: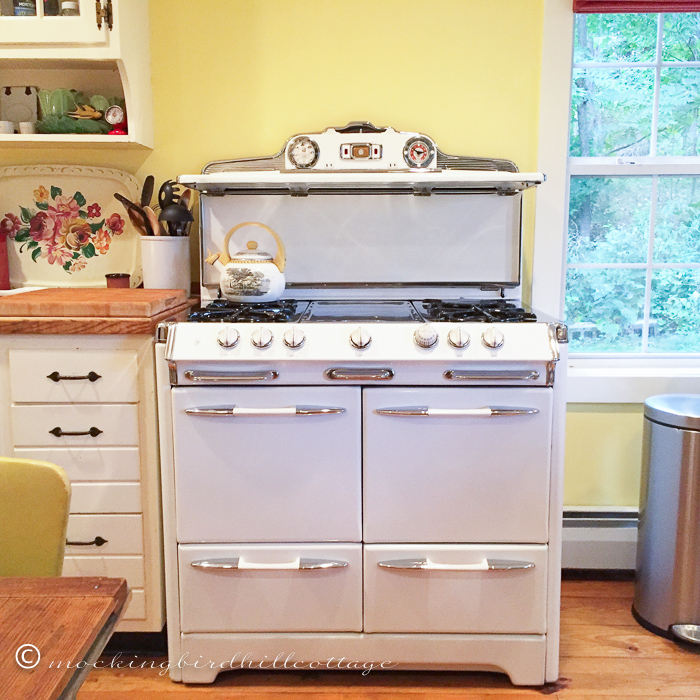 Happy Wednesday.