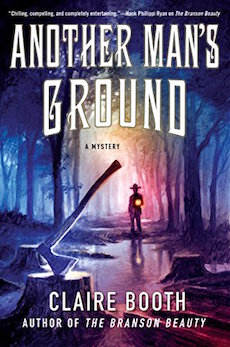 Today I am reviewing Another Man's Ground by Claire Booth for TLC Book Tours. As always, I am provided with a copy of the book in exchange for my honest review.
About the book (from the publisher): It starts out as an interesting little theft case. Branson, Missouri's new Sheriff, Hank Worth, is called out to look at stands of trees that have been stripped of their bark, which the property owner had planned to harvest for the booming herbal supplement market. At first, Hank easily balances the demands of the investigation with his fledgling political career. He was appointed several months earlier to the vacant sheriff position, but he needs to win the fast-approaching election in order to keep his job. He thinks the campaign will go well, as long as he's able to keep secret the fact that a group of undocumented immigrants – hired to cut down the stripped trees – have fled into the forest and he's deliberately not looking for them.
But then the discovery of a murder victim deep in the Ozark backwoods sets him in the middle of a generations-old feud that explodes into danger not only for him, but also for the immigrants, his deputies, and his family. He must rush to find a murderer before election day, and protect the vulnerable in Branson County, where politicking is hell and trespassing can get you killed.
My review: I reviewed the first book in this new series by Claire Booth – The Branson Beauty – last year and was very impressed by Booth's writing and the character of Hank Worth. So when the chance to review the second book in the series came up, I happily said yes.
This book takes up where the last one left off. Hank Worth is an honest man, determined to do his job in spite of those who are against him, including a wealthy businessman who wields a lot of power in the community – a man who Hank tangled with in the previous story and who Hank suspects is as crooked as the day is long. Hank is running for office and his opponent is a cop who isn't very nice or very qualified and who has allegiances to the wealthy businessman.
While all this is going on, the mystery starts. Booth writes evocatively of the area around Branson, Missouri. She knows it well. Many of the characters from the first novel return, Hank's wife and children and father-in-law, the eager young policeman Hank calls The Pup, his colleague Sheila, and those who are entrenched in their ways and don't much like a Sheriff who moved there from another state, even though his wife grew up there. As in the first novel, greed and corruption weigh heavily in the storyline.
Booth handles a multi-layered plot with ease and assurance. Just as I did when reading the first novel in this Hank Worth series, I found myself caught up in the lives of the inhabitants of Branson. And I really like Hank, a guy who is reluctant to do the politics thing, though he has to in order to run for Sheriff. He is a great protagonist. I look forward to more books in this series.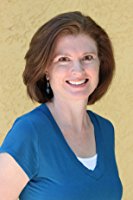 About the author: Claire Booth spent more than a decade as a daily newspaper reporter, much of it covering crimes so convoluted and strange they seemed more like fiction than reality. Eventually, she had enough of the real world and decided to write novels instead. Her Sheriff Hank Worth series takes place in Branson, Missouri, where small-town Ozark politics and big-city country tourism clash in, yes, strange and convoluted ways.
One of you will win a copy of Another Man's Ground. Just leave a comment on this post and I will pick a winner on Friday evening. Good luck!
Happy Monday.