First, some good news: some flanges were replaced on the car's exhaust pipe, everything is back to normal and it only cost about $100. I'll take it. Thank goodness it wasn't more. Don and I were thinking up how many different ways we could describe the repair: it's been flangified, it's flangilicious, it's flange-tastic, etc.
I hung out in the apartment all day yesterday. Since I was lacking in the sleep department, I ended up finishing my latest Louise Penny mystery, then I putzed around on the computer, watched a little baseball and played with fabric.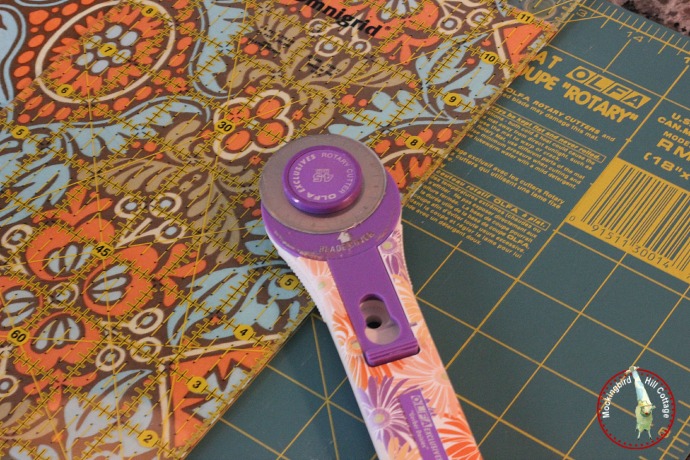 Having no plan, I started cutting 3 inch strips from some of my fat quarters. Isn't that Olfa Rotary Cutter pretty? I got it several years ago. By the way, I only use Olfa cutters. I've tried others, but I end up coming back to Olfa. They are the best brand for the money, in my humble opinion. The first cut or two was a bit wonky and then I realized I had to change the blade. Always change your blade after each project. It's amazing the difference it makes. (By the way, if you follow that link, you'll see Olfa's new design called Splash. It's in my colors. I want one!)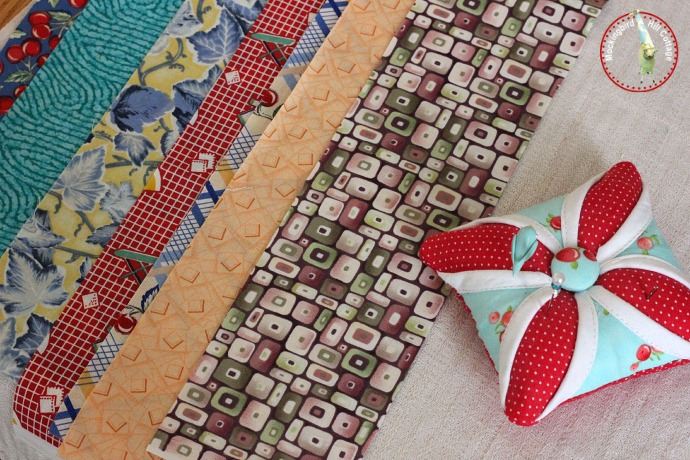 No rhyme or reason here. I just pulled fabric and cut strips. Then I sewed them all together and cut them again.
I was thinking of Chinese Coin blocks.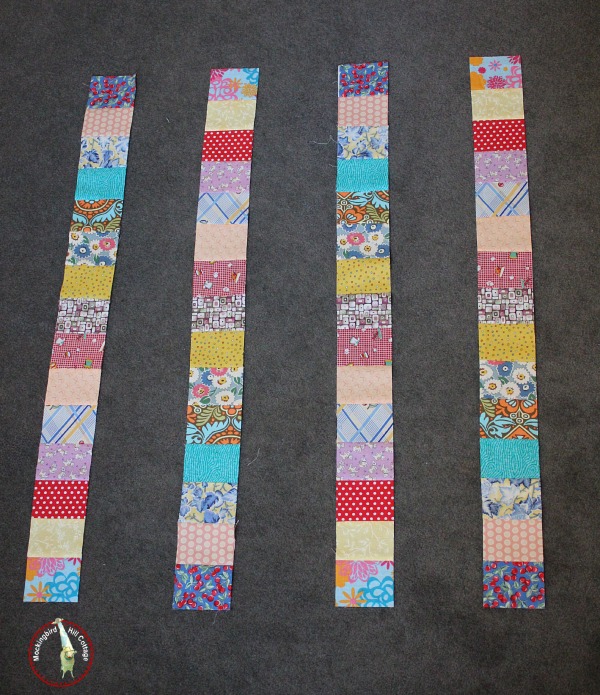 I was originally thinking about a pillow cover – with a white Moda Solid between each Chinese Coin strip. But I quickly realized the strips were going to be too long for a pillow, so now I'm thinking small wall quilt.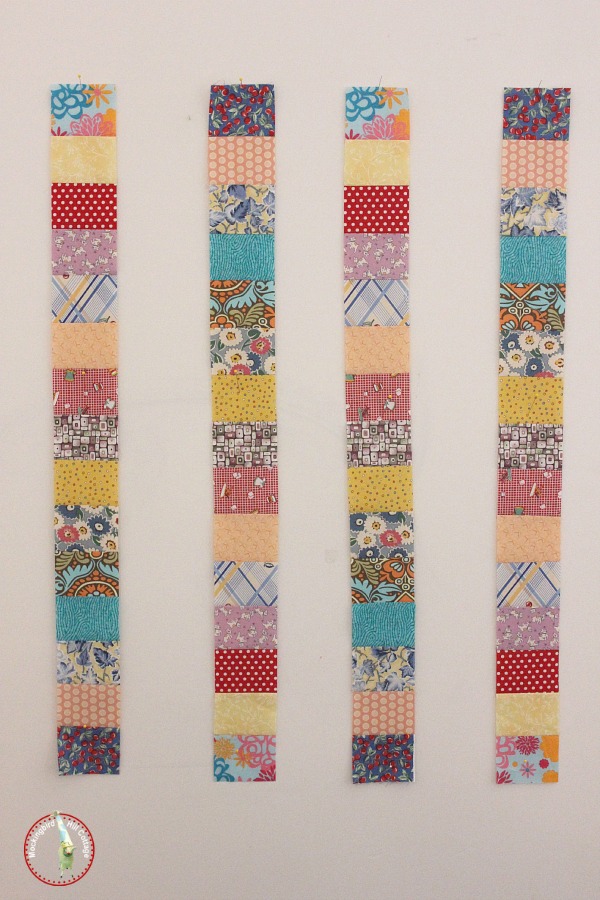 Here they are, haphazardly pinned to the wall which is in a dark corner of the room, hence the color distortion. Imagine 5 or 6 inch strips of white fabric between each Chinese Coin strip with more of the solid white fabric forming a border on top and on the sides.
I'm thinking that it might be a simple yet graphic quilt that just might be the perfect quilt on which to practice machine quilting. After I practice on a smaller scale, of course. I've never machine quilted anything; hand quilting is my preferred method. But…as I hand quilted the big old bed quilt I finished last spring, I thought to myself, "There just might be an easier way, Claudia."  We'll see. I much prefer the look of hand quilting but since I have two quilts already in the queue to be hand quilted, the idea of machine quilting one is increasingly more attractive.
Basically, it just felt good to play with fabric and hear Mabel (my Featherweight) purr. I love her.
I had some strips of fabric left over. I grabbed a length of yarn and proceeded to tie each strip onto the yarn. I tried a new knot that I found directions for online. Why do I have such trouble with knots? I always have. If you could have listened in on yesterday's knot-tying adventure, you would have heard lots of cursing and swearing. The diagram looked simple. But somehow I was able to muck it up several times. I would clearly make a bad sailor.
Anyway, I ended up doing this: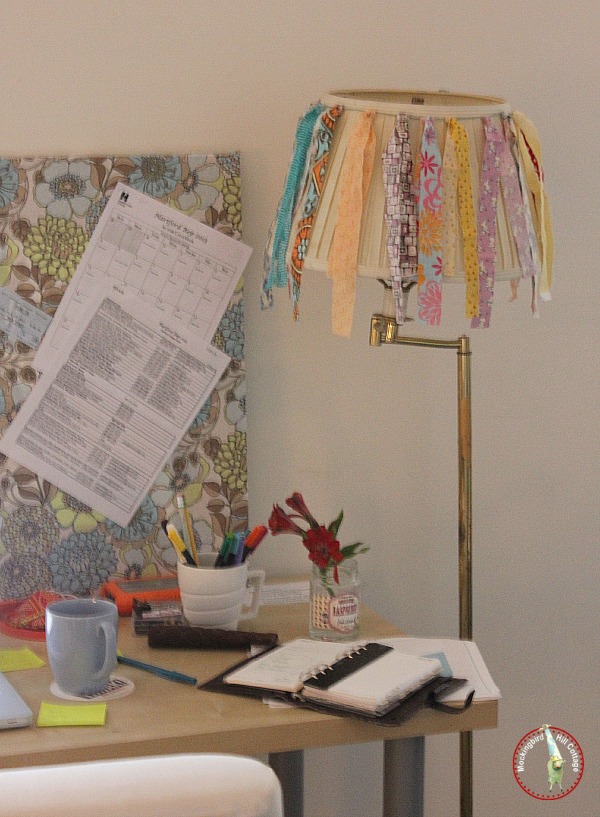 Not necessarily something I would do at home, but heck, I'm on the road. The lampshades here are crooked, old and not very attractive. Why not prettify them a wee bit?
Today I don't have to be at rehearsal. That makes 2 days off, which I could have spent at home if the danged car hadn't been a problem. I'll have to find something to do today that will keep me from being too homesick, though it looks like it might rain.
Happy Tuesday.