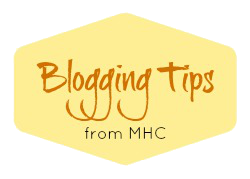 I'm sharing some Blogging Tips today that should enhance your viewing experience and the viewing and commenting experience of your readers. At least, I hope so!
1. Update your browser
This is something that we often forget to do, but not updating can really affect your viewing experience. When I completed the move to WordPress last weekend, my husband pulled out his laptop to see how it looked. His laptop is my old laptop and he uses Safari. When he clicked over to my site, everything on the page was out of alignment. It looked terrible. I had a real moment of panic because my site looked just fine on my version of Safari. So I suggested that he update the browser. Well, actually, I updated the browser. And, lo and behold,  the blog looked just the way I'd designed it to be. Such a simple update but so important. I use 3 different browsers: Chrome, Firefox and Safari. I regularly update them. It's easy. Just click on the name of your browser at the very top of your screen, then click on 'About Google Chrome' or 'About Safari' and if there is an update available, you will be given directions on how to do it.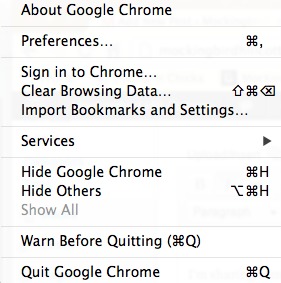 I don't use Internet Explorer because it has a lot of problems and I think there are much better browsers out there, but if you do, I imagine you can update your browser the same way. (May I suggest, in a non-pushy way, that you use a browser other than IE?) Updating also assures that anything that needs updating – for example, correcting any bugs in the browser – is updated and working smoothly.
2. Viewing Blogs – Font Size
Font size is an issue for some of you. I get it. I usually have a fairly large font size on my blog. However, I also have preferences as to how the font looks. On this new blog, the difference between 15px font size and 16px font size is huge. I like 15px. I do not like 16 px at all. To me they look entirely different. I tried 16px. No good. It's not going to happen. Some blogs I read have very small sized fonts. If you, like me, are getting older and using readers or actual prescription glasses, that can be an issue. So, if you don't like my font size or another blogger's font size, what can you do? Easy. You could increase the font of your web content via your browser's preferences, as you see here.

However, if a web site, like my blog, has a fixed font size and I think most blogs do, this may not work. Never fear, there's a fast and simple way to increase the font size and that has to do with View found at the top of your computer screen when you are using your browser.
This same sort of  thing is found when you use any browser. If you're reading a blog and want to see a larger font size, all you have to do is click on View at the top of your screen.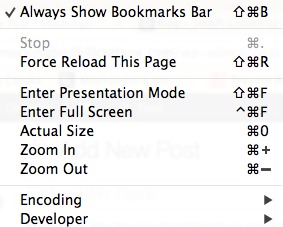 Then click Zoom In. Voilà! Your viewing area and font are larger. When you're done, click Zoom Out. This way, you get to control your blog viewing experience and reading those pesky smaller fonts will be a breeze.
3. Please (I beg of you) stop using Word Verification and Captcha
I understand that you don't want spam. None of us do. But asking someone to decipher the increasingly-impossible-to-read characters and numbers in Captcha before they can leave a comment is not what you want to do. This stuff is so hard to figure out that it is not at all uncommon for me to try 3 or 4 or 5 times before I can finally get my comment published. I start cursing. I get mad.  And sometimes, depending on my mood and the window of time I have available to comment, I give up. Do you honestly want to lose comments? I didn't think so.
All you have to do in Blogger is go to your dashboard, click settings, then click posts and comments and change Show Word Verification to NO. Easy. If you're still worried about spam, you can do what I did on my Blogger blogs. On that very same page, I went to Comment Moderation. You have 3 choices: Always – which means no comments will get published without your approval, Never, or you can choose Sometimes and For Posts Older Than (fill in the blank) days. I always used 3 for my number of days but that's because I post every day. Why do this? Most spammers like to hide their spam on older posts. This way, you get to review the comment and see whether it's spam before it's published. And no one has to go through that annoying Captcha guessing game.
One other note: I don't see this that much anymore but sometimes I encounter a blog that has both Comment Moderation and Captcha. You don't need that. It's overkill. One or the other is sufficient. Hopefully, between the two, you'll choose Comment Moderation.
4. Viewing Blogs in a Reader or via Email
Many of you subscribe to blogs via a reader of some sort or via email. It's convenient. That way you know when a blog has a new post. All the blogs I followed on Google Friend Connect are now part of a big old bunch of blogs I can read on Google Reader. And, since this move to WordPress, I have been encouraging everyone who used GFC to subscribe to my blog via RSS. I also bookmark a lot of my favorite blogs instead of reading them in a reader. I actually prefer that.
When I see a new post from a favorite blogger in a reader, I always click over to the actual blog post. Yes, I know it's an extra click. But here's the thing: for me, an important part of the experience is seeing the actual blog on my screen – the post, the design, the sidebar, etc. Seeing all of that gives me a bigger picture – of the writer, her/his style, sense of color, header. I'm very visual. And, even more importantly, if that blogger has ads on her blog – ads she is hoping to earn some income from –  she needs me to click on her actual blog. She'll get nothing from me reading every post in my reader.
I have BlogHer ads on this blog. Those ads provide a small income for me that I really need in these precarious times. So, think about those bloggers you know that have ads and make sure you click on over to the actual post. It takes but a moment but it can make a big difference in that blogger's quality of life.
Okay! I hope these tips are helpful.
To all those who labor, and that's all of us – Happy Labor Day.