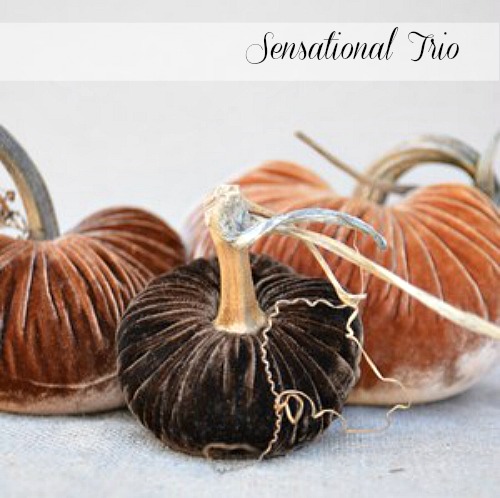 I have an exciting giveaway for you today. I'm sure you've seen these gorgeous velvet pumpkins as you've been out and about in blogland. I sure have.
Chris Ann and Kristin are two friends who now live several states apart. They started LoveFeast Table as a way to "curate beauty for all those who would gather around this table." Their site is chock full of interesting and helpful tips and their shop The LoveFeast Shop carries hand-crafted and artistic items, including these velvet pumpkins. They also give back to those in need with The Kitchen Project that is helping build a Children's Home and Community Center in Mexico, and the Traveling Cookbook, a project to raise awareness and funds for a Mobile Pack Unit for Feed My Starving Children. The unit will provide "100,000 meals for starving children in the highest needs area of the world." You can read all about Chris Ann and Kristin on their site.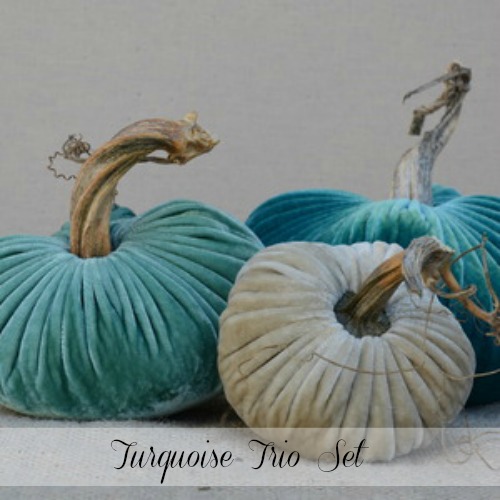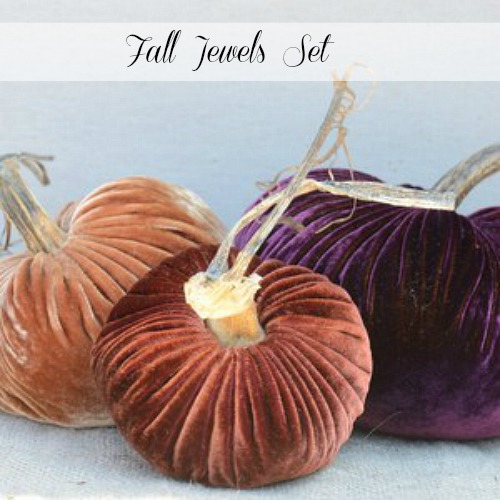 If you visit the site, you can watch a short video in which Chris Ann and Kristin talk about their friendship and how that friendship spawned the idea for LoveFeast Table. Their plates are full – they each have children and busy lives – but they've created something quite wonderful together.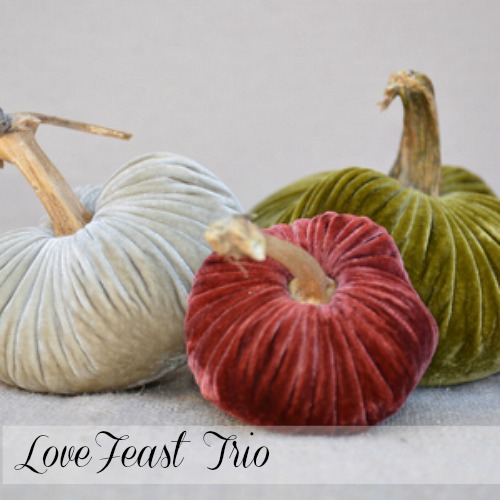 I love seeing women band together in a creative endeavor and one that also helps those in need. Since Brenda and I are two friends who met through blogging, we thought it would be a perfect idea for each of us to host a giveaway for these pumpkins on the same day. So make sure you head on over to Cozy Little House for another chance to enter.
Trio Set: Set of 3 – 6 inch, 5 inch and 4 inch. All of LoveFeast's Velvet Pumpkins, Acorns and Mushrooms are meticulously hand-stitched and handcrafted out of natural organic stems and luxurious velvet fabrics. LoveFeast Shop exclusively carries the velvet colors of Sage and Mushroom.
The winner of this giveaway will be able to choose one of the Trio Sets from the web site. There are even more possibilities than the four trios I chose to show you today! (You know, of course, what trio I would choose for myself. Hint: Turquoise.)
To be entered: Just leave a comment on this post telling me where in your home you might display these pumpkins. The winner will be chosen by the Random Number Generator on Saturday night and announced on Sunday.
Happy Thursday.