Hello to everyone on this Monday morning. Today I am reviewing Things Your Dog Doesn't Want You to Know by Hy Conrad and Jeff Johnson for TLC Book Tours. As always, I am provided with a copy of the book in exchange for my honest review.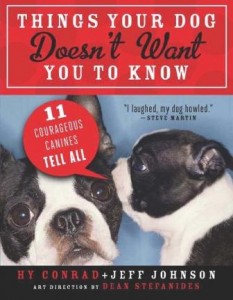 About the book:
Things Your Dog Doesn't Want You to Know answers the questions that dog owners have asked for centuries. The book is a collection of 115 humorous essays that reveal the truth behind some of the most baffling canine behavior, their hopes and dreams, their grudges and pleasures, and what they really think of us humans. Peppered with lively, clever stories and visually appealing photographs, Things Your Dog Doesn't Want You to Know is a verbal and visual delight that is laugh-out-loud funny. If you have dogs, love dogs, or have ever been baffled by a dog, this book is a must-have.
My Review:
When I saw this book on the list of upcoming books to review, I immediately asked TLC Book Tours if I could review it. Anyone who reads this blog knows that I am a big dog lover. Oh my goodness, look at the cover photograph – those Bostons are tugging at my heartstrings!
Is this book funny?
Short answer: YES.
The essays are written by 11 dogs, with names like Axelrod (Yellow Lab), Tinkerbell (Chihauaha) and Rufus T (Bloodhound). In each of the essays, the author-dog will write on a specific topic, giving us a peek into what really makes him/her tick. Or not tick. These essays are flat-out funny. If you are an owner who tries to figure out the inner workings of your dog's mind and I must admit that I fall into that category, you will find that the answer provided by each dog is usually far less complicated than whatever you've dreamed up.
Some of my favorite essays and their titles:
"I Will Never be Full" by Orson (Bulldog) – I have a dog that is never full and I loved Orson's honesty. Thanks, Orson.
"Stop Tricking Me" by Bandana (Border Collie) – where Bandana tells us that all of the tricks we use to try and disguise the fact that, for example, a bath is coming or pills are being put into dog food, simply don't work. Dogs see through that sort of thing.
"Things We Do When You're Gone" by Charlie (Miniature Schnauzer) – Just imagine.
"I'm Just Asking" by Bandana – in which Bandana asks, among other questions, "When you put that little box up to your ear and talk, are you talking to me? Because sometimes we're the only two around. So are you talking to me or the box? Is the box alive?"
This book is wonderfully written, with each dog having his/her own particular writing style. The authors are clearly dog lovers who have spent the same amount of time we all do trying to figure out the inner workings of their dogs' brains. What makes them tick? Be prepared for some funny, wise and touching answers.
It's the perfect sort of book in that each essay is complete in itself – so you can pick it up, read an essay or two, and come back later for another quick dose of humor.
Loved it.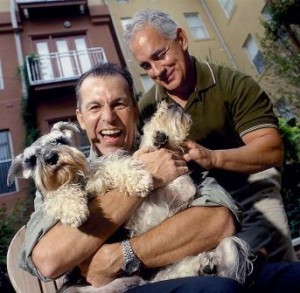 About the authors:
Hy Conrad:
Best known for his work in mysteries, Hy was one of the original writers for the groundbreaking series, Monk, working on the show for all eight seasons, the final two as Co-Executive Producer. In a related project, Hy was Executive Producer and head writer of Little Monk, a series of short films featuring Adrian Monk as a ten-year-old. His latest TV work was as a writer and Consulting Producer for White Collar.
Hy is also the author of hundreds of short stories and  ten books of short whodunits, which have been sold around the world in 14 languages. Hy's first mystery novel series, Abel Adventures, will debut in 2012 with the publication of Rally 'Round the Corpse. And his first full-length comedy/mystery/play, Home Exchange, premiered at the Waterfront Playhouse in May 2012. He lives in Key West and Vermont with his partner and two miniature schnauzers.
Jeff Johnson:
Jeff spent most of his life working in advertising agencies, currently as General Manager of Cramer-Kasselt in New York City. He is the author of The Hourglass Solution: A Boomer's Guide to the Rest of Your Life and co-authors (with Paula Forman) a national online advice column called Short Answers, which also appears in newspapers all along the east coast (from Massachusetts to Florida). Jeff lives in Vermont and Key West and is on the Board of Directors of the Waterfront Playhouse and the Florida Keys SPCA.
————————————————————————————-
Would you like a copy of this wonderful book? You just might win one. Leave a comment on this post and you'll automatically be entered. I'll pick a winner on Wednesday evening.
MHC now has a Facebook Page. If you'd like to, drop by and say hello! Maybe you could click on 'like?'
Happy Monday.