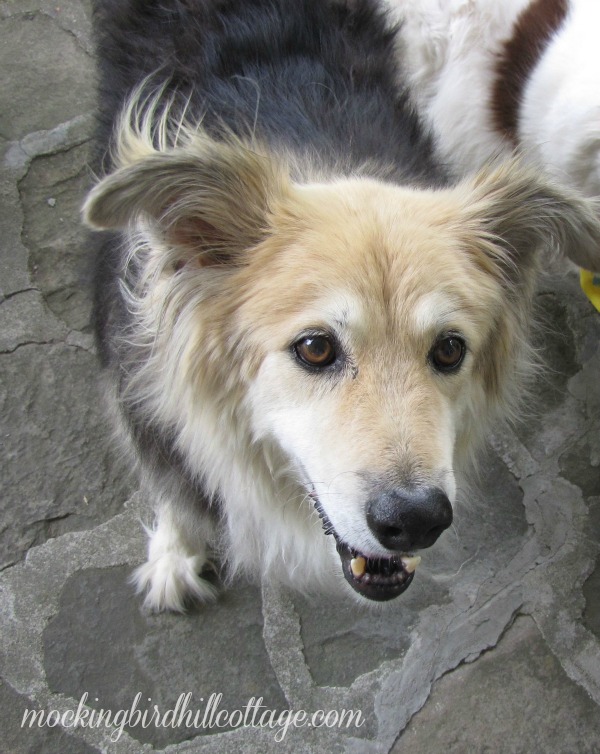 Seven weeks ago, we had to say goodbye to Riley, our sweet dog. Someone suggested in one of the many, many loving comments I received that I should write a tribute post. Here goes.
About two years after we moved out east, Winston, the first dog that Don and I adopted, suddenly became ill. Our hearts broke as we found out he had a tumor on his heart. Five days later he was gone. He had been in great pain for those five days and we could no longer bear to see him suffer. Scout, a very social dog, was left without a friend. Our grief over the loss of Winston was so deep that we couldn't even consider adopting another dog for a long time. In the meantime, we nurtured our girl, Scout.
But, as often happens, a space in our hearts was being created for another member of our family. Slowly but surely, I started looking at animal rescue sites online. After some time, I saw a dog that looked like he might be a candidate on Petfinder. My email was answered. He had been adopted but might I want to see another dog, photo attached, named Laddie? He had been found wandering the streets of Paterson, NJ.
He looked awfully handsome. Don and I decided to go see him. He was being cared for at, get this, The Rockland Psychiatric Center. This facility had several rescued dogs on site, where they were cared for and nurtured by the patients at the center. "Laddie" was brought to us. I noticed right away that he didn't meet our eyes and I knew that was a potential problem. But he was sweet and we were enamored. We took him for the weekend on a trial basis. Of course, once we had him home, there could be no more 'trial basis.'
The first night he was with us, he wandered into the office while we were sleeping and ate a bunch of my yarn.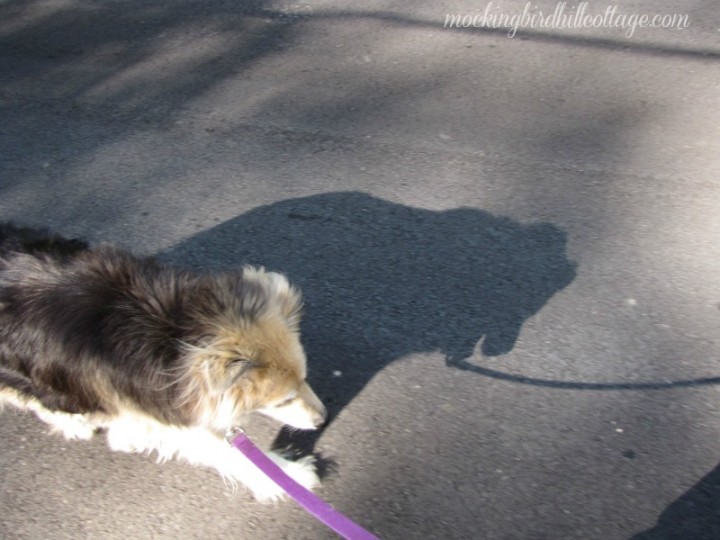 We quickly learned that Riley had no social skills at all. He didn't know how to interact with us or with Scout. He didn't know how to hold his poop until it was time for a walk or time to go outside. We spent hours that icy January walking and walking him hoping that this might be the time it 'clicked' for him. We knew we could count on Scout to handle the dog socialization. She gradually taught him how to play with another dog.
I was working part-time at a veterinary office at the time. When I found out that rescues were only given vaccines and not a heartworm test, I brought him to work. I figured I should at least get him tested.
He tested positive. We were shocked and worried. If you've ever had a dog treated for heartworm, you know that during the course of treatment, the dog has to be kept quiet; no jumping or running around. Since the worms are in the heart, any excess activity could cause a blood clot to be thrown into the lungs. So we made sure one of us was always with him. We had to curb Scout's natural playful tendencies. We had his youth (he was estimated to be two years old) on our side. He came through the treatment successfully.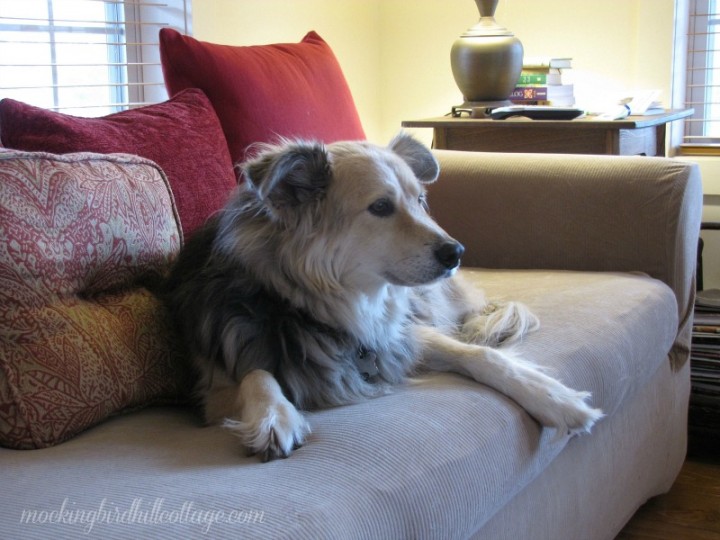 Gradually we established some trust. He had abandonment issues and separation anxiety. He didn't like it when we left the house. Many is the time we would come home to something that he had chewed up – Don's backpack, my bird book. He would punish us for leaving him.
One day, Don and I were running errands and we came back home to quickly unload some stuff. We had one more errand to do, so we said hi and goodbye to the dogs and left again. Later in the afternoon, after we'd been home for a while, Don went upstairs to take a nap on our bed. A very short time I later, I heard a string of expletives from our bedroom. I went up to investigate. Don had taken off his shirt (it was summertime) and plopped down on the bed only to find he was literally lying in dog poop.
Yes, Mr. Riley had decided to punish us by jumping up on the bed and pooping on it.
After my initial shock, I could not stop laughing. I'm sure that didn't help matters.
We also learned that Riley would bite if he felt threatened. He bit both of us at one time or another. You couldn't come at him from behind. You couldn't grab onto his collar. Never go near the ears. He would growl and bare his teeth. Frankly, he frightened us. But he could also be the sweetest dog in the world. We went through years of being careful around him. It made our relationship tenuous at times. Occasionally, Don brought up the idea of getting him a new home. I even thought about it.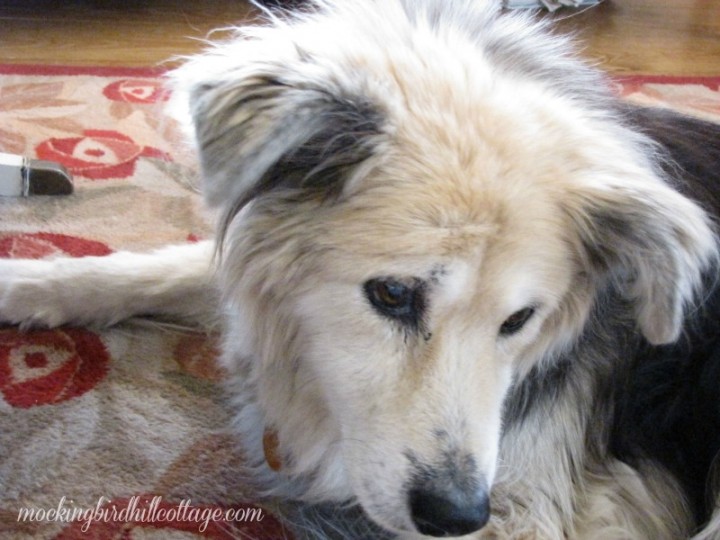 But I couldn't. As far as I was concerned, we had made a commitment to him. He was ours. We had to find a way to work with him. We had to find a way to establish trust. I'm not the sort of person, nor is Don, who abandons a dog because things become hard or inconvenient. Don't get me going on those who do.
I even consulted a famous pet psychic to try and get an idea of what might have happened to Riley to make him this way. She said that she saw him not so much being physically abused as being completely neglected. She saw him chained up in a yard, all by himself, for hours and hours. What a terrible thing to happen to any dog, least of all a puppy.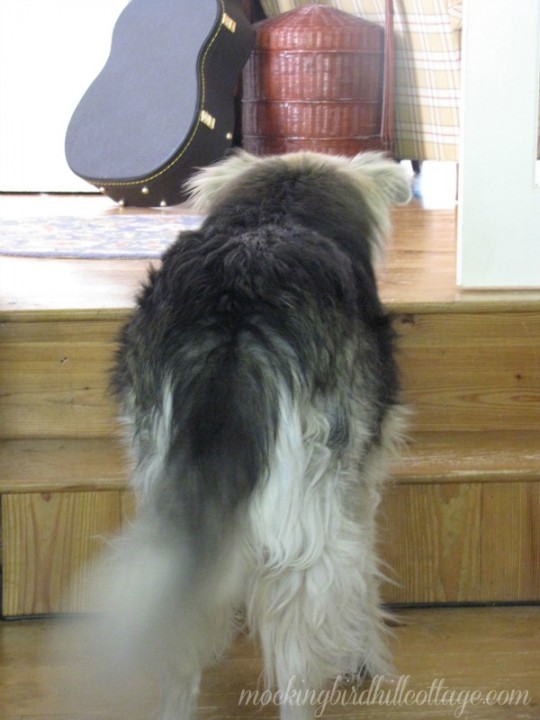 So we kept working with him. He rarely came for a pet at first, but gradually over the course of the years, he did. He loved to be petted, but only for a certain amount of time. He licked my hand, which was his way of showing me he loved me. His wild dog ways were tamed, for the most part. And my crazy, scared, anxious boy began to settle down. You would hear the thump-thump-thump of his tail when he saw you come into view. He'd wait each morning for Don to get up – every time he heard a noise from upstairs, he was on his feet, tail wagging, hoping his dad was coming down the stairs.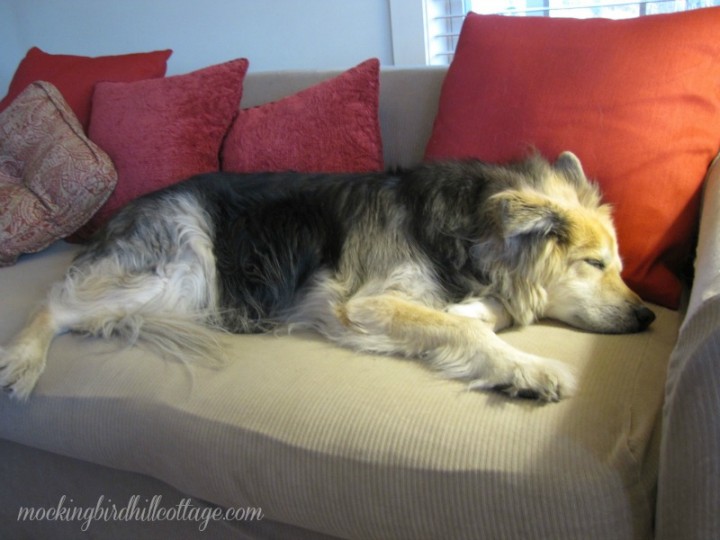 At first, he would run and play outside with Scout. He would jump up on the sofa for a nap. He and Scout would wrestle. And he loved, loved to eat. He could never get enough food, due, I suppose to having to survive on the streets.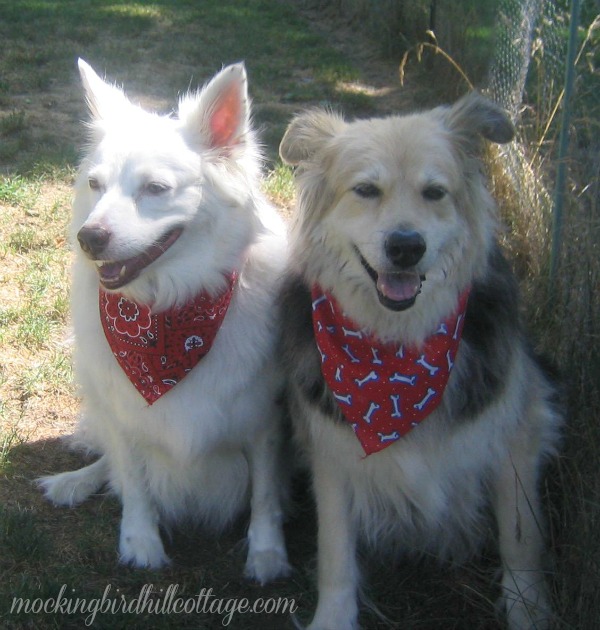 But he started to slow down. He was sore at times. For a long time, we assumed it was hip dysplasia. He was a shepherd/collie mix and it seemed the logical assumption. Increasingly, there were periods where he had trouble lying down. Sometimes he couldn't get up. He walked more slowly. He stopped jumping up on the sofa. Eventually, a vet diagnosed his problem as Cauda Equina Syndrome, a neurological condition affecting the lumbar plexis in which a loss of function occurs over time.
At least we finally knew what it was that was weakening our boy. And we knew that it would eventually take him from us. All the symptoms we had noticed suddenly made sense. As he grew weaker, ironically, he grew gentler. No more growling, no more baring teeth. Even though he was in pain at times, he remained incredibly stoic. Toward the end, he even let me clean his ears and cut his nails,  which would have been unthinkable before.
The dogs had always slept in the bedroom with us but as Riley became less and less agile, he fell a few times on the stairs and we had to make the decision to keep both dogs downstairs at night. It was simply too dangerous for him. And we knew he needed Scout's company.
Eventually, we helped him up and down the two stairs to the den and the step down outside the kitchen door.
He became incontinent. At first, we were often able to get him outside in time. His tail would arch and we would know if was time for him to poop. But his muscles were weakened and try as he might, he couldn't always alert us in time.
It's funny how one's standards can change. Eventually it became all about making Riley comfortable and safe. No judgments. Just a soothing, "It's okay, my boy. Don't worry" as we cleaned up whatever needed to be cleaned up. Because you know what? Life is too damn short to make it about shame. We decided that our mission was to make him as comfortable as possible and shower him with affection and love while we still had him with us.
Through it all, he remained loving and gentle and grateful and brave. I would lie on the floor next to him at night, whispering in his ear how much he was loved, and he would gently lick the palm of my hand.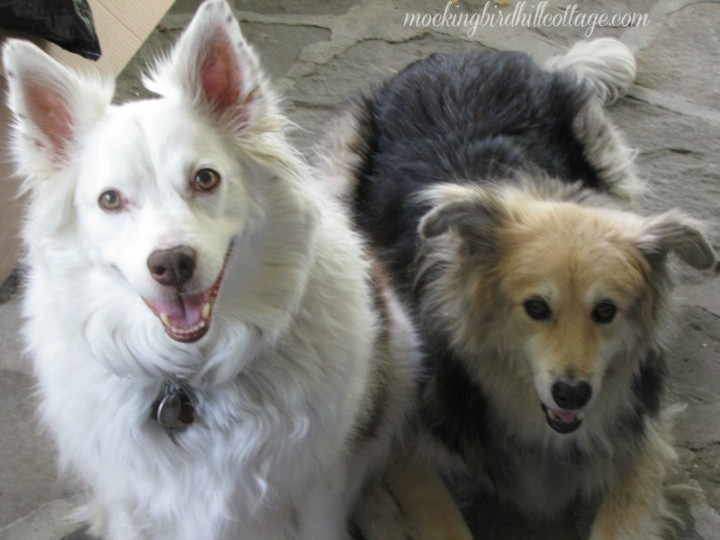 The four of us had a journey to take together. Riley learned to trust again. He learned we would never abandon him and he learned what it was like to feel loved and safe. He had a true blue friend in Scout. We learned to trust as well. We learned how to stay by our boy no matter what the obstacles. To never give up on him. To show him compassion even when we were frustrated. To love him unreservedly. We learned patience.
To be honest with you, sometimes during that last 3 months, I was exhausted and impatient with him. I would immediately be stricken with guilt and apologize for my impatience. I knew I was only human. I was worried and exhausted and it showed at times. The last 3 or 4 months of his life were rather like hospice care. I moved all of my computer paraphenalia into the living room, where he was stationed on his rug. Life became very basic. Riley needed to be cared for. Period. He still ate with gusto. He still barked along with Scout. He still loved his treats.
Don and I constantly monitored him and we knew we would know when it was time. I wasn't going to make any decision based on fear or inconvenience. Neither was Don.
I treasure that time. I wouldn't trade it for anything in the world. My bond with Riley deepened. We communicated on a whole other level. He knew complete devotion and love. And for that, I am grateful. That my boy, neglected in his young life, knew what it was like to be loved and treasured helps to ease the pain of his loss.
A word about this. Most of you are fellow animal lovers. Your compassion and caring showed so clearly throughout the time I shared Riley's struggle with you. I cannot tell you how much that means to me. And you all said that we would know when it was time.
Making a decision about the end of a beloved pet's life is up to those who love him – his family – and his doctor. No one else. I had a comment on this blog, not long before Riley died, berating me for keeping him alive, implying I was selfish and insensitive. It was quite long and quite cruel. It hurt me but, mostly, it made me angry. I would never dare to tell someone how and when to make this most difficult and heartbreaking and personal of decisions. There we were, in the midst of one of the most difficult times in our life, struggling every day to make sure that Riley still wanted to hang in there and I had to read this? I deleted it and informed the commenter that I had done so. I had a response from the commenter, equally cruel, and I deleted that also. Because Riley was having trouble walking, was suffering from incontinence, I was supposed to put him down? Really? My mother cannot walk on her own and is incontinent. Should I have her put down, too?
Okay. I'm getting angry again and that serves no good purpose. It's part of being a blogger, I suppose, and sharing your life with others. It's the risk we run.
On August 20th, we knew it was time. Our doctor helped to clarify that for us. And we lovingly held and caressed him as he left this world. No amount of preparation could prepare us for the heartbreak that followed. I know you all understand that. But loving deeply opens you up to heartbreak in the end. I've always felt that if the creator screwed one thing up, it was in giving our animal friends such short lives. And yet, we adopt, we love, we give a home to them, knowing that our time together will be short.
Riley was my teacher. Scout is, too. He taught me so many things during the course of our nine years together. I miss him every moment of every day. I would give anything to have him back. He was an angel. We were meant to adopt that boy. He was meant for us.
Rest in peace, my boy.