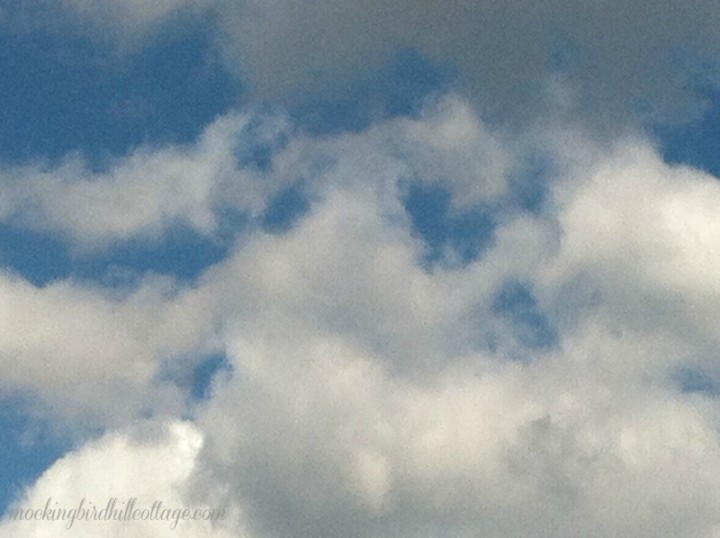 No, the sky doesn't look like this at the moment. I took this recently with my iPhone and I like the way it looks like a painting. No big fluffy clouds for us – not for the last several days, and certainly not for the next several days. It's around 9 AM as I write this on Monday morning. Sandy hasn't come ashore yet, but it's very windy here already. I have all the shades down.
It can be quiet for a minute or two. Then the winds start up again. And these winds are mild compared to what is coming.
Very unsettling. Very nervous making. I've been contacted by other bloggers who are in the path of Sandy's fearsome power. We've all stocked up. We've all secured everything we can secure. And now we wait. That's all we can do.
NYC has closed the subways down, stopped mass transit of any kind. Wall Street is closed. Schools are closed. Broadway theaters were dark last night and will be dark tonight. Low lying sections of NYC have been evacuated. Ships have been sent out to sea. It must be a very strange feeling to be in that city of so many millions of people, with stores closed, no way to get anywhere and a very real sense of fear about the storm surge and what it might do to the island of Manhattan and the outer boroughs.
Yesterday, Don and I took out all the window air conditioners and stored them. We brought every plant in from the porch and every spare surface in the house has become a temporary home for them. We walked the property, grabbing every item we felt the wind could turn into a projectile and put it in the shed. Trying to find a treeless place to park the car on our property is a losing proposition, so we opted for a little area near the shed that seemed to be the best bet. But then I immediately worried about the trees in the woods falling.
There's no way to be sure of anything. You just hope you made the right decision and cross your fingers.
I alternate between watching the Weather Channel and local news and turning it off because I don't want to have my fear spike out of control.
It's cold in the house because we have so many windows and there is so much wind. We may bring a mattress downstairs tonight to sleep. Being upstairs in a house surrounded by trees leaves us feeling a bit vulnerable.
My dad just called to check on us. There he is in Florida, that state that is associated with hurricanes, calling to check on his daughter and son-in-law in upstate New York who are expecting a hurricane. What's wrong with this picture?
As I said before, we may have power, we may not. But I do have a book review written and scheduled to post tomorrow. If you don't see a post on Wednesday, you'll know we've lost power.
I'm praying for everyone in the path of this terrible storm. I'm hoping that it becomes less than it's predicted to be. I'm wondering how anyone can question climate change in a world where every weather pattern is changing drastically. Sandy is coming ashore due to a blocking pattern in the upper atmosphere – a massive dome of high pressure south of Greenland. If this blocking pattern wasn't occurring, Sandy would turn out to sea. These blocking patterns have occurred more often and more intensely in the past few years and many scientists think this is due to the loss of Arctic sea ice – an effect of global warming. The 2012 sea ice melt season was extreme, with a great loss of ice. That loss has resulted in more expansive open areas of water which then absorb more solar radiation, adding heat and moisture to the atmosphere, eventually altering weather patterns. The blocking pattern, coupled with a deep dip in the jet stream, has brought a massive hurricane inland. And these storms will also produce more coastal flooding due to rising sea levels that have been occurring consistently over the past one hundred years as a result of warming ocean waters and melting polar ice caps.
Sorry. I'm on the side of the scientists on this one. Facts are facts. We can't do what we've consistently done to the atmosphere for years and years and years and not see significant changes for the worse. 2 + 2 does not make 5.
What have we wrought?
I'm off to wait out the storm. Thank you for your comments. Reading them has helped. Knowing that you are holding us in your prayers and thoughts helps enormously.