Yesterday turned out to be the annual Painting of the Kitchen Island Day. This island takes a beating as we circle around it, open and shut doors and drawers, bang into and generally abuse it. And once a year, I reach a point where I long to see it nick-and-chip-free, if only for a day or so. Out comes the paint. Scout is barred from the kitchen. I make sure Don is out of the house. And off I go.
I'd love to show you bright and sunny photos of the island, but I haven't seen the sun in over two weeks. I'm not kidding. I don't think I can take one more gray day. So here are the photos of the island, freshly painted, unstaged, and a bit grainy.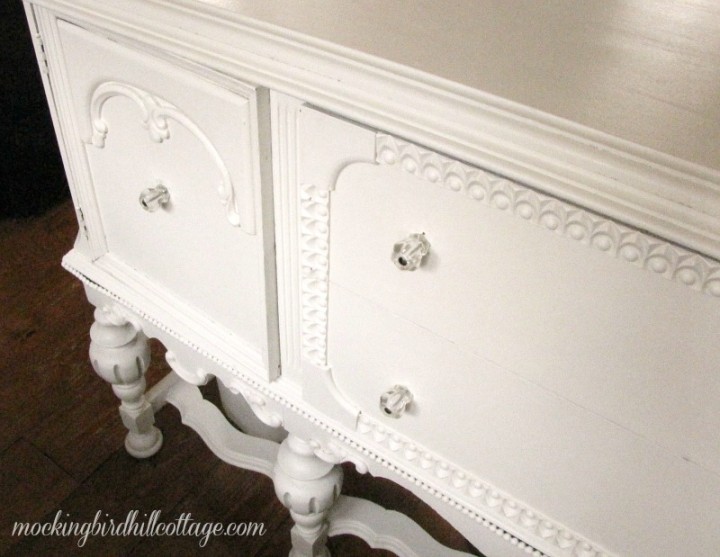 You can see all the details that its original incarnation as a dark brown sideboard hid. That dark brown, almost black, stain overwhelmed the piece and all the carving was lost in that heaviness. When I first brought it home, it looked so huge that Don wasn't sure it would even fit in the kitchen. I quickly slapped on a coat of primer to show him it would work. I knew that this creamy color would bring out all the details. The back of the piece was unfinished, so I covered it with beadboard. And I changed out the knobs.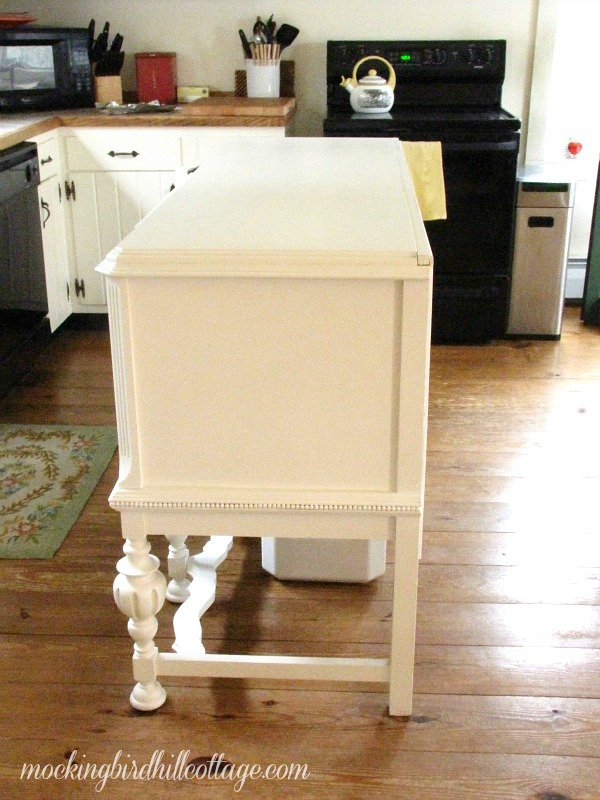 This piece has been a life-saver for us. We use it all the time, hence the dings and chips that will reappear shortly. Sigh. The drawers hold linens and baking tins. The cupboards hold our KitchenAid Mixer and various pots and pans. We don't have a lot of cupboard space in this kitchen and the island has given us much needed storage.
And it's pretty.
I don't want to put anything on it.
Now I will do my usual thing and follow Don around for a few days, urging him to BE CAREFUL! He will get annoyed. I will try to fiercely protect my island and eventually I will give up. Because kitchens take a beating. At least, kitchens that exist in real life do.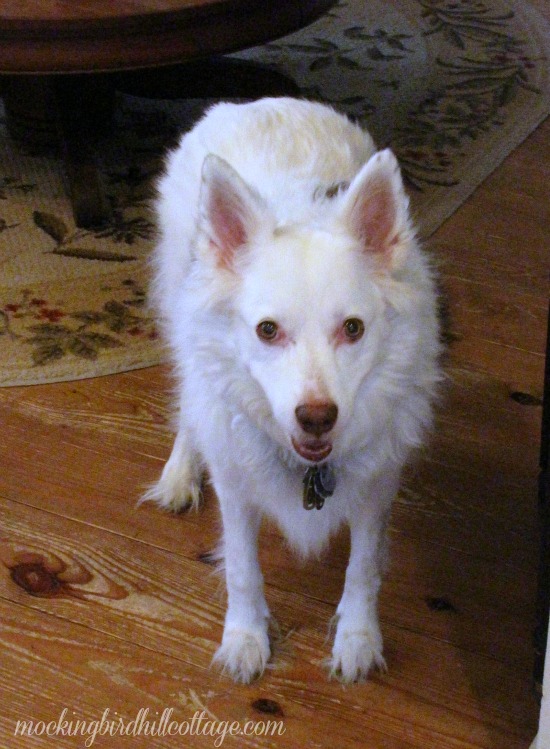 Scout – showing her outrage that she had been barred from the kitchen for 3 hours.
I wonder if we'll ever see the sun again around these parts. I've been thinking about painting the kitchen a pale yellow. Hmmm.
I'll be back at 8:00 EST with A Favorite Thing.
Happy Friday.