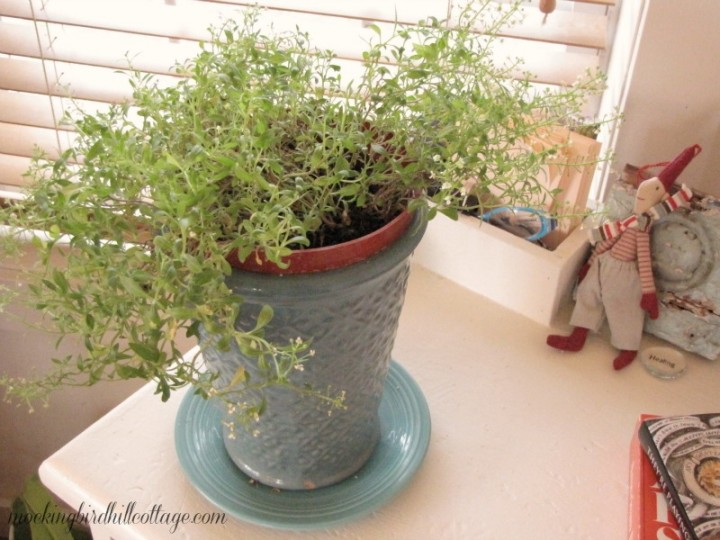 I hung on to my porch plants for dear life this year. Countless cold evenings found me dragging them all indoors for the night. One by one, the impatiens are fading but I have 2 pots that are still blooming. The hanging plants lasted until yesterday when I forgot to bring them in for the night. Actually, I most likely forgot on purpose as the realization that it was almost December hit me. It ain't going to get warmer, Claudia (I said to myself.)
I have this problem. I can't let anything die if there is a way of saving it. Bug, spider, potted plant – you name it. I am Chief Rescuer here at the cottage. But this year, more than any other year, I hung onto those plants for dear life. It gets harder and harder for me to leave summer behind and move into the dark days of winter and besides, I love my potted plants. I guess this means porch life is officially suspended until spring. Sob.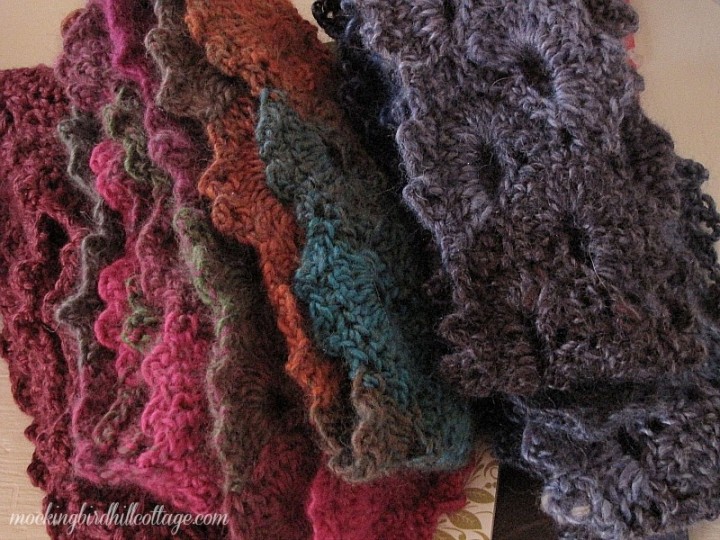 Colder weather means more indoor life. More nesting. More scarf making. I don't mind telling you, I have been on a roll with the scarves. Lots and lots of crocheting. I'm trying to add more stock to the Etsy shop for your Christmas-present-buying-pleasure. Speaking of Christmas: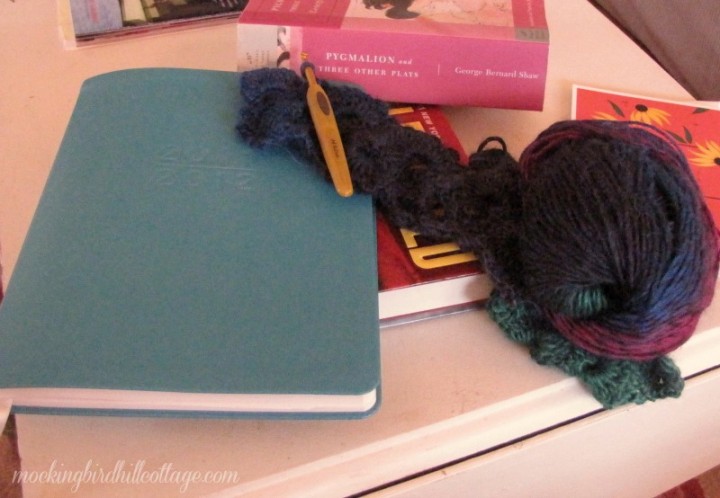 Do you see that volume of George Bernard Shaw at the top of the photo? Pygmalion and Three Other Plays? Don is going to be playing Alfred Doolittle in a production of Pygmalion out at our old stomping grounds, The Old Globe. He leaves in December. Before Christmas. We'll celebrate early, of course,  but this will be the first time we haven't been together at Christmas since the year we met (when I went home to Michigan to visit my parents and coped with knowing looks exchanged by my mother and father when I would leave the room for yet another long phone call with that mysterious 'Don.')
It will be strange. And bittersweet.
And for those of you have been kind enough to check in, Scoutie is back to her old self again. We're so thankful. She's feisty, naggy, funny, and full of herself. The antibiotics are doing their magic and my girl with the poodle-like front legs is once more the Princess of Mockingbird Hill Cottage.
Don has a friend who has a Border Collie who is 18. Scout will be 14 in January. So, you see, I plan on another 4+ years.
I am totally in love with my girl. And I miss my Riley. Christmas won't seem right without him.
It promises to be a very different holiday season this year.
If you check in on my blog roll, don't panic, it's still here. It's now on the navigation bar at the top of the page under "Blog Love."
I'll be back at 8:00 EST for A Favorite Thing.
Happy Friday,