Blogging friends, who are true friends, of course, are lovely indeed. Saturday afternoon I went out to the mailbox and found a package from sweet Judy Clark. Yay! A birthday present!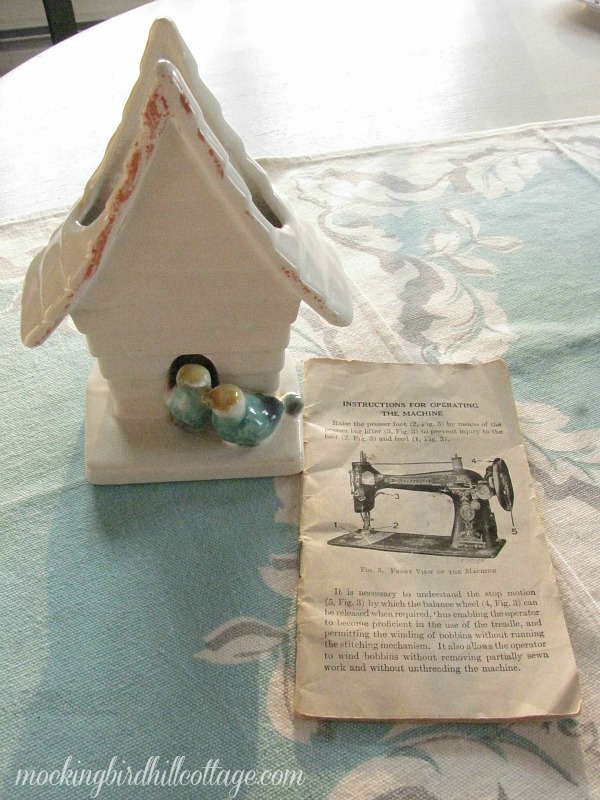 Be still my heart – that little wall pocket (birdies! sweet little house!) is adorable. I remember admiring it on a previous A Favorite Thing post of Judy's. Bless her heart, she remembered that and sent it to me. See the vintage Singer sewing machine manual on the right? That was in the box, too.
The other item needs a wee bit of explanation. If you recall, last year at this time I started to obsess about the little Nisse made by a Danish company called Maileg. I saw them peeking out at me on several blogs. Finally, right before Christmas, I found a wee nisse in the Garnet Hill catalogue. That started it all.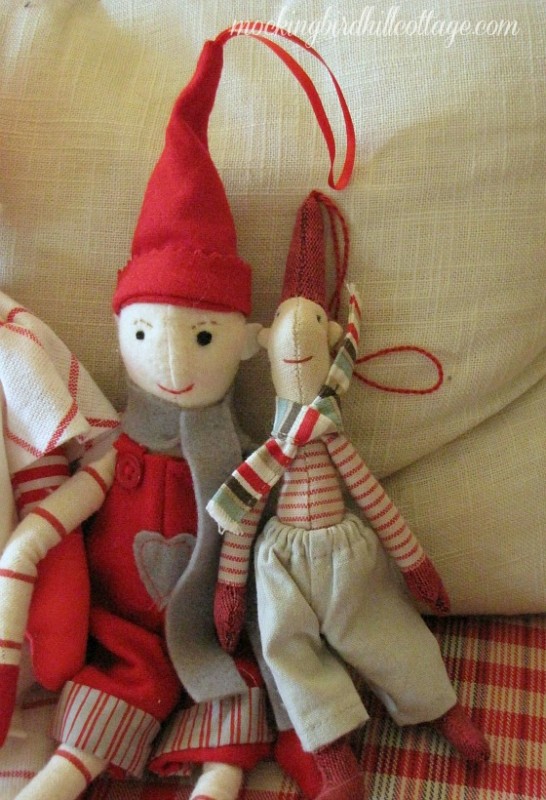 It was the little guy on the right, who normally lives on my desk in the den.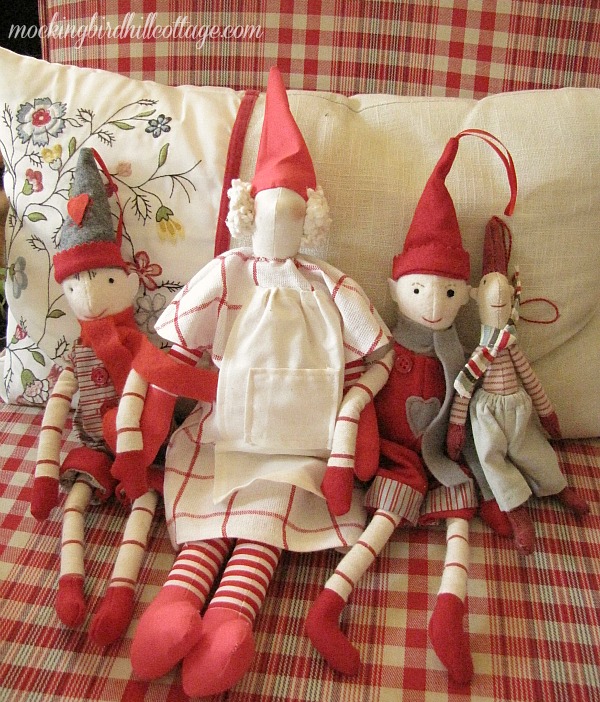 Several months later, Judy made her own version of a nisse for me – the sweet girl in the center of this photo. And a few months later, Miss Judy sent me the two nisse that are on either side of sweet girl.
Is Judy an enabler? I think so.
Back to the birthday present: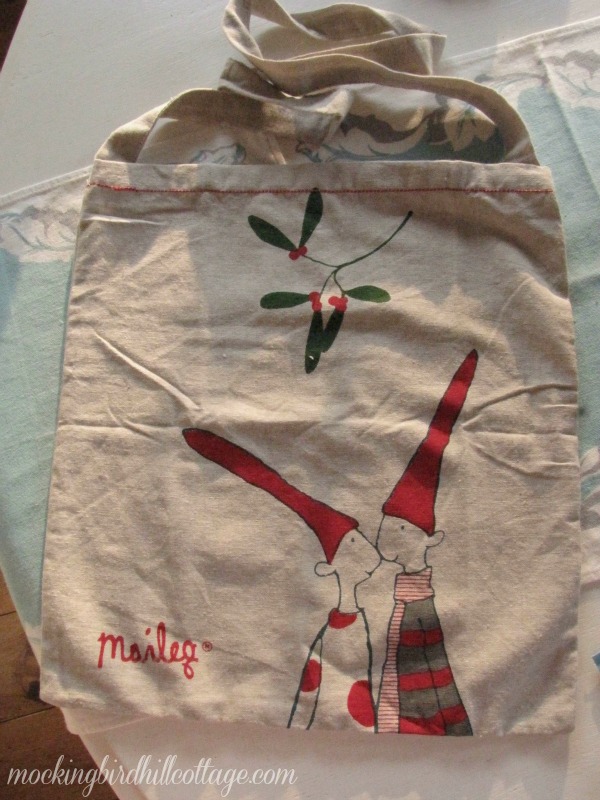 I don't know how on earth she did it, but Judy found this canvas bag from Maileg.
Oh. My. Goodness.
I am in Nisse Heaven. Would you care to lay a bet as to how many nisse I can acquire?
I warn you, you may lose. I am nisse-crazy.
Thank you, Judy. Judy is a wonderful person and an amazing crafter and seamstress. You should visit her blog and her Etsy shop, which is packed full of her gorgeous creations.
But before you do that, I've 3 new scarves listed in my Etsy shop. Yes, I've been crocheting like crazy.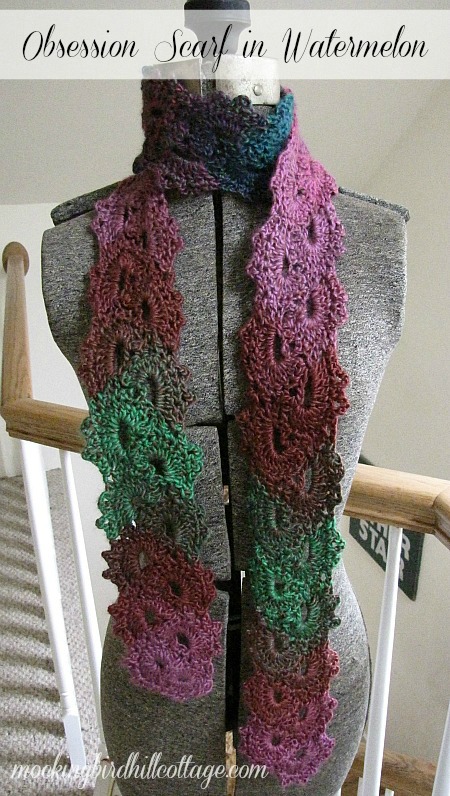 Obsession Scarf in Watermelon – wool and acrylic – soft to the touch. Lovely. Update: Sold!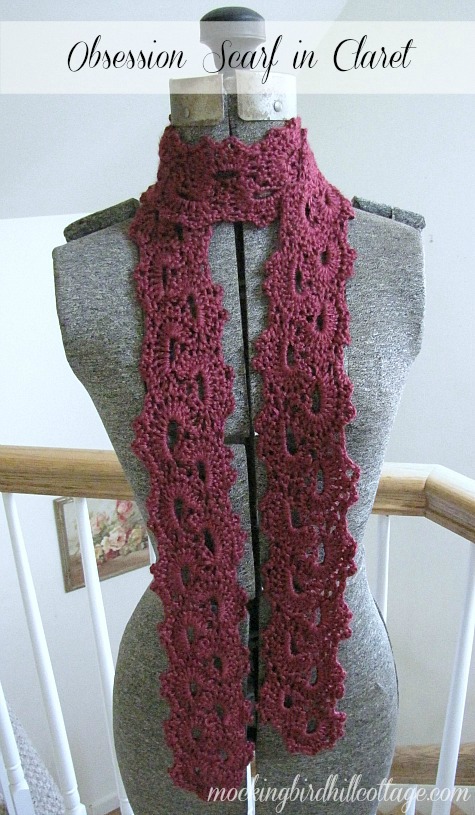 Obsession Scarf in Claret – silk and bamboo – oh, so soft and silky.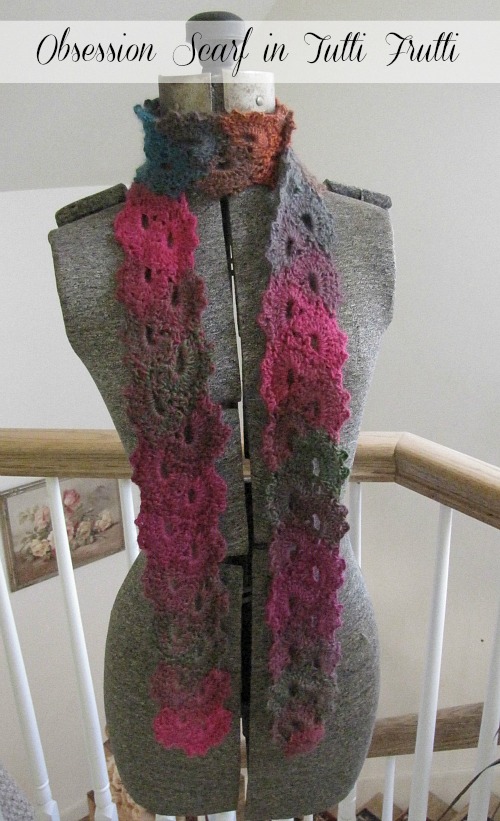 Obsession Scarf in Tutti Frutti – wool and acrylic – soft to the touch, a potpourri of yummy colors.
I've got more on the hook – stay tuned.
Happy Monday.