It's going down to 28 degrees tonight. And the next few nights are also expected to bring temperatures that are below freezing.
We have heat. We have shelter. We have food and water.
It could easily be a different scenario. We live in upstate New York, relatively close to New York City. We suffered during Hurricane Irene. Many of my neighbors experienced flooding and some of them lost their homes. The path of Hurricane Sandy affected us, yes, but somehow we escaped the brunt of her wrath.
I know that all of you have watched in horror as television networks have documented the devastation. Our local news comes from New York City, therefore, the coverage we have seen has been even more extensive. Short of permanently turning off the television, there has been no way to escape the very real and heartbreaking losses my fellow Northeasterners are suffering. Nor would I want to.
Everything else pales in comparison.
We've given to the Red Cross.
The neighboring town is collecting donations that will be transported to Staten Island, Long Island, New Jersey, Hoboken, wherever help is needed. We will be contributing.
As you enjoy your Sunday in your home, with heat and water and a bed to sleep in, with food to eat and clothes to wear and a car with gasoline in the tank, please take a moment to contribute something to those victims of Hurricane Sandy. Ten dollars. That's all. More, if you can; but everyone, even those of us who are struggling to pay the mortgage and our bills, has ten dollars. Our fellow citizens need your help.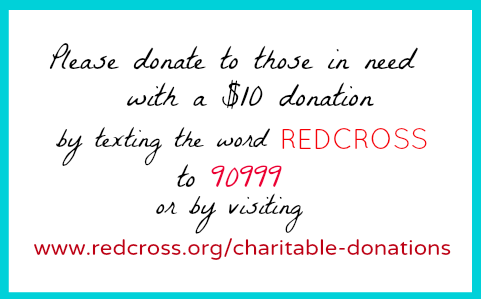 Thank you.