A message from Scout. She insisted.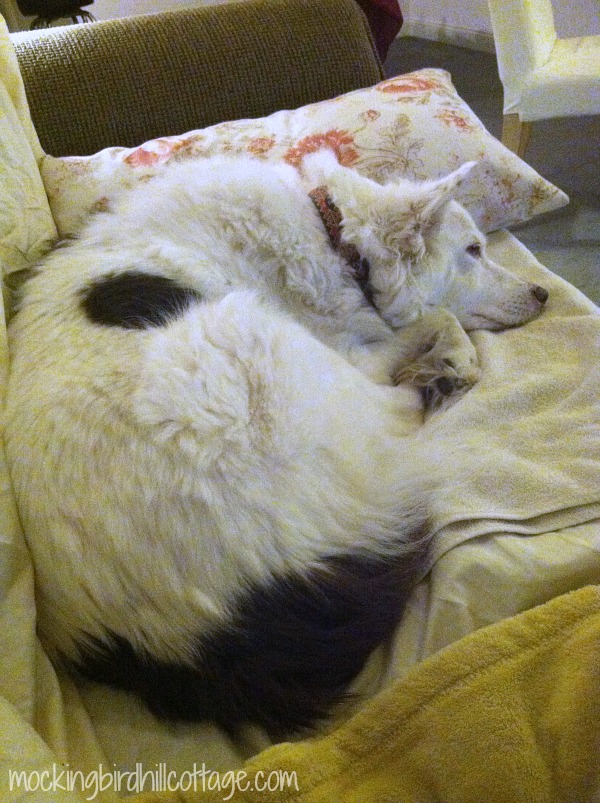 I'm tired. Mom said we were going to have an adventure and we have. One day she said we were going for a "ride in the car" and I got all excited. That usually means we are going to that road where mom and dad take me for a walk. But this ride was a lot longer. When we finally got out of the car we were in a strange place.
We went in this building and we entered something that has doors that open and close and that moves up and down. Mom says it's an elevator. I looked up and I could see myself in the mirror at the top of the box. I liked that.
We came into a strange room.
I spent the next hour sniffing everything. I paced. I worried. I drank so much water that mom thought I might explode.
Then she took me back in the box and we went down. And we went outside.
Lots of noisy cars and trucks and horns and police sirens!
Lots of smells!
We went to this place called a park and oh my goodness! I can't even tell you how much I love it there! I sniff, I pee, I sniff some more, I walk on sidewalks, I see other dogs! Yesterday I met a little dog that was a beagle/doxie mix. We liked each other.
I get all excited about our visits to the park and I pant and pant and pant and then I'm tired again.
One time, a girl named Nathalie came to visit. Mom left and Nathalie sat with me. I liked that. I like people.
Another time, a girl named Chelsea came to stay with me. She's from Texas and was raised on a farm and she misses her dogs. She stayed with me. I liked her. I like people.
Yesterday, mom left me all by myself for 3 hours. I didn't like that. But I was tired. So I slept. And when mom came back, she said she was worried that she might hear barking when she came down the hall.
Honestly, mom, get over it. I'm a big girl. I can handle it.
It's been weird, trying to find a place to sleep. At home, I sleep on the loveseat in the living room. Here? Mom made me sleep on the floor next to the bed. I tried to make a nest from the yellow blanket that she brought from home. But I move around. This morning when mom got up she found me in the living room waiting for her to wake up so I could go take care of business, as they say.
Mom isn't good in the mornings. She takes a long time to wake up. But I have to go outside right away! So she takes me. Today, she kept her flannel pajama top on and pulled on some jeans and we hurried over to the park. I had to pee!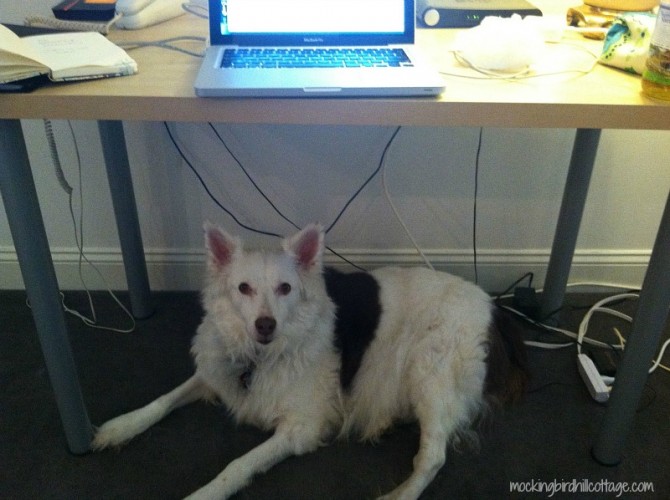 This is where I station myself when mom is on that darned computer. I like being under things. When we first arrived here, mom sat on the couch so that I could go in my "tunnel" and feel safe. That helped.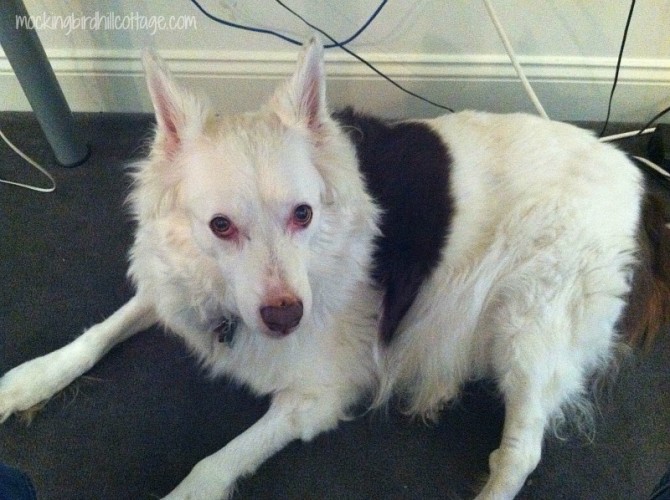 I'm tired. Really tired. So is mom.
She says we're going back home today. I'm not sure what I think of that. I miss my house but I sure love walking in the park. I will miss that. I mean, hey, it's right across the street!
But I'm exhausted. Mom tells me she's really proud of me and that I have been such a good girl! I even scored some extra treats because I've been so good.
I like having adventures. Life can get pretty boring otherwise. I may be 14 but I'm still young at heart. And I have lots and lots of energy. Frankly, I put mom to shame.
Mom is happy that last night's preview performance went really well. The audience clapped and cheered. That's good. (I know a lot about theater because mom and dad do that for a living.) She's real proud of the actors and her friend who is the director. And she got to see some old friends – one who is the lighting designer and one who is the costume designer. She also got to make some new friends. But she's ready to go home.
I hope you liked hearing about my adventure. Dad said that it was a special mother-daughter adventure – that his girls got to take a little trip together, just the two of them.
I miss my dad.
Mom's worried that you guys are going to be sick of reading about me.
How could you be? I mean, it's me.
Mom says to tell you that she'll be back tonight at 8:00 for A Favorite Thing.
Whatever that is.
XOXO
Scout