This particular Sunday starts what promises to be a frigid week. Temperatures during the day will be in the twenties and temps at night will be in the single digits. Yikes. Yesterday it was warm enough to melt a great deal of the snow. I don't think there will be any more snow melt for several days!
Ah, but I have my big old queen sized quilt to keep me warm as I sit on the chair or sofa, hand quilting each square. It would be insufferable in a warmer month. Grandma had the right idea; work on a quilt or two every winter. I now have five rows of blocks quilted. I'm in the middle of the sixth. There's a lot more to go.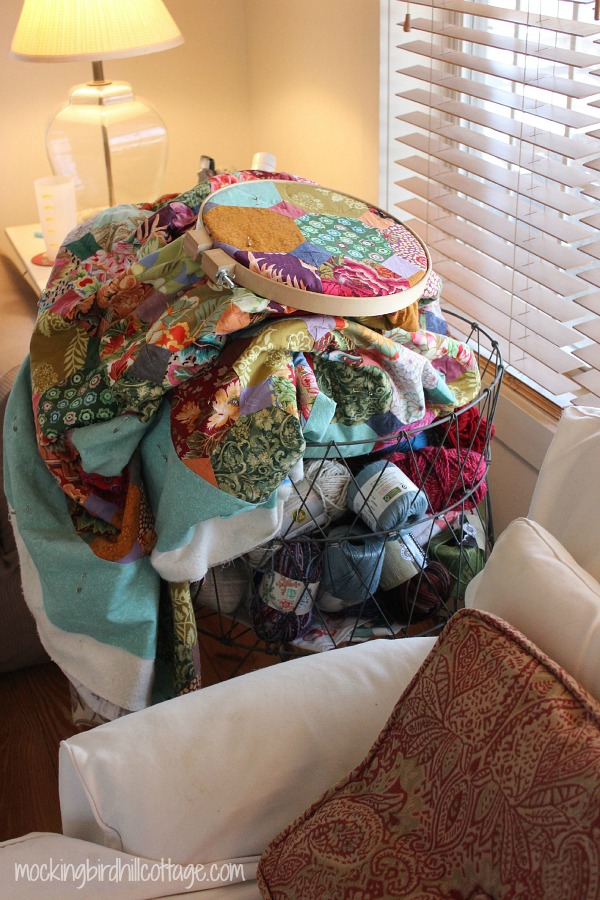 I've resorted to plopping the whole thing on top of the vintage wire laundry basket, which now does double duty as both a yarn and quilt holder.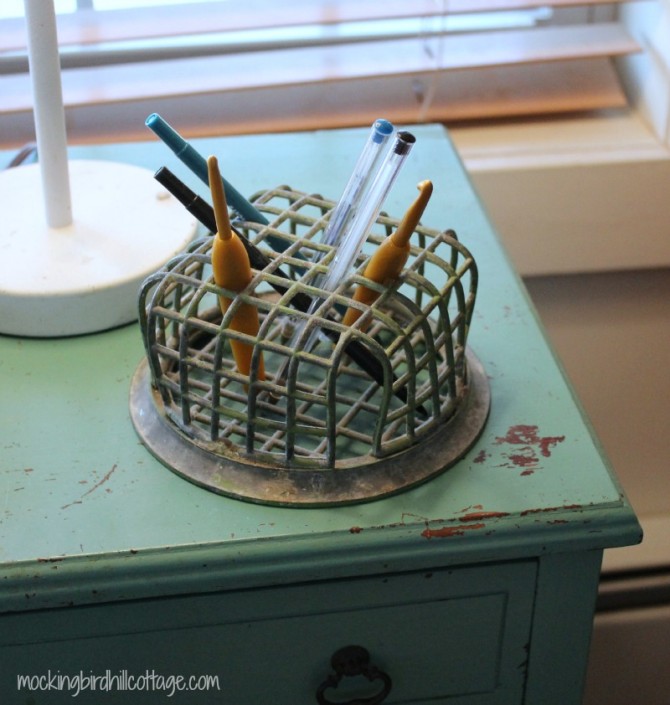 This flower frog has been transformed into a pen and crochet hook holder. It sits on the table right next to my blogging chair.
Can I stop to mention just how much I don't care about any of the Kardashians or their publicity craving mother? Or any of the Surreal Housewives of any city? Or any bachelors or bachelorettes? Or pretty much anyone who thinks I want to tag along as they live their unreal, completely staged lives?
Or how sick I am of commercials where the actors stress the pronouns, as in 'me, my, I, our'? As a text coach for the theater, I know that one of the cardinal rules of speaking is not to stress the pronoun. It's a pronoun, for goodness sakes. The verb is more important than the pronoun. The subject is more important. The action is more important. In Shakespeare's iambic pentameter verse, which scans 'da DUM, da DUM, da DUM,' 98% of the time the pronoun will be unstressed. It will fall in the 'da' unstressed part of the beat. If it falls in the stressed part of the beat (DUM), it's for a specific reason.  As in "No, you misunderstand me, it's not just anyone's dog, it's MY dog." Then it's okay. But all of this 'me, my, mine, I, we' stress jars my ears. I asked a friend who works in Los Angeles about it and was told that ad companies and producers are requesting this sort of thing nowadays. Because any actor worth his salt would not stress the pronoun. They are being told to do that. I guess the advertising world has decided that we consumers could use even more self-absorption than we already have. I know I'm especially sensitive to this kind of thing, but next time you're watching television for any length of time, see how often you hear this sort of thing. There's one commercial out right now for Dr. Scholl's inserts that, to my ears, is the equivalent of fingernails on a blackboard. I have to mute it.
I know I sound like a teacher. But I am a teacher. It's in my DNA.
In closing, Scout has become radioactive: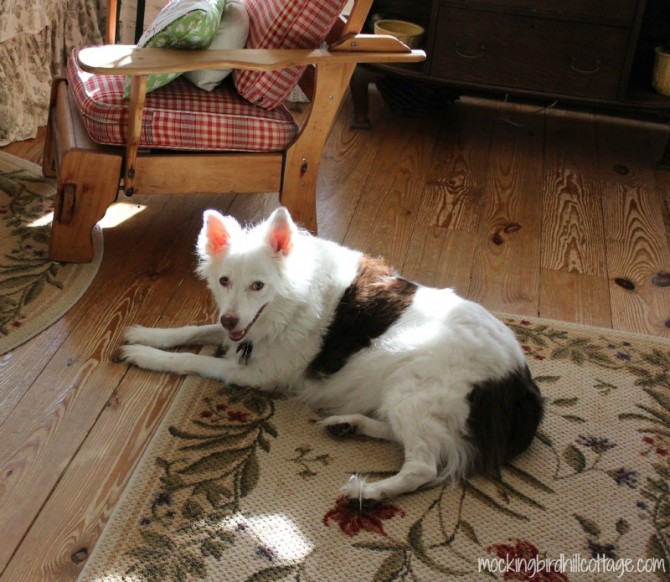 She's glowing.
Have a happy Sunday.