I've been on a painting binge.
I am not someone who particularly likes to paint. I'm an impatient painter. (That may be why I haven't painted any of the walls downstairs. I know it will be a big undertaking.) Spurred on by my wish to brighten up and pull together our bedroom and the knowledge that Don will be home next Monday and I'd like to get everything cleaned up by then, I've been painting like crazy.
My dresser. Long story short: I found it on the street in Cambridge well over 20 years ago. I enlisted the help of a friend and we carried it 4 city blocks to my apartment building. Then up 4 flights of stairs. It had the same sort of dark stained wood that the kitchen island had when I first brought it home. I painted it gray. Somewhere along the way during our time in San Diego, I painted it yellow and added green knobs.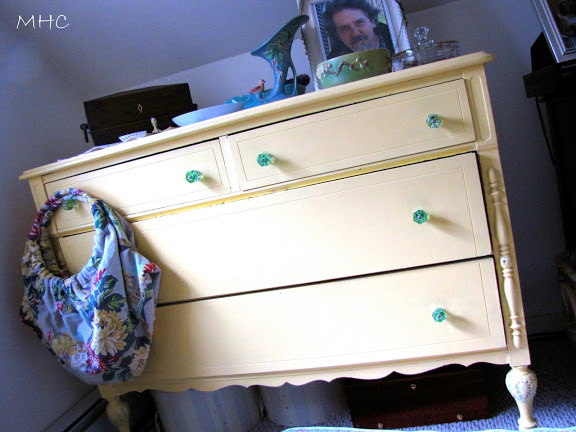 I was tempted to keep it this cheery color but after many years, the paint was cracked and the yellow, which is brighter than this photo indicates, just didn't go with the newish color scheme. I love this piece. The drawers stick, they don't quite close, but who cares? The details are charming. And it was free.
Here it is, newly painted: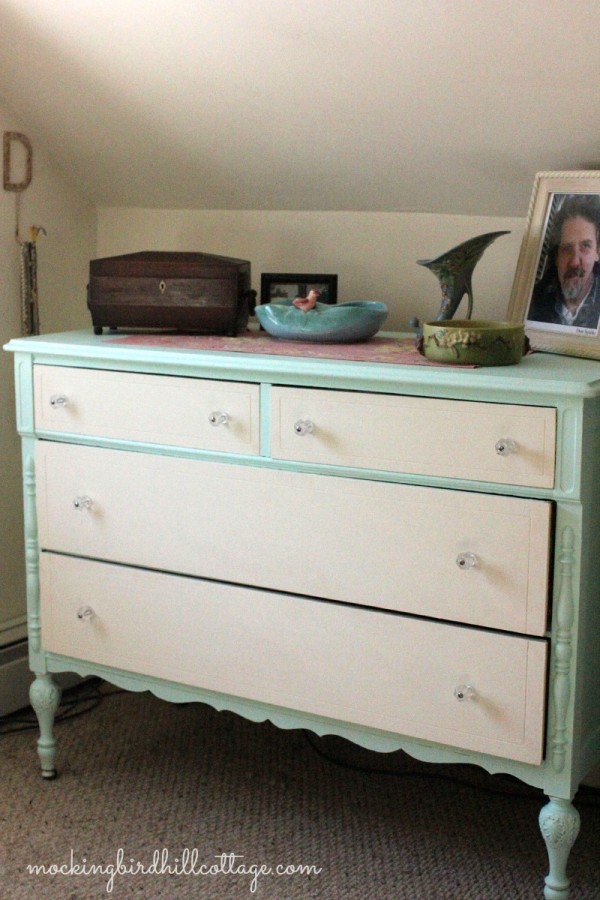 The aqua is the same shade that we used in our downstairs bathroom. Antigua Aqua latex in an eggshell finish by Benjamin Moore. The drawers are painted in the same color chalk paint, Old White, that I've been using on the other pieces.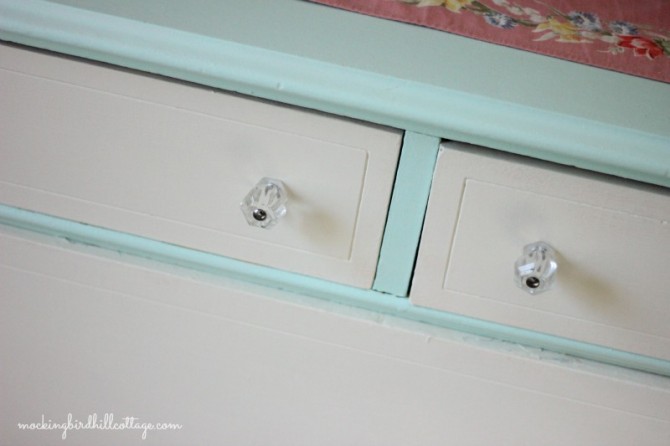 I switched out the knobs.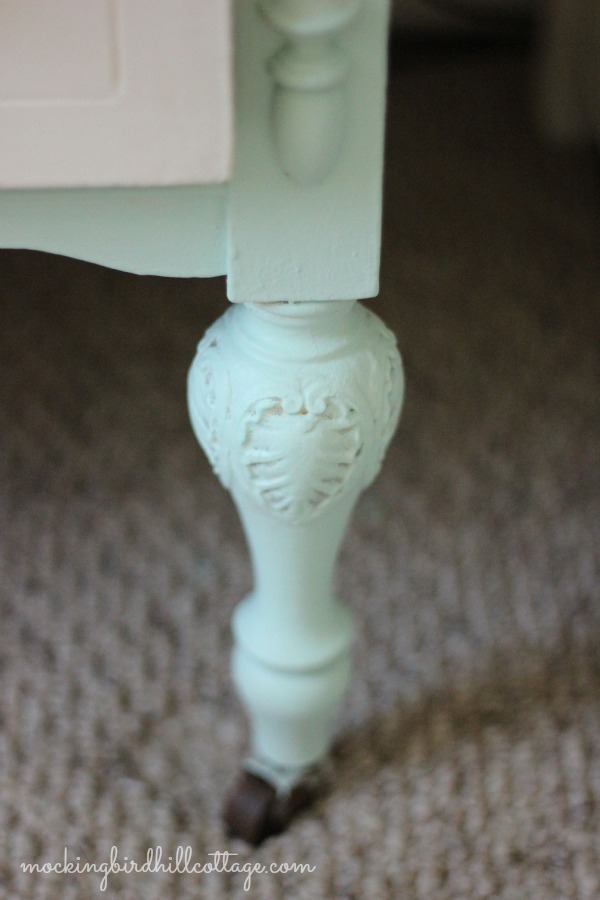 I love the legs.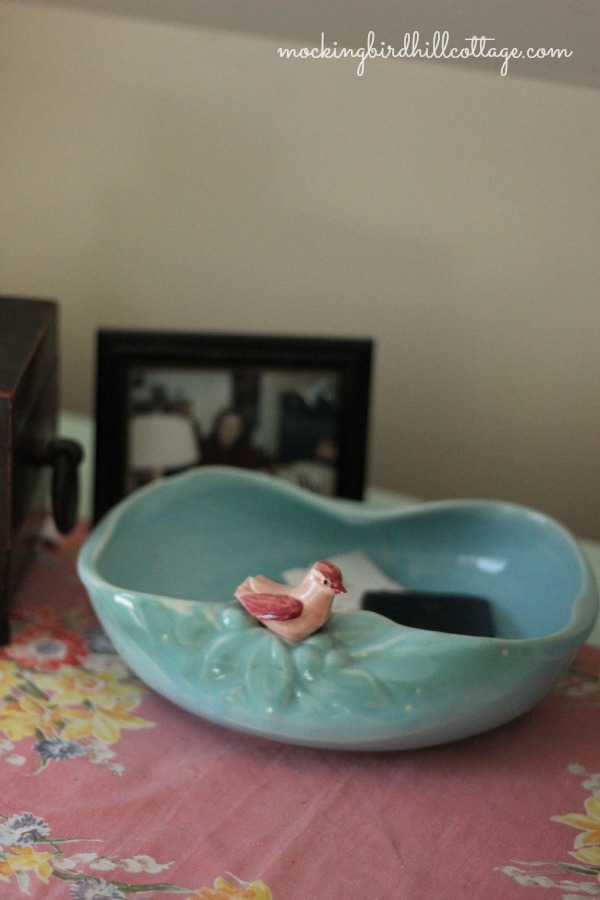 I have two of these McCoy bowls. One is downstairs. The bird's tail needs to be reglued. It keeps falling off.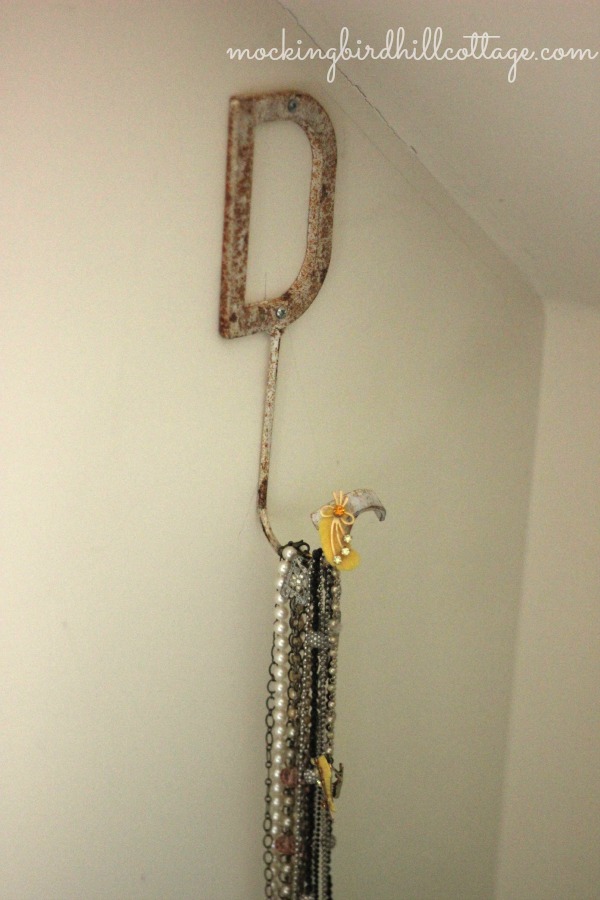 Years ago, I bought this hook at Anthropologie. I have a C, as well. I can't find the C, so D for Don has become my necklace holder.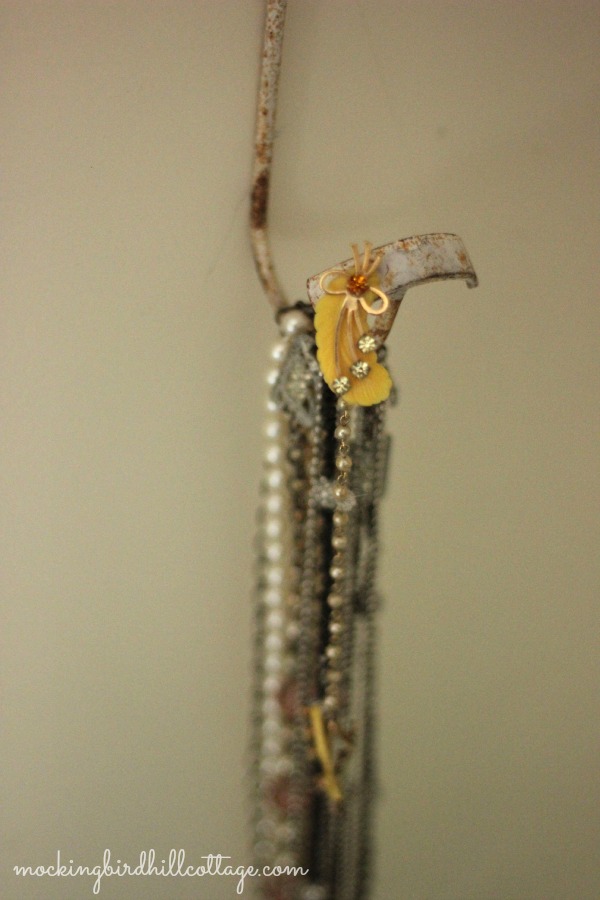 The dresser is right next to the piece I repainted last week – the one that holds our big old television. Right around the corner from that piece are some of my eggcups.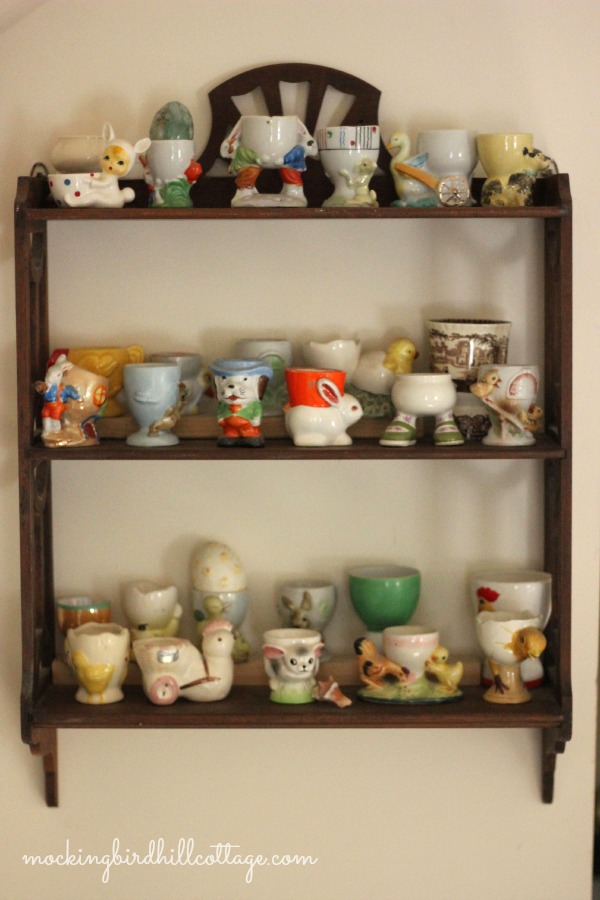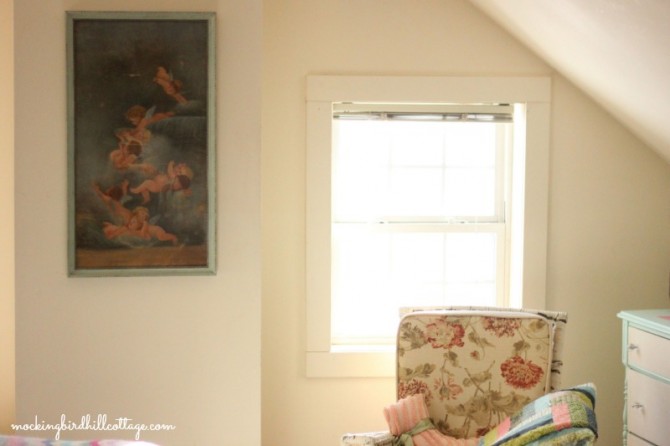 It all started with this French Cherub painting I bought four years ago from my favorite shop in the world, Vignettes. It became my color inspiration.
You can see that we have a true attic bedroom – sharply sloped ceilings, smallish windows. It presents a big decorating challenge.
There's more. I've painted our bedside tables. I'm contemplating what the heck to do with Don's dresser. A photo will be forthcoming with a request for your suggestions. All of that will be tomorrow. The finishing touch will be off in the not-very-distant future when I finish our quilt.
I'd get rid of the Berber carpeting if I could but Don likes carpet in the bedroom. Since I make most of the decorating decisions, I figure he deserves to have carpet.
I'm also repainting the cabinet in the studio.
Then I'm done. Except for Don's dresser.
Tune in tomorrow for more.
Happy Tuesday.