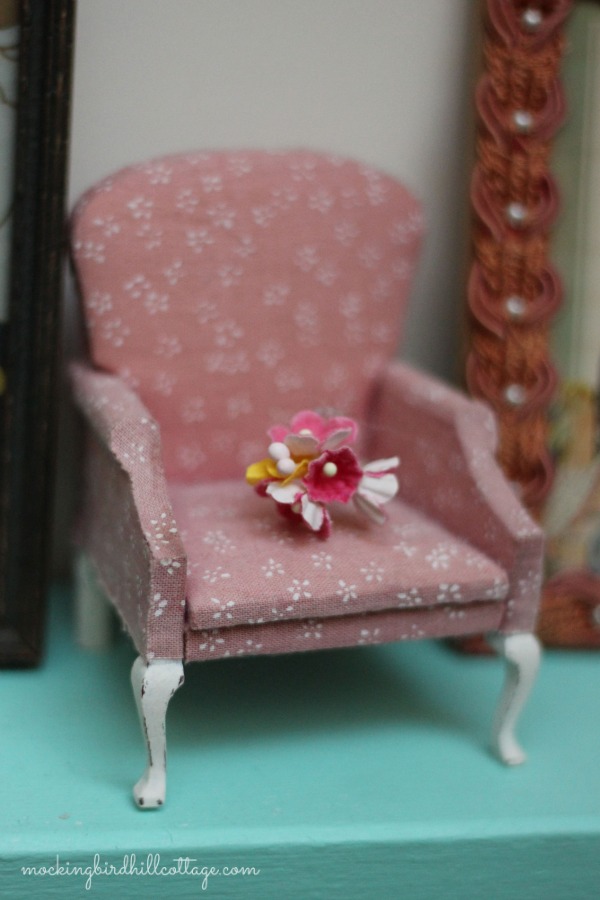 The past week or so has brought the usual adventures and misadventures.
• One morning found me filling up the glass coffee carafe with water, then dropping it on the wood floor where it shattered in a zillion pieces. Not a good thing for a girl who needs her coffee in the morning. I figured out how to insert a bowl where the carafe should be and catch the coffee. (Where there's a will there's a way.) Once that bowl was full, I had to insert another. And another. Then I poured it all into a thermos. The sad thing was that I had to do this for two days as I was snowed in and couldn't get to the store to buy a new coffeemaker. Must have coffee. Peets French Roast.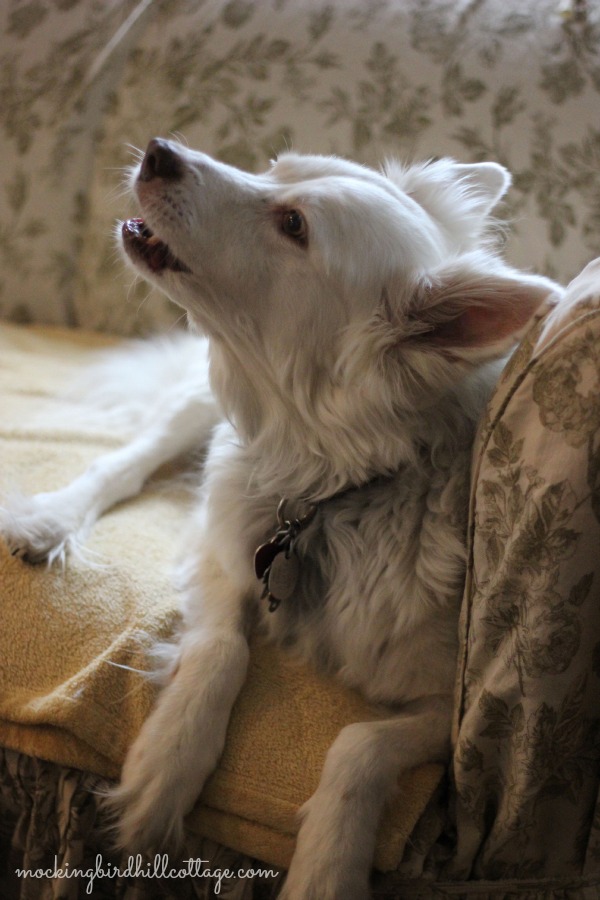 • Right before I was to leave to get Don at the bus station (after 2 months apart) I was trying to wipe Scout's dirty paws, as she had just come in from outside. Scout does not like me wiping her paws and she is very impatient. By the time I'm working on the third or fourth paw, she manages to elude my grasp and I have to chase after her as she trails water or mud all over the kitchen. This time, I happened to be near one of the kitchen chairs and as she squirmed out of my grasp, my head went down, meeting the chair. Result? Stinging pain and a gash in my forehead. As you can imagine, I was not looking my best for the reunion.
New nickname for Scout: Bronco Scout. She bucks her way out of my grasp like we're at a rodeo.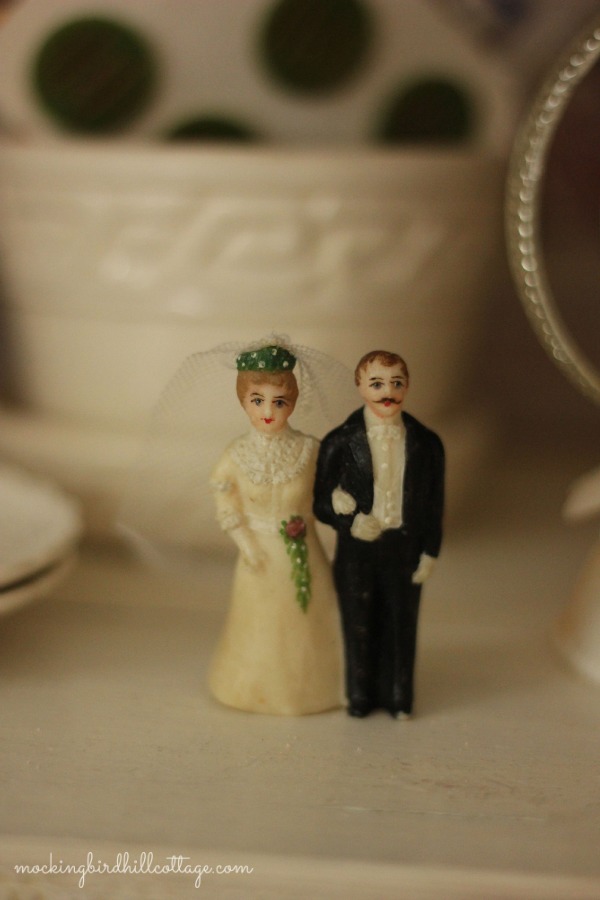 • Now that my husband's back home, I'm being treated to far tastier dinners than I managed to put together in his absence. Don's the cook in this house. I'm the baker. Cooking bores me. Thankfully, it doesn't bore Don and he's been whipping up all sorts of appetizing meals. Heaven.
He even made a special dinner to commemorate my Five Years of Blogging! How's that for a good guy?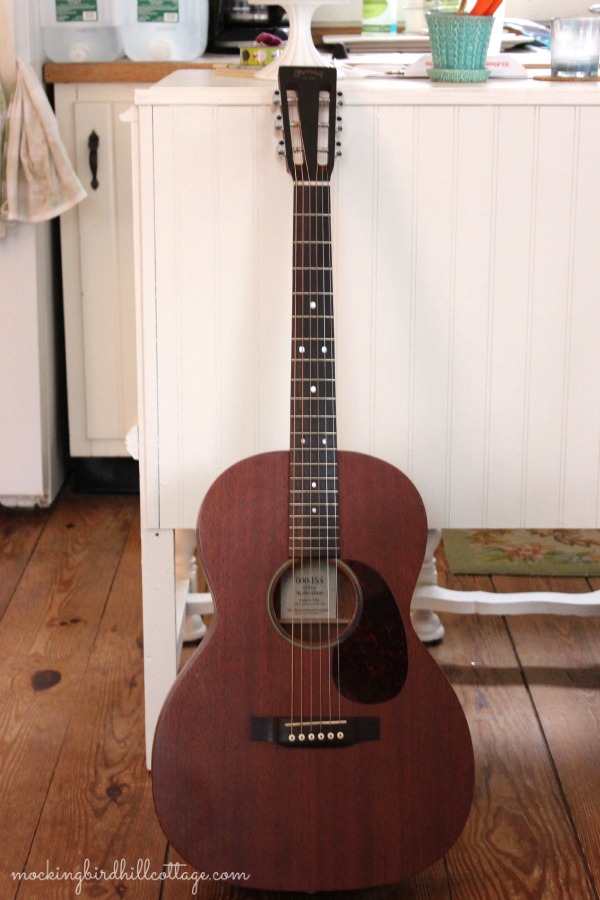 • I've also been treated to the sound of my husband's voice and his new guitar.  For those of you who missed it, Don's childhood friend Rob, who lives in San Diego, is a wonderful musician who has his own recording studio. The two of them just might have recorded a CD of Don's music while Don was in town. Rob has lots of guitars and he lent this one to Don to use during his stay. It worked so well for Don's voice and the kind of songs he writes that Rob gave it to him. Rob is one of the most generous guys I know.
Don is over the moon and loves this guitar. It's a Martin. Named Maggie. (Have you noticed that we tend to name things around here?) Now we have two Martins in the cottage. The other one doesn't have a name. Get going, Don!
• I have a couple of blogs to recommend to you.
First up: Heart Handmade UK. Claire, who I believe lives in Ireland, gathers the most gorgeous design posts from the web – most of them in beautiful pastel hues.  She manages to find blogs and sites that are absolutely beautiful. When I first discovered her, I was so enthralled that I went back through most of her archives. She's on my blog roll now and I look forward to her daily posts. And she has a sense of humor. Always a good thing.
Next: This blog is written by my friend Lynn. When I first moved out east, I worked part-time for a Veterinarian. Lynn was also working part-time at the same animal hospital as she pursued a post-graduate degree. She is a great girl; funny, kind, compassionate and talented. Fast forward a few years: I no longer work there because the commute was too long when we moved to the cottage and Lynn no longer works there because she got married, moved to a farm in Virginia and had a little boy. We are friends on Facebook and I was thrilled when I discovered Lynn has a blog! It's called Kid and Goat. Lynn's personality shines through on her blog, with pictures of life on the farm and of her house and her darling little boy. And wait until you see her goat, Sarah. Sigh. Stop by and visit her.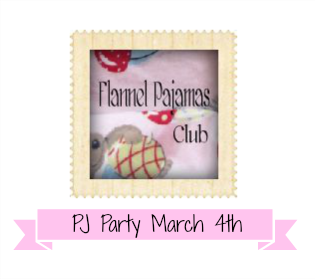 • Don't forget our Flannel Pajama Party next Monday! We're going to share our pajamas, adventures in our pajamas, thoughts on pajamas…be there or be square.
And finally:
The winner of the Obsession Scarf Giveaway is Debbie Hibbert! Debbie, I sent you an email last night. Pick one of these colors for your scarf and I will merrily crochet one for you. Thanks to everyone who left such lovely and kind comments on that post. They warmed my heart.
Happy Monday.