The painting continues. I have this small buffet from the forties that I use in the bedroom – I store a lot of my sweaters inside the cabinet doors. Old house = very little closet space. It's in the same darkly stained wood that the kitchen island was when it first arrived. The difference being that I painted the kitchen island long ago. But this little bugger was still in it's badly damaged, missing veneer, yucky state. As it sits directly across from the bed, I would look at it every night as I sat in bed reading and get depressed. Here's a glimpse of the way it looked: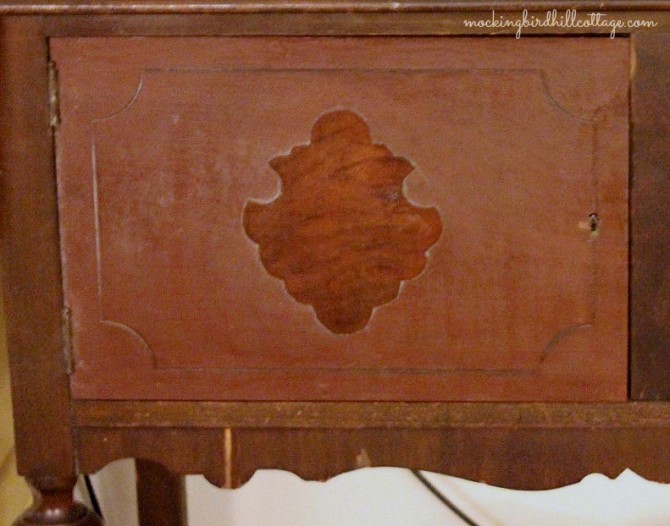 And this photo somehow makes it look better than it was.
This time I primed first. It still took 2 coats – 3 in some places. Again – Chalk Paint is just okay. I have a gallon of the paint I used on the kitchen island that has been sitting around here a long time. I've used it for other projects. I repaint the island with it every year. I still have more than half a gallon left. It cost less than a quart of Chalk Paint.
But I have the can of Chalk Paint. So I'm going to use it.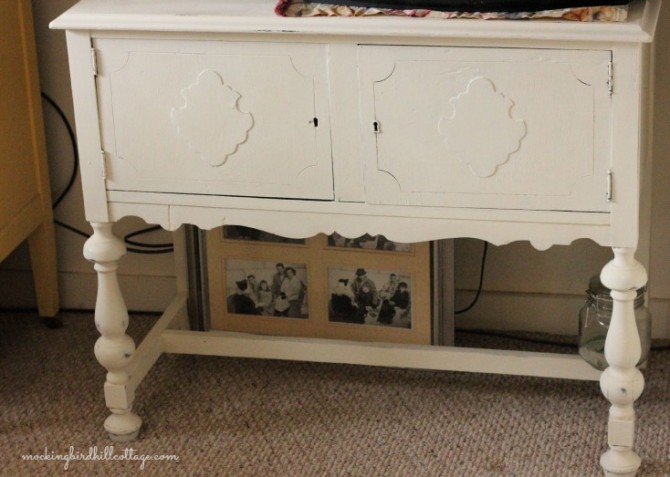 The painted version. I love the lighter look. That dark piece of furniture just sucked the energy out of the room. Oh, it looks so much better – but in the interest of being totally upfront with you, I must also show you what is on top of this piece.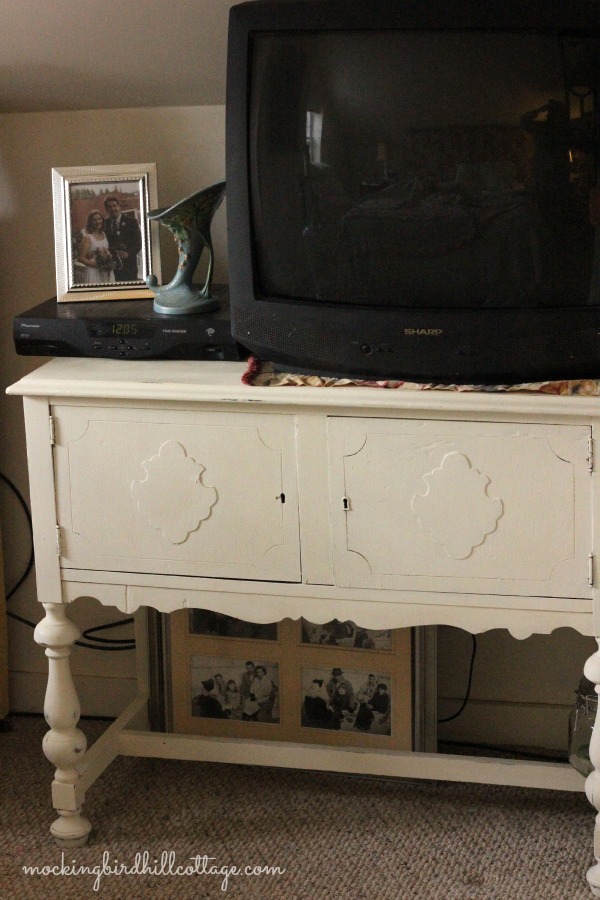 Our huge, black monolith of a television that we've had for, what, about 16 years?
It still works.
So I can't justify getting rid of it and buying a new one. We don't watch all that much television in the bedroom – usually only when one of us is sick in bed. But there it is. I have put the framed "Visiting Santa" photos in front of the crazy cable cords until I find a way to hide them.
Now, on to Don's bedside table, which is really an old oak music cabinet. And his dresser? Talk about missing pieces of veneer! I don't think every piece will be this color, but they will all be painted. I want this room to look a lot more coordinated.
On to another topic. In the miniature world, there is a well known miniaturist in Paris, Léa Frisoni. Léa constructs the most amazing miniatures and has a shop as well. She has written a book, Le Grand Livre de La Maison Miniature, that I very much want to buy someday. In it she gives instructions on how to create the gorgeous pieces and houses that she is known for. (I almost bought it through Léa's Etsy Shop, but it's a big book and the shipping costs were very high.) Someday. Léa blogs at Un Jour à la Campagne (A Day in the Country).
When my dream trip to Paris happens sometime in the future, I will be visiting Léa's shop, of that you may be sure.
In the meantime, I wanted to have a little creation of Léa's in my dollhouse. It arrived yesterday.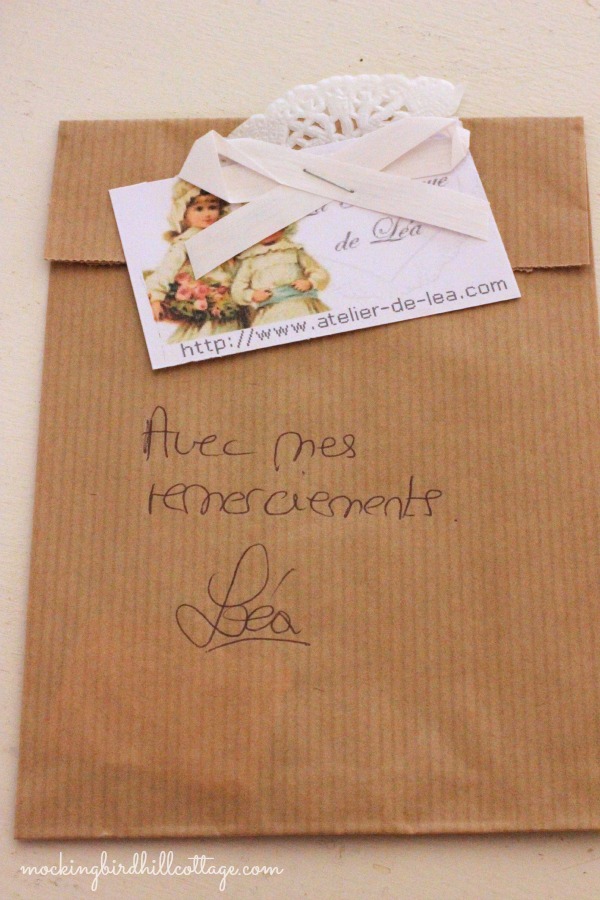 Long, long ago, I had a French pen pal. She sent me a gift and it was in a paper bag like this. I remember thinking that even paper bags from Paris seemed more chic than our paper bags. And they still are.
Can you spot the new addition to my kitchen?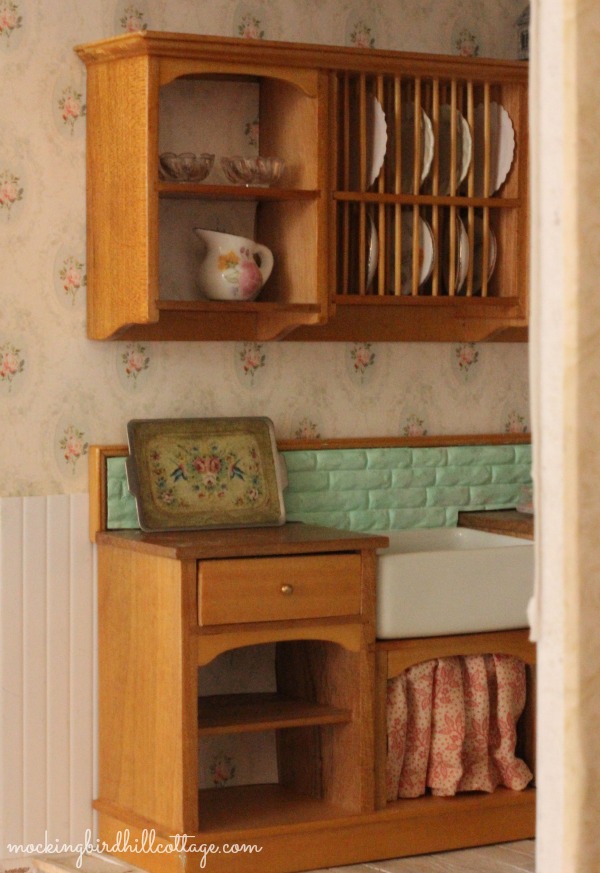 If you guessed the tray, you're right! It reminds me of the tole trays that I love so much. Yay! I have a little bit of Léa in my house!
How come my dollhouse looks so much better than my real house?
Okay. Have to go. I have to run lots of errands today because we are getting a mega snow storm tomorrow.
Crap.
Depending on what station I listen to, the amount of snow coming for my area seems to be anywhere from 6 inches to over a foot. The Weather Channel is practically frothing at the mouth, they are so excited. I'm sticking to my little local cable news channel where the weatherman actually seems to be exercising some caution in the area of predictions. He's not hyping everything. A rarity nowadays. In the meantime, I'm trying to take care of things before the snow arrives.
Update: I deleted the earlier part of the post saying Dad was doing well. He's not doing so well today. He seems to be in some pain and his lung is bothering him. We're not sure what's going on right now. I'll keep you updated.
Happy Thursday.