The view out my window this morning. It's a rainy, messy day. It started with sleet last night, then a wee bit of snow and now, rain. There is more rain promised for today and tomorrow.
It certainly gives one pause. Do I really need to go out? No. Does Don? Maybe. Poor Scout has no choice.
I deliberately haven't allowed my thoughts go there until yesterday, but oh, how I am longing for spring. I need to garden, to put my hands in the soil, to see little green buds everywhere. Heck, I'm even looking forward to cleaning up the garden! Do you feel that way – those of you who live in a winter climate like me? Are you going a little stir crazy? It's just about the end of February and March in my neck of the woods can be very wintry. Or not. I'm pulling for not.
I need to be outside, working in my garden, witnessing the renewal of spring. I'm tired of being indoors. I'm tired of gray, which is a perfectly nice color, but not in the sky and the landscape. These last days of winter are always the hardest for me. I can see spring off on the horizon, but it's just out of reach.
So I've been crocheting a new flower for some garlands to sell in the shop.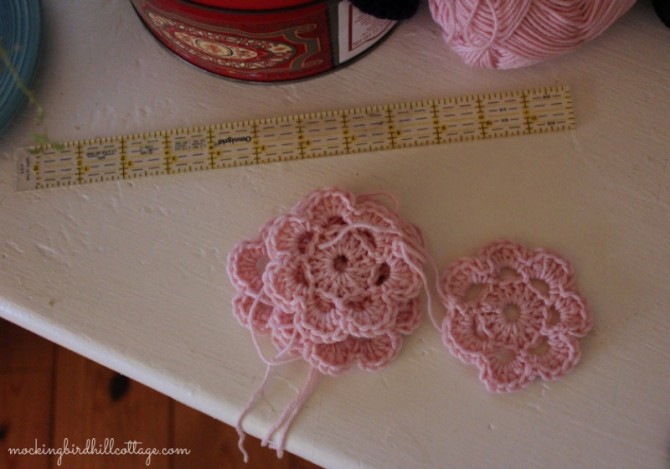 If I can't see flowers in my garden, I can create some with some yarn and a hook. I like this flower even more than the other design I was using. And it's time for a change, isn't it? This is a pale pink Debbie Bliss baby yarn I had in my stash. Karen Dunn, if you're looking at this post, this is the color I was thinking you might like for your garland. If you like this design, let me know, and I'll make it for you.
Crocheting flowers makes me happy, which is very welcome on a gray, rainy day.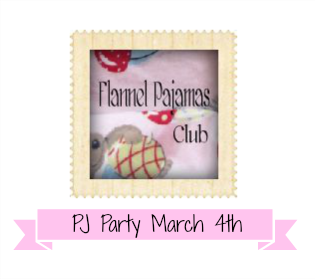 Don't forget about our pajama party on Monday. Today is such a flannel pajamas day! I have no idea how many of you will show up for my party, but I would so love it if you came. Your pajamas can be flannel or cotton or your pajamas can be a nightgown. Just write a post about how much you love them, any adventures you've had in them – you get the picture. I have had many adventures in mine. It will be a one-time-only linky party. Put the date, March 4th, on your calendars and we'll have a bit of fun as we wind down Winter and move toward Spring.
Happy Wednesday.