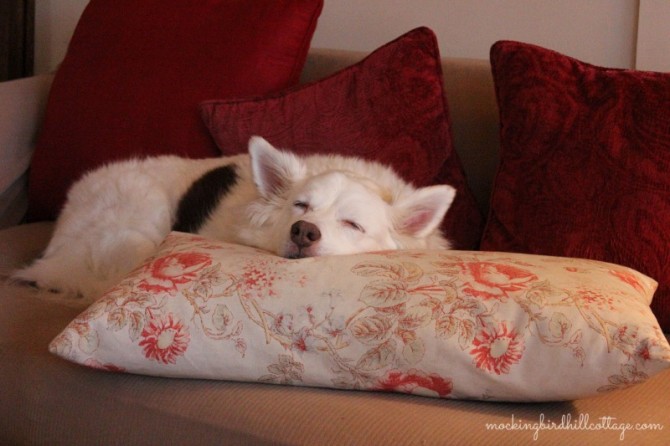 • Don's been back home for almost a month now and I've noticed a change in Scout. She's been with us over 13 years and has lived through the prolonged absence of one or the other of us many times. It comes along with working in theater and film. She doesn't like it when one of us is gone, but she's pretty resilient. This time, however, when Don leaves the house to run an errand or go into the city for an audition, she goes into a funk. Though she hangs out with me for a little while, mostly she waits for Don. She goes into the living room and stares out the window. She parks herself on the floor of the kitchen facing the door. She starts at every noise, thinking it's him. I will call out to her and ask her to come in the den with me, but she won't. She never used to be that way.
More evidence that she's getting older, that these things aren't as easy for her anymore. She lost her brother recently, then Don went away for a long time. It's too much for my little girl. Now I will be going away in a month. We really have to take her into account now as we make decisions as to who's working where and for how long. We always have, of course, but now she is more needy, more vulnerable than ever. She's our child and her comfort and peace of mind has to be a top priority.
• I'm finishing up an Obsession Scarf which will soon be on its way to a customer. Then I will start on more banners as they are currently sold out! Wow. I'm so glad you like them. Thank you to everyone who purchased one. Meredith and I just made our 99th sale on Etsy! How can that be possible?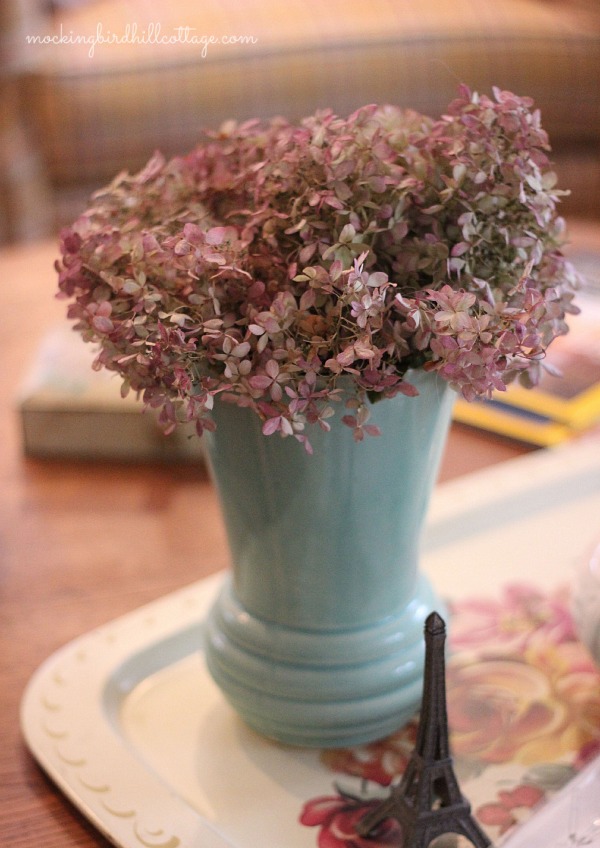 (I just realized that the color of this vase matches the color that's used in my menu and the titles on the sidebar.)
• I want to steer you toward one of my favorite blogs – that of my friend, Martha. It's called Poetry and a Cup of Tea and it is simply wonderful. Martha loves poetry and literature and all sorts of other  things. She writes beautifully and shares her heart in every post. She also has a great sense of humor.
I think we were separated at birth. I cannot tell you how many times she has written about something that I remember from my childhood, or an author that I was sure no one else loved as much as me. Yesterday she wrote about The Fighting Prince of Donegal, a Disney movie from our youth, and the Scholastic paperback version of Disney's story that she still has.
I had that book, too. And I watched that movie countless times when I was a kid. I had a huge crush on Peter McEnery, who played the lead.
And I thought I was the only one.
She's written about The Barbie Game (yes, I had one) and The Girl of the Limberlost (one of my very favorite books ever.) She tells a great story and she always shares a poem with her readers.
Stop in and say hello. I'm crazy about her.
• I often talk about my grandmother and her skill as a needlewoman. She was a strong influence in my life and the life of my siblings. My sister, Meredith, just wrote a post about her. Click here to see some of my grandmother's incredible handwork.
• Did you know I almost always respond to your comments? Yep. Right there under your comment. If you're interested, you can either check back here or you can put a check in that little box that says you want to see the response via email. Then, as if by magic, my response is sent to your inbox. I can't guarantee something profound every time, but I do my best!
• Today is your last chance to be entered in the giveaway for a copy of Prague Winter by Madeleine Albright. Just scroll down and leave a comment on that post, if you are interested. I'm picking the winner this evening.
Happy Thursday.