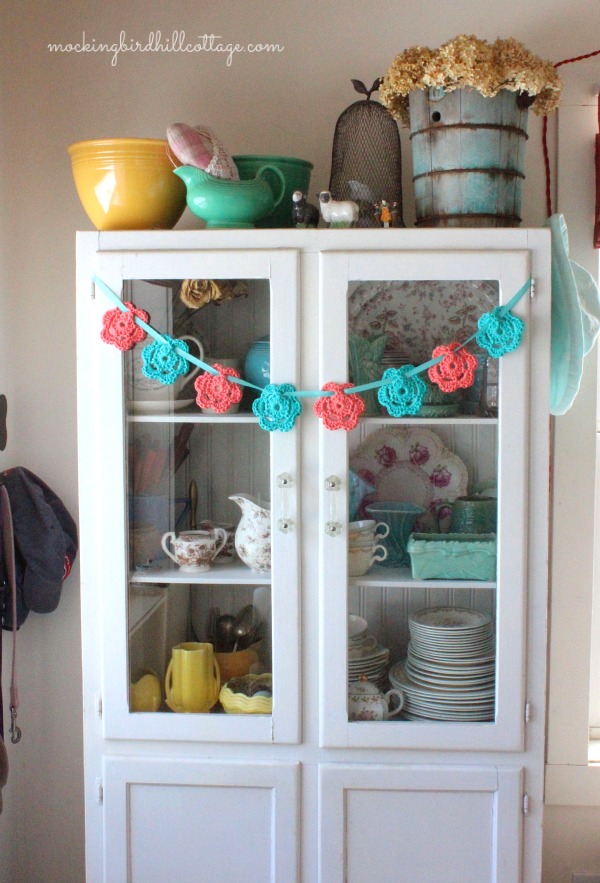 • Some unwelcome snow requires a cheery addition to the kitchen. I made a garland to hang on the cupboard. (I have the same garland in my shop.) I think I will make some more and change out the colors according to my whim of the moment. Right now, as I write this, the morning sun is shining on the cupboard and it's as if a spotlight has been aimed right at the garland. Ahhhh.
• 'Chatty' reminds me of a doll from my childhood – Chatty Cathy. Remember her? I never owned a Chatty Cathy, but I had friends who did. It was a kick pulling that string and hearing her talk. Did any of you own one?
• Scout thanks you for all your kind comments on her post. She knew you would understand. At the moment, she's in the tunnel having her 'I just got up after a long night's sleep, went outside to take care of business and now I'm sleepy' morning nap. Writing a blog post leaves her physically and emotionally spent.
• Don thanks you for your kind words, too. We managed to fax all the necessary paperwork yesterday – not easy with our slightly wonky fax machine. But it's done and now he's waiting for the script to arrive. Since this is for American Experience, the script will be part narration, part documentary, part re-enactment. We've seen a photo of the man Don is portraying and he looks a lot like him. The producers must have loved seeing Don walk in the door for his audition!
Yes, I wish I could tag along. But, as you know, we freelance and to say our budget is tight would be a huge understatement. A round-trip flight to Prague? No. Have to pay the mortgage. It's okay. I'm so excited for Don that it doesn't matter.
• Blogkeeping: I wrote about the demise of Google Reader last week. I set up Google Reader quite a long time ago but I didn't really use it. I tend to follow blogs in a variety of ways. I have my blog roll, which can be accessed in the menu under my header. I also bookmark lots of different blogs. There's the blog update through Google Friend Connect (Blogs I'm Following) that can be accessed when I sign into Blogger. And then there are the blogs I discover through other bloggers' blog rolls. Yikes. It works for me.
So, a couple of things: The blogs that you follow through Google Friend Connect are different from those you follow in Google Reader, though you can also opt to read them via Reader. I don't know what plans Google has for GFC. As far as I know, they haven't announced any plans to discontinue it. So don't panic about that. If I find out differently, I'll let you know.
I have never really liked Google Reader except as a way to see what blogs have recently posted – that's why I hardly ever used it. For me, the blog reading experience is about seeing the whole blog. I'm a very visual person. I want to see the design, the header, the sidebar. Most bloggers work very hard to create the look of their blog and I want to honor that. Also, as I have said before, if a blogger depends on ad income, she will need me to click on her blog directly – not through a reader. And then there are stats – how many visitors, etc. Visiting a blog directly can matter a great deal to that blogger.
It's the same reason I don't subscribe to blogs via email subscriptions. To me, a post loses all its life when it's transformed to an email. But, that's just what works for me. I know that many of you subscribe to this blog via an email subscription or a reader and I'm grateful that you do! I know that lots of you prefer the convenience of those options. And it's important to offer those options to our readers, as everyone has their own particular preference as to blog reading. We're all busy and a reader can be a convenient way to get all the updates from your favorite blogs. The same for emails.
There are other RSS Readers out there that are ready and willing to help you transfer your Google Reader feed. I remembered this week that I had set up an account at Bloglovin several months ago and then promptly forgot about it. I decided to see if I could transfer my Google Reader feed easily to Bloglovin. Short answer: yes. It couldn't be easier. Bloglovin does it for you. You get this message:

Basically you click on import reader and it's done. What I like about Bloglovin is that the interface is very user friendly and when you click on a particular post, you get the whole blog, design and all. Plus, if you are interested in discovering new blogs, you can search in a particular category.
I've added a Follow This Blog with Bloglovin widget to my sidebar, so if you are interested, click away!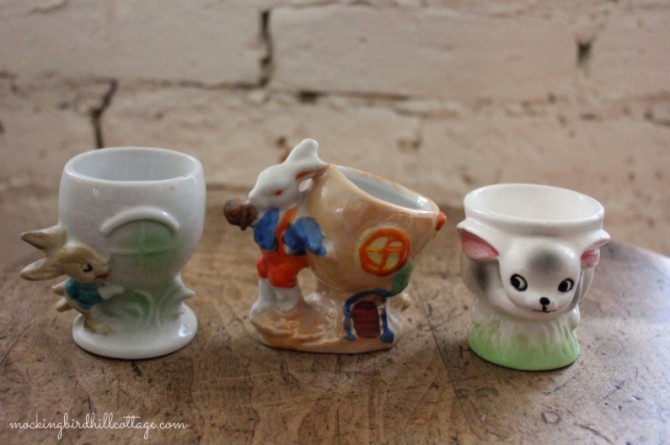 Ah. More egg cups. More bunny rabbits.
Left: A cute little bunny peeking around the corner of an egg house.
Center: Another bunny hanging around outside of his little house.
Right: One of my favorite bunny rabbits – because she reminds me of Scout. Same huge pink ears, same facial expression. She's my Scoutie Egg Cup.
More to come.
Happy Friday.