How can everything be overgrown here in the one week that I've been gone?
It's as if the grass and the weeds shouted, "Hey, she's gone, let's go crazy!" Yesterday, Don mowed most of the lawn that is right in front of the house and it was so long that the lawnmower kept stalling. That leaves a whole heck of a lot of grass yet to mow and it's looking like rain today. Don considers the front lawn the only area that needs to be mowed. That leaves out the grassy area behind the kitchen and the whole back forty. We have this argument every year. Like clockwork. I insist it needs to be kept under control because it's prettier that way, plus, there are less ticks if the grass is mowed. If you remember, I've had too many experiences in the past where I had to clean up overgrown areas that Don ignored while I was away. Sigh. I have to get some mowing in before I leave for Hartford.
I let Scout out this morning, walked outside and immediately came in and started to charge the battery for the weed whacker. I'll be decimating some weeds later today. The garden, though, is filling in nicely – that makes me happy. Still only blooms on the daffodils, but the tulips are about to open. I imagine that as soon as I leave, blooms will burst forth everywhere.
There was a box waiting for me. It arrived in the mail when I was gone. I knew it was from Judy, who just might be the sweetest, most thoughtful person in the world. It was from One Kings Lane. You can bet I opened it immediately. Well, not quite immediately, I showered sleepy Scout with hugs and kisses first.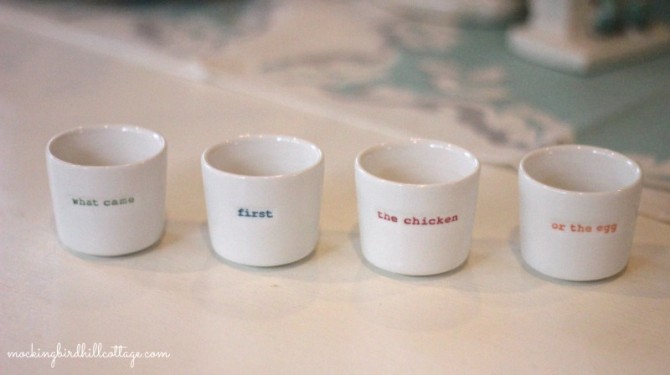 Oh my goodness. Could these be any more adorable? Four egg cups that come with the eternal question: What came first, the chicken or the egg? They are designed by Keith Brymer Jones, who is a British ceramic designer.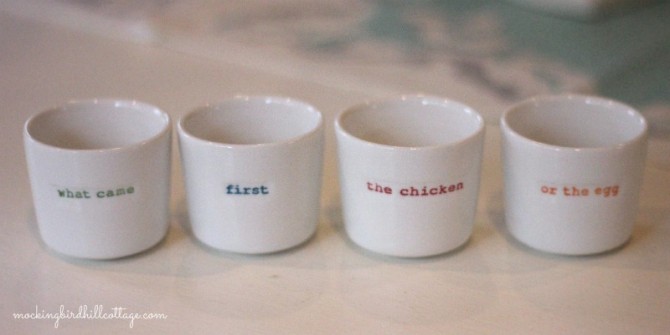 I'm thrilled. What a marvelous addition these make to my collection!
Judy, you are the best! Thank you. I love getting surprises in the mail. These made my day. Week. Month.
Don has been taking Scout for rides in the car every day. And walks. She's been on several adventures. What a good daddy he is! I can see where this is going: Don will be the fun, exciting parent, while I will be the medicine giver, food deliverer, bath giver, toenail clipper, sort of boring but necessary parent. Ah well.
Happy Monday.