What a fun time I've had visiting with you in these guest posts! I want to thank you for your wonderful comments, and I want to thank my wife for inviting me to share my time in Prague with you.
Whenever I had any free time from the film shoot, I would walk around and see as much as I could. I couldn't use my iPhone to call back home, so it became a full time camera. I put it to work, because every time I turned around I would see something I wanted to capture! So many great images. Not all of them "touristy",  just some hidden away places and vistas that caught my wandering fancy.
This first one, however, IS a big tourist stop. It's in the Center Square of "Old Town" (kind of Prague's equivalent of New York's Time Square). It's the famous "Astronomical Clock,"  first installed in 1410, the third oldest in the world and the oldest still working!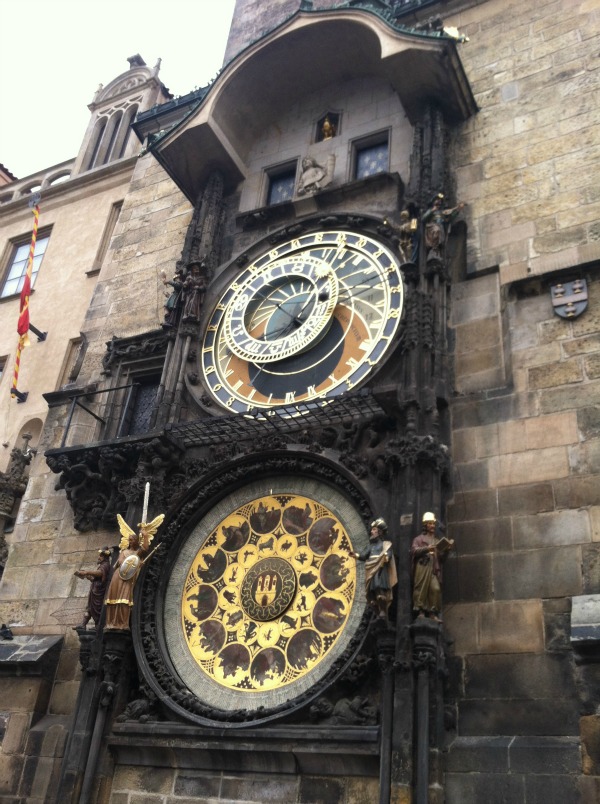 You can learn a good deal more about it by clicking here.
I could reach the Square in Old Town by crossing the Charles Bridge. Here's one of the beautiful views it afforded me: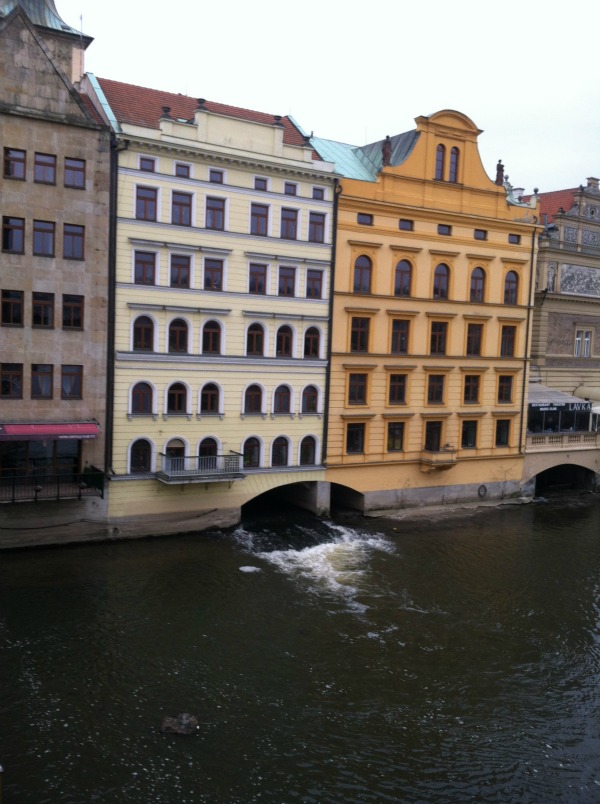 Here's another shot of the Old Town Square. Interestingly, the row of small red shops (unlike those in most "farmer's markets") are permanent structures and privately owned. One of them is where I found the beautiful painted eggs I bought for Claudia.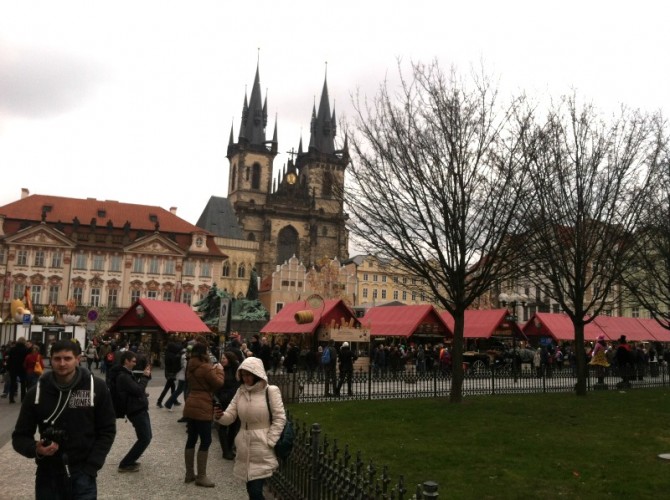 I just love this little canal I found tucked away on one of my walks. Talk about a beautiful "alleyway!"
Finally, a story I can't believe happened. While I was out and about one very cold afternoon when I was at liberty from the film shoot, I came across a young lady walking with her young son and carrying a guitar on her back. She was dressed very colorfully and I summoned the courage to talk to her, hoping she spoke a little English. I asked her if she was a performer and she told me that she and her son were a musical duo and were playing that night at a popular club. Her son was the guitar player and she played the violin. I told them that while I was in Prague principally as an actor, I was also a performing songwriter.
Turns out she was "hosting" the show of singers that night, sort of running the evening, and to my great surprise she invited me to come to the club and play a song! So…
Just a few hours later (and borrowing her son's guitar) I performed before a packed and enthusiastic crowd! Yes, I've gone "international"!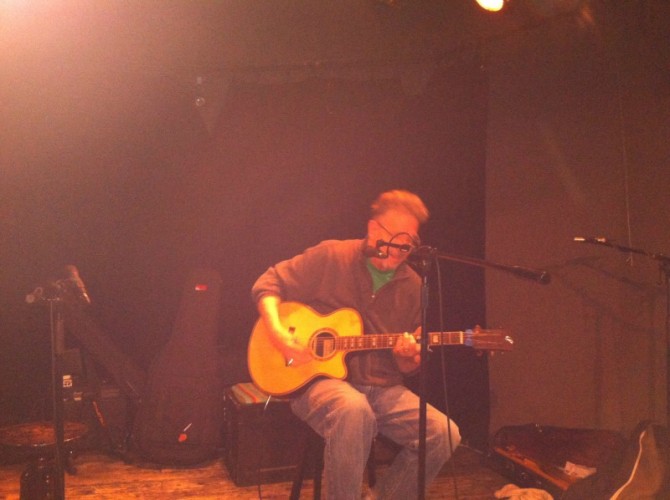 (Thanks to the kind Czech stranger who took my iPhone and was willing to take this shot!)
So, I hit the jackpot: here I was, an actor filming in a beautiful European city who was also lucky enough to play his music at a cool coffeehouse. You know, I could get used to that!
Well, I've really enjoyed reliving all this by sharing it with you. I hope you enjoyed it. I also want to thank you for supporting Claudia and her wonderful blog. Believe me, she gives it a lot of love and thought, and is so grateful that you give it back.
Na shiedanou! (Goodbye!)
Don