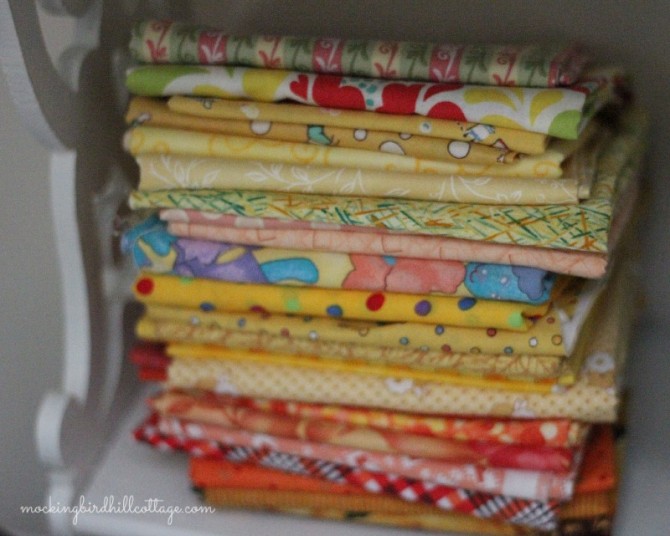 I'm a worrier, a be prepared type of ex-Girl Scout, always thinking ahead. I'm very seldom a fly-by-the-seat-of-my-pants type of girl. When I moved away from my home state of Michigan to attend grad school in Philadelphia, I drove out there ahead of time and found an apartment. I made lists of what I was going to take with me. I organized the move. My classmates simply came to Philadelphia and started classes while looking for a place to live. That was unthinkable to me.
When I am on a bus or a train or away from home for an extended length of time, I have to make sure I have enough reading material with me. The thought of running out of reading material leaves me more than a little panicky. So I always end up packing more than I'll need. I'm already thinking about what to take with me to Hartford.
Likewise projects. When I went to San Diego for 6 months in 2009, I packed boxes of fabric and a rotary cutter and mat, and scissors and everything I would need for a project or two. I also sent a box of yarn.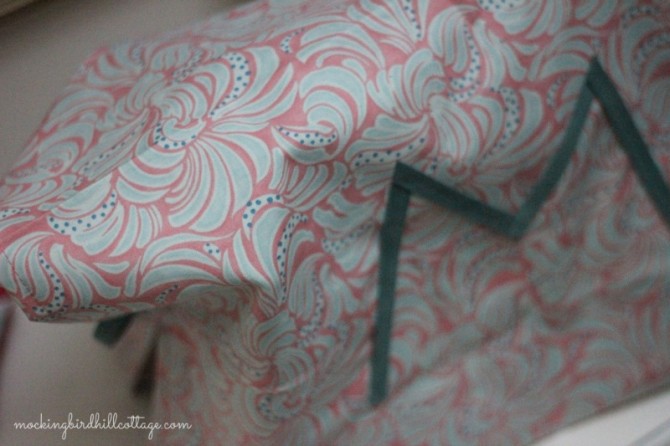 So as you can imagine, I'm planning projects for Hartford. You already know that Mabel is going with me. I'm taking my smallish quilt that I made in San Diego – there's still some hand quilting and finishing that needs to be done. I'm not sure if I'll take any yarn. I've done so much crocheting this year that I need a break.
Maybe a little yarn.
But what I'm really excited about is a class I'm taking online via Craftsy. Have you ever explored that site? Lots of wonderful classes in quilting, sewing, jewelry making, knitting and more. I signed up for Craftsy long ago but just recently decided to bite the bullet and take a class. I've long been a fan of Camille Roskelley of the blog Simplify. That girl is amazing. She designs a fabric line along with her mother, quilts like a dream and is raising 3 young boys.
But what I especially love are her fabric designs. She uses bright, cheerful, wonderful color combinations and patterns. They make me smile. More and more as I get older, I want and need color. When I was younger, I craved darker, more dramatic tones. Perhaps because I was darker and more dramatic – and I was. Now: cheery color, whether it is pastel or bright. That's what I want.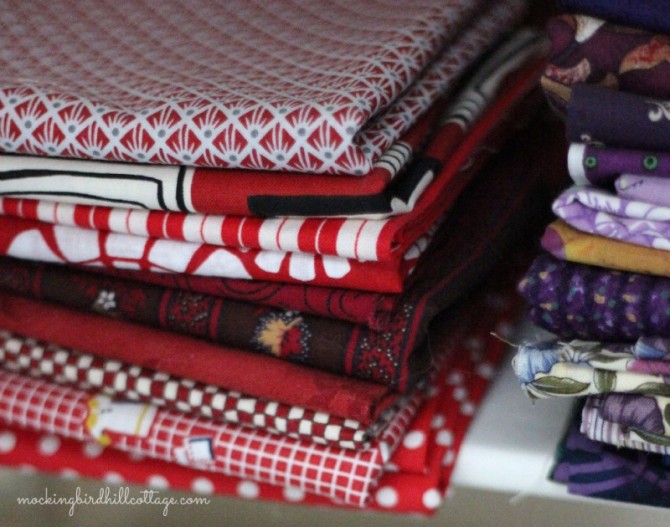 I seem to craft in waves. It's been crochet and all-crochet for a long time. Now, perhaps because I've been hand quilting the big bed quilt, I'm now finding myself drawn to piecing and quilting again. And maybe because of Mabel, who's portable and likes to travel. (I know she does. She told me.)
I love fabric but I don't have the budget to buy whatever I like and build a stash. Truth be told, I have lots of fabric from the years when I could do that. So I love the idea of using jelly rolls or layer cakes of fabric, already pre-cut and from a particular line of fabric. It's cost effective for me.
Camille is teaching a class on Craftsy called Pre-Cut Piecing Made Simple. (I bought the class at a discount because it is my first class with Craftsy, though I don't know whether that was a special offer or not.) She's sharing her techniques and showing how to piece a few of her quilt designs, using jelly rolls and layer cakes and fat quarters.
I'm so excited! I took a class when I first started quilting, but have not taken one since then. My skills could definitely use some improvement. And the wonderful thing about online classes is that they are portable. The class will go with me to Hartford. Isn't that fun?
Being away from home involves long hours of work on the play, yes, but there are also big chunks of time that I have to fill. No husband, no dog. Just me. That is sort of liberating but at the same time it can be lonely. I'd much rather fill my non-rehearsal time with something creative than sit there like a bump on a log, watching television or spending too much time on my laptop.
Hey, if you go to Camille's blog, check out her gorgeous studio. I'd be grinning from ear-to-ear if I was working in that space.
Haven't heard from Don yet, but I don't expect to until he gets to his hotel and can send me a quick email. I miss him. Scoutie misses him.
Blogkeeping: I've been meaning to mention this for a while. I used to have a widget on my sidebar for Linky Followers. I took it off for a couple of reasons. One: It often slowed up the loading of the blog. Two: Following a blog through Linky Followers is a fine idea and I appreciate every one of you who followed me that way, however, new posts are not updated automatically. I would have to visit Linky Followers every time I wrote a new post and manually update it there. Not happening. In fact, it's never happened. I post every day and that's a step I just don't have time for. So I've come to the conclusion that inviting readers to follow that way is misleading and not fair. That's why it's gone.
Update: Just heard from Don. He's at his hotel. We skyped. He's tired but he has to stay up until bedtime Prague time. Prague is 6 hours ahead of me, so it's 4:30 Prague time as I type this. Hang in there, Don!
Happy Monday.