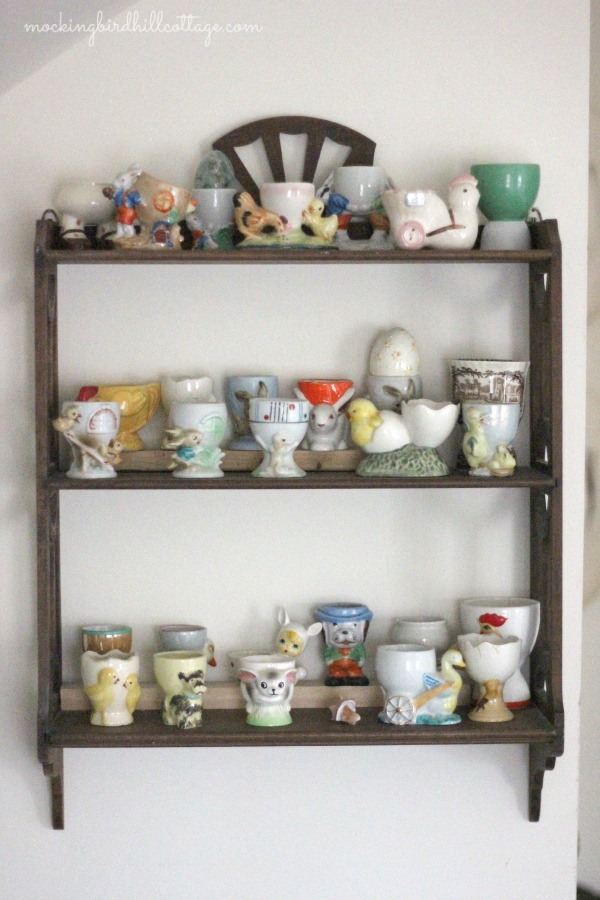 I've come to the conclusion that I have a soft spot for whatnots: sets of light, open shelves for displaying knick knacks. As I am a collector and have lots of knick knacks, it was inevitable that I would seek them out. And isn't 'whatnot' a lovely, old-fashioned name? That alone would draw me to them. Plus, I think they are quite cottagey (yes, I made that word up) and fit in with my Christmas in Connecticut type decorating style.
The first whatnot shelf that came into our house was this one. As my egg cup collection grew, I realized that I had to find some way to display them. We found this whatnot in a local antique store – I fell in love with the fan shape at the top and this carving on the sides: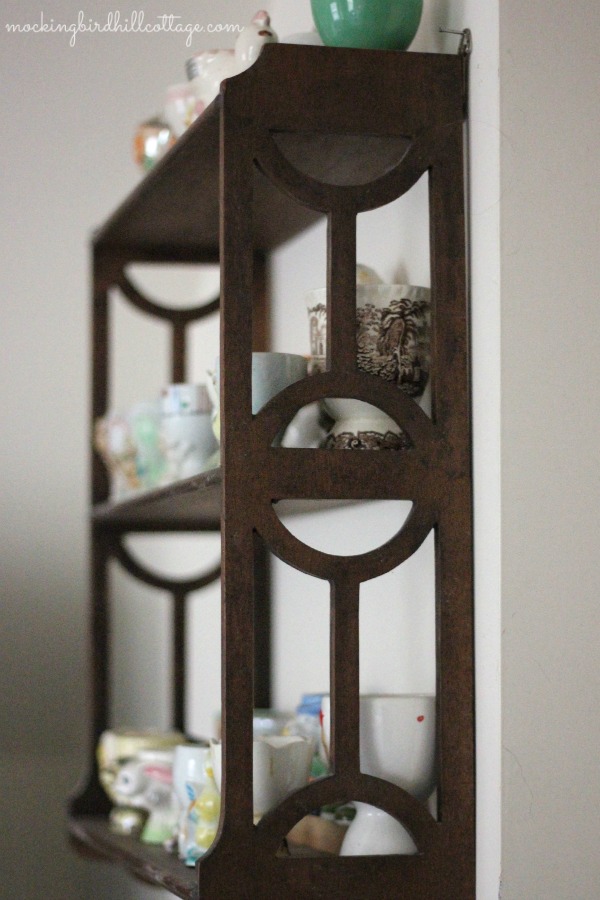 Even though I tend to paint things around here, I can't touch this beauty. The finish is in great shape and I love it just the way it is.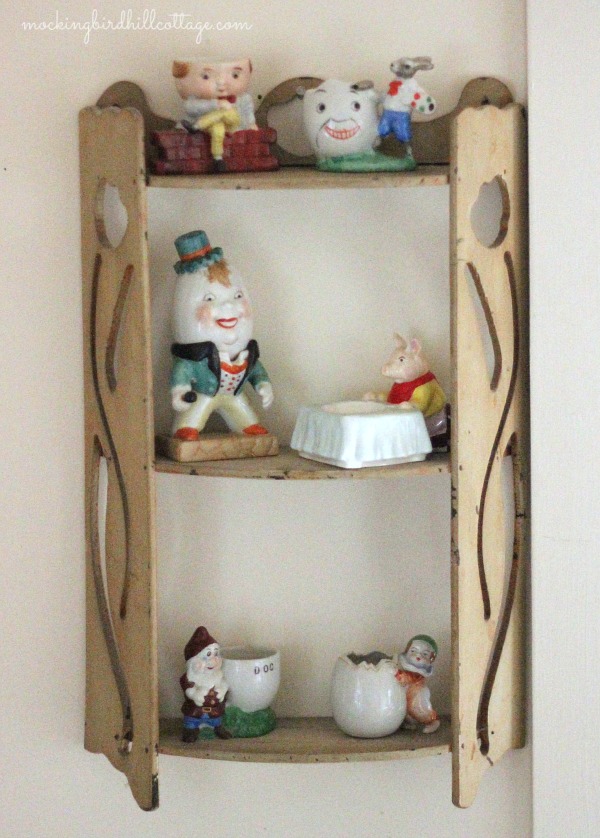 Then there's this sweet, sweet whatnot, found in another local shop several years ago. I've never seen another one like this. The shelves are curved and the carving on the sides is so charming. It reminds me of something that would be in Hansel and Gretel's little cottage.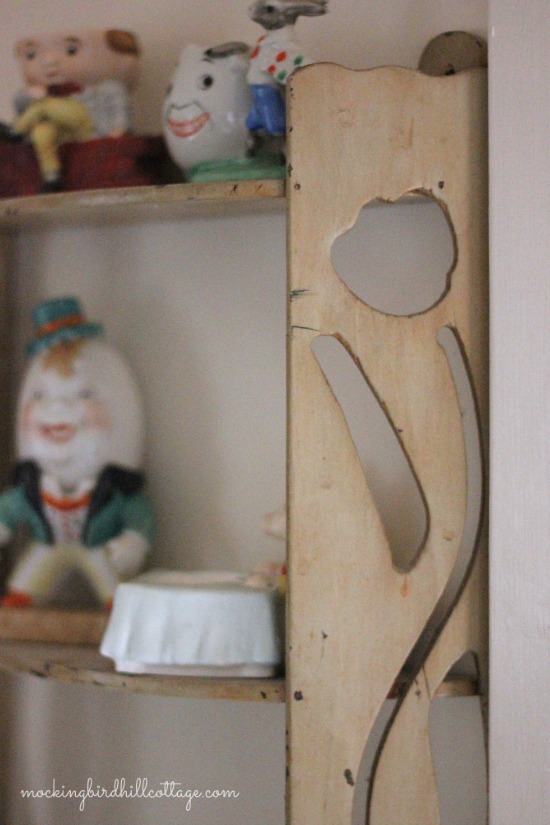 It lives in the den, where I discovered that it perfectly matches the framed print over the sofa. A nice little bit of serendipity.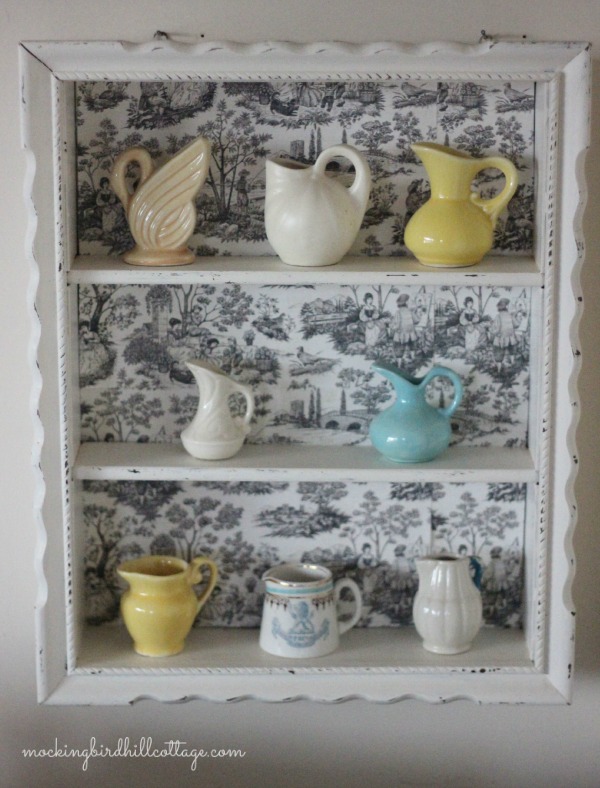 Also in the den: this little whatnot. It came to me from Heidi's shop, where it had been in our friend Reyna's space. After Reyna died, Heidi gave it to me. Originally it had a dark, dark finish and the back was mirrored. I painted it and used scrapbook paper to cover up the mirror. Perfect for holding my mini pottery collection. And a lovely memory of Reyna.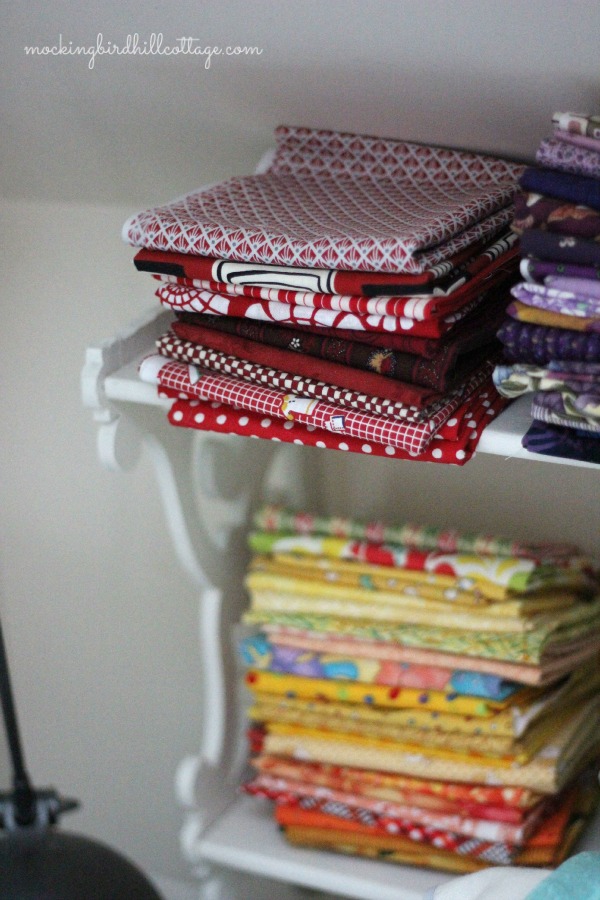 Then there's this whatnot, which hangs in the studio. I got it for a song years ago. It had a dark finish with a lot of damage, so I painted it and hung it over my sewing machine. The scrollwork on the sides is gorgeous.
My smallest little whatnot is this one: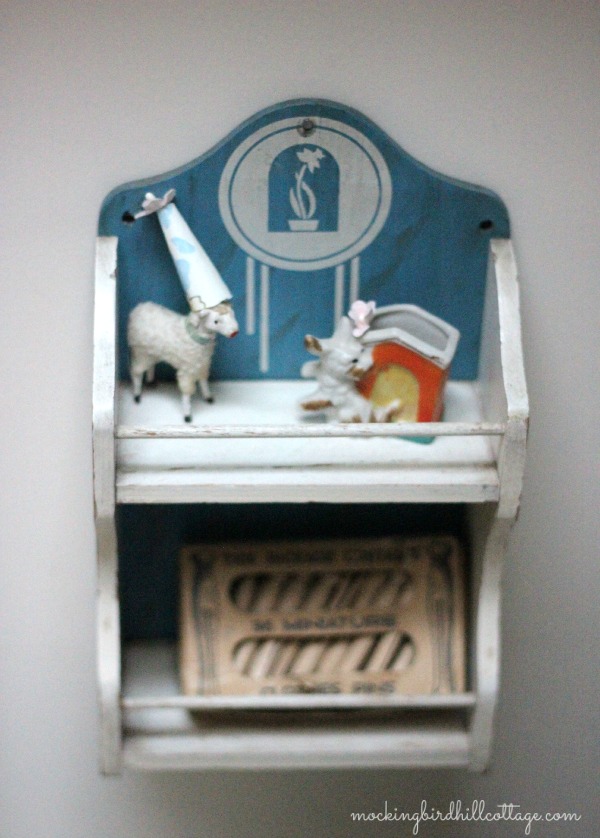 A vintage spice shelf I fell in love with at first sight. I swooned over the paint colors, the little dowels designed to keep the spices from falling off the shelf, and that art deco like design at the top. I had to have it.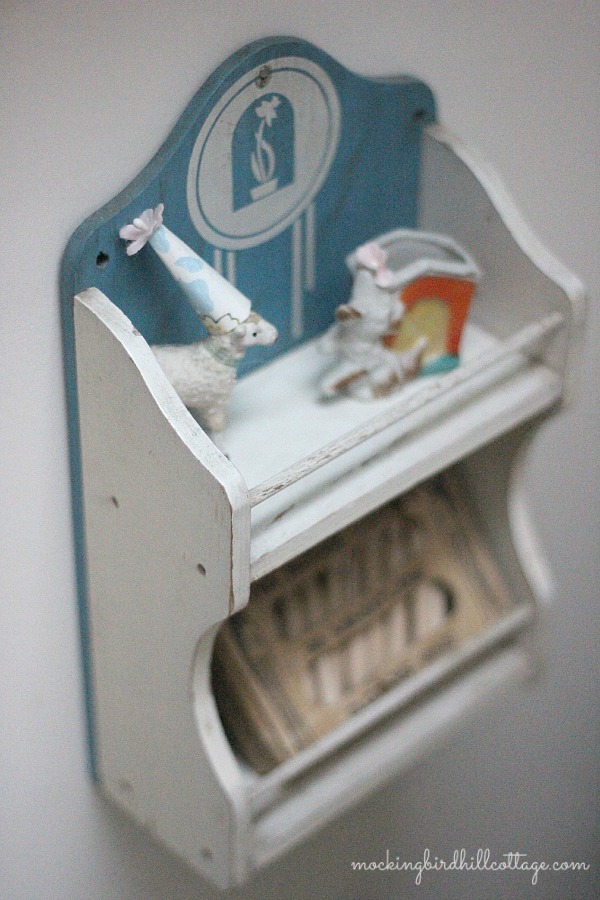 It lives in the studio, right under the mantel turned shelf.
As I am an unrepentant collector, I'm sure I will find more of these whatnots and bring them home to the cottage. After all, Don just gave me two more egg cups from Prague! (Photos tomorrow.) I simply have to find some space for them, right?
Don's home. He didn't get here until about 10:30 last night. I have only seen a few photos, though I'm sure I'll see lots more today. Scout is currently driving me crazy here in the den. She starts at every little sound, thinking it must be her dad getting up. She is even making noises: grunts, sighs, moans. It's her way of saying "When is he going to get up???" That little girl adores her dad.
Happy Tuesday.