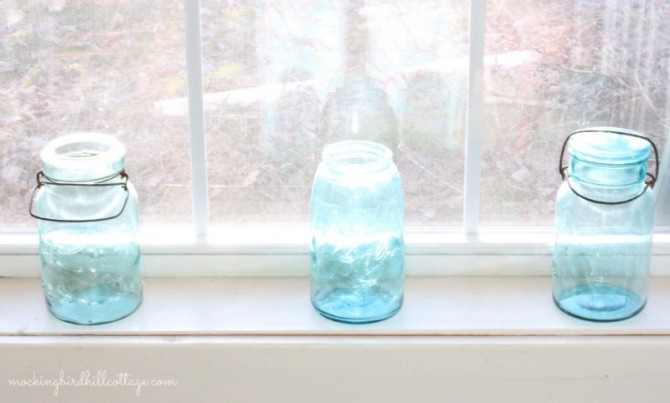 The sun is pouring through the kitchen windows this morning. I had to get a shot of the Ball jars – so pretty. If you look closely, you can see the reflection of my flannel pajamas. Though it's sunny and slowly getting warmer, it's not quite warm enough yet to switch from my flannels.
It's quite cold in Prague and there was a bit of snow falling yesterday as Don arrived. He is absolutely charmed by that beautiful city. He walked around in his jet-lagged state and took scads on pictures on his iPhone. We've Skyped a couple of times and I saw the view from his hotel window. Gorgeous. You can see a castle in the distance. Here's hoping he got a good night's sleep last night. Today he has costume fittings and will most likely be getting a hair cut. The man he is portraying had short hair. It's been a long time since Don had short hair. It will take some getting used to!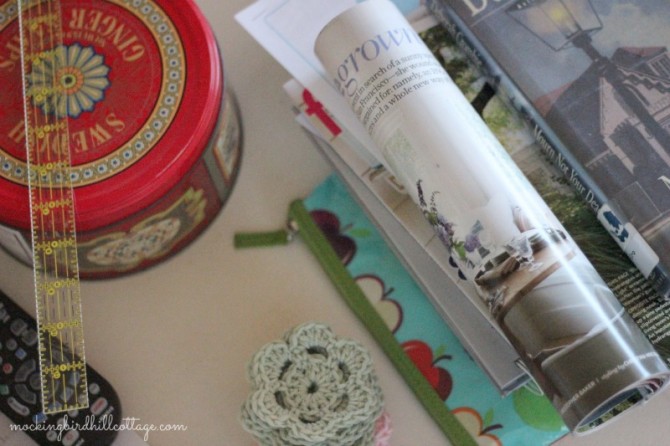 Once again, the minute Don leaves, the piles on the coffee table in the den seem to magically increase. Reading material, crochet, the remote, quilting supplies. I spent the evening last night hand quilting. I want to get that done while Don is gone, so that I can maybe bind it before I leave. Maybe. I might be biting off more than I can chew. Because I also have to clean up the garden (too cold right now) and do this: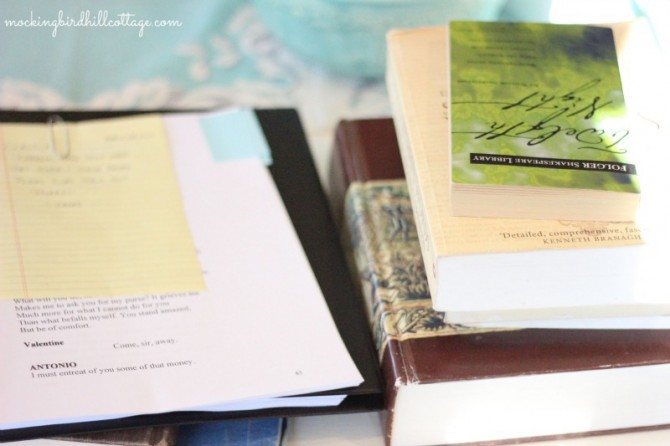 That's on the docket for this morning. I have the finished edited version of the text and now I start the slow process of checking pronunciations, meter, stress, and word meanings. It's a slow process on any Shakespeare text, but because I've coached Twelfth Night so many times, I think it will go a bit more quickly.
We've been watching episodes of Frazier at night on the Hallmark channel. Such smart, witty writing – the kind you have to keep up with, the kind that makes you laugh out loud. It's such a contrast to most of the stuff on television these days. Except for maybe Modern Family, I rarely laugh out loud when I'm watching something on the tube. And even that show (written and produced by one of my former students – yay, Abe!) doesn't make me laugh like Frazier does. When you have a combination of smart writing and wonderful actors, you get that increasingly rare phenomenon: a truly funny and witty show. Don and Kelsey Grammer have worked together a few times – onstage and on Cheers and Frazier. Cheers: that's another show that I can watch in reruns and laugh out loud. It's timeless, as is Frazier. Anyway, I don't want to go on and on. I just don't like writing that is dumbed down.
Okay. Have to get a move on here at the cottage. There's work to be done! How are you spending your day?
Happy Tuesday.