I had the most extraordinary experience yesterday morning. It had rained the night before and I decided to go outside with my camera to photograph some water drops on my plants. But what awaited me was far more interesting. There were hundreds of 17 year cicadas (magicicada) in my garden. Some had just emerged from their exoskeletons, others were in the midst of emerging. Everywhere my eyes rested, there they were. As I looked even more closely, I could see exoskeletons attached the underside of leaves. Finding them was rather like playing a game of Where's the Cicada?
Amazing.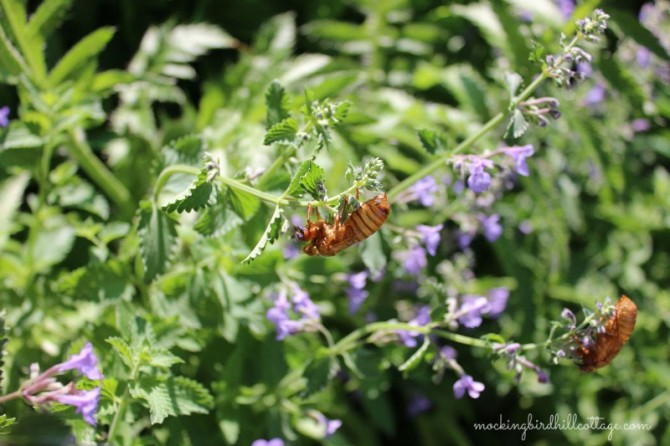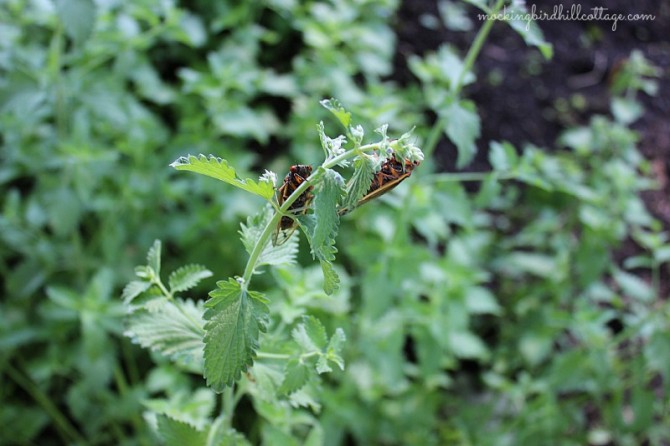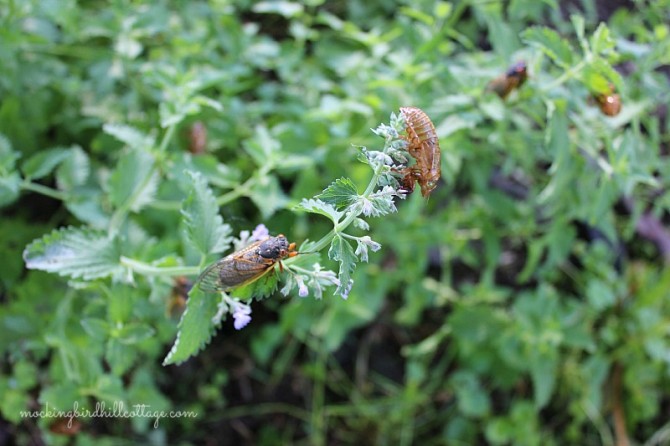 They emerge from the exoskeleton and slowly move around, while the wings inflate with fluid and their new skin hardens. It takes a while until they finally use their wings.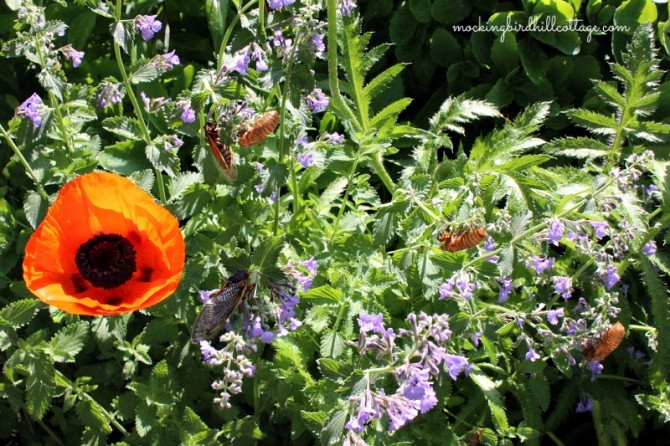 You can see three exoskeletons in this photo and two cicadas, one is to the right of the poppy.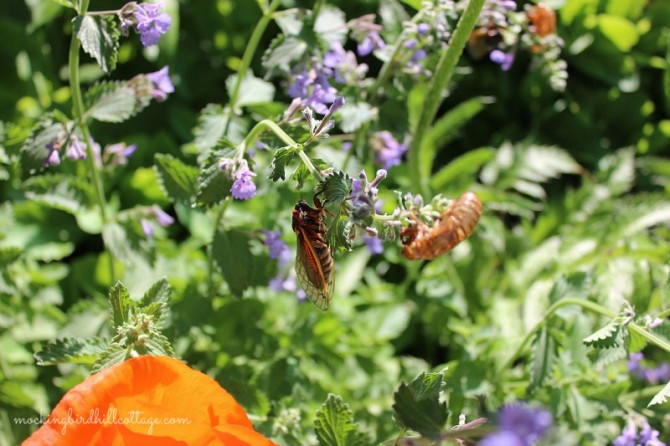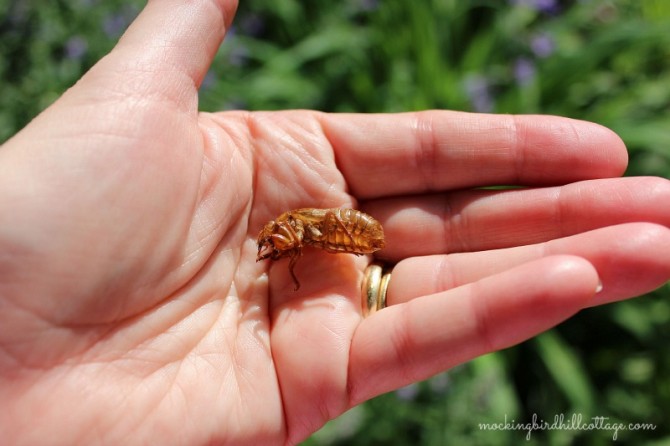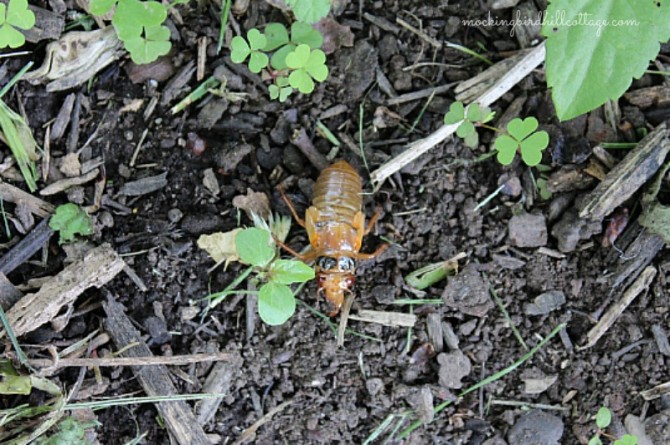 This one was still in his exoskeleton. I mistakenly removed him from a plant and when I saw him walking, I realized he was still in there! So I grabbed a stick and he attached himself to it and then I transferred him back to one of the plants.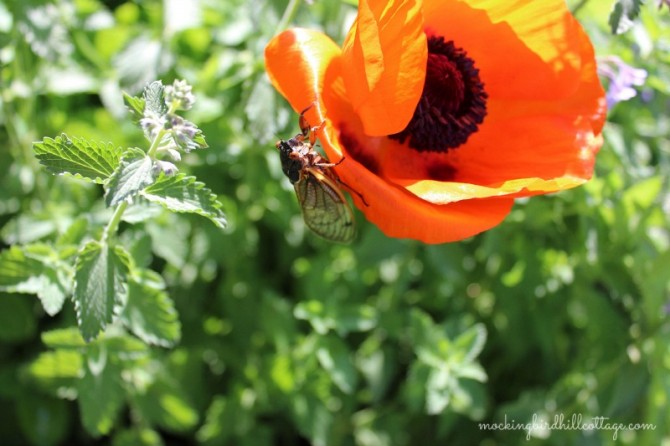 They were everywhere – even on my newly opened poppies.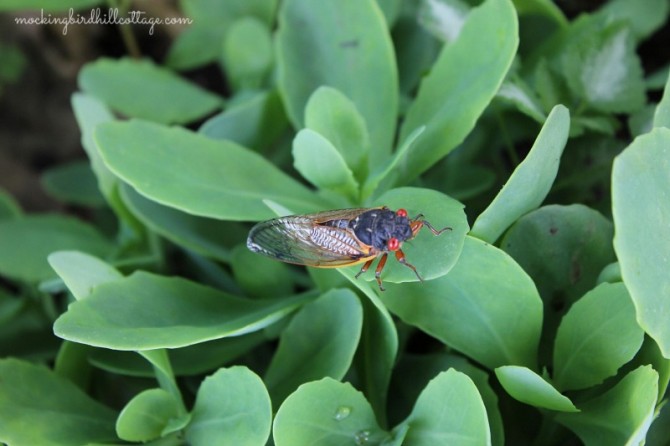 I was so lucky to see this. It's all in the timing. And in the camera.
I observed them for quite a while, then I went back in the house. Within a couple of hours, they were gone, leaving the exoskeletons behind. I gently removed them from the plants (that's when I mistakenly removed the one that was still in his exoskeleton) and it was as if they were never there.
When the nymphs, having lived underground for 17 years, emerge, they construct an exit tunnel. I saw a distinct hole in my garden soil that I'm pretty sure was the tunnel. I'll be careful not to disturb it. Now, they will mate and plant their eggs in a tree limb and die.
Nature is extraordinary. Little miracles happen every day.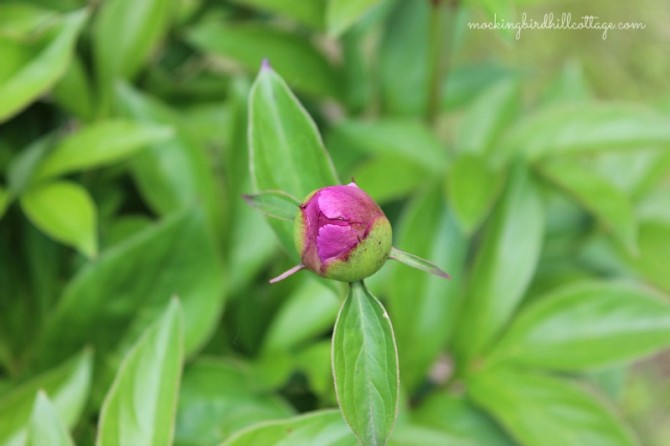 My favorite flower is about ready to bloom. Glorious peonies, I can't wait to see you. But then again, I can. Because once you bloom, you won't be around for very long.
I was recently interviewed by Linda Huffman, who publishes an online magazine for women called Women Encouraged or "We" Magazine. If you want to read the interview, click here and then click on the Market Place page (in the column on the left.) Linda, thanks so much for the opportunity and for such great questions!
Happy Friday.