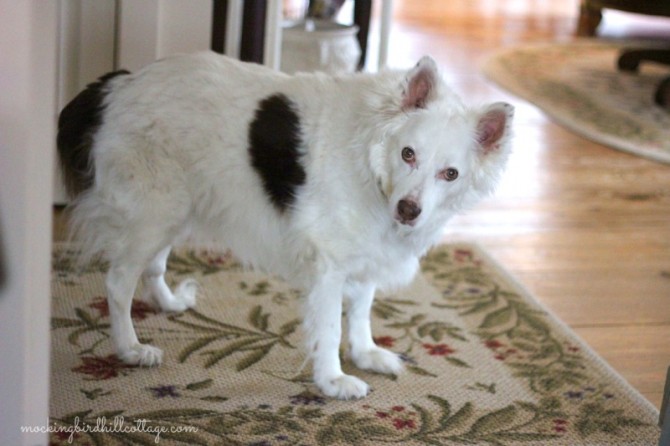 What the heck is going on?
First my dad goes away for what seems like forever. Then Mom goes away for a couple of days and boards me. Then we both go away for a couple of days. (Much better.) Then Dad comes back. Then Mom goes away for a long time. She comes home. She leaves again. What the ???
I don't like this. My life is based on routine. And this is seriously messing with my routine. Not to mention the fact that the pack should be together and it isn't.
But there is a bit of a silver lining here. A chance to change things up.
I've been working my dad (who isn't always clear on mom's rules about food and treats) and I have to say, it's been pretty cool. Here's what I've done:
I start bugging him for treats by performing a few of my patented moves. Sometimes I do my pounce. Everyone loves that. Sometimes I just look unbelievably cute. Dad's a sucker for that. Sometimes I bark incessantly and Dad asks me if I need to go outside. I don't. I keep barking. Do I need water? No. I keep barking. Then I perform my final and, if I do say so myself, charming move. I walk out to the kitchen and cock my head toward the cupboard that holds my treats. I fix my big green eyes on the cupboard and then I flick them back to Dad, then back to the cupboard.
He gives up and gives me a treat. Sometimes more than one.
I have him in the palm of my paw, as we say in the doggie world.
Let's face it. I'd rather have a treat than the same boring old food that Mom and Dad give me. Every single day. It's endless. And once I start getting a lot more treats, I don't want to eat that stuff anymore. So, I start nosing my dish and push it all over the room. All you can hear is the sound of my metal dog dish sliding around on the wood floor. And my dad gets frustrated because I won't eat. This goes on for a while. Sometimes he gives me a treat just to see if I've totally lost my appetite because he's worried I might be sick. (Mom does this, too.) And I score another treat!
Then trouble comes. Because he picks up that thing he talks into and calls my mom. And she figures out what's going on and says (I can hear her through the thing) "Stop giving her treats until she finishes her food. If she doesn't finish, no treat. You have to be tough. She's working you."
Uh oh. Busted.
And suddenly, all the time and effort I've put into this whole thing, all the barks, the pounces, the eyes-toward-the-cupboard-move, the dish nosing (I can push it all the way across the room and under the chair,) – all of it is for nothing. The other day, he put the phone on speaker and I heard Mom's voice. (What? Where is she?) And she said, "Scout, eat your dinner. NO TREATS until you eat your dinner. Eat your dinner." Yikes. I looked around for her but she wasn't there. It sort of spooked me. I looked right at the thing Dad was holding. No Mom.
Hmmm.
Anyway. It's not working now, so I have to eat my food. Or I won't get any treats. Dang.
Oh, and the other night I went all hyper in the living room and dad couldn't get me to calm down. He couldn't figure out what was going on.
So he picked up that thing again and I heard Mom's voice coming through it. She figured out that Dad had completely forgotten to give me my carrots. The carrots that Mom cuts up for me every night between 5 and 5:30, whenever I can get her butt off the chair and into the kitchen. Or that Dad cuts up for me when Mom asks him to (because she's too lazy to get up.) I had to dance and pounce and bark like a performing dog in order to get something that I should have had 3 hours earlier. 
Cripes.
I miss my mom.
But there is an upside to all of this. Dad takes me on lots of walks and for rides in the car. He's better at this sort of thing than Mom is. Mom always has something she's working on. Or she's blogging. Dad is more fun. We go on lots of adventures.
Though Mom does pounce with me.
I wish these two people would just stay in the same place for a while. I'm not at all happy with this coming and going.
Can you talk some sense into them?
Scout