Moving from the hotel to the apartment was not as easy as I thought it would be. Don and I drove to Hartford, quickly packed up the rest of my stuff, loaded up the car and drove to the apartment building. So far so good.
Went up the elevator to the apartment. The sun was pouring through the windows. Very nice. After several trips up and down the elevator, we finally managed to move everything. Don had to leave. I went back downstairs to see him off. Then I tackled unpacking clothes, food, sewing machine, books, scripts, laptop, camera, etc. I liked the apartment and the mattress looked rather new.
I decided to take my shoes off.
That's when I noticed that the carpet near the door was completely soaked with water. Uh oh. I called the Company Manager who said to check the hot water heater which was in a closet adjacent to the wet carpet. Sure enough: a leaky hot water heater. There were also water stains on the outside walls and some mold on the wall next to the heater. Not good. I'm allergic to mold.
The company manager said to hang in there, someone would come to look at it and I would have to move. Turns out I could move into the apartment next door. After I got the key, I moved everything over. It took a long time. I also switched out some of the lamps because the ones in the apartment I was now moving into were hideous – those cheap black modern floor lamps that are always just about to fall over. And one floor lamp had 5 or 6 extending goosenecks – it looked like an octopus.
So what should have taken about an hour ended up taking up several hours.
Fast forward to bed time. I got into bed and quickly realized that this was the hardest mattress I have ever encountered in my life. I am not kidding. I might as well have been sleeping on a piece of cement. I tried everything.  I even dragged out some spare pillows and tried to sleep on them. It wasn't working.
Now, you know that I'm used to a bad mattress. Our mattress at home needs replacing – both Don and I wake up sore every morning. So it's not as if I'm the title character in The Princess and the Pea. Or in Once Upon a Mattress, though I actually did play that character many years ago. I'm not pampered by any means. But let me tell you, after 4+ hours of trying to sleep, I gave up. In the middle of the night, I went to the apartment I was supposed to be in and dragged the mattress top to this apartment. Imagine that picture: me in my flannel pajamas trying to quietly move a mattress down the hall. I battled with the cement mattress top and managed to stand it up against the wall. I remade the bed (for the third time) and finally fell asleep.
After about 4 hours of sleep, I'm hanging in there, but just barely. Meanwhile, I've emailed the Company Manager to update her on all of this.
Oh, and I was in such an exhausted haze that I filled the dishwasher with dish soap instead of dishwasher detergent and I had to bail the sucker out when I noticed some bubbles appearing where they shouldn't be. But that's all fixed.
Don said I'm living in an episode of I Love Lucy.
Here's some pictures of this apartment. The ceilings are unbelievably high, which makes the apartment look quite spacious.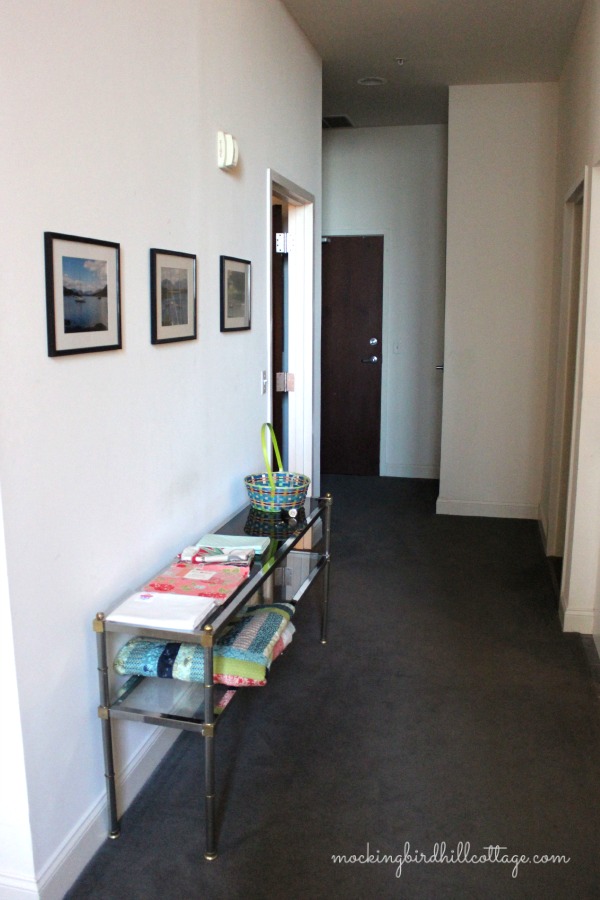 The hallway. I moved this piece over from the other apartment with the help of the Company Management Intern.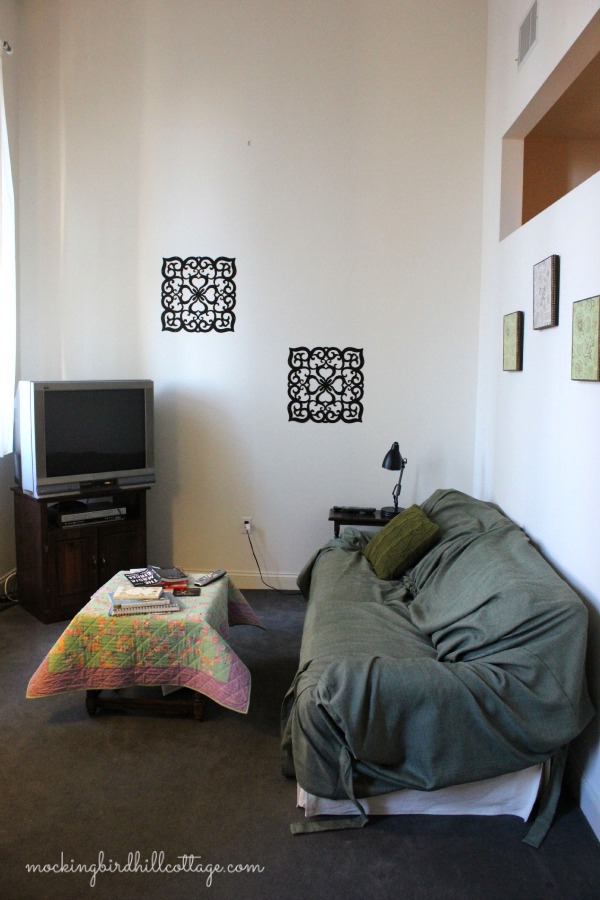 Living room. The coffee table was truly hideous, so I covered it up with my quilt. The sofa looks to be an Ikea Ektorp loveseat, but it's been covered up with this slipcover that does not fit. Believe me, I've tried. I was told the actor who just vacated this apartment had his dog here and he kindly washed the slipcover.
I think it shrunk.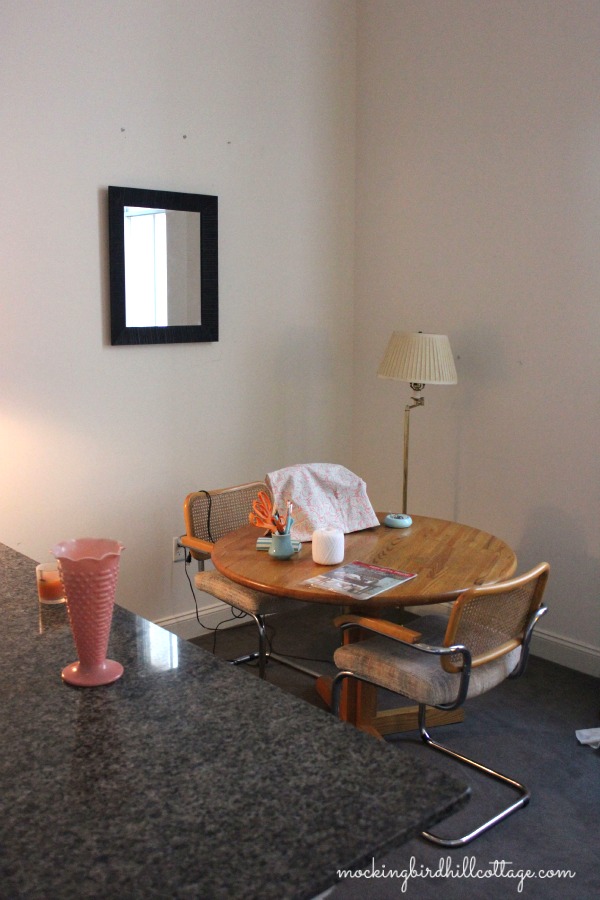 The little dining area which has become my sewing table.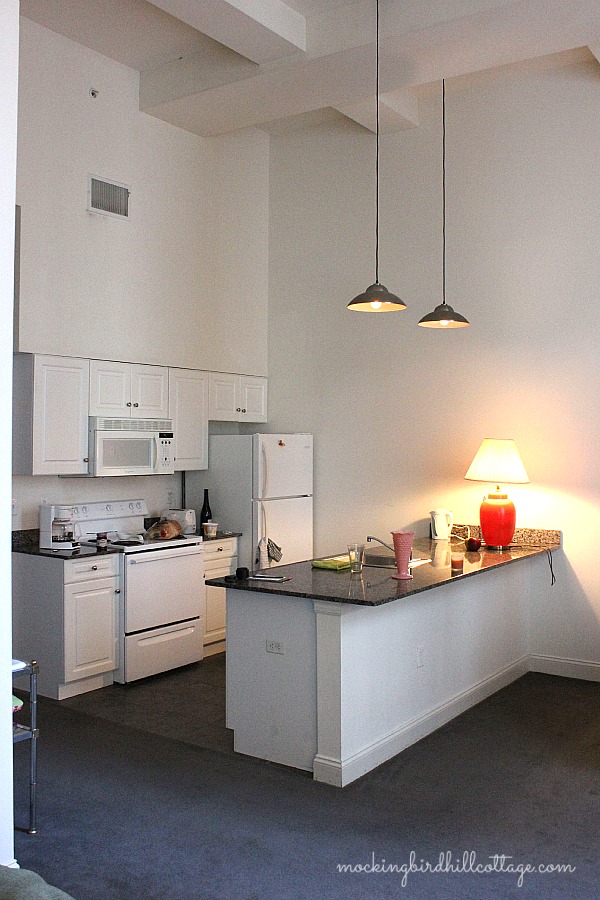 My favorite area – the kitchen. Love those industrial looking hanging lamps.
And the bedroom in its current state: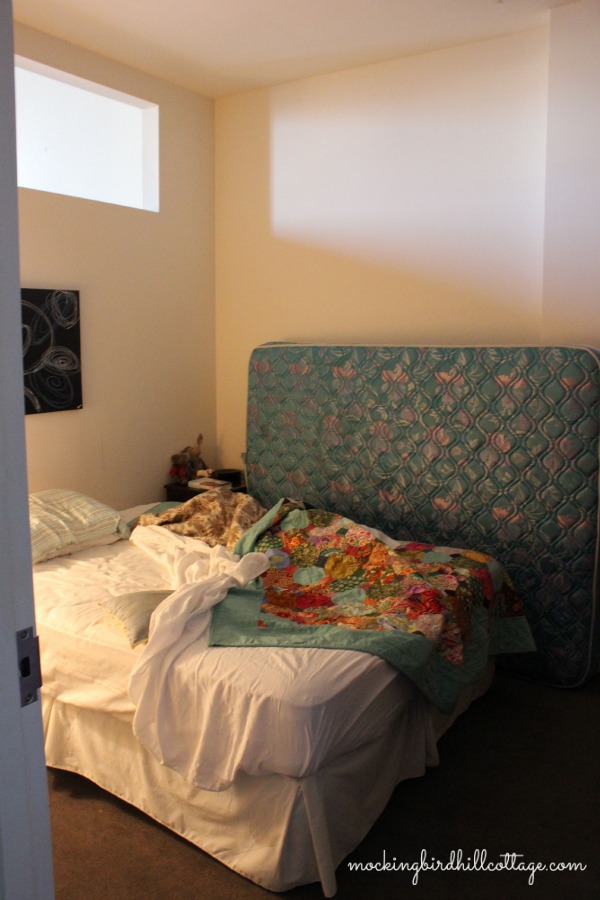 I'm predicting a new decorating trend: Refresh your wall by propping a mattress against it. Instant wallpaper.
I am one tired woman. I suppose if I were a twenty something I could put up with this mattress – heck, I lived in dorms, slept on cots, even on floors when I was younger. But I'm not that resilient anymore. I need a softer mattress. Remember, I'm the oldest person working on this show.
Have to take a shower and get ready for a day of rehearsal.
Over and out.