It's a well known fact that I am cautious and a planner. To a fault.
Don is spontaneous. Also, to a fault.
But the wonderful thing about this is that we balance each other. I pull him back when his spontaneity threatens to go haywire and he encourages me to be a bit more spontaneous.
Don's birthday is on Monday. But Monday is the day he goes to the Berkshires for five weeks. We'd planned to celebrate his birthday today; therefore, my plan yesterday was to go out and find his present.
Friday night, Don and his friend Dan performed in front of an audience and I went along. They were wonderful. One of Don's friends, Dave, who is a fellow musician, was in the audience – he was there to support Don. So on Saturday morning, Don woke up and said that he wanted to go hear Dave perform that day in Woodstock. And that he didn't care about a gift, he just wanted to spend a beautiful Saturday with me – a spontaneous day with me. That's what he wanted for his birthday.
I tried to push for my agenda, but only for a moment. Because it's his birthday. And so, un-spontaneous Claudia threw caution to the winds and off we went.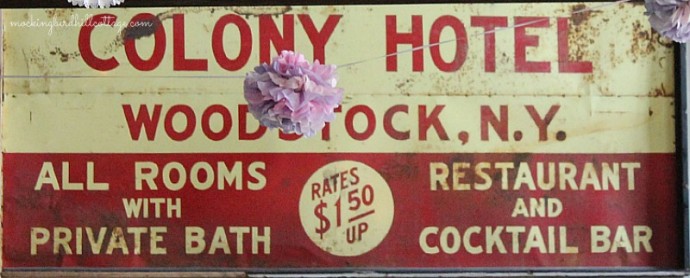 Dave and a few other friends of ours were performing at something called Barnfest and their venue was this wonderful old hotel in Woodstock – The Colony. It was built in 1927 and its Moorish architectural style and stucco siding stands out in Woodstock. It thrived for a number of years but then sat empty for decades. The new owners have revived it as a music venue. (There's lot of music in Woodstock.) This is the original sign – note the room rates!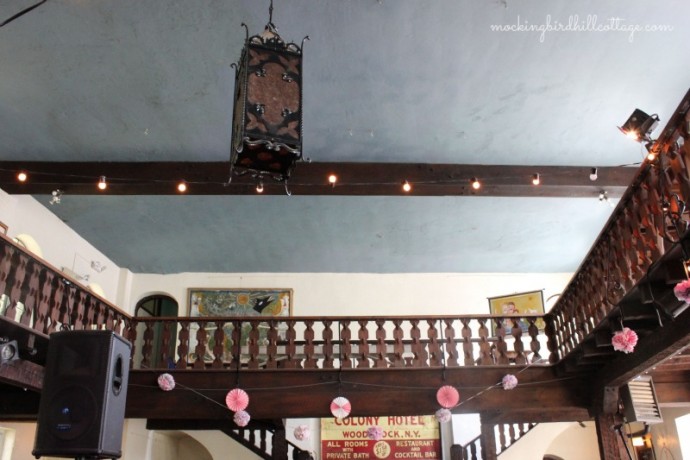 There is artwork on the walls, a wooden balcony that runs around the room – and the stage is right in front of the stairway.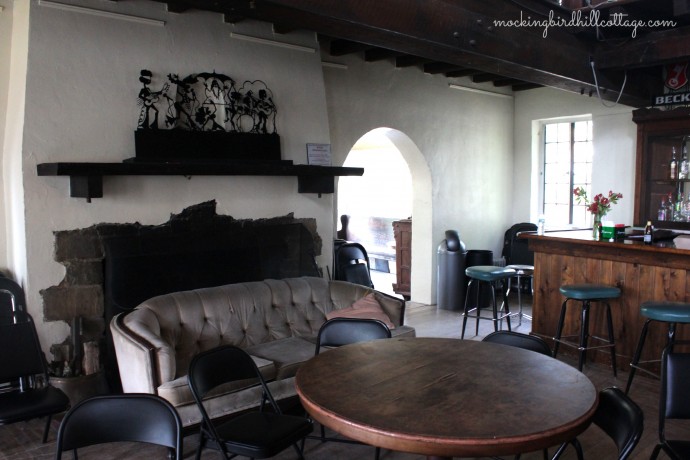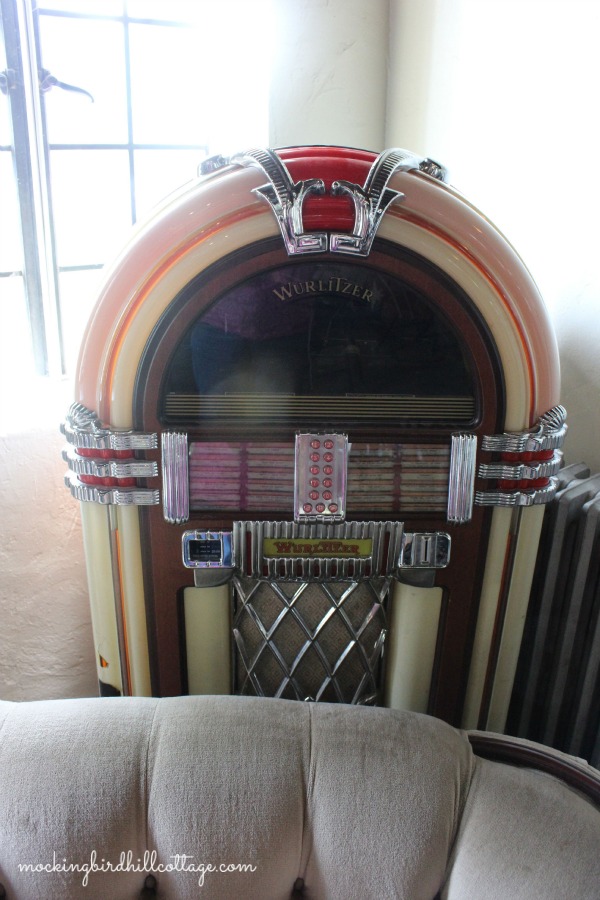 If walls could talk! There is so much history in this building. The musicians were amazing. I can't imagine a nicer way to spend an afternoon. And one group performed their own arrangement of one of Don's songs, Trouble and Joy. That was a lovely surprise. Don was thrilled.
We then walked around lovely Woodstock, stopping in at our favorite independent bookstore.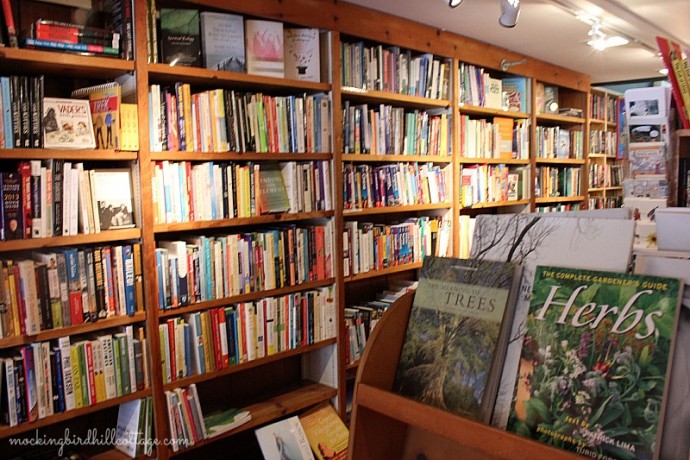 I could spend hours here. They have books that I never see in Barnes and Noble. Oh right….that's because this bookseller is not part of a chain. They don't sell school supplies. Or e-readers. Or stuffed animals. They just sell three-dimensional books that are thoughtfully chosen and ordered. Thank goodness!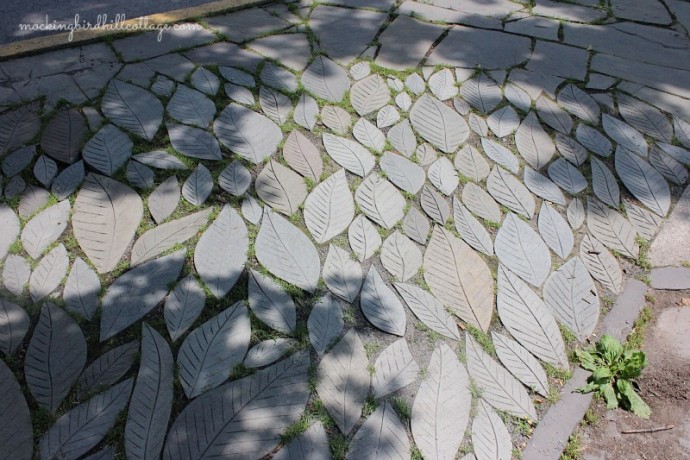 Woodstock has a series of wooden guitars that are erected as a sort of sculpture throughout the town. They are in front of most of the storefronts. Don posed with one: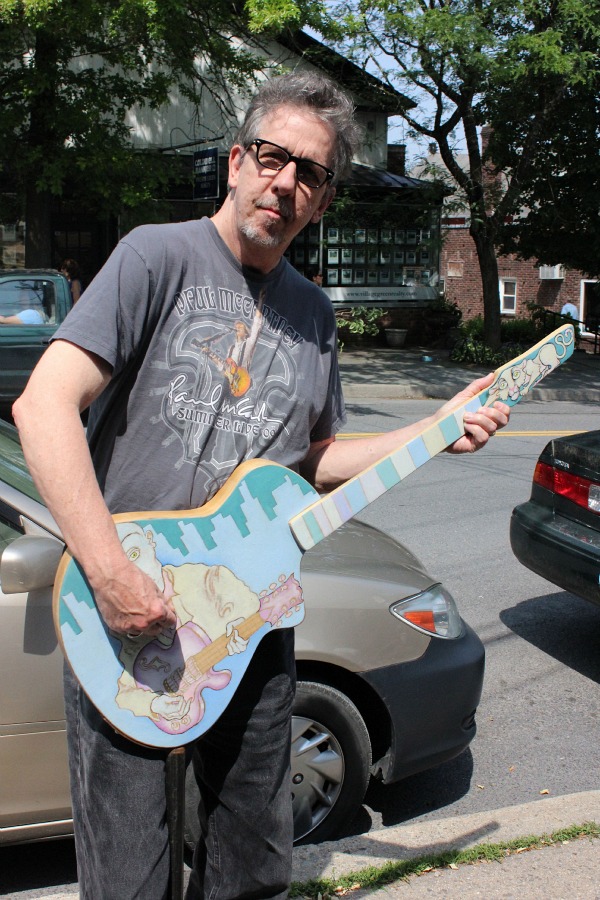 We ate lunch on the outdoor patio of one of our favorite vegetarian cafes.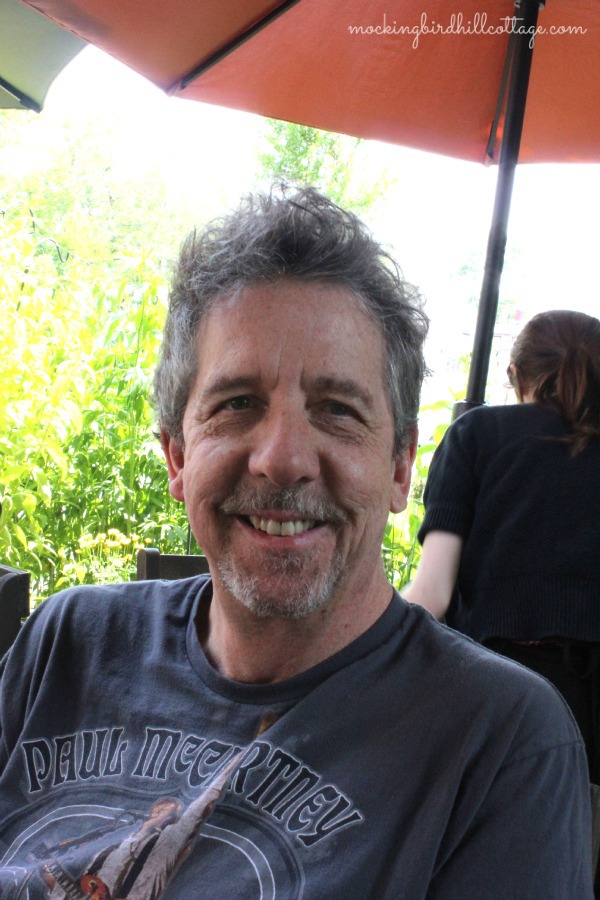 Don was happy. So was I.
All in all, a beautiful, music-filled, spontaneous day.
By the way, the sound of cicadas fills the air around our cottage. It goes on all day long. The drone sounds just like a spaceship in a fifties science fiction movie. Amazing. If you drive anywhere around here, you can see them flying alongside the road.
I'm loving it.
Happy Sunday.