What is a girl to do when she has a sweet tooth, is constantly on the go, but is striving to eat in a healthy manner? My friends, this is something that I struggle with on a daily basis. I'm a vegetarian. I try my best to eat foods that are good for me. But, gosh darn it, I love sweets. And I love to bake. Here's the problem: I am, like all of you, very busy most of the time. At times, I'll have a pocket of time free to do some baking, but most of the time I don't. So I find myself indulging in store bought cookies and cakes. As my husband is also a certified sweet lover, you can see the trouble we're headed for here. Wait a minute! There just might be a solution to this problem. Enter two new products from Newtons. (Yes, the Newtons as in Fig Newtons, a long-time favorite of mine.)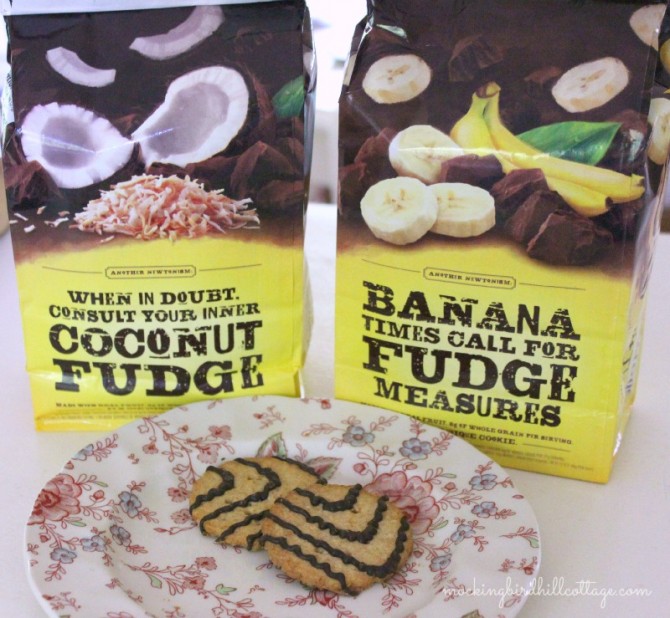 Please say hello to Fruit Thins Banana Drizzled with Dark Fudge and Fruit Thins Coconut Drizzled with Dark Fudge. Newtons calls them a truly unique cookie and I have to agree. They are made with whole grains, dark fudge and real fruit. Already, we are ahead of most cookies in the cookie aisle of your neighborhood supermarket. I really try to use whole grains when I cook (or more accurately, when my husband cooks.) Real fruit instead of something fruit flavored? Yes. And do I have to say anything about Dark Fudge? I didn't think so. As soon as I opened the cookies, my husband magically appeared (how did he know?) and we sampled some. I'm being totally honest with you here. We loved them. We ate quite a few in that first session and we've eaten even more since. We will definitely be buying these in the future.
There. You needed to see a close up. Oh, so good. So good that, even though I'm not a big fan of coconut, I loved the Fruit Thins Coconut Drizzled with Dark Fudge. I'm a certified banana lover and the Fruit Thins Banana Drizzled with Dark Fudge did not disappoint. Did you know that there are 8g of whole grains per 31g serving? That matters to me. I suspect it matters to you, too. Listen. If I had the time, I would be making my own healthy cookies because I do love to bake. But I am on the go most of the time. I've been very busy lately. I work in the theater and sometimes have to work out of town for 5 to 10 weeks at a time. I just got back from 5 weeks away from home. It's far too easy for me to eat the wrong foods, especially when I'm far away from my family and need 'comfort' foods. I just grab something sweet without thinking. When I'm home, especially at this time of the year, I'm out in the garden or working around the property. I barely stop to eat. I want to have a balanced, healthy diet in spite of being so busy. These cookies will be perfect for us because they're made of whole grains, real fruit and dark fudge – a combination that says to me, it's okay to indulge in a little sweetness. Yummy!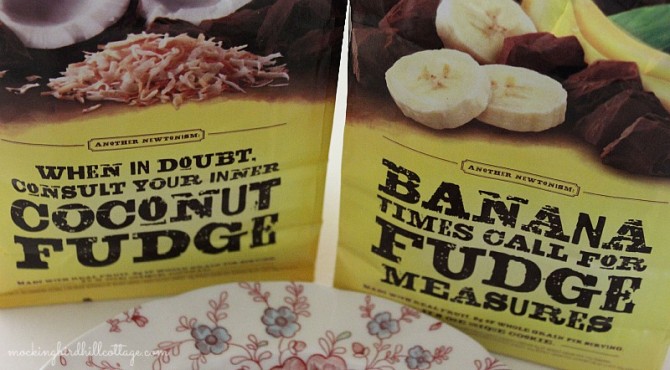 I really love the graphics on the packaging, complete with a 'Newtonism.' Please visit newtonscookies.com to read more about all the new fruit flavors and get access to some great tips. Now I'm hungry. I'm off to eat another cookie.
Be sure to check out the Newtons brand page on BlogHer.com to read other bloggers' posts!